Being accompanied by an audiobook while driving helps us to reach the acme of enjoyment! Audible, the most famous audiobook service, boasts the largest library with more than 200,000 audiobooks. Sometimes, it is overwhelming to figure out how to play Audible audiobooks on a car's infotainment center. However, the good news is that Audible now works easily with Apple CarPlay and Android Auto, which makes it stand out. Additionally, there is now a Car Mode feature available on Audible for mobile users to listen to what they want while driving.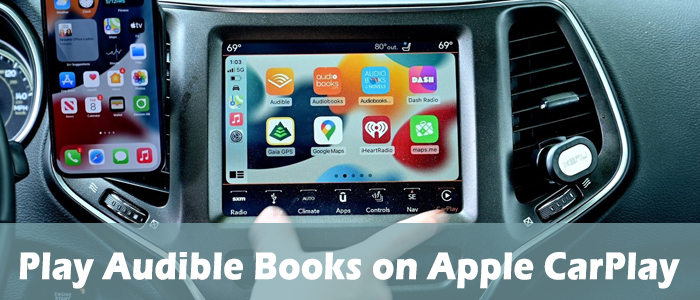 Apple CarPlay is an iOS system that enables drivers to connect their iPhones to their car's infotainment system, helping them easily access their favorite apps while driving. If your car has Apple CarPlay, you can listen to your Audible audiobooks through the car's speakers by connecting your iPhone since the Audible app is available for CarPlay. Now, we are going to get the breakdown on Audible for CarPlay here and introduce some helpful steps to get you going with Audible on your daily commute.
Part 1.

Does Audible Work on Apple CarPlay

Most users may feel a total mess and ask others "Does Audible work on Apple CarPlay?" or "Is Audible on Apple CarPlay?" As we mentioned at the beginning, Audible became one of the few third-party apps approved by Apple to work with their CarPlay system since the iOS 8.4 update. If you're one of those individuals that enjoy listening to audiobooks while driving, then the Audible app provides you with a great feature to enjoy some of your favorite stories.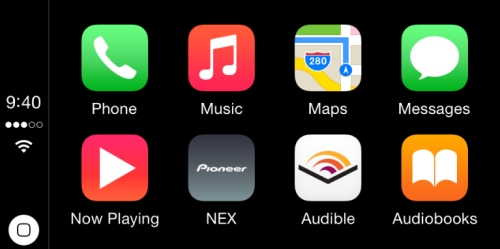 Part 2.

How to Play Audible Books on Apple CarPlay

With Apple CarPlay, you can enjoy Audible using a simplified interface either through your car's built-in display and stereo or right on your iPhone. If your car has Apple CarPlay, now all you need to do is make sure you've installed Audible on your iPhone and your iPhone is running iOS 8.4 or later. After that, follow the tutorial below to listen to Audible on Apple CarPlay.

Step 1. Connect your iPhone to your car with a USB cable by inserting one end of the cable into your phone's headphone jack and the other into the car's audio system. The USB port may be labeled with a CarPlay or smartphone icon.

Step 2. Your vehicle's infotainment system will detect your phone and switch to CarPlay. If the CarPlay home screen does not appear, select CarPlay on the display.

Step 3. On your car's head unit, swipe right to see the Audible app.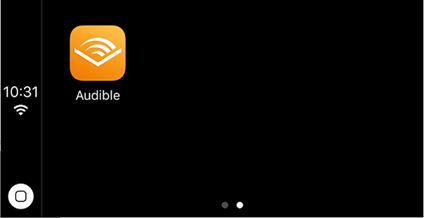 Step 4. Go to Library > Titles to pick a title to start listening, and the player screen will be displayed.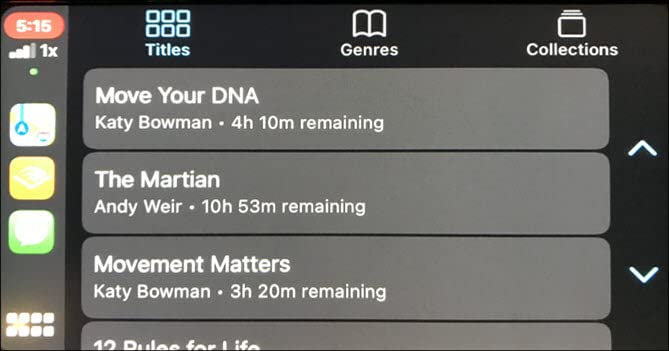 Part 3.

How to Fix Audible Not Working on Apple CarPlay

At times, users find they can't continue to play Audible books on Apple CarPlay, which might be challenging to determine why. Fortunately, the following methods below you can perform.
Solution 1. Make Sure a Stable Connection
If your car supports a wireless connection, then ensure a stable WiFi and Bluetooth connection. Otherwise, check if your USB cable is impaired which would result in application not working on Apple CarPlay and please provide a good-quality USB port to reach a smooth contact. Furthermore, Audible online content also requires a solid WiFi or cellular data to access without a hiccup.
Solution 2. Enable CarPlay When Locked
You should know there's a setting that disables CarPlay when the phone is locked. So, once the screen stays off while you're connected to your car, all apps will be stopped and Audible will be interfered too. You can avoid this by enable CarPlay when the phone is locked. Just go to Settings > General > CarPlay. Select your car from the list of available connections and toggle the Allow CarPlay While Locked option.
Solution 3. Reinstall or Update the Audible App
If Audible is not playing on your Apple CarPlay due to a bug, then reinstalling or updating the app may be helpful to some extent.
Long-press the Audible icon on your home screen, and then select the Remove App option to delete it from your iOS device.
To reinstall or update the Audible app on your iPhone, navigate to the App Store, and search for the Audible app, and tap on the Install/Update option.
Solution 4. Play Audible Books without Audible
If Audible still won't work well on Apple CarPlay, you'd better get rid of this buggy app. Although without Audible, you are also allowed to listen to Audible audiobooks by downloading them for offline listening. However, all downloads from Audible come in AA/AAX formats and are encoded by DRM which disables you to play Audible books on other platforms. Hence, you need the help of an Audible Converter like ViWizard Audible Audiobook Converter.
ViWizard Audible Converter is a professional tool that can convert AA/AAX audiobooks to MP3, M4A, M4B, AAC, FLAC, WAV, and more with lossless audio quality. Moreover, it offers you options to split the large protected audiobook file into several small segments by time, by segment, or by chapters. You can also change the volume, pitch, and speed of the audiobooks to your heart's content. You can upload multiple files at once and it can convert them in a few seconds since it boasts 100x conversion speed.

Key Features of ViWizard Audible Audiobook Converter
Free Trial
Free Trial
* Security verified. 5,481,347 people have downloaded it.
Convert Audible audiobook to unprotected audio formats like MP3
Split Audible book into several smaller segments by chapter or by time
Support playing Audible audiobooks on any device or media player
Handle the conversion of Audible audiobooks up to 100× faster speed
Step 1

Add Downloaded Audible Files in ViWizard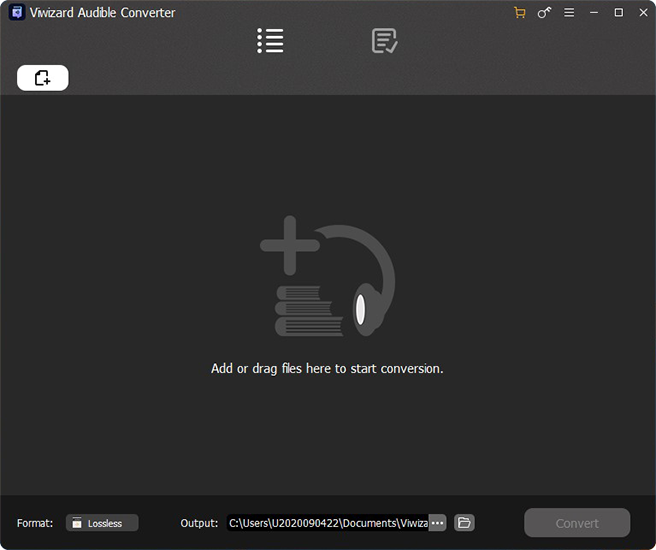 Before starting, downloaded the audiobooks you want to listen to on Apple CarPlay. And then click the top left + icon where you can upload several files at once. Another easier way is to drag and drop the files into the ViWizard software. If you'd like to change the audio speed, split the audiobook, or edit tags, just one-click the blue Edit icon on the title to do some changes.
Step 2

Change Output Settings for Audible Books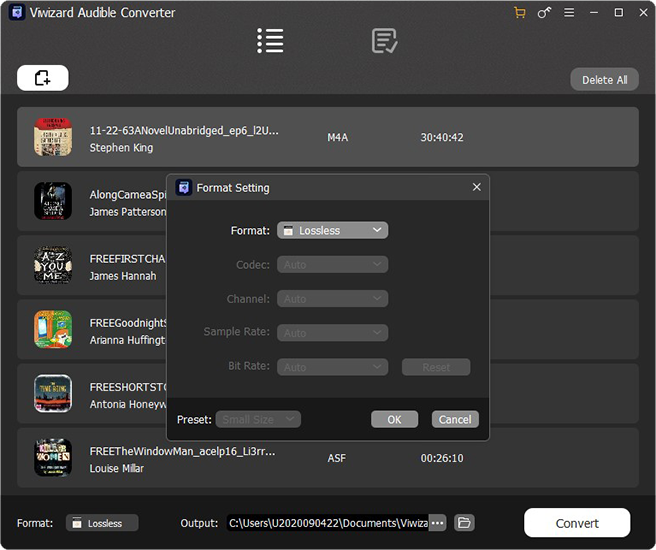 After adding Audible files, you can customize parameters according to your needs. Just click the bottom left Lossless icon, and some options are available, such as output format, codec, channel, sample rate, and bit rate. After finishing the adjustment, don't forget to tap the OK icon. To play Audible books on Apple CarPlay, the MP3 format should be the target format.
Step 3

Start the Conversion of Audible Books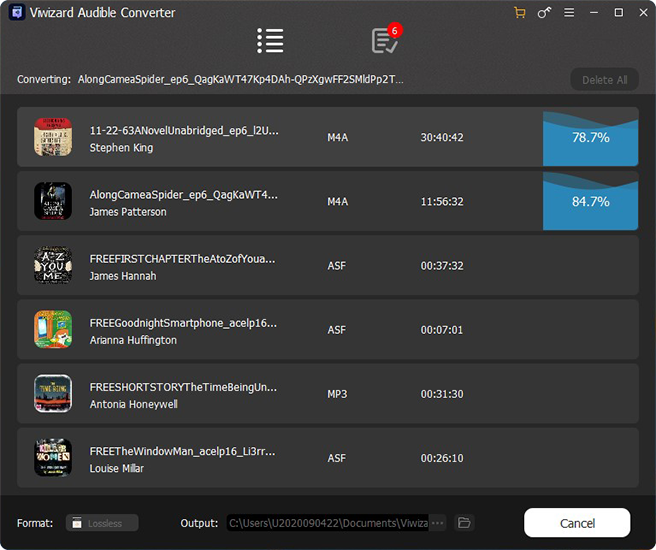 Now, click the bottom right Convert button to start converting Audible files to any format you set. Go to the Converted interface, you can easily browse your converted files, otherwise, you can search some certain files after batch conversion. With its amazing built-in player, you are allowed to enjoy the converted audiobooks in the ViWizard.
Step 4

Listen to Audible on Apple CarPlay

After conversion, all Audible audiobooks are saved to your computer. Now, connect the USB to your computer's port and find the converted files in your local folder. Right-click the folder and then select Send to your USB. Or, copy and paste them into the USB folder. Lastly, connect the USB to your car, now you can play Audible books on your car without a hiccup.
Solution 5. Restart Your Phone and Car's Stereo
Once your iPhone is unresponsive, Audible will be stuck. Hence, restating your iPhone is necessary. To do so, just press and hold the volume up button and the power button and slide to power off your phone. And then repeat the step until the Apple logo appears on the screen to finish restarting.
If the issue still persists, on rare occasions, it might be the CarPlay itself, not the Audible app or the mobile device. This time, restart your car's stereo by holding the power button down for a few seconds to turn it off and on. Or, you can just turn off the ignition and turn it on.
Conclusion
It is a great pleasure to listen to audiobooks while driving. Now, you can freely play Audible audiobooks in the car using Apple CarPlay. Enjoy your ride with audiobooks. In case you can't access a smooth listen on the road, you'd better download Audible books as local files for offline listening using ViWizard Audible Audiobook Converter. In this way, the issue of Audible not playing on Apple CarPlay can be avoided thoroughly.