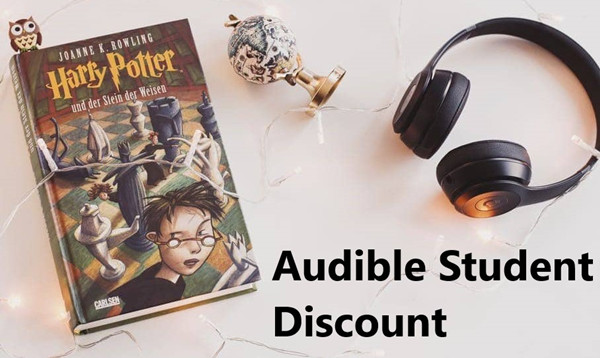 Compared with obsessed with entertainment like video games, TV series, or online chatting, spending more time obtaining knowledge from books or audiobooks, books in another format, seems to be healthier and preferable. To provide more fruitful content for students and help them enrich themselves by taking advantage of audiobooks, Audible decided to give out the Audible student discount to attract more students to listen to their audiobooks.
The effect of this action is distinct. Many students are attracted, even those who have no interest in audiobooks in the past. Most of them do not know clearly the rule of Audible student discount. How does it work? How much do students need to pay? All of the questions about Audible student discount will be answered in this passage. Do you want to know more and get this discount? Just move on to the next part.
Is Audible free for students?
I am sorry to tell you that Audible is not free for students. Instead, it offers all the students a discount which is over 33%. Student membership only costs $9.95 per month for 12 months. You can get 3 titles including 1 audiobook and 2 Audible Originals every month. And you can also get a $10 Amazon.com promotional credit which can be used to buy products on Amazon.

Who can access Audible for student membership?
To use this discount, you must be a student enrolled in a course or more at a college in the USA. You must provide proof of the enrollment and pass the verification. And this discount is only available for new Audible members. If you are already an Audible member, you can not enjoy it.
What if you do not want this discount? You can just cancel it on the Account Details page. But since this offer can only be redeemed for once. You'd better think twice before cancel it. If you consider that the audiobook you get is boring, just exchange it with Audible for totally free. When you do not want to listen to audiobooks recently for busy study or others, you can choose to pause membership. Doing so, you will not lose the credits. But you must know that you can only pause once every 12 months. And the duration cannot overcome 3 months.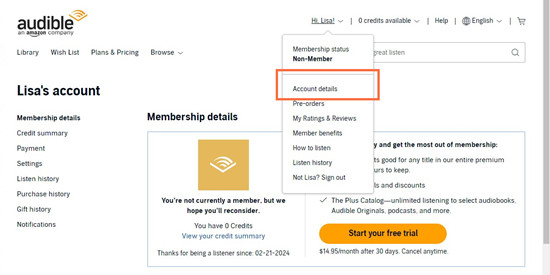 How does Audible student discount work?
After you pass the verification, you will get an audiobook, two Audible Originals, and a $10 Amazon.com promotional credit which can be used to buy products in Amazon and will expire 90 days later. You can enjoy the functions like other memberships during the listening. For instance, when you feel it two swift or slow, you can adjust the speed of narration. If you do not like the one you are listening to, Audible allows you to change another one.
Since this offer only lasts 12 months, you will receive an email before the end of the 12 month period to make sure you are still a student. If you pass it, Audible will offer a new student membership for the next year. Otherwise, the membership will become a standard membership which is priced at $14.95. You can enjoy this Audible for student discount for 4 years at most. After that, your membership will be changed to a standard one, too. Of course, if you want, you can always cancel it at any time.

How to get Audible student discount?
Do you make your mind to accept the student discount? Anyway, the price is much more reasonable than a standard one. But how to get it? Check the steps below.
Step 1. Sign up or login into the UNiDAYS account to verify the student status.
Step 2. Get a link to redeem Audible savings.
Step 3. Redeem the Audible for student membership and start to listen.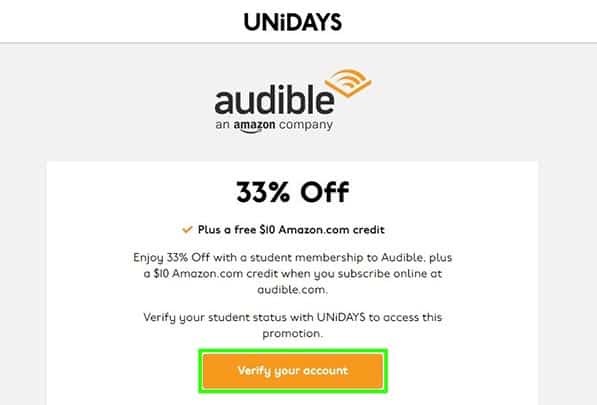 A necessary tool for listening to Audible
If you are new to Audible, there are many things you need to know before you start to listen to Audible audiobooks. For example, what is Audible, and what will happen when you cancel Audible? Audible is the biggest audiobooks provider and owns over 200000 audiobooks in total. The format of Audible audiobooks is specific – the AA/AAX formats, which prevent users from sharing their audiobooks or use the devices that do not support Audible to play them. Because of that, many listeners choose to use an Audible converter to make listening more convenient.
To listen to Audible audiobooks free of restrictions, you can try ViWizard Audible Audiobook Converter. ViWizard can convert AA/AAX audiobooks to many universal audio formats such as MP3, M4A, FLAC, AAC, with 100X faster speed. You can choose the Lossless option for the original quality of the audiobooks. Besides, you do not need to give the iTunes account authorization nor install the Audible app using ViWizard. And it will keep the ID3 tags like the title, artist, author, and the chapter information of the audiobooks after conversion. You can download it for free to have a try.
What ViWizard Audible Converter can do
Losslessly convert AA/AAX without account authorization
Convert Audible audiobooks at 100X faster speed
Freely customize lots of parameters of output Audible audiobooks
Split audiobooks into small segments by time or by chapters
Conclusion
For students loving audiobooks, the Audible students discount is a fabulous opportunity to save money and enjoy audiobooks. But you must meet the requirements of Audible I list in this article. You can check our previous passages if you want to know more about Audible.