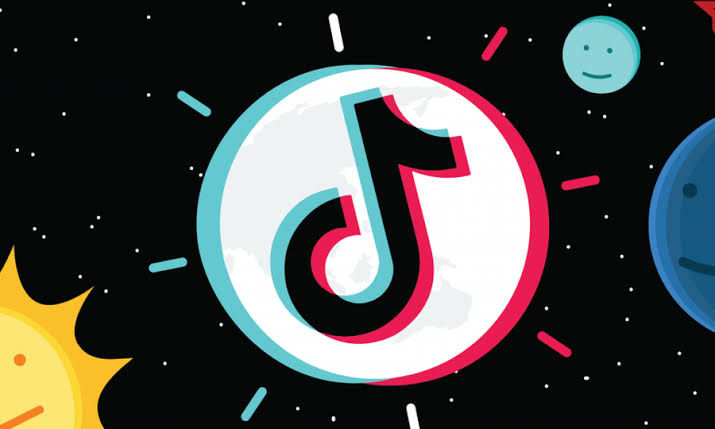 TikTok, one of the most popular video-sharing social platforms, allows people to make and share short videos in any genre from dance, comedy to education, etc. on iOS and Android devices. It generally has a duration from 3 seconds to one minute, and some users may have the rights to share a 3-minute video.
Adding music and sound to your TikTok videos is an important part if you want your interesting videos to attract many views. However, chances are that there's the perfect soundtrack on Spotify works best for your video, so you have it downloaded to add to TikTok. We've disscussed about solutions for how to add Spotify Music to videos. Regarding TikTok, can you add Spotify Music to TikTok behind the video? You can, but some efforts are needed to make this work.
Part 1. Can You Add Spotify Music to TikTok?
Can I Add Spotify Music to TikTok?
Regarding music behind the TikTok videos, you can add a sound within the TikTok app, but more sources - like local music were disabled to avoid copyright issues. Instead, TikTok provides its own music library for users to add to videos - TikTok Library, which serves as an applied music service trademark - potentially taking on Spotify, Apple Music and YouTube Music.
Thus, if you'd like to add Spotify music to TikTok videos, you can simply search for that within the library. If the song is available, you'll have a chance to find it on TikTok. If you can't find the Spotify tracks you want, don't worry though. Here we'll walk you through how to add a song to TikTok from Spotify with 2 useful third-party tools.
Spotify Music to TikTok Videos: What You Need
If the same music songs are missing from the TikTok Library but still remain available on Your Library on Spotify, you can make them MP3s with a Spotify Music to MP3 converter like ViWizard Spotify Music Converter.
On Spotify Premium or Spotify Free, ViWizard Spotify Music Converter can ensure the full access of users' favorite music contents from Spotify by downloading and converting them into 6 audio formats, including the lossy MP3, lossless FLAC, WAV, AAC, M4A and M4B with 100% audio quality. Besides, all the ID3 tags and metadata info will be kept. It's available for both Windows and Mac devices, and in its Windows version, the conversion speed can be up to 5x faster.

Features of ViWizard Spotify Music Downloader
Convert Spotify to MP3, AAC, FLAC, and other common format losslessly
Download Spotify songs, artists, and playlists, albums without premium
Remove digital rights management (DRM) protection and ads from Spotify
Retain original ID3 tag and meta info
Part 2. How to Add Music from Spotify to TikTok Videos
Download this ViWizard software for Windows or Mac from the link above and install it to the device. Follow this simple instruction to make your favorite Spotify music tracks available for your TikTok videos!
ViWizard Spotify Music Converter: how to convert a song from Spotify to MP3
Step 1

Add Spotify Music Tracks to ViWizard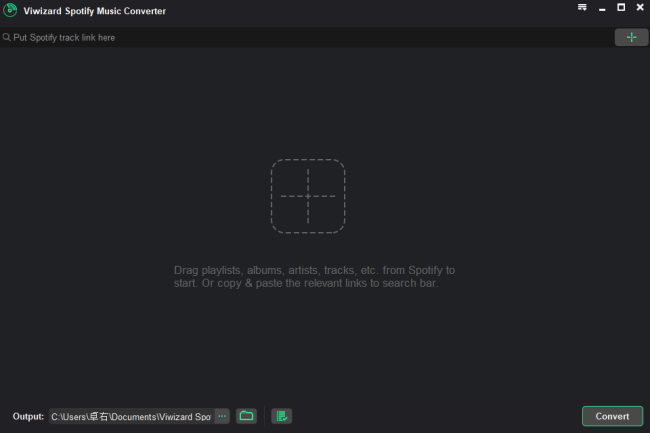 Open ViWizard Spotify Music Converter, and the Spotify app will be loaded automatically. Then find music on Spotify that you want to download, and directly drag them to ViWizard interface.
Step 2

Set Output Format as MP3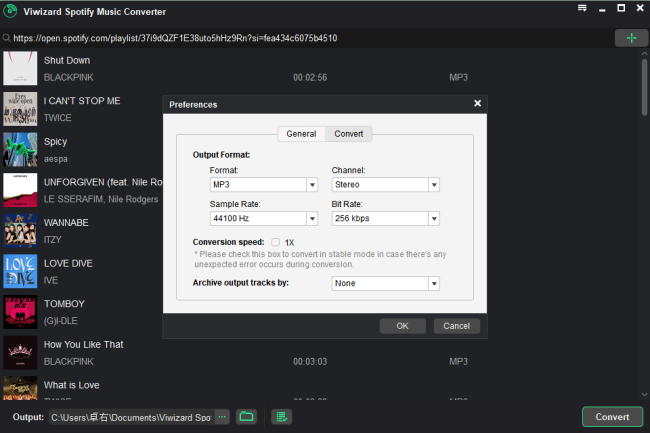 After your selected songs are loaded in ViWizard, you can go to the Menu icon > "Preference" > "Convert" to choose the output format such as MP3. You can also configure the audio settings such as audio channel, bit rate, sample rate, etc.
Step 3

Convert Spotify Music Tracks to MP3s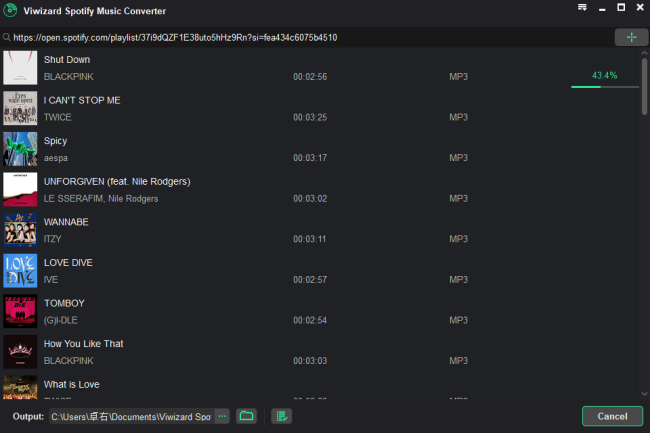 Now just click the "Convert" button to start downloading music from Spotify. Wait for a while and you'll get all converted Spotify songs on your computer.
Step 4

Transfer MP3s to Phones

Find them by clicking the Converted icon. Then transfer them to iPhone with iTunes or Android via a USB cable.
Inshot Video Editor: how to add a song to TikTok from Spotify with ViWizard
Now all the Spotify downloads are in MP3 format and transferred to your Android or iPhone. To add Spotify Music to TikTok, most users would like to choose a video editor with Spotify for TikTok - Inshot Video Editor when creating a TikTok video.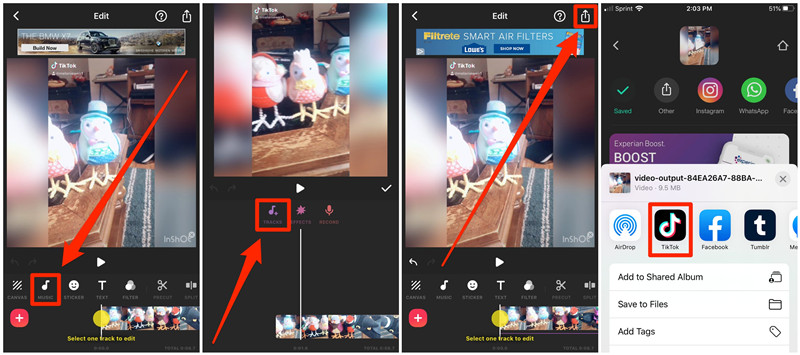 Step 1 Download the InShot app from the Apple store or Google Play store, and then open the app on your phone.
Step 2 Select the "Create New" > "Video" to create a new video. Mute the video's original sound.
Step 3 Tap the buttons "Music" > "Tracks" to upload music from your phone. Pre-listen it and if you're happy with it, you can then tap "Export" and select TikTok to upload it to the platform.
Part 3. How to Add Music from TikTok to TikTok Posts
If the TikTok Library is to prefer or the same Spotify music song is found on TikTok, you can follow these steps to add it to your TikTok videos.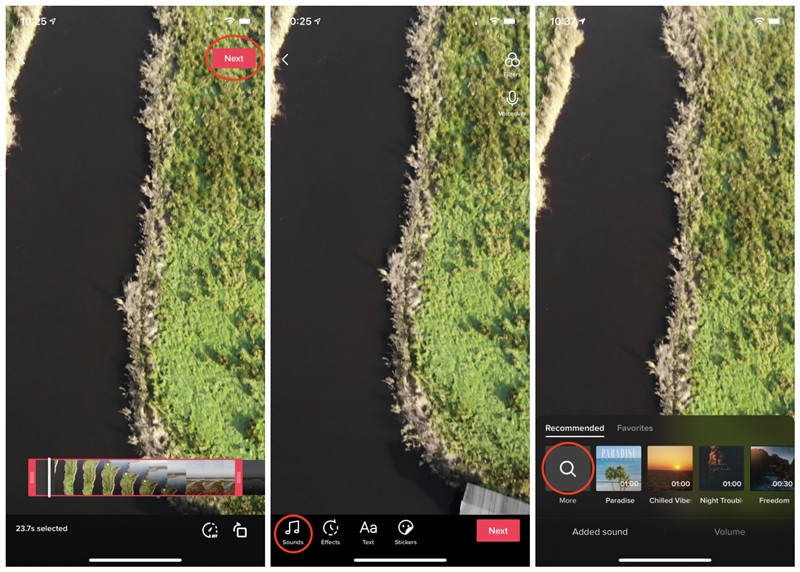 Step 1 Open TikTok and tap the "+" icon at the bottom to create a new video.
Step 2 Record/upload and trim the video here, then tap "Next" in the top right corner.
Step 3 Tap "Sounds" in the bottom left corner to attach music. Or tap "More" for all sounds available on TikTok. Browse of search for a song, then tap the song for a preview or check it to select it.
Step 4 Once the selected music is added, use the most popular part of the song that is chosen or pick a different start point using the scissors icon.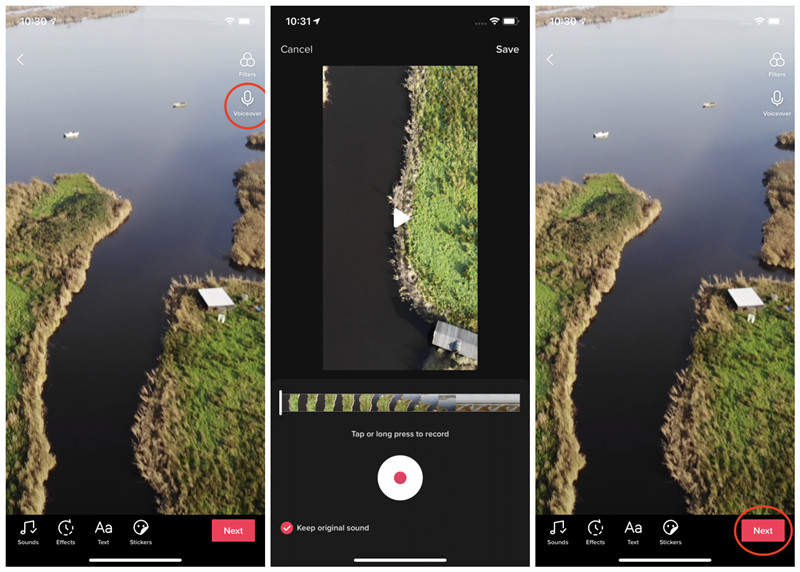 Step 5 Go to "Sounds", but tap "Volume" at the bottom instead.
Step 6 Lower the "Original sound" or "Added sound" to make sure the added music can be heard.
Step 7 Tap "Voiceover" on the screen, then tap or long press the Record button to record. Then tap it again to stop recording.
When all done, go ahead to post it.
Final Words
Now you know how to add a song to TikTok from Spotify in a few steps. With the help of ViWizard Spotify Music Converter, you can easily download Spotify tracks for offline listening without premium, or use them anywhere you like. The converted quality is 100% lossless and the speed is quite fast. Just download the trial version for free and have a try! If you like the tricks provided here, just share this article to your friends.