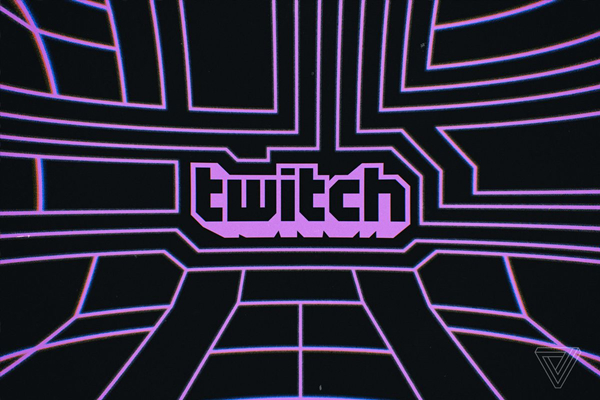 Can you play Spotify playlists while streaming on Twitch? I have Spotify Premium, can I play Spotify while live streaming on Twitch?
As one of the popular online live streaming platforms, Twitch has attracted many streamers from the Music and Gaming industry. But the question like "can I play Spotify on Twitch" is frequently asked since it'd be a lot better if streamers can play songs from Spotify while they're streaming.
In the following parts, I'm going to show you what Spotify songs you can play and how to play Spotify songs on Twitch.
Part 1. Can You Play Spotify on Twitch?
Can I play Spotify on Twitch?
The answer is yes, but not all. Even you have subscribed to Spotify Premium, it only enables you to listen to the music from Spotify's platforms on a personal device, but not to broadcast the music to other people across the internet - like add Spotify to Twitch stream with the copyrighted songs.
According to the community guidelines on Twitch, there're three types of music you can use on your stream:
1. Music Owned by You – Original music which was written by you and either recorded or performed live by you, and for which you own or control all rights necessary to share the music on Twitch, including the rights to the recording, performance, and to the underlying music and lyrics. Please remember that if you have a contractual relationship with an organization that controls rights to the content you create, such as a record label or publishing company, you should make sure that you are not in violation of that relationship by sharing that music on Twitch.
2. Music Licensed To You – Copyrighted music owned in whole or part by someone other than you, if you have secured a license to share it on Twitch from the relevant copyright holders.
3. Twitch Sings Performance – A vocal performance of a song as captured in Twitch Sings gameplay, provided it is created in accordance with Twitch's Terms of Service.
What'll happen if I play copyrighted songs on Spotify in my Twitch stream?
If you violate the Twitch guidelines, your stream may get muted and all the content that contains copyrighted music will be taken down.
Part 2. How to Add Spotify to Twitch Stream through OSB Studios
Stream Your Spotify Music through OSB Studios:
If you're sure you own the copyright for your music from Spotify, you can stream it through OSB studios in these steps.
1. Set up the OSB to choose Twitch as the streaming service with the connected Account.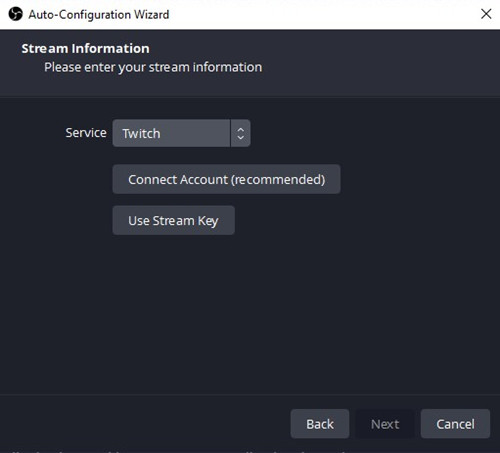 2. Open OBS, click the "+" to add a new source, then click Windows Capture.
3. Change the name of the added source, then choose "Spotify.exe" in the source selection box.
4. Make the area of the Spotify screen you want to display on Twitch via drags or clicks. You can also use the Alt button to crop it.
5. After that, place the screen within the OSB screen. Consider to make its placement satisfying.
Tips: You can always repeat the steps to make changes to the selection via a click on the source. In the future, the screen needs to be reset so that the Windows capture is showing the correct thing.
If you are unsure about the copyright, we recommend use no copyrighted music from Spotify or at least avoid these types of music contents in your Twitch streams.
1. radio-style music listening show;
2. DJ set;
3. karaoke performance;
4. lip synch performance;
5. visual music depiction;
6. cover song performance.
...
Stream Copyright Free Spotify Music through OSB studios:
Or you can use the some copyright free music from Spotify in your Twitch streams on platforms like Epidemic Sound, which offers streamers over 30k tracks in popular genres including Beats, Hip Hop, Pop and more, so that you can either create a playlist from the Epidemic Sound's catalog or use one of its Spotify playlists.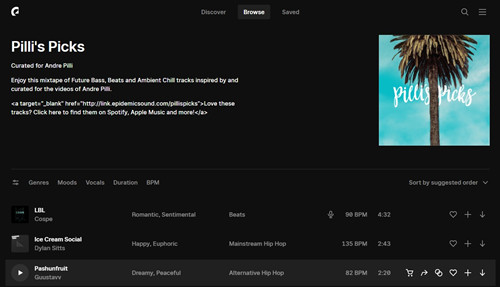 During your streams, you can just select your Spotify/Epidemic Sound tab as an audio output through OSB studio, then press play. The best part of Epidemic Sound is that it prevents you from getting claimed in case you reposts your streams on Twitch.
If you want to show what's being played on Spotify in your Twitch stream, you can go to the Twitch dashboard > Extensions and search for Spotify Now Playing. Configure this extension, then you'll be able to show the song that's being played on Spotify in your stream.
Part 3. How to Play Spotify on Twitch without Premium
Similar to OBS, there're more softwares like Streamlabs OBS, Xsplit and Wire case to set up before a Twitch stream starts with their music catalog. Although difficult, you can still find some copyright free music on Spotify (for example: Ganja - Ooyy) for Twitch Streams - either with your own efforts or the software's music catalog.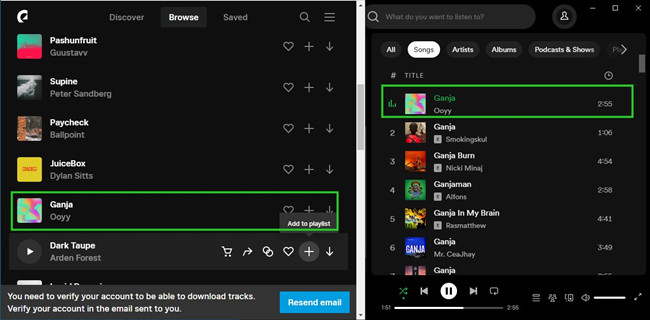 However on Spotify Free, there'll be ads continue to pop up in between the songs, which is not to be expected. No worries. A powerful Spotify Music converter like ViWizard Spotify Music Converter can help download all the copyright free songs from Spotify to your computer device - no Premium subscription requires! After that, even you don't use the Spotify for desktop app, you can play these songs in your Twitch stream offline.
ViWizard Spotify Music Converter is designed to convert Spotify audio files into 6 different formats such as MP3, AAC, M4A, M4B, WAV and FLAC. Almost 100% of the original song quality will be kept after converting process. With 5X faster speed, it only takes few seconds to download each song from Spotify.

ViWizard Spotify Music Converter Key Features
Convert and download Spotify songs to MP3 and other formats
Download any Spotify contents at 5X faster speed
Play Spotify songs offline without Premium
Play Uncopyrighted Spotify songs in Twitch stream
Save Spotify with the original audio quality and ID3 tags
1

Launch ViWizard and Import Songs from Spotify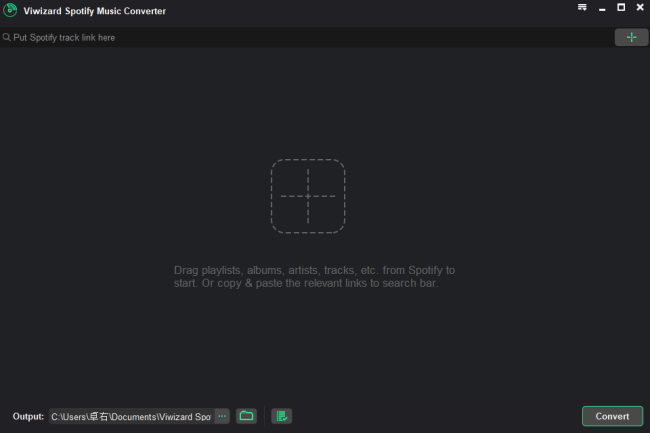 Open ViWizard software and the Spotify will be launched simultaneously. Then drag and drop tracks from Spotify into the ViWizard interface.
2

Set Up Output Parameters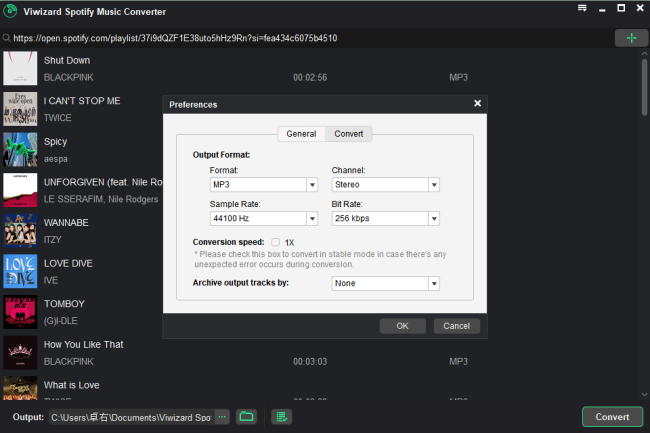 After adding music tracks from Spotify to ViWizard, you can choose the output audio format. There're six options including MP3, M4A, M4B, AAC, WAV and FLAC. And then you can adjust the audio quality by selecting the output channel, bit rate, and sample rate.
3

Start the Conversion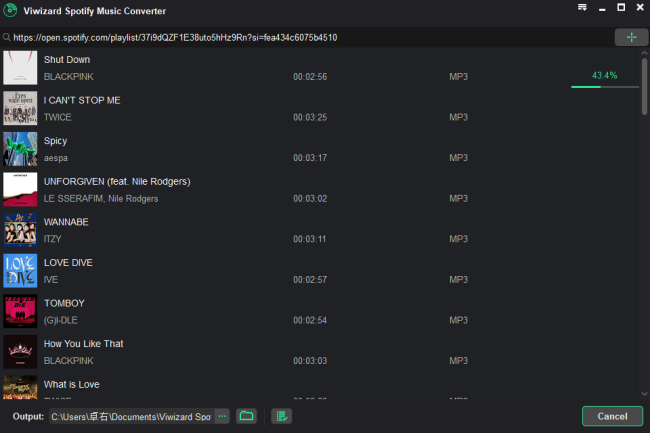 Once all the setting is finished, click the "Convert" button to start loading Spotify music tracks. After the conversion, all the files will be saved to your specified folder. You could browse all the converted songs by clicking "Converted" and navigate to the output folder.
4

Play Spotify Songs on Twitch

Now you can play the downloaded uncopyrighted Spotify songs on the media player on your computer. When you set your audio up on Twitch, these songs will be heard in the public in your streaming room.

More Spotify Tips & Tricks