djay Pro is a digital music DJ software for all users who use Windows, Mac, Android and iOS devices to create mixes at any time. Added with a free version on the App Store, this DJ software starts at a subscription with monthly or yearly pricing for users to unlock all features. For music sources, djay Pro offers various options from streaming services integrations and your own music collection stored on your device.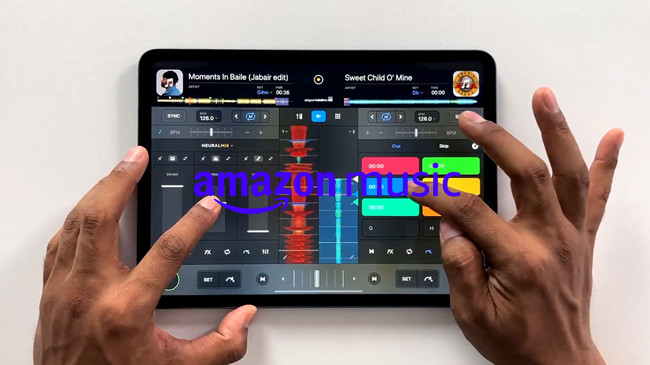 If you are keen Amazon Music fans and have saved your favorites on your Amazon Music library, you'll want to use them with djay Pro. And we'd like to introduce how to do the trick.
Part 1. How to Use Your Amazon Music Playlists on djay Pro
To dj with djay Pro and Amazon Music on your devices, the least version of the djay Pro AI must be required. However, when you first enter the page of djay Pro you may fail to find the Amazon Music in the lower half of the window but the TIDAL, SoundCloud, Bestport Streaming and Beatsource LINK instead. Because the Amazon Music service is not one of the streaming service integrations in djay Pro and your choices are limited to the above ones. But if you wish to use Amazon Music on djay Pro, you can get your Amazon Music library through those streaming services.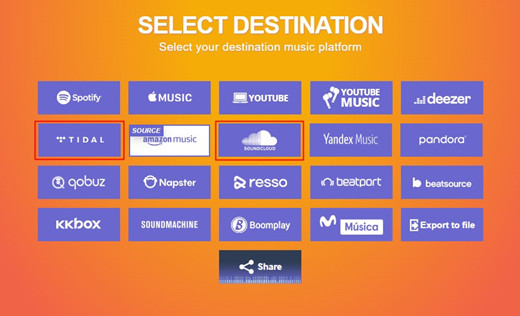 Getting your Amazon Music library through either TIDAL or SoundCloud make sense for reasons, but it's not that convenient. For starters you'll need a third-party software like TuneMyMusic or Soundiiz to transfer your playlists that you already created in your Amazon Music library to compatible music services with djay Pro. And an additional subscription with your account must be required to access your playlists on djay Pro through the streaming service you pick. However, when you lost your music subscription, you're no longer able to access your favorite Amazon Music in djay Pro.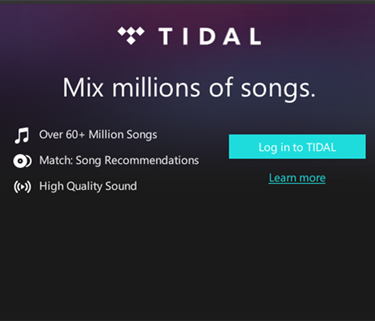 Part 2. Best Solution to Add Amazon Music to djay Pro
Most Amazon Music users have this main frustration but there exists the best solution for to you add your favorite Amazon Music contents in djay Pro. All you need is a third-party tool called ViWizard Amazon Music Converter. Unlike TuneMyMusic or Soundiiz, this ViWizard Amazon Music Converter lets you get the actual audio files from Amazon Music and then you can import them to djay pro by using the Add Folder button in the library browser.
Best Amazon Music to djay Pro Converter - ViWizard Amazon Music Converter
ViWizard Amazon Music is designed for both Prime and Unlimited Amazon Music desktop users to use Amazon Music with djay Pro. With this ViWizard software on either Windows PC or Mac, you are able to get the DRM-free version of any on-demand contents from Amazon Music. Once the selected music tracks are added to ViWizard, you're required to adjust some related output settings to make them compatible when importing them to djay Pro, one of which is the output format. For output format, it's best to select MP3, AAC, WAV and more on your device that runs djay Pro.

Key Features of ViWizard Amazon Music Converter
Download songs from Amazon Music Prime, Unlimited, and HD Music
Convert Amazon Music songs to MP3, AAC, M4A, M4B, FLAC, and WAV
Retain the original ID3 tags and lossless audio quality of Amazon Music
Support customizing the output audio parameters for Amazon Music
Step 1

Select On-Demand Contents on Amazon Music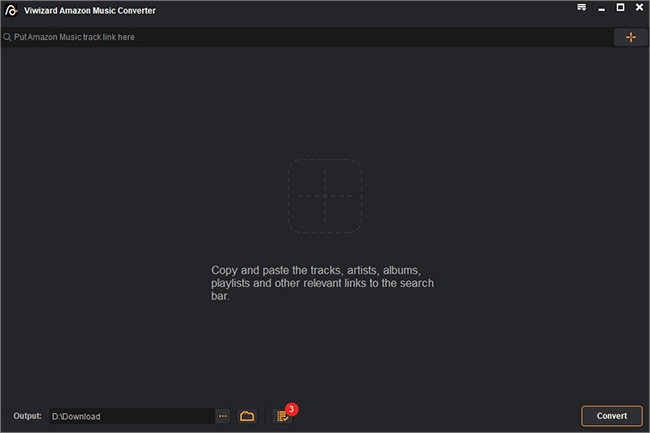 Launch the ViWizard Amazon Music Converter and head to the on-demand contents in the Amazon Music desktop app. To add them to the download list in ViWizard, drag and drop the music tracks.
Step 2

Adjust Output Formats for Amazon Music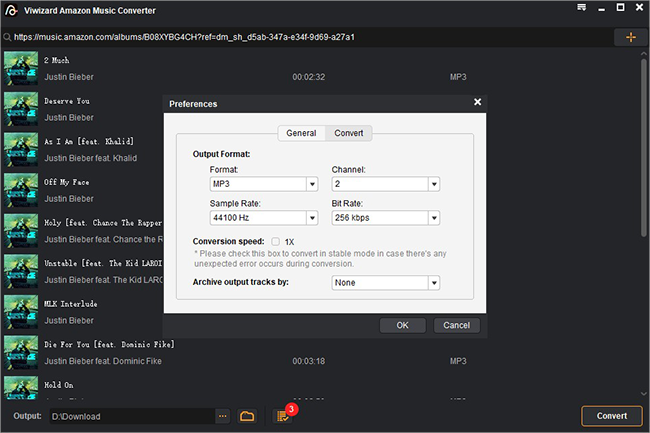 Now please adjust some related output settings in ViWizard to make them compatible with djay Pro. Open the extended menu at the top-left to select Preferences, and choose the Convert tab. Now under the Output format, click the chevron down icon to select MP3 as the output format. You can also adjust other parameters here. Click OK.
Step 3

Download Compatible Amazon Music for djay Pro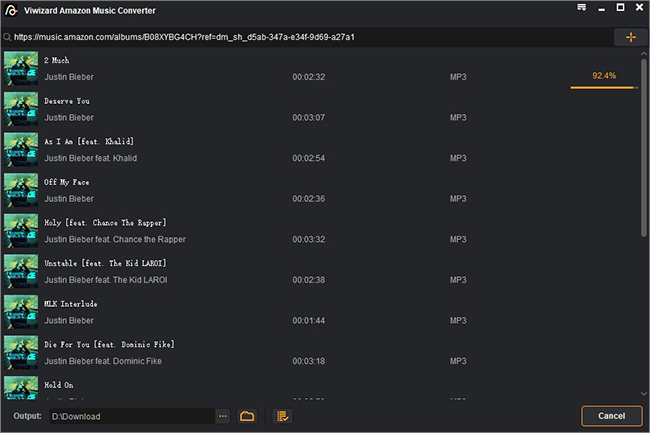 Return to the main screen of the ViWizard software, head to click the Convert button to start the conversion at a 5x super faster speed. Once it's done you should see a folder appears on the screen and all the Amazon Music files are here.
Part 3. How to Import Amazon Music Files to djay Pro on Desktop
You can complete the in-app purchase or via the Windows Store at $49.99. Or if you're new to djay Pro, feel free to sign up for djay Pro to start a 15-day free trial. Just make sure you download it to your computer based on the device OS. Here we'd like to show you how easy it is to import Amazon Music files to djay Pro on Windows PC:
Importing Amazon Music Files to djay Pro on Windows PC:
Step 1 Launch the djay Pro on your computer device.
Step 2 Go to the Explorer tab of the library browser, and simply click Add Folder to navigate your computer to find the Amazon Music folder in Windows Explorer.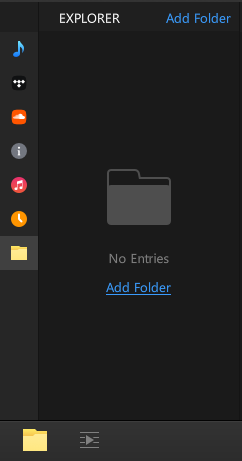 Step 3 Select the music folder and click Select Folder to import it to djay Pro. And djay Pro will start scanning and adding all the tracks compatible in the selected music folder.
Step 4 Now the library browser tree will display the playlist tress for you with the added Amazon Music folder.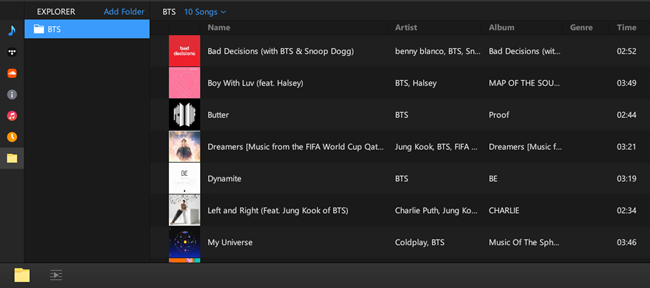 Step 5 To dj with djay Pro and Amazon Music tracks, simply pick the ones you want and drag them to the two decks above.

Importing Amazon Music Files to djay Pro through iTunes: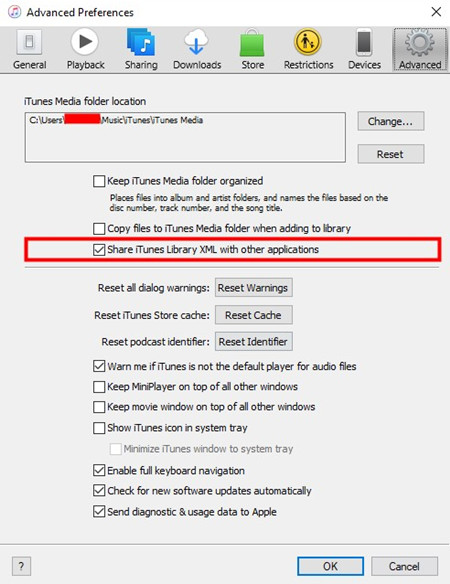 If you have iTunes on your computer to organize your own music collection, you can choose to upload your Amazon Music files to the iTunes app by using the Add Folder to Library or Add File to Library button in the extended File menu from the top. And you also need to allows djay Pro to use iTunes by using the advanced "Share iTunes Library XML with other applications" option under Preferences in the Edit tab. Then your Amazon Music playlists are loaded in Library tab in djay Pro. To have a detailed guide, please check out another post:
Part 4. How to Import Amazon Music Files to djay Pro on Mobile
If you are on mobile, you must transfer the files you get with the ViWizard Amazon Music Converter to it from the desktop. You can use a USB cable to connect your mobile phone to your computer and navigate it to find and select your Amazon Music files or folders. To start the transfer, just drag the items and drop them in your device storage. And you files will be in the Files app for you to use with djay Pro. Here's how to import Amazon Music files to djay Pro on iPad:
Adding Amazon Music Files to djay Pro on iPad:
Step 1 On your iPad, open the djay Pro AI app.
Step 2 Select the Files tab in the music library in djay, then tap the "+" in the upper left corner.
Step 3 Select whether you wish to add individual songs with "Add Files", or if you like to add the entire folder with "Add Folder".
Step 4 Navigate to "On My iPad" in the pop-up window, and select the files or folder that stores all the compatible files you wish to use with djay Pro.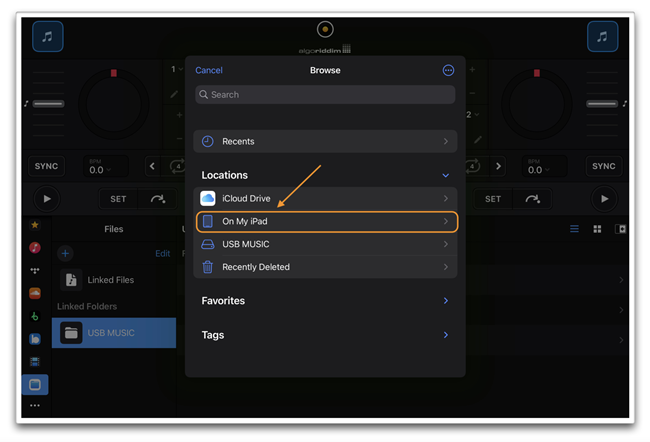 More Amazon Music Tips & Tricks