As we all know, Apple Watch offers the functionality to listen to music without iPhone. For most Apple Watch users, it's normal to use music streaming service with the Apple Music and set their hands free with iPhone and workout with their favorite music.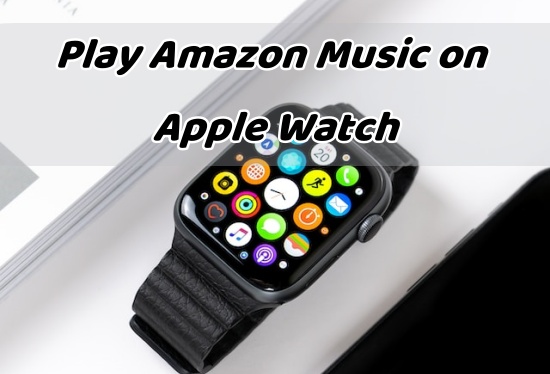 It's perfect to have this option with the Apple Watch. Unlike Spotify, Apple Music or Pandora, it's not until 7 months ago that there was a dedicated Amazon Music app on Apple Watch. What it used to mean to Amazon Music users was that when it came to listening to Amazon music with Apple Watch, things were difficult. Don't despair! If you are committed to using Amazon Music and won't switch to other music streaming services, this article will tell you 2 different ways to play Amazon Music on your Apple Watch and their respective pros and cons.
Part 1. Can I Get Amazon Music on Apple Watch?
About 7 months ago, some Apple Watch users found Amazon Music was available on Apple Watch before the relevant reports came out. Even until now there are Apple Watch users know nothing about it. The truth is Amazon Music has made a breakthrough to update Amazon Music for iOS to version 10.18. This update has added the complication and now you can access your favorite Amazon Music directly on your watch if you already have Amazon prime membership. Also, you can control playback on a compatible iOS device.
Since now it's possible to have Amazon Music app on your Apple Watch and don't have to recreate your favorite playlists on other streaming music app, let's see how to stream Amazon music.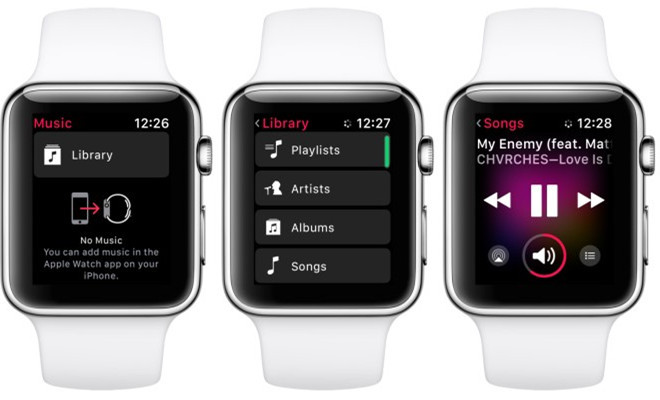 Step 1. Power your Apple Watch on and then open the pre-installed Amazon Music app.
Step 2. Then you'll be asked to enter a 6-character code. Go to the https://www.amazon.com/code and log into your Amazon Music account and get the code. Enter the code and your Amazon Music account will be connected to the app on the Apple Watch successfully.
Step3. Activate the Amazon Music app and tap Library to browse playlists, artists and alums.
Step4. Select a playlists, artists or albums. Tap 'Setting' and choose to play from Apple Watch.
Hopefully, now you are able to stream Amazon Music on Apple Watch with your headphones.
Part 2. What Problems Will I Meet with Amazon Music App on Apple Watch?
Now you are able to stream your favorite Amazon music on Apple Watch and leave your iPhone behind. However, you may not be pleased with the streaming experience. There are 2 problems you may meet with Amazon Music app on Apple Watch.
1. Poor Music Quality
You may find the music quality from the watch is extremely low and the low bitrate is the main reason.
2. Offline Listening
For offline listening, users still can't download music to the Apple Watch from Amazon Music Unlimited for offline use. Of course you can choose to play Amazon Music from your iPhone and then control playback on your Apple Watch. However, when there is no Wi-Fi connection, you have to carry your iPhone with you. This is super inconvenient because although you manage to get your iPhone in your pocket, the iPhone will just flap around your waist and cause pain when you are working out.
What's more, as Amazon Music is a streaming music service, music available via an Amazon Prime Music account can be streamed online but is not owned by you. Normal cases are that Amazon music cannot provide a music file that can be used outside of Amazon's proprietary application. Even if you manage to find the Amazon Music tracks, they are encoded in DRM-ed audio, which is incompatible with watchOS.
Part 3. How to Improve Listening Experience with ViWizard
This to-be-desired streaming experience can be improved now because you can work around with the third-party software like an Amazon Music conversion tool. Fortunately, this is where ViWizard Amazon Music Converter works the best.
How ViWizard Amazon Music Converter Can Help:
ViWizard Amazon Music Converter can save the lossless audio quality and change the bitrate from 8kbps to 320kbps for formats such as MP3, M4A, M4B, AAC, WAV and FLAC, whatever you want. According to Apple Watch, Apple Watch-supported audio formats are AAC, MP3, VBR, Audible, Apple Lossless, AIFF, and WAV, among which AAC, MP3 and WAV happen to be able to be converted to in ViWizard. You can use ViWizard to download and convert your favorite songs from Amazon Music and convert them to these three formats for offline listening on your watch.

Key Features of ViWizard Amazon Music Converter
Download songs from Amazon Music Prime, Unlimited, and HD Music
Convert Amazon Music songs to MP3, AAC, M4A, M4B, FLAC, and WAV
Retain the original ID3 tags and lossless audio quality of Amazon Music
Support customizing the output audio parameters for Amazon Music
Two ViWizard Amazon Music Converter versions are available: Windows version and Mac version. You can just hit on the 'Download' button above to choose the right version for free trial.
Part 4. How to Put Amazon Music to Apple Watch with ViWizard
Now you know how ViWizard Amazon Music Converter can help you. Then jump into following 3 steps to ensure your desired listening experience for offline listening on Apple Watch.
Step 1

Add Amazon Music to ViWizard Amazon Music Converter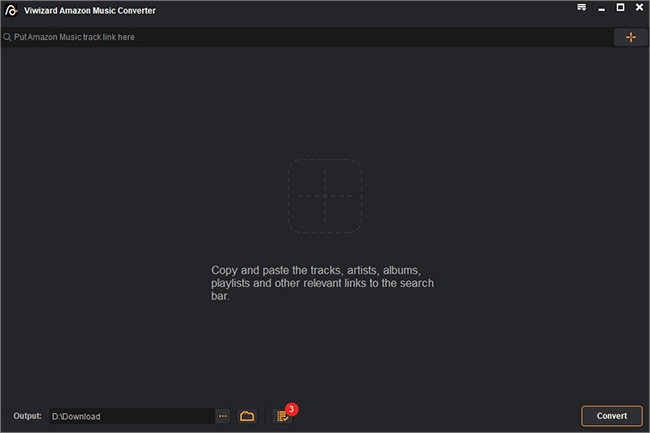 Choose the right version of ViWizard Amazon Music Converter and download it. As soon as you launch ViWizard Amazon Music Converter, the program will launch Amazon Music automatically. Next you should make sure your Amazon Music account have signed in to access your playlists. After that, just drag or copy and paste your favorite songs to the search bar. Then you can see the songs are added and shown in the screen, waiting to be downloaded and converted for Apple Watch.
Step 2

Change Output Settings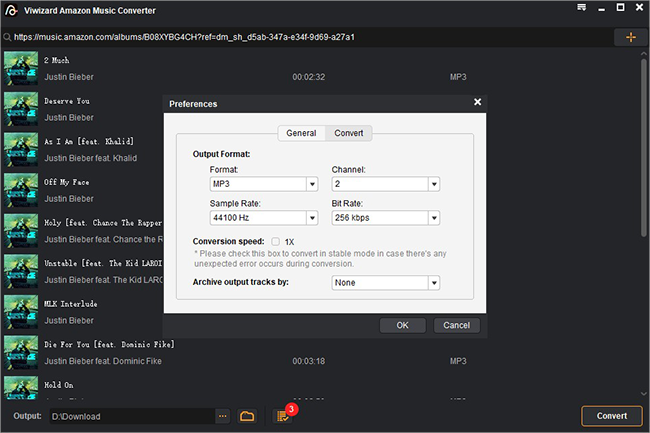 Before converting the songs, click the menu icon and next to click 'Preference'. For Apple Watch-supported audio formats, you can convert songs on the list to AAC, MP3 or WAV in ViWizard. For better audio quality, you can choose to maximize AAC and MP3 format's output bit rate to 320kbps. As for WAV format, you can choose its bit depth, either 16 bit or 32 bit is available.
Besides, you can also alter other parameters like channel and sample rate for your unique listening experience. You should also notice that you can archive output tracks by none, artist, album, artist/album, which save your time to file up the converted songs for offline use. Lastly, don't forget to click the 'OK' button to save your settings.
Step 3

Convert and Download Amazon Music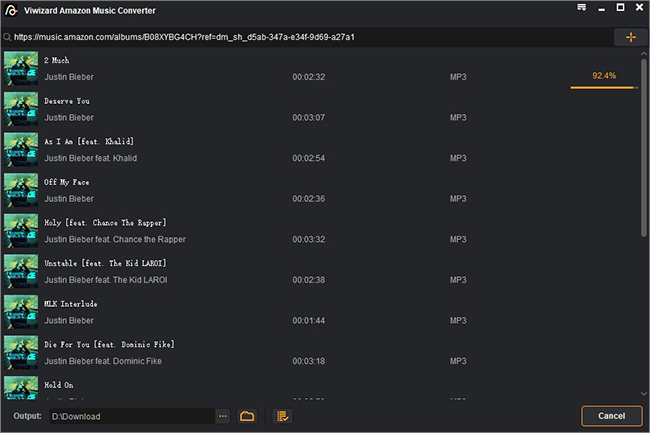 Check the songs on the list again and notice there is the output path at the bottom of the screen, which shows where the output files will be saved after the conversion. Once you click the 'Convert' button, ViWizard Amazon Music Converter will start to download and convert Amazon Music tracks based on the setting. At a 5x speed, the conversion will finish in just a few moments. You can browse the converted music files at the 'converted' icon that next to the output path's bar.
Part 5. How to Transfer Amazon Music to Apple Watch via iTunes
Congratulations! Now all your favorite songs from Amazon Music are converted to the Apple Watch-supported formats with good audio quality. Apple Watch offers 2GB local music storage for users to syn audio files from iTunes Library. To transfer the converted files to Apple Watch via iTunes, there are still a few simple steps that need you to follow.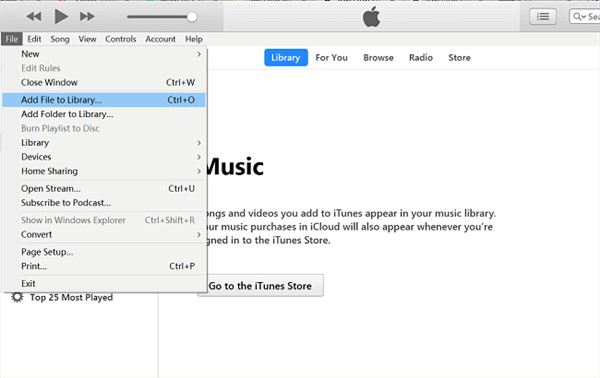 Step 1. Sync Amazon Music to iPhone from Computer via iTunes
1. First to connect you iPhone to the computer via a USB connection.
2. Launch iTunes and click to 'File' at the menu bar. Click 'Add File to Library…' or just press 'Ctrl+O' to locate the 'Converted' folder that has the converted songs in it.
3. Next is to find and click the iPhone icon and 'Music' and then 'Sync Music'. There the Amazon Music sync with your iPhone from the computer. Lastly, remember to click 'Done'.
Step 2. Play Amazon Music on Apple Watch
1. Use Bluetooth to pair iPhone and Apple Watch.
2. Open Apple Watch app on the iPhone. Select 'My Watch' - 'Music' - 'Add Music' to sync the Amazon audio files in Apple Watch-supported formats.
All done! Now you can play Amazon Music on your Apple Watch offline.
Conclusion
With the above information, it is possible for you to play Amazon Music on Apple Watch. Even without the Amazon Music app on Apple Watch, you can still have a wonderful listening experience with ViWizard Amazon Music Converter. You can download ViWizard Amazon Music Converter in this page. Give it a try!
More Amazon Music Tips & Tricks