Since November 2020, the much-advanced Sony PlayStation 5 (PS5) has been released and have a couple of significant set-ups than PlayStation 4 (PS4) - improved storage, disk capacity and resolution. Except for just playing games, users also love to have music playing as background on their PS5 consoles.
Meanwhile, just like PS, for these years Amazon Music has been more welcome with its several services such as Amazon Music Prime and Amazon Music Unlimited. At this moment these two services are becoming more popular because Prime Music comes "free" as part of a Prime membership and HD Music is now part of Amazon Music Unlimited, meaning Amazon Music fans will be benefited more than the past.

But there are some things that don't quite feel right. For a fan of PS and Amazon Music, it confuses a lot to see Amazon Prime Video is on PS5 but not the most popular Amazon Music app. However, other streaming music services app such as Spotify is available on PS. How this could be happening? Why no Amazon Music on Playstation 5? Well, this article will tell the truth.
Part 1. Why No Amazon Music on Playstation 5?
Since 2015, Sony and Spotify have teamed up for PlayStation Music, which replaced Music Unlimited at that time. It has been 2 years since the lunch-day PS5 from 2020 but, Amazon Music app is still excluded so your Amazon Music accounts with subscription could be useless on PS5.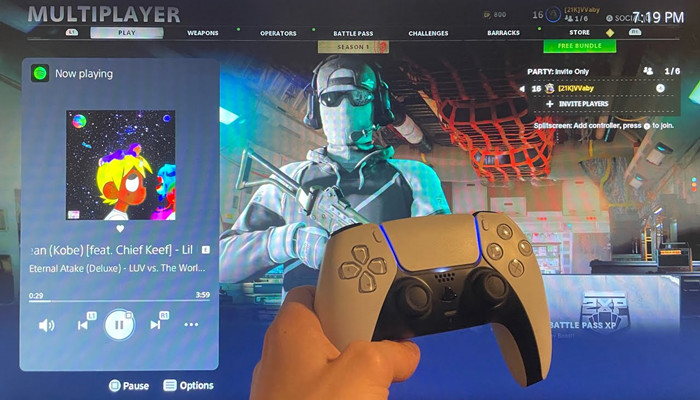 However, just like the PS4, PS5 lets listen to custom music from a USB drive, which means users can still listen to their local music files. So, how about downloading music from Amazon and listening to them in the background while playing games?
Still, it's impossible. This time is the Amazon Music app to blame because the downloaded music files with subscription are encoded in a format different from PS5-supported MP3. In other words, to stream Amazon Music on PS5, the universal MP3 format is required.
Don't despair. Fortunately, this is where ViWizard Amazon Music Converter works the best. Reading on to Why using ViWizard Amazon Music Converter can be the best method to enable Amazon Music on PS5.
Part 2. The Best Method to Enable PS5 Amazon Music
ViWizard Amazon Music Converter is a professional and powerful tool that deals all the course with Amazon Music, including enabling Amazon Music offline for streaming on PS5. First to convert the Amazon Music tracks into MP3, FLAC or AAC. These Amazon Music PS5 supported formats are all supported to set as output formats of Amazon Music tracks in ViWizard's output parameters settings.
Besides, one Amazon Music Account with subscription can download all the accessible music tracks from Amazon without a cost on an extra purchase in its digital store, where MP3s are available to download. Or for Prime members, ViWizard will allow you to maximize the bit rate to 320kbps, which is the same as HD Music special for Unlimited subscribers. Also, the ID3 tags will be saved.

Key Features of ViWizard Amazon Music Converter
Download songs from Amazon Music Prime, Unlimited, and HD Music
Convert Amazon Music songs to MP3, AAC, M4A, M4B, FLAC, and WAV
Retain the original ID3 tags and lossless audio quality of Amazon Music
Support customizing the output audio parameters for Amazon Music
Step 1

Select and Add Amazon Music Tracks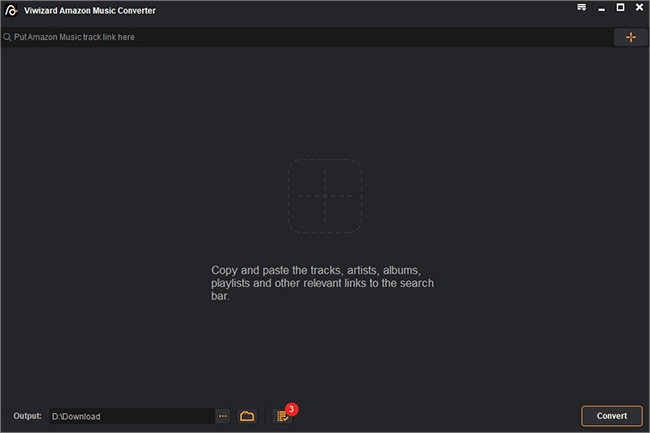 Choose the correct version of ViWizard Amazon Music Converter and click the 'Download' button to download it to the computer. On Windows, once the program is running, it will also relaunch the Amazon Music desktop app for stable conversion. Now on the pop-up app, sign in to an Amazon Music account with subscription to have the access to music from Amazon. You can add the music tracks to the ViWizard to download with a simple drag-and-drop.
Step 2

Set the Supported Format for Amazon Music PS5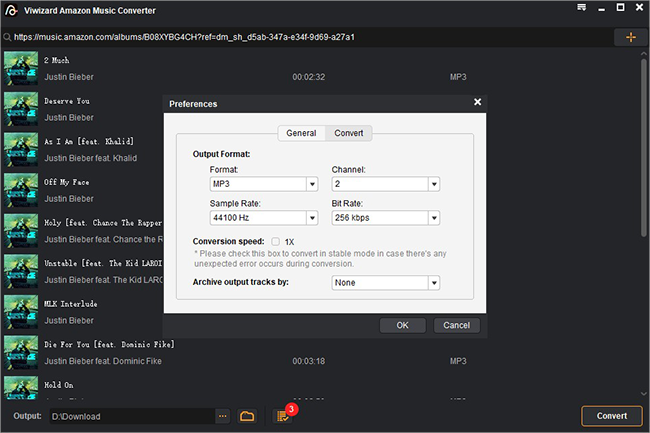 On the ViWizard Amazon Music Converter, notice that the music output format is shown next to each song's duration - should be M4A now. To change the output format, click the menu icon and select 'Preferences' to open the 'Preferences' window, where output parameters can be set. Find 'Format' to choose MP3, FLAC or AAC from the list. Here the universal MP3 is recommended. Other parameters should as bit rate, sample rate and channel can be set as you wish. For good audio quality, you can choose either 256kbps or 320kbps.
Step 3

Convert and Download Amazon Music PS5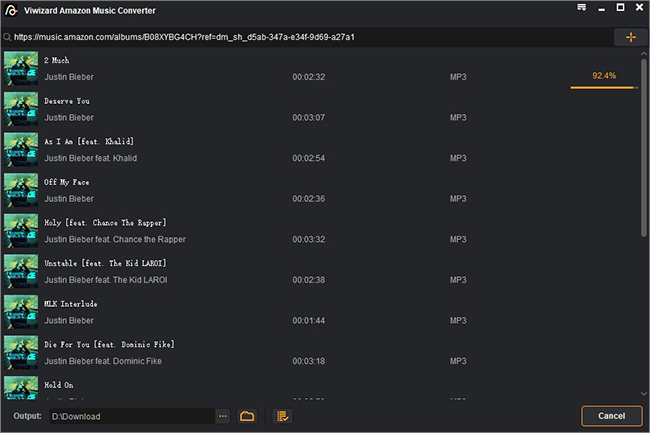 Check the output format again on the center screen, now the format should be set and shown as MP3, FLAC or AAC. If there is a mistake, just go back to the 'Preferences' and reset it to the correct format. Noted that at the bottom of the screen is an output path, showing where the downloaded files will be. Click the 'Convert' button, all the music tracks will be downloaded with a correct format for PS5 Amazon Music at a 5x speed.
Part 3. How to Stream Amazon Music from PS5 Music USB Drive
Since now ViWizard Amazon Music Converter allow you to use and manage your Amazon Music tracks in the PS5-supported formats, reading on to learn how to stream the downloaded music tracks on PS5 from PS5 music USB drive.
3.1 Transfer the Downloaded Amazon Music tracks to a PS5 music USB Drive
1. On ViWizard Amazon Music Converter, click the file icon next to the three-dot icon at the bottom to locate the output folder.
2. Connect the computer with an USB drive (see "Note").
3. On the computer, create a "Music" folder in the root directory of the USB drive.
4. Move the downloaded Amazon Music files to the "Music" folder.
Note: the PS5 music USB drive should be formatted with either the exFAT or FAT32 file system.
3.2 Listen to Downloaded Amazon Music tracks from PS5 music USB Drive
1. Make sure all the downloaded Amazon Music files are in the "Music" folder.
2. Connect the USB drive to the PS5 console.
3. Press the PS button to open up the Control Center quick bar.
4. In the Control Center, select the Music icon.
5. Select a downloaded Amazon Music file to stream.
Note: From the Command Center, pause or change the Amazon Music tracks once the music is streaming.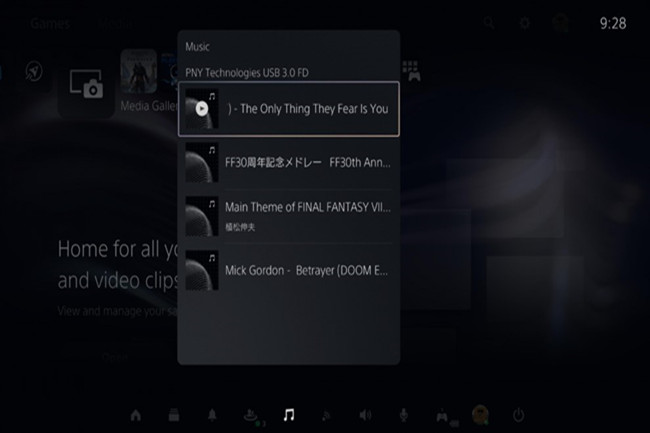 Conclusion
Now with the help of ViWizard Amazon Music Converter, you favorited Amazon Music songs can be streamed in the background as you play the games.
More Amazon Music Tips & Tricks