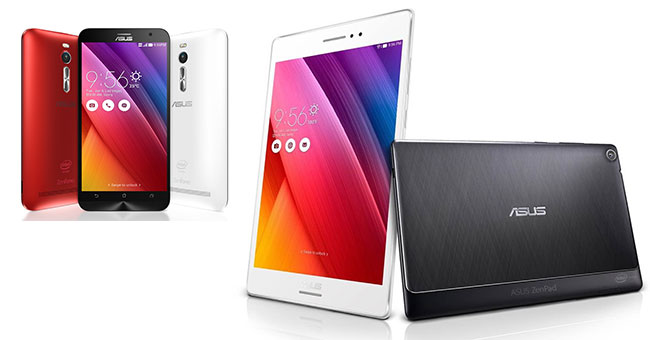 "I had been a fan of ASUS since my freshman year when I bought my first ASUS laptop. I got many ASUS electronic products like Zenphone, Zenpad and Transformer book. They work ideally for entertainment, study and work except only one issue bothers me always is that they can't play iTunes DRM M4V movies. Do I have to switch to IOS devices or is there any other better ways?" - Question asked by Vanessa Johnson
I can understand how it feels when I hear this question because we do need to watch iTunes M4V videos on our non-apple devices sometimes. Like others, I am very impressed with ASUS too for its high performance after using the Zenfone 3. I did find some ways to solve this problem by myself. In this article, I will introduce the ASUS products and offer a simple way to get rip of DRM to play iTunes videos on ASUS easily. Please follow me if you want to transfer M4V to ASUS as well.
Brief Instruction to ASUS Phones and Tablets
As an reliable innovative consumer electronics company, ASUS offers various kinds of high quality products with reasonable prices for our daily use. The product lines cover phone, tablet, netbook, transformer book and much more. These devices are designed with different features like optical zoom, auto-focus, super long life battery, AR&VR, cinematic entertainment to meet the requirements of different customers and they are especially well known for the common high hardware configuration and performance. They not only can handle business documents smoothly, but also play movies with clear and vivid effect . As a result, many movie lovers are exceptionally interested in getting the mobile devices for watching TVs. Following are the main product models from the ASUS phone and tablet product lines.
Mobile phones: Zenphone AR/Deluxe/Ultra/Zoom/Max/Live/Selfie/Laser/Go

Tablets: ZenPad, Transformer Pad, Vivo Tab, Nexus, MeMO Pad
How to Remove DRM from M4V Videos and Convert to ASUS Portable Devices
ASUS mobile devices can play a lot of media files from different sources, but it can't play iTunes DRM videos which is only supported by Apple products like IOS devices or iTunes player etc. But don't worry, instead of getting a new Apple device, you can remove DRM to play iTunes DRM videos on your ASUS equipment freely.
The original way to remove DRM is to by recording the videos manually, though it does help many users before, it takes a quite long time and the quality will be reduced, so I won't recommend this method. With the development of modern video decryption technology, wiping out DRM has become typically easy, you never need to record video again but use a software to bypass DRM. TunesKit M4V to ASUS Converter for Windows/Mac is such a software fully redesigned to remove DRM quickly. By using the latest DRM decryption technology, you can get full access to the DRM protected video files to take away the DRM and extract the original video files. In this way, you can get the video without quality loss.
Here is the quick tutorial to remove DRM effortlessly:
Step 1

Download the DRM files from iTunes

You can go to the iTunes to download the videos you purchased or rented first. If you have already downloaded them before, you can skip this step.
Step 2

Load the iTunes videos to the software

After launching the software, you can simply drag your downloaded iTunes movies from iTunes library to the software screen or tap the 'Add Files' button.
Step 3

Select an ASUS compatible format

There are many formats which are supported by ASUS such as MPEG, MP4 and so on, please just choose one you like, personally I prefer MP4.
Step 4

Convert the videos for ASUS

Next, you can click 'Convert' button to convert the iTunes videos, when it finishes, you will get the ASUS compatible format of videos without DRM copyright protection.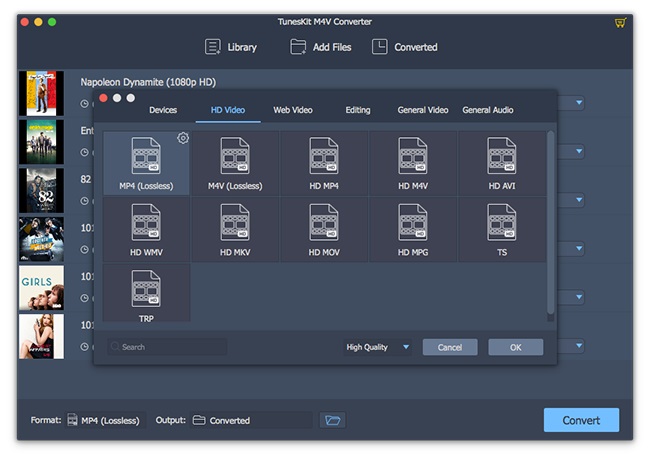 Tips on How to Transfer and Play iTunes Videos on ASUS Mobile Devices
After getting the DRM free videos without any copyright protection, you are almost done, what you need to do is to transfer the videos to your mobile devices like Zenphone, Zenpad. You can try one of the 3 methods.
1.Connect the ASUS devices like phone, tablet, transformer to your computer, then open the Windows Explorer (PC) or Finder(Mac), you will find the device folder, after that you can go to the device folder and transfer the videos to the specific video folder you want. Notes:You need to enable the USB debug mode on your device first else the device may not be connected.

2.You can copy your videos to a USB flash drive first, then you can plug it into an ASUS phone/tablet via an OTG cable and use one ASUS player to browse the file and play directly. Not all the ASUS portable devices support OTG, so please make sure you do this on an OTG compatible device.

3.Similarly, if your ASUS mobile device supports to insert a memory card, you can also transfer the videos to a memory card via a card reader, then put it into the device and play the converted videos conveniently.

Andy Miller joined TunesKit since 2013. He likes to spend his time to work on some new skills and gadgets. He's a writer as well as a computer geek.