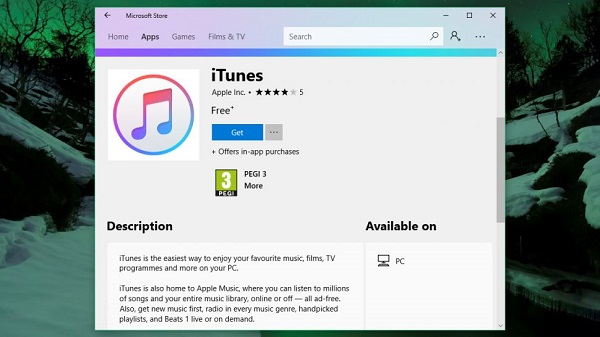 To fulfill promise made last year, Apple finally released a native version of iTunes to Microsoft Store for PCs running Windows 10 OS. Prior to this availability, iTunes for Windows was available only as a standalone download accessible from Apple website. Now with this new version, Windows 10 (S) users will be able to install and update the app all through Microsoft Store.
If you are running Windows 10, you'll probably get alert from Microsoft regarding the new iTunes like: "Now, you can download iTunes from Microsoft Store and easily play your favorite music, movies, and more — right from your Windows 10 PC."
iTunes for Windows is a straight port of the existing desktop software, but packaged in a way that enabled distribution via the Microsoft Store. The old desktop software won't update to the new app automatically though. When you install the app, the installer will offer to remove the legacy version for you. But don't worry. Your iTunes music library won't be affected.
This move of iTunes is most significant for users of Windows 10 S, a more streamlined version of Windows 10 meant for low-cost PCs and laptops used for education, who could not use iTunes because their operating system only lets them download apps available in the Microsoft Store.
To install the iTunes from Microsoft Store, you must run a Windows 10 machine with either x86 or x64 architectures. As the setup file of iTunes is a free 476.7MB download from the Microsoft Store, you need to have at least 500 MB of disk space in order to install it properly.
Attention! ViWizard DRM Removal Tools Don't Support iTunes Windows Store Version Yet
As a top leader in DRM removal industry, ViWizard has developed multiple popular DRM media converter software, including iTunes video converter, Apple Music converter, DRM audiobook converter and more. All those products require iTunes authorization in order to remove DRM from those media items.
If you are using any of ViWizard DRM removal products, please be well noted that currently all ViWizard software are incompatible with the newly released Windows Store version of iTunes. To smoothly convert the iTunes movies, Apple Music or audiobooks to other formats, please make sure you are downloading the iTunes from Apple site on Windows 10.

Rick Lee has written about business and consumer technology for nearly 25 years. He is the author of more than a dozen books.