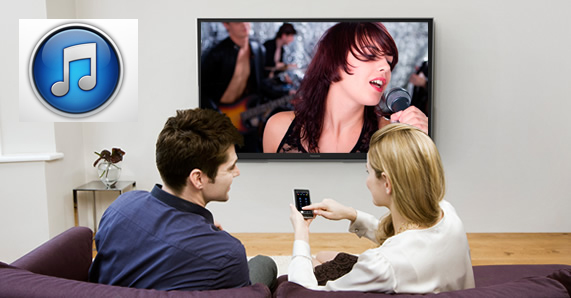 Watching movies on TV, especially the HD or UHD TV sets, can be amazing experience due to the high image and sound quality. For you who have a lot of movies downloaded or purchased from iTunes Store, you might have the urgent need to watch those iTunes movies on your smart HDTV but have no idea of how to do it. Before seeking the solutions to watch iTunes movies or TV shows on TV, make sure you clearly understand the situation that you can only access these iTunes movies in Apple's devices because iTunes movies are encrypted by Apple's FairPlay DRM copyright protection. Specifically speaking, watching iTunes movies on TV will not be as easy as the way you do with other common videos.
In this review, we have put together 6 easy ways in total for you on how to watch iTunes movies on TV freely. Now go ahead and find out what those solutions are.
Method 1. How to Watch iTunes Movies on TV via Apple TV
If you already own an Apple TV, then your problem will just be a matter of connecting cables. But if you don't have Apple TV or don't plan to buy it that costs around $149, then you are recommended to try other methods.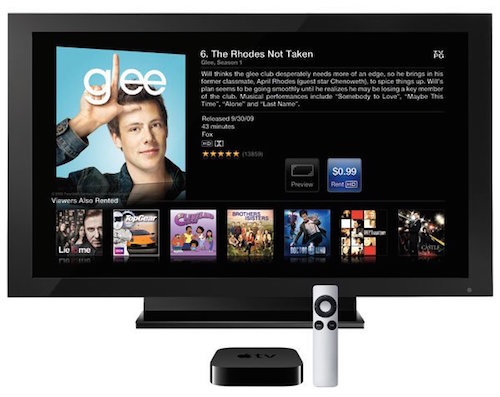 The most straight-forward way to watch the DRM-locked iTunes M4V videos on TV is using Apple's own product, that is, Apple TV. You can easily launch Apple TV and access the iTunes store to find the desired iTunes movies and TV shows and connect them to your HDTV for watching. For more details and the complete guide on how to play iTunes videos on TV by with Apple TV, you can read the following post. To do this, you should make sure the Internet connection is turned on in order to stream the movies from Apple TV.
Method 2. How to Stream iTunes Movies to Watch on TV via Other Media Streamers
If you don't have Apple TV but have other streaming media boxes instead, like Chromecast, Roku, Amazon Fire TV, etc., then this method could be the best option for you.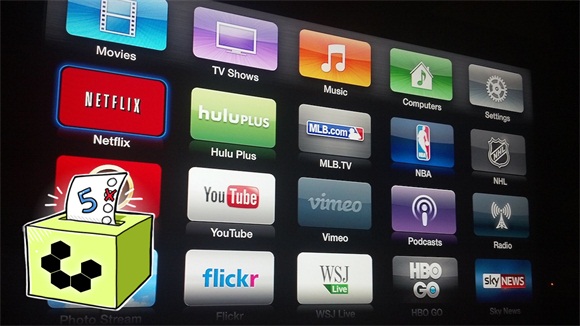 In this way, you'll need the assistance of a professional iTunes DRM removal tool since you are not allowed to stream the movies directly from iTunes to those media streamers because of the DRM lock. Currently non-Apple-TV streamers don't support iTunes store app so that you can't access the iTunes movies on those popular streaming boxes. But don't worry. ViWizard M4V Converter will help you completely remove the DRM encryption from all iTunes movies and TV episodes so that you can freely stream the DRM-free iTunes videos to TV via those media streamers. It's able to convert the protected iTunes M4V video files to unprotected media formats, including MP4, M4V, MOV, AVI, FLV, MKV, etc. supported by the common media streaming boxes. You can download the free version of this smart iTunes M4V video converter for Mac or Windows and begin to cast iTunes movies to watch on TV via Chromecast, Roku, etc. by clicking the links below.
Tips: The advantages of this method are varied. It not only enables you watch any protected iTunes movie on TV show at anytime you like, but also offers you the chance to play all purchased iTunes videos on non-Apple devices and keep the rentals as long as you wish. This would be the best option if you want to get the full control of iTunes movies by enjoying them on both TV and all kinds of other media playing devices without limit.
Method 3. How to Burn iTunes Movies to DVD for Playing on TV via DVD Player
If you've got a great DVD player at home for playing movies on your TV, then you will like this solution here.
Another popular and practical way to make iTunes movies playable on TV is through DVD player. To do this, you'll also need the help of iTunes DRM cracker software, such as ViWizard M4V Converter to firstly break the DRM lock from iTunes movies and TV episodes before burning the videos to DVDs. Since the original iTunes movies are encoded in .M4V format (also known as protected MPEG-4), the DVD burners won't take them for burning. ViWizard DRM M4V Converter, in this case, will help you convert the DRM-locked iTunes M4V videos to DVD burner software compatible formats, like MP4 so that you can import the iTunes files to DVD burning software easily.
The following tutorial will show you how to burn iTunes DRM movies to DVD so that you can play them on TV by using DVD players.
Method 4. How to Play iTunes Movies on TV via USB Drive
If your HDTV supports USB port, you can then use USB stick to copy iTunes movies to TV for playing.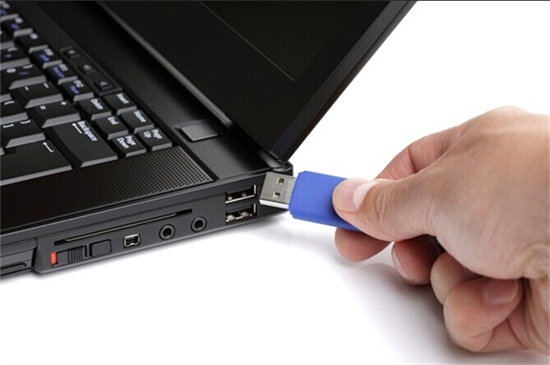 Before started, you should also know that it's impossible to transfer iTunes movies to USB as they are encrypted by DRM. So in this case, you still need to use ViWizard M4V Converter to completely remove DRM and convert the iTunes M4V videos to common formats supported by USB flash drive. Once the DRM is completely killed from the iTunes movies, you can freely copy the DRM-free iTunes videos to your USB stick and plug the flash drive to your TV port so that you can watch the movies on TV at anytime you like. The following tutorial will teach you how to play iTunes movies on TV via USB with the help of ViWizard.
Method 5. How to Watch iTunes Movies on TV via Computer
Before trying this solution, you should make sure your TV has a HDMI port or AirPlay that can be used to connect the TV to computer.
If you are using a PC, you can connect your computer to TV by plugging the HDMI cable into the HDMI port on your TV. In this way, what displays on your computer will simultaneously display on your TV screen. You can simply launch iTunes on your computer and start playing the movies. In result, the image will be immediately mirrored to the large screen of the television from your computer. That could be extremely simple. You can then use the TV remote control to go to the setting. The settings will specify the switch for the TV's input to the correct port. You can even connect and set the graphics adapter and continue to choose and use the TV screen as the monitor where you will be primarily watching the movies.
If you are using Mac and your TV supports AirPlay, things would become much easier. AirPlay lets you wirelessly stream what's on your Mac to your HDTV and speakers. All you have to do is connect your computer and TV set to the same Wi-Fi. When connected, the TV and your Mac will be paired automatically. Now you can simultaneously watch the iTunes movies on TV while playing back the movies with iTunes on your Mac.
Method 6. How to Watch iTunes Movies on TV from iPhone, iPad
If you like to use iOS devices, like iPhone, iPad to purchase and watch iTunes movies, this method will suit your needs to watch iTunes movies on TV.
By using this solution, you have two options to stream the iTunes movies to TV from iPhone or iPad. The first is use AirPlay, what we already talked above. The other is the option of connecting the iOS device to the TV directly with adapter cable. When using AirPlay, once you start watching any movie on the iPad, you can tap the AirPlay button which you will be able to find in the setting sections of the video controls. Then it will mirror exactly what's on your display to the big screen. When it comes to the AV adapter cable, you can either buy it from Apple official store or the local market. You can then simply join the cable to the TV and you'll get the display of brilliant picture quality on large screen of TV.
The Final Thoughts
As you can see, solution 5 and 6 would be the most straightforward way to make iTunes movies playable on TV. Solution 1 is the easiest way so far but it will cost you $150 if you don't have an Apple TV yet. At the same time, the other solutions look like more complicated but you should keep in mind that they provide more benefits in the long run. By choosing the solution 2, 3, and 4, you can access to iTunes movies more easily and flexibly on TV at anytime you want. At least, if the movies are rented from iTunes, you can simply keep them on your computer or other devices as long as you like without worrying about the expiration.
Do you know other ways to stream iTunes movies to TV for watching? Feel free to share your thoughts in the comments below!
More Reviews You May Also Like

Nick Orin is a review writer, software geek and Mac OS enthusiast. He spends all his free time in searching useful software and gadgets to share with others.