DJUCED is an excellent choice for DJs seeking a feature-rich software solution. With DJUCED, DJs can benefit from an intuitive interface and comprehensive mixing capabilities to mix tracks from local storage or online streaming music services, such as TIDAL.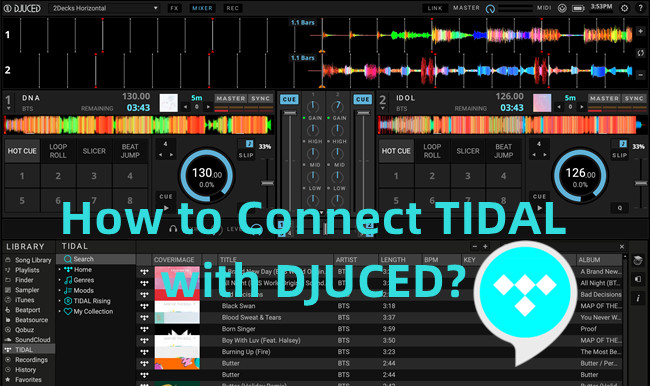 Since DJUCED has the partnership with TIDAL, DJs with eligible Tidal subscription can use the streaming music files within DJUCED. In this post, we'll share 2 options to add Tidal music to DJUCED with or without subscription.
Part 1.

How to Connect TIDAL with DJUCED with Subscription

The Tidal integration with DJUCED is available for Tidal HiFi or HiFi Plus subscribers. To connect Tidal to DJUCED, please make sure to sign up for an eligible subscription. Then, download and install DJUCED to the computer.
Connect TIDAL with DJUCED:
Open the DJUCED application on the computer.
Click on the Settings button in the upper-right corner.
Select CONNECT, and find the Tidal option alongside with other streaming services such as "SOUNDCLOUD".
Click on the Connect button next to the TIDAL option.

Log in to a Tidal HiFi or HiFi Plus account with username and password when prompted in a browser window. Once logged in, click Open DJUCED in a pop-up in the window.
Back to DJUCED, and click OK to finish the setup.
Find the TIDAL option in Library, and the Tidal music collections will be shown here. Click the arrow down icon next to an option to expand to see more options such as Playlists, Tracks, Albums, and Artists.

You can use the Search tool to find specific tracks in Tidal's catalog or music collection.

To mix these Tidal tracks in DJUCED, drag them to the Decks.
Part 2.

How to Use TIDAL with DJUCED without Subscription

While Tidal HiFi or HiFi Plus members can connect their Tidal accounts to DJUCED, users on free tier can choose to use TIDAL with DJUCED even without subscription. DJUCED supports audio files to import to the program from the Explorer (for PC) or Finder (for Mac). DJs will need to download Tidal music tracks to a compatible file format with the DJUCED program.

However, music tracks from TIDAL are protected in DRM (Digital Rights Management), and the DRM-encoded music tracks are not supported in DJUCED. You'll need to convert and download Tidal music to MP3, M4A, AAC, FLAC, or WAV with a conversion tool called ViWizard Tidal Music Converter. Once the conversion is complete, the DRM will be removed and Tidal music tracks will be stored as local audio files on the computer. You can then import the audio files to DJUCED for the direct access.
Best TIDAL to DJUCED Converter - ViWizard Tidal Music Converter
ViWizard Tidal Music Converter is designed for all Tidal users to download Tidal music to PC or Mac for offline user. To make Tidal music compatible with DJUCED, set the output format to MP3, M4A, AAC, FLAC, or WAV in the preferences settings of ViWizard. Within one click, the conversion will start and the lossless audio and full ID3 tags will be kept for a seamless experience.

Key Features of ViWizard Tidal Music Converter
Free Trial
Free Trial
* Security verified. 5, 481,347 people have downloaded it.
Download any Tidal content, including songs, albums, playlists, and artists
Support exporting Tidal music to MP3, AAC, FLAC, WAV, M4A, and M4B
Preserve a whole set of ID3 tag information in the downloaded Tidal songs
Handle the conversion of Tidal music up to 5× faster speed and in batch
Download Tidal to DJUCED:
Please make sure to download both the ViWizard Tidal Music Converter and Tidal desktop app on Windows PC or Mac computer, and follow these general steps to start download Tidal for DJUCED.
Step 1

Select Tidal music tracks

Open the ViWizard software and choose to open the Tidal desktop app when prompted. Navigate to the desired music tracks in the desktop app, and drag/drop them to the ViWizard sotfware.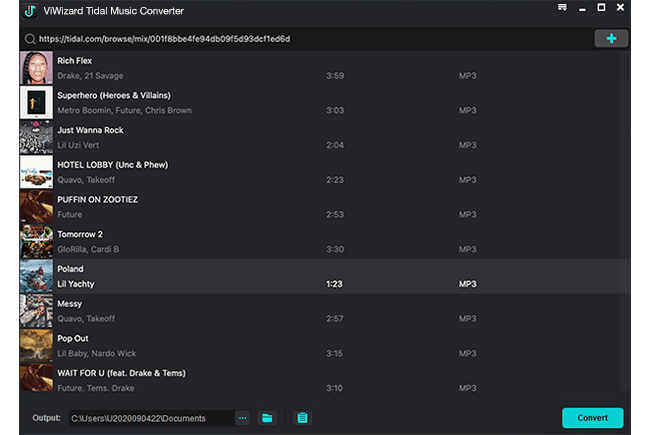 Step 2

Adjust Output format

To make Tidal music tracks compatible with DJUCED, please adjust the output format in ViWizard. Click the menu icon from the upper-right corner > Preferences > Convert > Output format, then select MP3 or others from the context menu. After that, click OK to continue.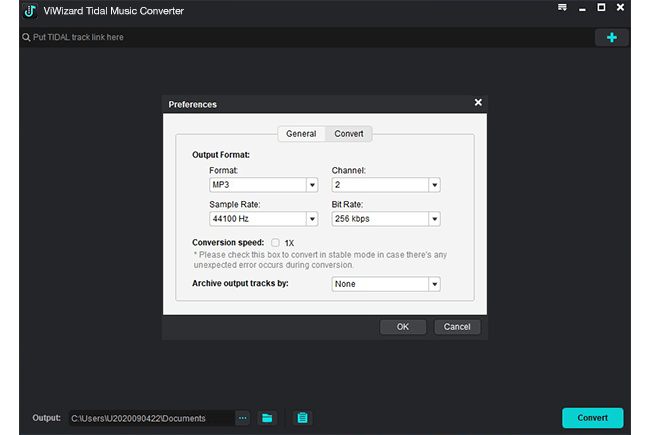 Step 3

Convert and download Tidal music tracks

Back to the ViWizard main interface, and click on the Convert button. The conversion will be finished at a super faster speed. To browse for the local tidal music files, click Open button.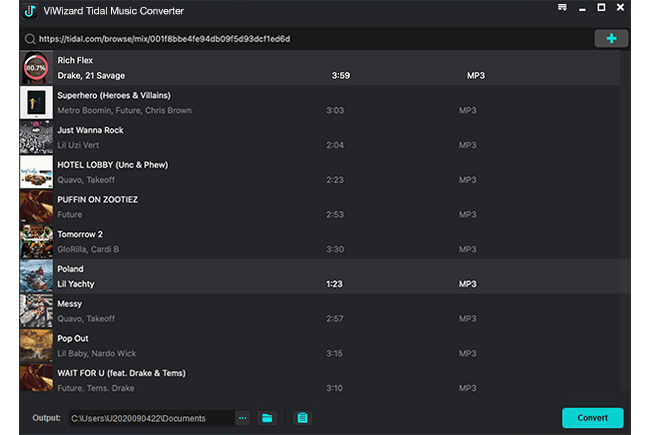 Part 3.

How to Import TIDAL to DJUCED without Subscription

You can now access these compatible Tidal music tracks in Explorer or Finder optin within the DJCUED program.
Import Tidal music tracks to DJUCED on PC/Mac:
Open the DJUCED application on Windows PC or Mac computer.
Find and click Explorer (for PC) or Finder (for Mac) in Library.

Navigate to find and locate the music folder that stores all the compatible Tidal music tracks, and select it.
You should see these Tidal music tracks, which can be used for offline loading and mixing with DJUCED.

To load and mix these Tidal music tracks with DJUCED, drag them to the DJUCED Decks.
Conclusion
In this post, we introduce separate solutions for DJs with or without Tidal subscription to use Tidal with DJUCED. For free users, please consider to use our ViWizard Tidal Music Converter to download Tidal music tracks for offline use with DJUCED. It's available on both Windows PC and Mac computer, just pick the correct version!