"The other woman" is the top download movie in iTunes this week. Even though this movie gains mostly negative review, it never affects its box office success. This movie was directed by by Nick Cassavetes and written by Melissa Stack. It's about three women's revenge story. Three women join forces to deal with the man who has been cheating on them.
Basic Information of "The Other Woman"
Here is some basic information and technical specifications about "The Other Woman".
Director: Nick Cassavetes
Runtime: 109 minutes
Starring: Cameron Diaz, Leslie Mann, Kate Upton, Nikolaj Coster-Waldau, Nicki Minaj, Taylor Kinney, Don Johnsons
Production company: LBI Productions
Release Time: April 17, 2014 (AUS); April 25, 2014 (US)
Story Line: Carly Whitten is a competent lawer, what she required are all the best to her standard. She met with Mark King one day and fell in love with this handsome man. The sweet time last until she knew her boyfriend was married already. And his wife is Kate King, who also knew nothing about Carly. The two women decided to start their revenge to Mark, and Amber joint them later...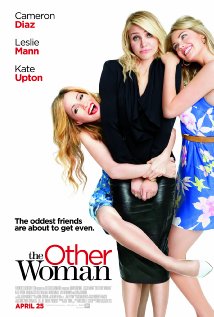 Reviews for "The Other Woman" From Audience
The position of "The other woman" is comedy. But under our laugh to this story, we also feel some sadness for the women. Carly and Kate pay their hearts to Mark, but what they get is Mark's cheat. Even though the women get some pleasure after their revenge, nothing more to do to make the damages to them.
"Leslie Mann is amazing! What a refreshingly wonderful actress! Her comedic timing is perfect. I bet she just ad-libbed most of her scenes and it was so mesmerizingly good. I would love to have girlfriends like this. Nicki Minaj was excellent too. I enjoyed Cameron Diaz too. I just loved the whole movie. It was perfect: no violence, no horror, no big special effects, and nothing upsetting. I am not a movie snob, just a regular girl who wants to see a entertaining movie that leaves me feeling good afterward. This movie did that. If you want a light-hearted comical romp where the girls prevail in the end-see this movie." - From Chezron R on imdb.com
"The story and the movie scenery are both simple. But if you are a women, and also have several closed girlfriends who is a part of your life, then you can find something similar from this movie. Women are not stupid, but a woman's heart is easily moved, not like a man just the actual sensory animals. A woman can to be a worthless promise discipline to be waited for a lifetime. But a man won't."
Purchase "The other woman" from iTunes? Then watch it on any Non-Apple devices by following tips
As the top 1 download movie in iTunes movie store, I want to mention that the iTunes downloaded movie can't be watched with any non-Apple devices. It's not so convenient. But if you got below tips, everything becomes ease.
Tip 1. Bypass iTunes DRM protection With TunesKit application.
TunesKit for Mac is a powerful iTunes DRM Removal software for Mac users. It easily cracks the iTunes DRM protection from iTunes purchased and rented movies. It also can be called the best DRM M4V to MP4 converter for Mac, which can convert iTunes encrypted M4V videos to unprotected MP4 format with fast speed and lossless quality.
Tip 2. Liberate iTunes purchased movie with Requiem DRM removal freeware
Requiem is an excellent way to remove DRM from iTunes downloads, including iTunes movies/TV shows, music and iBooks. It can be said a powerful FairPlay DRM removal. The downside for this free app is that there is no update for a long period.

Matt Smith is an amateur writer engaged in Tuneskit in 2013. He is a movie lover who write a lot of movie reviews for many websites and blogs.