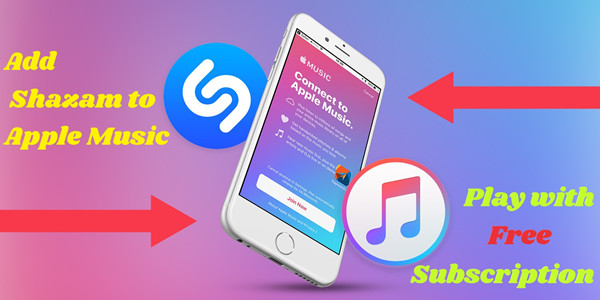 As Apple Music keeps growing in popularity, the service is now connected to the song-recognizing app Shazam. If you hear a song that you're familiar with but don't know its name, just open the Shazam app on your phone and start identifying. And the result will be shown within seconds.
Back in 2018, you could only play your Shazams on Spotify, and couldn't on Apple Music. But now Apple Music has launched the integration with Shazam. With Apple Music subscription, you can play the full-version Shazam songs on the app.
In the following parts, I'm going to show you how to connect Shazam to Apple Music and download Shazam songs on Apple Music for free.
How to Connect Shazam to Apple Music
Before you jump to the cross-app integration feature, make sure you have both Apple Music and Shazam installed on your phone. And this feature requires an Apple Music subscription to play Shazam songs, or else you'll see an error pops up on the screen. If you have got them both on your phone, let's get started:
1. After opening the Shazam app, tap Library and then tap the cog icon to enter Settings.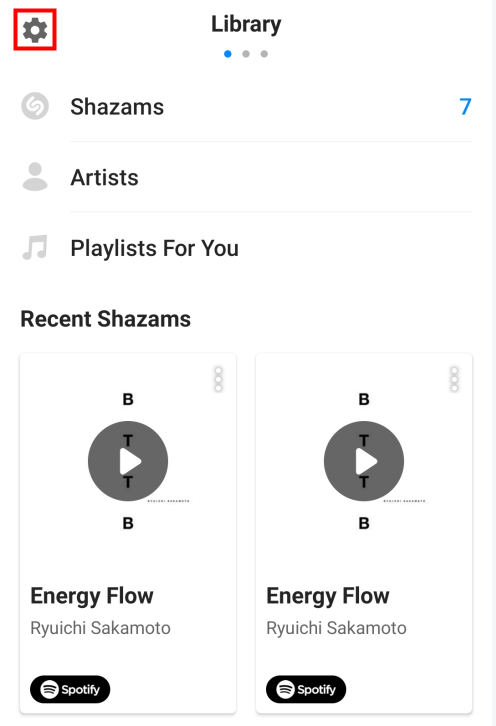 2. You should be able to see the Apple Music bar on the top of the Streaming section, tap CONNECT and follow the instruction.
3. Go to the Shazam app and recognize a song, you'll see a new option to play or add the song to your Apple Music playlist.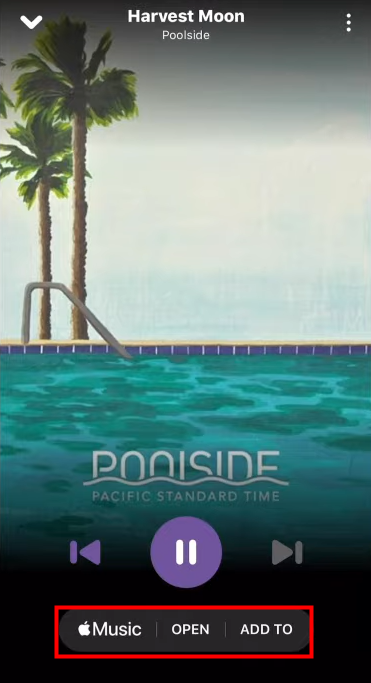 How to Fix Apple Music Shazam Playlist Not Updating
After connecting Shazam with Apple Music, a new playlist named after My Shazam Tracks will be automatically added to your Apple Music playlist list. If you recognize a song on Shazam, the song should be added to this Apple Music playlist simultaneously. But some users might run into troubles, as an iPhone user reports:
I have a paid Apple Music membership in good standing. For some reason, my Shazams are no longer updating in the My Shazam playlist. In fact, it's more than that. I currently have 410 songs in My Shazam. I noticed that there were only about half that amount in the playlist on Apple Music.
And here're some solutions to fix this problem:
1. Disconnect Apple Music from Shazam, and delete the Shazam playlist on your Apple Music app. And then reconnect Apple Music with Shazam, a new playlist and the song syncing feature will be reactivated.
2. Installed the latest version of Shazam and Apple Music to make sure the full feature is available on both apps.
3. Check your internet connection, poor Wi-Fi or cellular may cause the syncing problem.
4. Update your iOS system to the latest version to ensure your phone is running in good standing.
If you still can't fix the problem after trying all the solutions listed above, the only way is to manually add your Shazam songs to Apple Music playlist which might be quite tiresome. But what I'm going to introduce in the next part will definitely make your Shazam songs worth it.
Download Shazam Songs on Apple Music with Free Subscription
Normally you'll need to have the Apple Music paid subscription to play and download songs from your Shazam playlist, but there's a trick for you to get Shazam songs on Apple Music for free if you haven't subscribed to Apple Music yet.
Apple Music provides every newcomer with a 3-month free trial, all you need to do is sign up for an Apple Music account and accept the free trial offer. Of course, you can extend your free trial to 6 months.
During your free trial, you can play and download Apple Music songs unlimitedly. But you'll lose the availability to the songs as soon as the free subscription ends. If you still want to enjoy Apple Music songs after your subscription ends, you can use the ViWizard Apple Music Converter to download all your Apple Music Shazam songs to your computer during the free trial. After that, you still can listen to these songs even if your free trial is expired.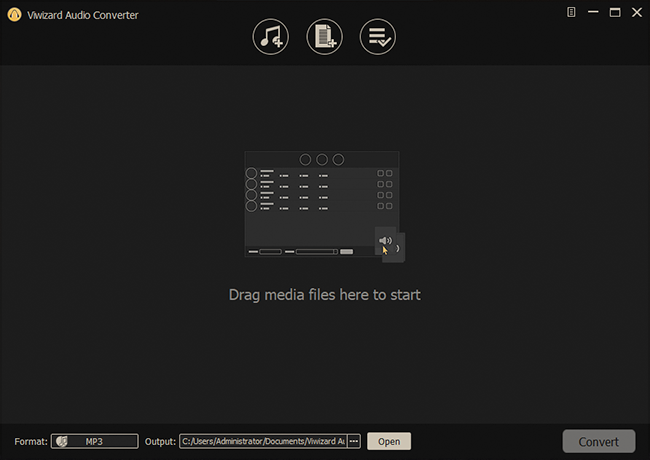 Comes with an intuitive interface, the ViWizard Audio Converter is designed to convert all protected iTunes, Apple Music songs and radio shows into MP3, M4A, AAC, FLAC and other common formats.
The specially designed engine can accelerate the converting speed up to 30X faster with high output quality preserved. With this tool, you'll be able to download Apple Music Shazam songs and play them anywhere you want.

ViWizard DRM Audio Converter Key Features
Convert Apple Music songs to MP3, M4B, AAC
Download and play Apple Music Shazam songs without limitations
Customization options to change output parameters
Retain 100% original quality and ID3 tags
Convert at 30X faster speed
1. Launch ViWizard and Import Apple Music Shazam Music Files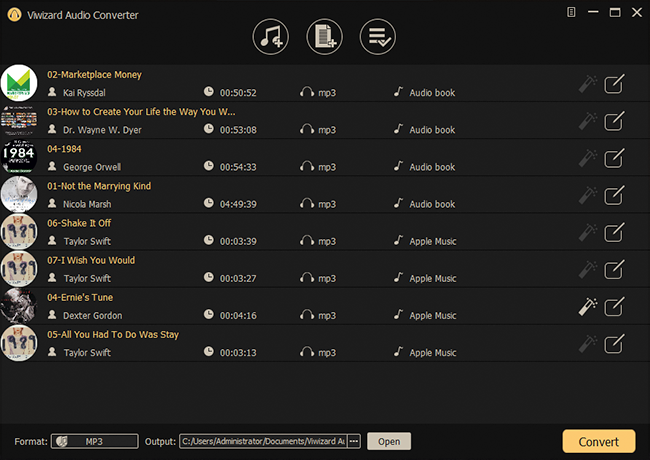 Launch your ViWizard Audio Converter and then click the music note "+" button to import songs from iTunes library. Or you can drag and drop the audio tracks to ViWizard interface.
2. Setting Output Format and Parameters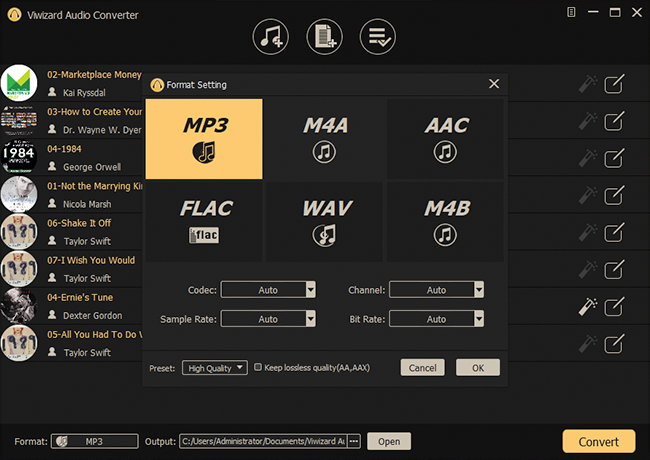 Once completed loading input files, you can click the "Format" button in the bottom left and choose the output format among MP3, AAC, FLAC, WAV, M4A, and M4B. You can also click the "Output" button and choose the output location.
3. Start Converting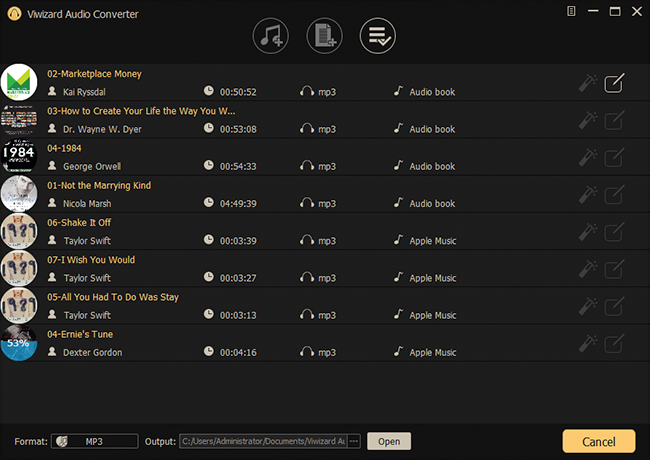 With format setting done, press the "Convert" button and ViWizard will start the conversion process. When it is done, you can find all your converted songs by clicking the "Converted" button.
4. Enjoy Apple Music Shazam Songs Everywhere with Free Subscription
Now all your Shazam tracks on Apple Music are available for you forever even without the Apple Music subscription. You can play them on your car, share with your friends and whatever you can think of.
More iTunes music DRM removal tips