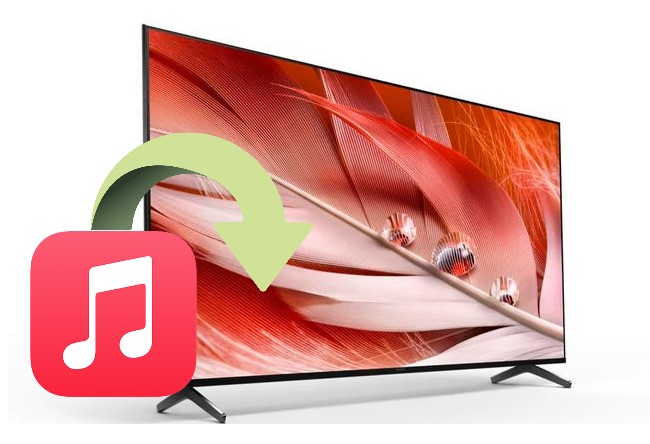 Are there any news about the Apple Music app for Sony TV? Samsung TVs have had the Apple Music app for a while. Does anyone hear of an Apple Music app coming to Sony TV?
As for the smart TV field, Sony is someone that cannot be emitted. It rounds up the TVs from 49 to 65 inches. Sony Bravia TV has 4K models applied with LED screens or even OLED panel technology. 8K and HDR is reached by Sony Bravia TV as well. Most Sony Bravia TV use Android TV or Google TV operating system of Google, so that you can reach the Google Play Store and apps that are open to Android. Not a few people like to use Sony TV to play music. Does Apple Music, the leading streaming music service support Sony TV?
For Sony TV with Android TV or Google TV, you can try to look for the Apple Music app from Google Play Store. But many users report they could not find the Apple Music app on Sony Bravia TV. Some try to side-load it but they find the interface is terrible and is not suitable for use on a TV. The other 2 solutions introduced in this passage will offer a better listening experience. Just read ahead to get more details.
Part 1.

How to AirPlay Apple Music on Sony Bravia TV

AirPlay 2 is an advanced wireless streaming technology developed by Apple, designed to effortlessly stream audio and video content from your Apple devices to compatible devices, such as your Sony Bravia TV. It brings improved synchronization, multi-room support, and enhanced performance compared to its predecessor. With AirPlay 2 set up, you can easily play Apple Music on your Sony Bravia TV, while maintaining a positive listening experience.
Step 1

Set Up AirPlay 2 on Sony Bravia TV
Begin by confirming that your Sony Bravia TV is compatible with AirPlay. Most recent Sony TV models offer this feature, but it's always best to verify.
To ensure seamless functionality, make sure your Sony Bravia TV is running the latest firmware. Visit the Sony support website and follow the instructions to update your TV if necessary.
Both your Apple device (iPhone, iPad, or Mac) and Sony Bravia TV must be connected to the same Wi-Fi network for AirPlay to work correctly. Double-check your network settings.
On your Sony TV, navigate to the settings menu and locate the "AirPlay" or "Screen Mirroring" option. Enable it and choose a name for your TV.
On your Apple device, swipe down from the top-right corner (on iPhone/iPad) or access the Control Center (on Mac). Tap or click on the "Screen Mirroring" or "AirPlay" icon, and then select your Sony Bravia TV from the list of available devices.
Authentication: You might be prompted to enter a code or confirm the connection on your TV. Follow the on-screen instructions to complete the pairing process.
Step 1

AirPlay Apple Music to Sony Bravia TV

Once AirPlay 2 is successfully set up, streaming Apple Music to your Sony Bravia TV is straightforward: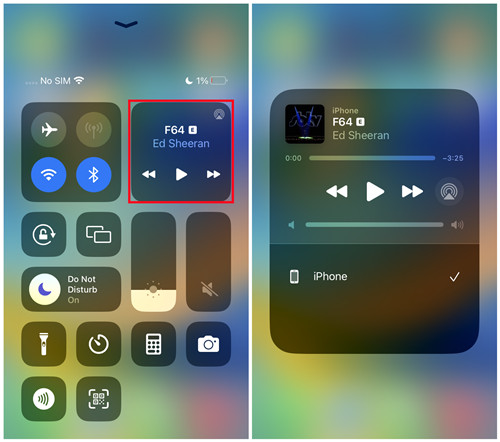 Launch the Apple Music app on your iPhone, iPad, or Mac.
Browse your Apple Music library and choose the song or playlist you want to play on your TV.
Locate the AirPlay icon within the music player or Control Center on your Apple device. Tap or click it and select your Sony Bravia TV as the target device.
Your selected music content should now be playing on your Sony Bravia TV. You can control playback, adjust volume, and select tracks from your Apple device.
Apple Music Not Connecting to Sony Bravia TV via AirPlay 2?
If you experience connectivity issues, ensure both devices are on the same Wi-Fi network and within proximity of each other.
Keep your TV's firmware up to date to benefit from the latest AirPlay 2 features and improvements.
Restart both your Apple device and Sony Bravia TV if you encounter persistent connection problems.
Disable any VPN or proxy settings on your Apple device, as they can interfere with AirPlay functionality.
Part 2.

How to Convert Apple Music for Playback on Sony Smart TV

The second method is the perfect solution for users even without an Apple product to access Apple AirPlay 2. It allows you to activate the actual Apple Music files on your Sony TV, with only a common USB drive required.

Alternatively, for those using a Windows computer, you can transfer the Apple Music files to Windows Media Player and then send and playback content from the computer on your Sony Smart TV.

However, it's important to note that Apple Music streaming files that Apple Music subscribers access are DRM-encoded and are in M4P audio file format. To access the transferrable Apple Music files, you'll need a powerful Apple Music converter to help convert M4P into MP3.
Tool Required: ViWizard Apple Music Converter
We'd like to recommend ViWizard Apple Music Converter as your go-to solution for converting Apple Music streaming files into MP3s for your Sony Smart TV. This dedicated Apple Music converter offers a host of features to enhance your music experience:
ViWizard Audio Converter is very versatile. It can convert different types of Apple Music, like songs, iTunes files, and audiobooks from iTunes and Audible. You can pick from various output formats like MP3, M4A, AAC, FLAC, WAV, and M4B, which is handy for your Sony Smart TV. It keeps your music's quality intact, so it sounds great on your TV. Plus, it saves all the important info about your music, like artist names and album details, making your music library neat and appealing on your Sony Smart TV, and enhancing your listening experience.

Key Features of ViWizard Audio Converter
Free Trial
Free Trial
* Security verified. 5, 481,347 people have downloaded it.
Convert songs, albums, and playlists from Apple Music to MP3
Remove DRM protection from Apple Music, iTunes, and Audible
Save the converted audios with the original quality and ID3 tags
Support the conversion of up to 100 audio formats to others
Step 1

Add iTunes Songs to ViWizard

Launch ViWizard Audio Converter on your computer and then iTunes will be opened automatically. Click the Load iTunes Library button at the top center to browse the iTunes M4P files from your library. You are also allowed to add iTunes songs to the converter by drag-and-drop.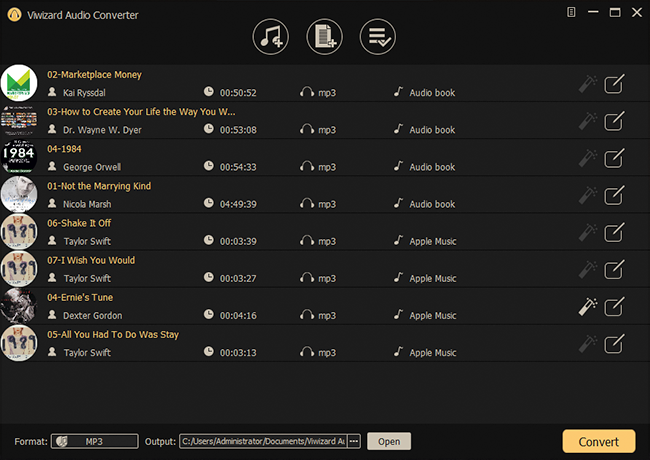 Step 2

Configure the Output Format

Once your iTunes songs are loaded successfully to the converter, you can select the output format as you like with the Format button, as well as the other settings, such as the bit rate, sample rate, channel, codec, audio quality, and output folder. Currently, ViWizard Audio Converter supports MP3, M4A, M4B, AAC, WAV, and FLAC.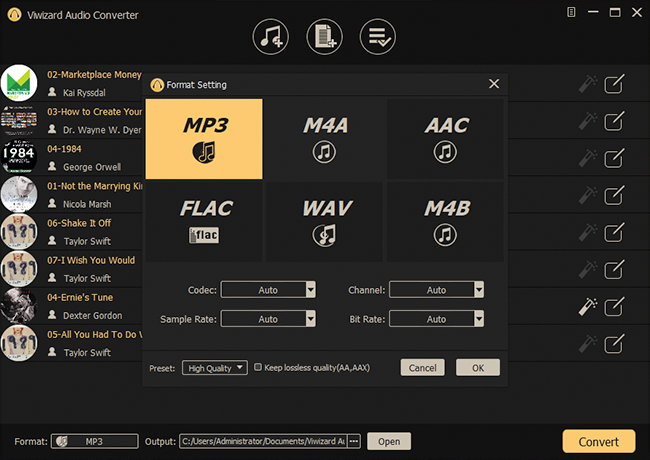 Step 3

Remove DRM from iTunes Music

Now click on the Convert button and it will begin to convert DRM-protected iTunes songs to MP3 or other unprotected formats at 30× faster speed. After completing the conversion, you'll get DRM-free iTunes songs playable on any MP3 player without limit. You can view all the converted iTunes songs in the history list by clicking the Converted icon.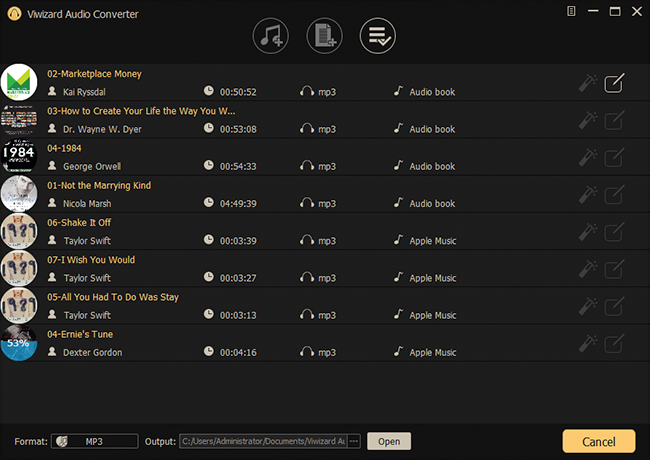 Part 3.

How to Play Apple Music on Sony Smart TV with USB

To play your Apple Music on your Sony Smart TV using a USB flash drive, follow these steps:
First, plug your USB drive into your Windows PC or MacBook.
Find and select the desired Apple Music songs or playlists you want to play on your TV. You can either use copy-and-paste or drag-and-drop to transfer them to the USB drive.
Once the transfer is complete, safely eject the USB drive from your computer.
Insert the USB flash drive into an available USB port on your Sony Bravia TV.
Use your TV remote to press the HOME button. From the Home menu, select the "Apps" icon, and then choose "[Media Player]."
You should see the name of your USB device listed. Select it.
Locate the folder where you transferred your desired Apple Music files and select it.
Finally, choose the specific Apple Music file you want to play from the list and press the "Play" button on your remote.
Part 4.

How to Cast Apple Music Playback to Sony Bravia TV

To cast Apple Music from Windows Media Player to your Sony Bravia TV, follow these simple steps:
Ensure that both your Windows device and your Sony TV are connected to the same Wi-Fi network.
Open the latest version of Windows Media Player and navigate to the Library section to access your Apple Music. If you haven't already, upload the converted Apple Music files to it.
Click on "Stream" and select "Turn on media streaming." Confirm the action by clicking "OK." Then, choose "media streaming options for computers and devices" and click "OK" again.
Return to the "Stream" section and check the dropdown menu. If you see the option "Automatically allow devices to play my media," and it's checked, you've successfully turned on media streaming.

Ensure that both the output folder and Windows Media Player are visible on your screen. Drag and drop your desired Apple Music files into the "Play" tab in Windows Media Player to create a playlist.

On the right side of the screen, locate the "Play to" icon and select "Cast to Device." From the list of available devices, choose your Sony TV. Alternatively, you can right-click on the specific Apple content (playlist or song) and select "Cast to Device."
Conclusion
Regarding playing Apple Music on Sony Bravia TV, basically, you have 3 methods - use Airplay to mirror your iPhone/iPad, or convert Apple Music to supported files and activate them on your Sony Bravia TV for offline playing even without an Apple Music subscription.