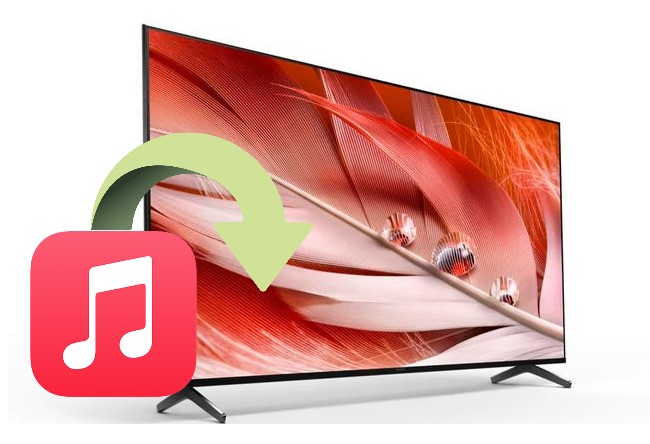 Q: Are there any news about the Apple Music app for Sony TV? Samsung TVs have had the Apple Music app for a while. Does anyone hear of an Apple Music app coming to Sony TV?
As for the smart TV field, Sony is someone that cannot be emitted. It rounds up the TVs from 49 to 65 inches. Sony Bravia TV has 4K models applied with LED screens or even OLED panel technology. 8K and HDR is reached by Sony Bravia TV as well. Most Sony Bravia TV use Android TV or Google TV operating system of Google, so that you can reach the Google Play Store and apps that are open to Android. Not a few people like to use Sony TV to play music. Does Apple Music, the leading streaming music service support Sony TV?
For Sony TV with Android TV or Google TV, you can try to look for the Apple Music app from Google Play Store. But many users report they could not find the Apple Music app on Sony Bravia TV. Some try to side-load it but they find the interface is terrible and is not suitable for use on a TV. The other 2 solutions introduced in this passage will offer a better listening experience. Just read ahead to get more details.
Part 1. How to AirPlay Apple Music on Sony Bravia TV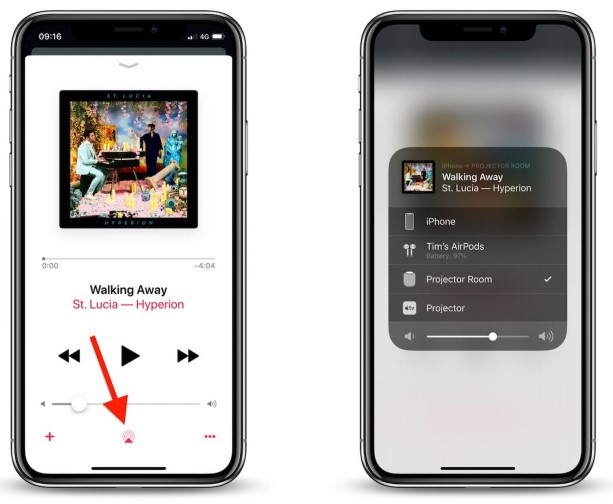 Apple AirPlay is quite helpful for it can mirror the content on your iOS devices to smart TVs - such as Sony Bravia TV. This requires an Apple product and a Sony Bravia TV with Android TV or Google TV. If you do not own an iOS device like iPhone or iPad, or your Sony TV is not Android TV nor Google TV, you have to use the best solution to play Apple Music files on your Sony smart TV in the next part. But do not worry, since the second way is even better.
To Use AirPlay to Stream Apple Music on TV:
1. Connect your Sony Bravia TV and your iOS device to the same WIFI.
2. Open Apple Music on your device.
3. Play a song and tap the AirPlay icon.
4. Choose your Sony Bravia TV to play Apple Music on your TV.
Part 2. How to Get Apple Music Contents on Sony Bravia TV
The second method is the perfect solution for users even without an Apple product to access Apple AirPlay 2, since this can ativate the actual Apple Music files on your Sony TV, even with only a common USB drive required. Or for those use a Windows computer, it's also available to transfer the Apple Music files from iTunes to Windows Media Player, then send and playback content from the computer to your Sony Bravia TV.
However, Apple Music streaming files that Apple Music subscribers access are DRM-encoded and are in M4P audio file format. To access the transferrable Apple Music files, you'll need a powerful Apple Music converter to help convert M4P into MP3.
We'd like to recommend ViWizard Audio Converter to convert Apple Music streaming files into MP3s for your Sony Smart TV. This dedicated Apple Music converter supports converting any Apple Music contents, including Apple Music, iTunes files, iTunes audiobooks and even Audible audiobooks. You can customize the output format as MP3, M4A, AAC, FLAC, WAV and M4B. The conversion will ensure a seamless listening experience with the lossless quality and full ID3 tags kept on your Sony Smart TV.

Benefits of ViWizard Audio Converter
Listen to Apple Music on Sony TV without mobile devices
Play Apple Music tracks on any unauthorized device or player
Keep Apple Music songs forever without subscription
Convert iTunes songs and Audible books to MP3
Step 1

Install ViWizard and Import Apple Music Songs or Playlists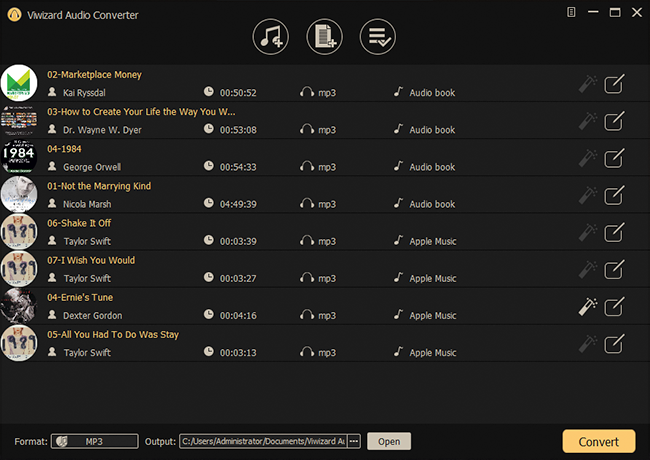 Download and install this Apple Music Converter from the link above. Open this tool and iTunes will be launched automatically. Hit the Load iTunes Library button to load Apple Music files.
Step 2

Choose Audio Format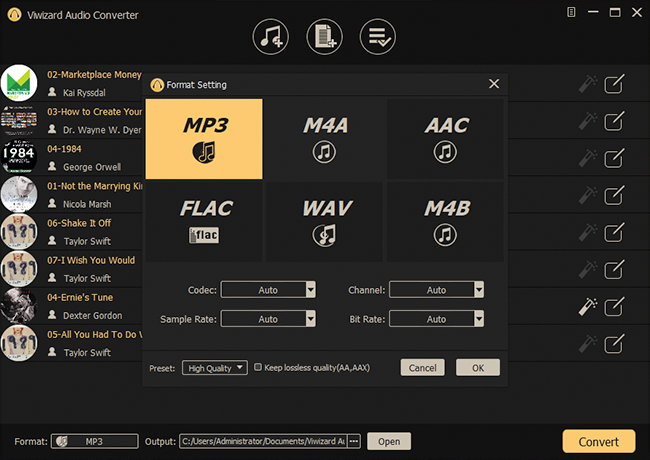 For those who prefer a USB drive to activate the added Apple Music contents on the TV, please set the audio format and the sample rate here. Go to the Format tab > Format Setting, select a format as MP3, WAV, FLAC or AAC. You can check the supported files and formats for Music on the USB port. After that, click OK to save these changes.
Step 3

Convert Apple Music to Sony Bravia TV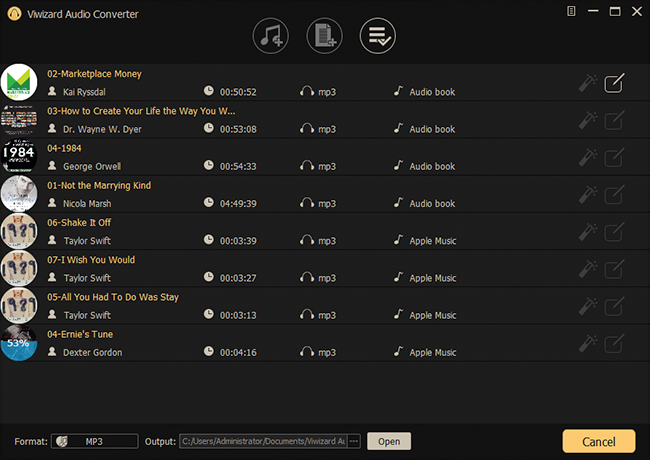 Start to convert Apple Music to Sony Bravia TV. Tap the Convert button. Wait for a few seconds for the finish of conversion. Go to the Converted panel to see the converted songs.
Part 3. How to Play Apple Music Files on Sony Bravia TV
Since the Apple Music streaming files have been converted in MP3s on the computer device, it's time to enable them on your Sony Bravia TV. From here to choose one of these steps to play Apple Music files on your TV, either using a USB drive (Windows or Mac) or the Microsoft Windows Media Player (Windows).
To Play Content on TV using a USB Drive:
Step 1

Install ViWizard and Import Apple Music Songs or Playlists

1. Connect the USB drive to the Windows PC or Macbook.

2. In ViWizard, use the converted menu button to navigate to some specific files or use the Open button at the bottom to open the output folder where all the files are stored in.

3. Now use copy-and-paste or drag-and-drop to transfer the desired Apple Music contents to the USB drive.

4. Once the transfer is complete, disconnect it with the computer device.
Step 2

Connect the USB Drive to the TV

1. Connect the USB drive to the USB port of the Sony Bravia TV.

2. From here to use the remote to press the HOME button to select the Apps icon from the Home menu > [Media Player].

3. Select the USB device name.

4. Select the folder where the desired Apple Music files are stored in, then select the file to play on your Sony Bravia TV.
Step 1

Set Up Windows Media Player

1.For starters, please connect your Windows device and the Sony TV to the same Wi-Fi network.

2. On the latest version of Windows Media Player, make sure you are in the Library section.

3. Click Stream > Turn on media streaming > Turn on media streaming > OK > Choose media streaming options for computers and devices > OK.

4. Return to Stream to check the dropdown. If the "Automatically allow devices to play my media" option is shown and checked in the Stream drop down, then the media streaming function is on.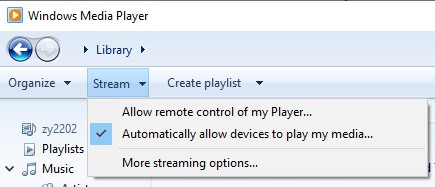 Step 2

Stream Apple Music Contents to TV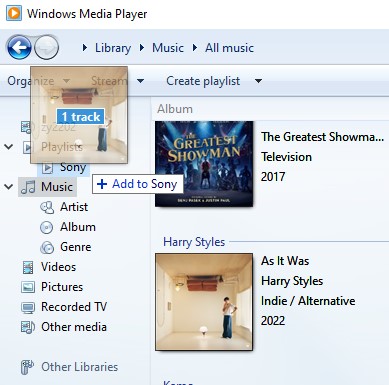 1. Make sure the output folder and the Windows Media Player are on the same screen. Drag and drop desired Apple Music files in the Play tab to create a playlist.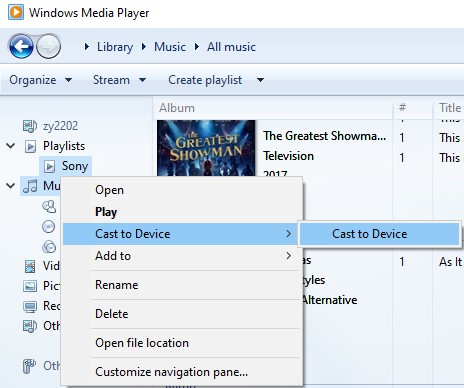 2. In the right side of the screen, select the Play to icon > Cast to Device, then select your Sony TV from the devices list. You can also right-click the desired Apple content (playlist, song) > Cast to Device.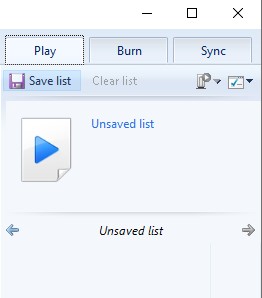 Part 4. How to Stream Apple Music to Sony Bravia TV
There's another method to get the Apple Music app on your Sony Bravia TV. The new Apple TV 4K brings Apple Music in its best audio quality. For those have or considering having an Apple TV 4K, we also add this part to tell how to stream Apple Music to a Sony Smart TV with it.
To Use Apple TV 4K to Access Apple Music App:
Step 1

Set Up Apple TV 4K

1. From here to plug your Apple TV into power and connect it to your TV with an HDMI cable.

2. Turn on the TV and select the HDMI input that the Apple TV 4K is connected to.

3. After that, use the Apple TV Remote to press up or down (or swipe upon down) on the clickpad to choose the language or region.

4. After that, follow the on-screen instruction to Set Up with iPhone or Set Up Manually.

If you choose Set Up with iPhone, this will add your Apple ID and Wi-Fi settings to your Apple TV. Please pick up and unlock iPhone, hold it next to your Apple TV then follow the on-screen instruction.
If you choose Set Up Manually, please follow the on-screen instruction to choose Use Siri or Don't Use Siri, and connect to your home Wi-Fi network and sign in with your Apple ID.
Step 2

Access Apple Music App on TV

Once you are all set up, you can go to the Home Screen > Apple Music app.
Fix: Unexpected Errors with TV Home Screen
If the Home Screen always displayed when you turn on the TV, this is because the Power on behavior settings is set to Home screen. You can change the TV startup behavior to Last input as Sony Support suggests, if you prefer your TV to power on with the connected Apple TV 4K.
To Set Last Used Input Settings:
1. On the remote control, press the Gear icon.
2. Select Power on behavior.
3. Select Last used input (Last input).
Conclusion
Regarding playing Apple Music on Sony Bravia TV, basically, you have 3 methods - use Airplay to mirror your iPhone/iPad, or convert Apple Music to supported files and activate them on your Sony Bravia TV for offline playing even without an Apple Music subscription. You can also use Apple 4K TV to access the Music app.