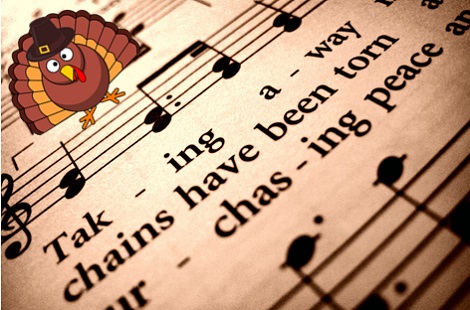 When it comes to the best holiday of the whole year, Thanksgiving could definitely be in the top-three holidays along with Halloween and Christmas. As a special day full of gratitude and love, Thanksgiving gives us precious time spent with our loved ones. Of course, in addition to turkeys, pumpkin pies and football, some special and joyful tunes are also great components to set the right mood for an unforgettable Thanksgiving party. Here we are just gathering the top 10 Thanksgiving songs for you to celebrate one of the best festivals of the year.
#1 "A Charlie Brown Thanksgiving"
It's a soundtrack by Vince Guaraldi Trio for the classic Charlie Brown Thanksgiving specials. If you love Vince Guaraldi's music for the Peanuts shows, you'll probably enjoy listening to this collection.
#2 "Give Thanks and Praises"
"Give Thanks & Praises" is a super chill and blissed out song by Bob Marley from the Album Confrontation. It's a good one to put on when that tryptophan kicks in.
#3 "Thinkin Bout You"
By Frank Ocean from his debut studio album Channel Orange, this track was nominated for a Grammy Award in 2013 for Record of the Year. The song explores feelings of regret and heartbreak. So if the turkey needs salt, simply add this one to your playlist. It will make you think of a certain someone who's not at the same table, and it will probably make you cry.
#4 "Dinner"
Released in January 2011 on Terrible Records, "Dinner" is a single by Devonté Hynes, better known as Blood Orange. It debuted with an accompanying video directed by Alan Del Rio on Pitchfork TV.
#5 "Thank You for Being a Friend"
Released in 1978, it's a pop song written by Andrew Gold. The song was then re-recorded by Cynthia Fee for 'The Golden Girls' and that's probably the version most people remember.
#6 "Keep the Family Close"
This tune might be enjoyable by most guests because it is Drake, and just about everyone will appreciate because it's about fake friends who have wronged you and are no longer welcome to enjoy roasted meats and various carbohydrates with you.
#7 "Family Business"
"Family Business", a song by Kanye West, was released in the album The College Dropout. It's a soulful tribute to the godbrother of Tarrey Torae, one of the many collaborators in the album. It also features additional vocals by Thomasina Atkins, Linda Petty, Beverly McCargo, Lavel Mena, Thai Jones, Kevin Shannon and Tarey Torae.
#8 "Cooking Up Something Good"
You can just tell your suspicious aunt it's about cooking *food*, not whatever else she thinks it might be. Nevertheless, that guitar tone is enough to distract any relatives who've been watching the news lately.
#9 "I Thank You"
This song was written by Issac Hayes and David Porter. The incredible, Sam and Dave originally recorded and released this song in 1968. ZZ Top funkily covered this classic on their 1970, Deguello album.
#10 "The Thanksgiving Song"
Also known as Happy Thanksgiving, "The Thanksgiving Song" is performed by Adam Sandler discussing Thanksgiving. The song continues to receive extensive radio airplay around Thanksgiving, on various formats, both with other holiday-themed songs and without.
More Tips for Apple Music & Spotify Subscribers
No matter you are going to download those Thanksgiving songs from Apple Music or Spotify or other services, one important thing you should keep in mind is that music provided on most of the online streaming sites is encoded with DRM protection, which will prevent you from copying the tracks to playback on non-approved devices and players.
Take Apple Music songs for example. You are only allowed to listen to the Apple Music tracks on Apple's iOS devices. It's impossible to play them on as many devices as you expect. So does Spotify. If you are using free account of Spotify, you can only stream the songs online instead of downloading them offline.
In those cases, if you want to get away of the DRM restriction permanently, you'll need the help of some third-party music tools. Here we mean ViWizard Apple Music Converter as well as ViWizard Music Converter for Spotify. These special software are well designed to remove DRM from Apple Music and Spotify songs with ease. Once the DRM is removed, you'll be able to access the songs anywhere without limit. For more details, simply visit the following tutorials.
Now what's next? You can download these tools for free and have a try to convert Thanksgiving songs from Apple Music or Spotify to MP3, WAV, AAC or other common formats losslessly. If you like it, you can now get them at 35% off on ViWizard 2020 Thanksgiving & Black Friday Sale
Download ViWizard Apple Music Converter for Free:
Download ViWizard Spotify Music Converter for Free:

Matt Smith is an amateur writer engaged in ViWizard in 2013. He is a movie lover who write a lot of movie reviews for many websites and blogs.