While Apple Music completes its music service with all-the-best combination of the songs users own with Apple Music streaming catalog, common thing is there are loads of songs with duplicate album artworks, which can confuse a lot.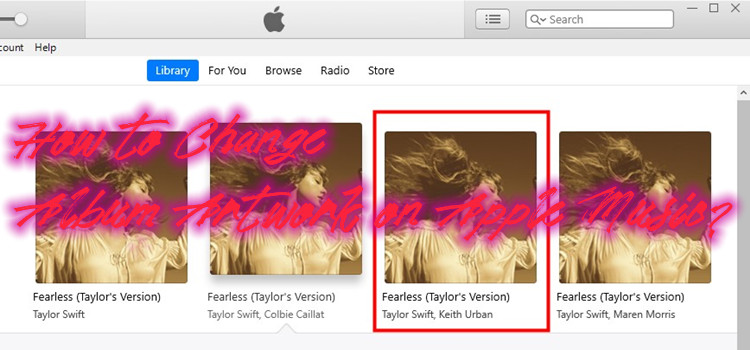 Tired of all the duplicate album art on Apple Music and want a change that make sense? Or some music tracks have missed their album arts on Apple Music? This article will tell two available methods for how to change album art on Apple Music. Reading on to find out how.
Part 1. How to Change Album Art on Apple Music in iTunes
iTunes for PC is powerful with all the courses of Apple Music because it'll tell how a simple few clicks in it could make the whole thing easier.
Yes, if there's a iTunes app on desktop, you can use it to add or change album artwork to any of the songs and even the whole album in your iTunes Library.
Note: There are certain limits for the change of album art on Apple Music songs or albums in iTunes. For this method's limit, scroll down to see the next part.
Use iTunes to Change Album Art
1. On desktop, open iTunes.
2. In iTunes Library, find the album whose album artwork need a change.
3. Right-click the selected album to open the options menu.
4. Select Album info or song info from the menu to open the album's window with detailed information.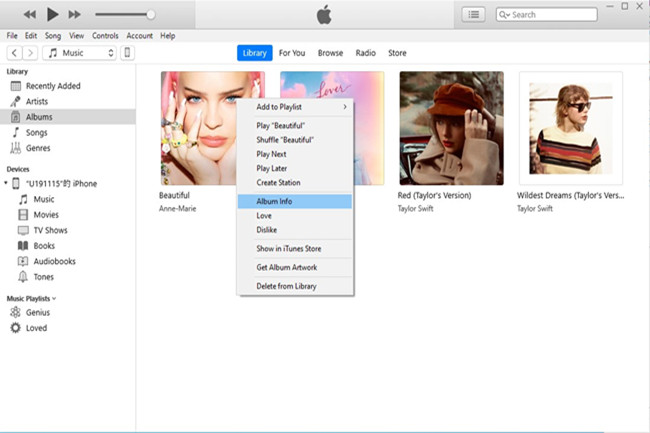 5. In the pop-up window, click Artwork at the top to see the album artwork picture in a bigger size.
6. Click on the available Add Artwork button at the bottom to select a local picture to change or replace the album artwork.
Once the artwork is added and replace the formal one, feel free to click OK to save this change if satisfied or click the Add Artwork button again to select another picture. Or it's OK to click on Cancel to quit this change and do nothing. Just make sure the new one is correct!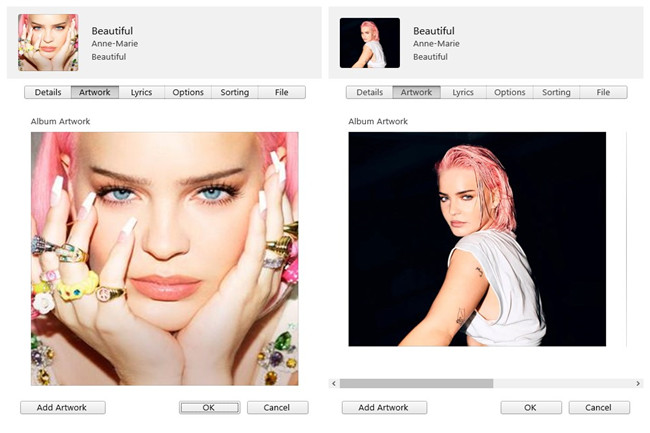 Note: Chance is that the new album artwork won't show immediately and iTunes keeps the old one. A simple reopen of iTunes can renew it to show the new album art.
Use iTunes to Sync Changed Album Art with iPhone
Now the album art has been changed in iTunes. For having this change on iPhone or iPad, some works are needed.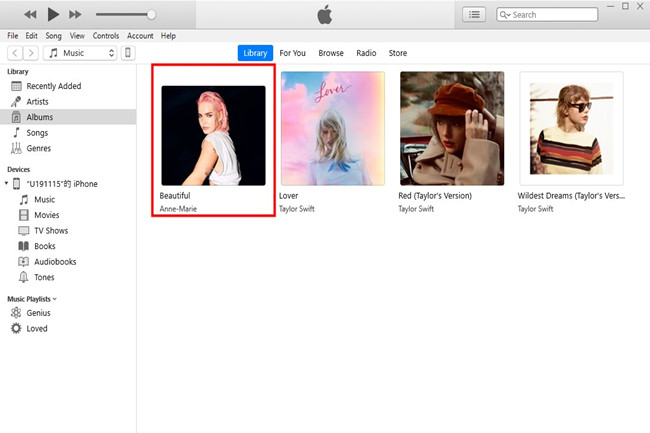 1. Use an USB cable to connect an iOS device with the computer.
2. Once the connection is successful, see the iOS device prompted in iTunes.
3. Still in iTunes, after a successful change happens to album art, see and click on the little phone icon next to the Apple Music content options menu. This will go to the device's Settings view in iTunes.
4. In the new view, see the side menu and click on Music tab.
5. Tick Sync Music follows with more options and click Apply button at the bottom to sync Entire music library with the changed album artwork.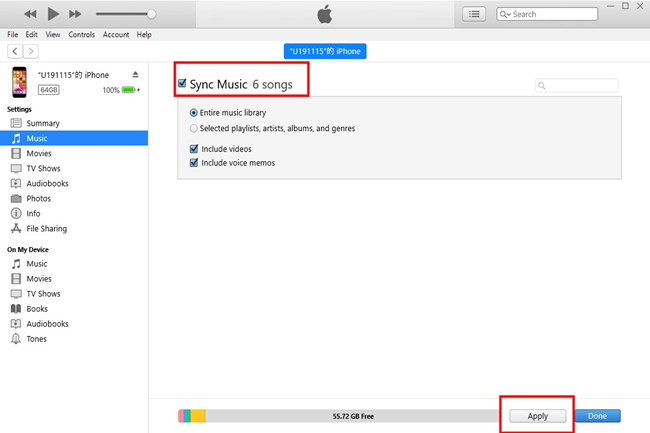 The method to change album art in iTunes works well in iTunes, but there's one more precaution.
Now it won't take long to have this change on your device. Enjoy the changed album artwork on your mobile device!
Part 2. Best Alternative to Change Album Art on Apple Music without Limits
In iTunes, the album art of songs or albums is not adding from one to another, but replacing one another, which means this change can't be undone and is forever until the new album or song with changed album art is deleted and the old one is readded.
Chance is that there's a risk of losing your music library on your device. What's more, even Apple Music set limits to get the old album artwork from the start.
So, is there another method that lets me to change album artwork on Apple Music but allows mistakes? Yes, a tag editor where the album art can be edited is great, but it's even better for keeping album's music tracks as local files at the same time with a powerful Apple Music converter - ViWizard Audio Converter.
Thing You'll Need: ViWizard Audio Converter
ViWizard Audio Converter is a professional Apple Music converter, which also has a free, edit-supported tier. It is powerful enough for downloading songs from Apple Music, removing DRM, converting them into common formats including MP3, AAC, WAV, FLAV, WAV and M4B and the most-concerned changing album arts Amazon Music songs. Once the Apple Music songs are added, it's simple to change the album art and make them local to iOS devices.

ViWizard Apple Music Converter Key Features
Losslessly download and convert Apple Music for offline playing on any device
Convert M4P Apple Music to MP3, AAC, WAV, FLAC, M4A, M4B
Retain 100% original quality and ID3 tags
Support converting Apple Music songs, iTunes audiobooks and Audible audiobooks
Convert between DRM-free audio file formats
How to Change Album Art on Apple Music in ViWizard Audio Converter
Download ViWizard Audio Converter's supported Windows or Mac version to PC. The PC should also have an iTunes app.
1

Upload Apple Music Songs to ViWizard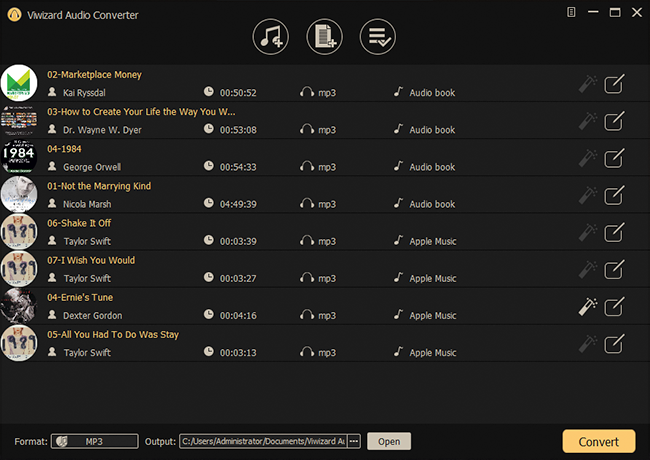 Launch ViWizard Audio Converter and make sure it launches or relaunches iTunes to build a connection. Feel free to click the Load iTunes Library button (add music icon) to add songs to ViWizard from iTunes Library window. A drag-and-drop can also add the songs or albums you want a change of album art to ViWizard.
Pro Tips: Set Output Formats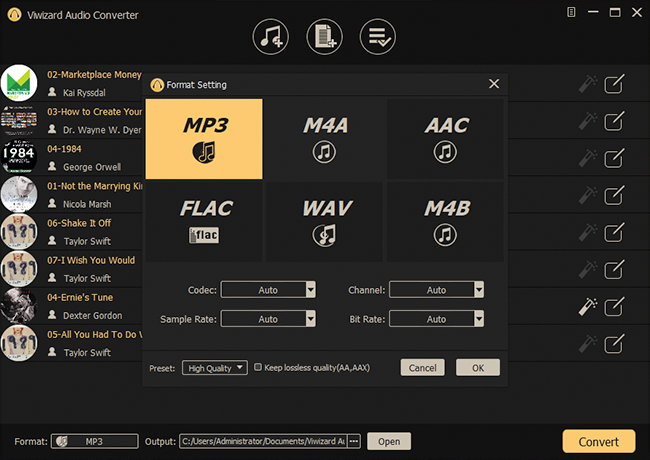 If the encoded-DRM of songs needed to remove or the file format need a change. Note the Format at the bottom of ViWizard's main interface and click on it to open to Format Setting window. As preferred, choose a supported output format and other parameters. Click OK button to save the settings there.
2

Change Album Art of Songs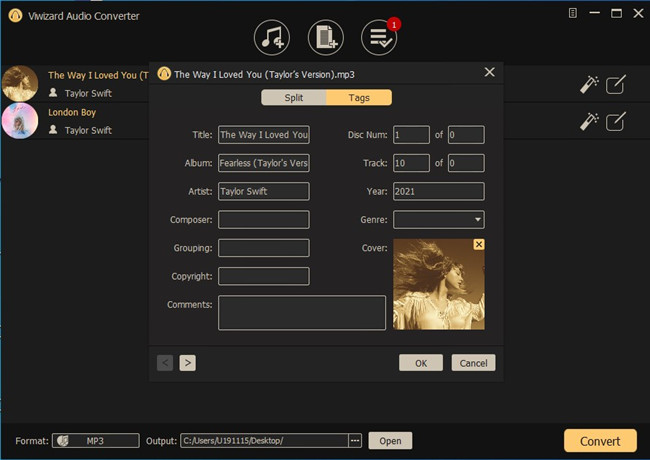 Find and click on the Edit button to open the edit window of the selected song. To change album art of the song, click Tags column. See the Cover image and click on it to open the local folder. Navigate to the new album art and select it to click Open button. Now the cover should be replaced, click OK to save this change.
Note: To change multi-items' album artworks, click the forward button to go to next song's edit view. Repeat the steps above to change its album art.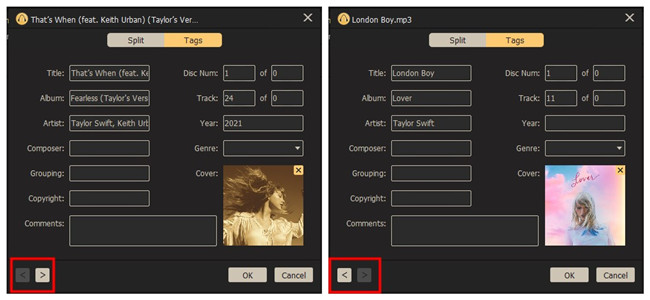 3

Convert and Download Apple Music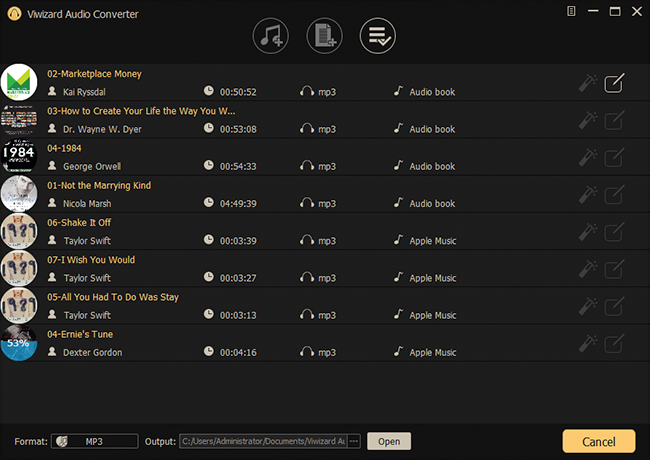 Note: From here the new album art might not show next to the song's title at once, but this change has been saved if the Cover shows the new image in the Edit window.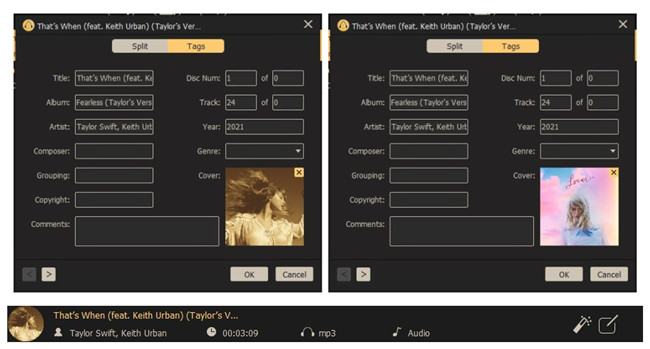 Tips: We also suggest a filing up of the songs for later uploading to iTunes. See the output path at the bottom and click on the horizontal three dots icon next to it to select a new output folder.
Now click the Convert button to download and convert all the songs with changed album art at a 5x speed. Once the conversion completes, see the Open button at the bottom to open the output folder, where songs with new album arts are saved under.
3

Upload Converted Apple Music Songs to iTunes

1. On desktop, close ViWizard Audio Converter and open iTunes.

2. Navigate to the downloaded songs with changed album art and drag and drop it to iTunes.

Or

2. In iTunes, click File at the top and select Add Folder to Library … to upload multi-items or Add File to Library … to upload a signal song to iTunes.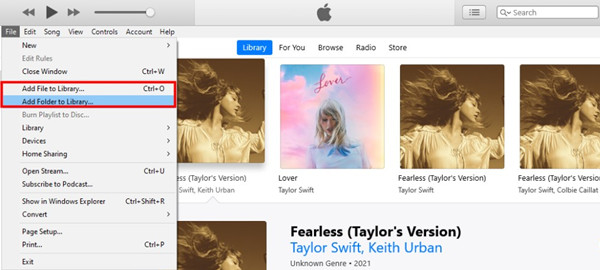 From here to see album artworks of songs or albums is the same. To make it shown as the changed one, you need to delete the songs or albums with the unchanged album art from Library and keep the new ones.
3

Replace the Album Art in iTunes

1. Find and see the duplicate songs with different album arts, right click each song or album and select song info or album info. Discover songs with the final change.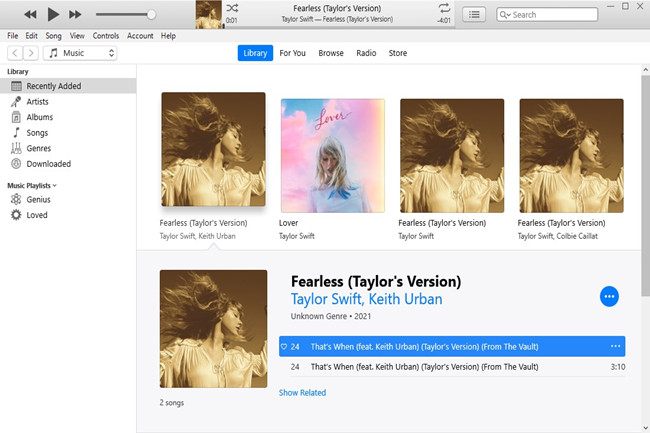 2. Right-click a song or album with old album art and select Delete from Library.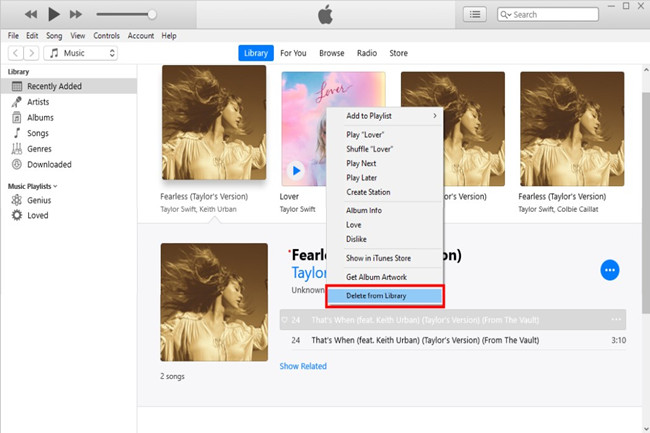 Note: Still, there are possibilities that iTunes still don't show the new album art, close and reopen iTunes to see the difference.
Now the songs or albums show their new album art.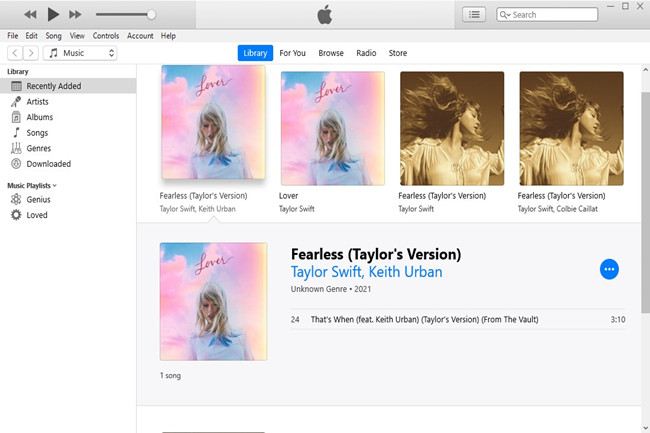 Just repeat the steps to sync the entire library to your iPhone's Apple Music Library. On iPhone, the change of album arts on Apple Music just happens!
Bottomline
Now the ViWizard Audio Converter helps to change album arts on Apple Music with whatever songs or albums, and the music files are made local. Even there's a mistake, ViWizard Audio Converter will allow to step back or to start it all over again. Give it a shot!
More Apple Music Troubleshooting Tips