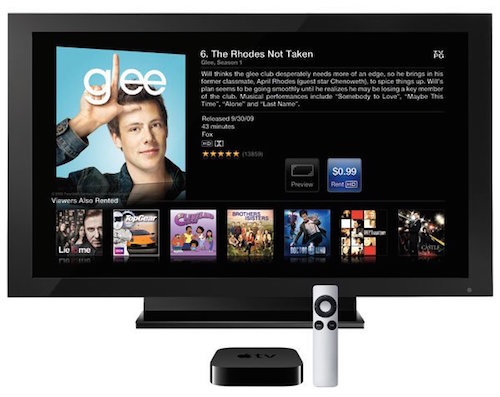 Among all the popular media streamers, Apple TV is the big winner by dominating the largest market. One of the most important reasons why people choose Apple TV to stream media content to TV is that they can easily access iTunes store, the biggest online media store in the world, via Apple TV while other media streaming boxes, like Chromecast, Roku 3 can't. If you are new to iTunes and Apple TV, you can refer to this article to find out the complete guide on how to get iTunes movie purchases or rentals to watch on your Apple TV.
Please be well noted that only the Apple TV 2nd and 3rd generations with Apple TV software version 5.0 or later are capable of purchasing movies directly and viewing them via the device.
How to Purchase/Rent iTunes Movies on Apple TV
Now let's get started from purchasing and renting iTunes movies on Apple TV 2nd or 3rd generation.
Step 1. Select movies from Apple TV. Firstly, log into the iTunes Store from the main Apple TV menu. Then select Movies > Top Movies, Genius, Genres and Search to find a movie you would like to purchase or rent.
Step 2. Buy or rent movies from Apple TV. When you've decided on a selection you want, choose Buy or Rent from the onscreen menu to purchase or rent the movie you selected.
Step 3. Confirm movie purchasing or renting. After clicking the Buy or Rent button, a confirmation message will appear. Click OK to continue. Then a prompt will tell you where you can find your purchased or rented movies. You can click OK to continue.
How to Watch iTunes Movie Purchases/Rentals on Apple TV
The following tutorial will show you how to find the previously purchased or rented iTunes movies to watch on Apple TV step by step.
Step 1. Launch Apple TV and choose Movies>Purchased (or Rental) on the Apple TV main menu.
Step 2. The purchased or rented movies will be displayed by show titles. Then you can find a movie you would like to view and select it.
Step 3. Choose Play to start playing the movie on your Apple TV.
Important Notes of Purchasing or Renting iTunes Movies on Apple TV
There are some notes you should be aware of while purchasing or renting iTunes movies with your Apple TV.
1. 1080p movie content for iTunes Store is only available on Apple TV 3rd generation;
2. Not all movies are available in 1080p HD;
3. Not all movies are available for purchase on Apple TV;
4. Movies rented from Apple TV have a period of validity within 30 days only. After you start watching the movie, you only have 24 hours (in the US) or 48 hours (elsewhere) to finish it and disappear from your iTunes library when the rental period ends.
Tips You May Like - Unlock 24-hour Time Limit on iTunes Rentals
For you who don't like the time limit on iTunes movies you rented via Apple TV, we are providing you an ultimate solution to get rid of the 24-hour time lock on iTunes movie rentals for good. You can use the third-party iTunes DRM removal tool, like TunesKit iTunes DRM Video Converter to get it done. TunesKit DRM iTunes Video Converter (Mac & Windows) is a smart and powerful iTunes DRM remover as well as M4V converter developed to remove DRM lock from iTunes movie rentals and purchases while converting the protected M4V videos to DRM-free MP4 with original quality preserved. You can follow this tutorial to see how to keep the iTunes rented movies on Apple TV forever with TunesKit: Tips to Extend Life of iTunes Movie Rentals >>