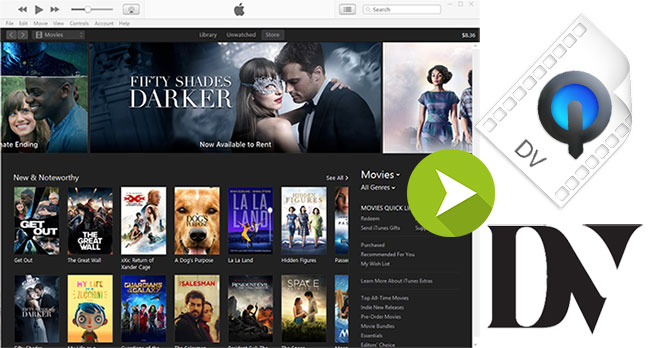 If you have ever tried to edit iTunes videos together with your home DV videos to create wonderful new movies in iMovie, Final Cut Pro etc., you may have already found out that none of the iTunes M4V videos can be imported to edit while all the shoot DV videos can be edited without any problems. Why they are so different and how to fix it? In this article, you can learn more about the iTunes M4V videos, DV files and how to convert iTunes M4V movies to DV files to edit in any video editors easily.
What Is DV format and Why Convert M4V to DV
The reason why iTunes M4V files can't be imported is mainly because they are FairPlay DRM protected and DV files won't have this issue. iTunes M4V is a container file with MPEG-4 codec video and AAC codec audio, it is wildly used in Apple media ecosystem. DV is a digital video format used by some home and professional camcorders. It was launched with joint efforts of leading producers of video camera recorders in 1995. There are two kinds of DV files. Standard DV file comes with the data ratio DV25(25MB/S) while the professional DV video data ratio is DV50(50MB/S). It is well known that the video quality of DV file is best within the consumer level and the audio quality is even better than CD. In addition, DV file uses intraframe compression which ensure simplify editing and many editing software are highly compatible with DV movies. So to convert iTunes to DV files is one of the best choices, you can not only remove DRM from iTunes but also get a video with perfect compatibility for editing anywhere.
What Is the Best M4V to DV Video Converter
As we have already knew that iTunes videos are FairPlay DRM protected, hence a common M4V to DV video converter will not work, you will have to get one video converter with the feature to decrypt the DRM. From my point of view, a best DRM M4V to DV video converter should be superior in every aspect like quality, speed, usability and support etc. Due to there are too many such software available in the Internet, it is kind of difficult to find a best software quickly. Instead of wasting time to search the software by yourself, I will recommend the best software TunesKit DRM M4V to DV Converter for Mac for your reference. It competes well with other similar software for the following advantages.
1. Remove DRM and keep the original video quality by using the no-transcoding converting process.
2. Run at a 20X faster speed when converting all kinds of iTunes videos including movies, TV shows and extras.
3. Extremely user friendly interface, new users can operate it without any professional knowledge.
4. Lifetime free update and 24/7 technical support.
5. Last but not the least, it comes with a free trial version, you can try it out by yourself.
How to Convert M4V to DV Videos
By getting a TunesKit DRM M4V to DV Converter for Mac, you can convert iTunes videos to DV format simply like a magic and finally you will be able to edit the DV files in iMovie, Final Cut Pro and so on. Please refer to the following steps to do that one by one:
1

Import iTunes M4V files to TunesKit DRM M4V to DV Converter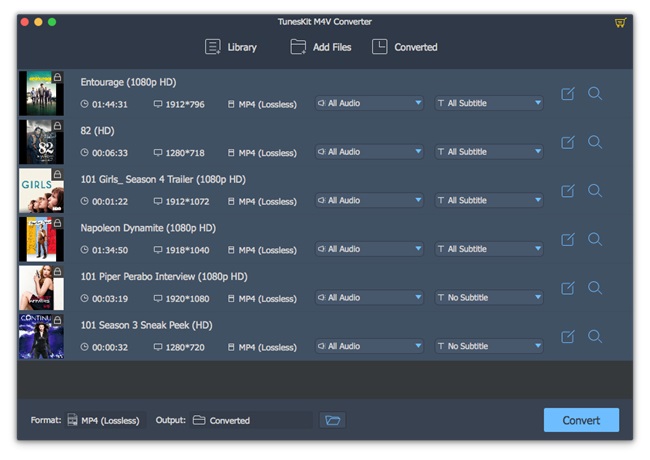 You can put the downloaded iTunes videos on your iTunes library first, then you will be able to drag them to import to the software main screen with ease or you can tap the 'Add files' menu to browse your videos from the library and select them accordingly.
2

Change the export format as 'DV'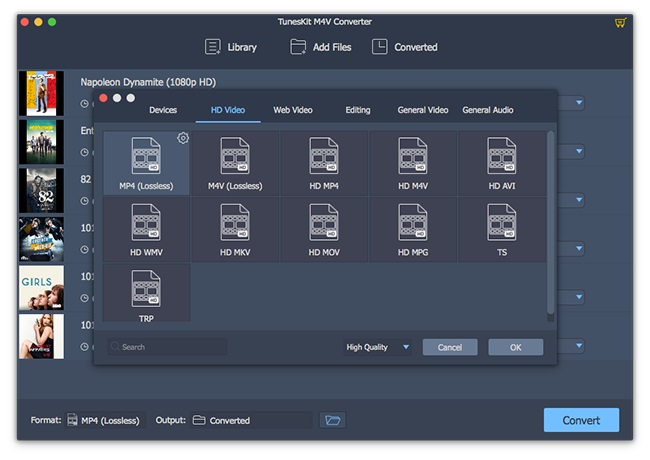 DV is one of the best formats for editing, you can simply click 'General Video' tab, the software will pop up a list of available formats such as MP4, AVI etc. please choose 'DV' which is highly recommended.
3

Start to convert M4V to DV videos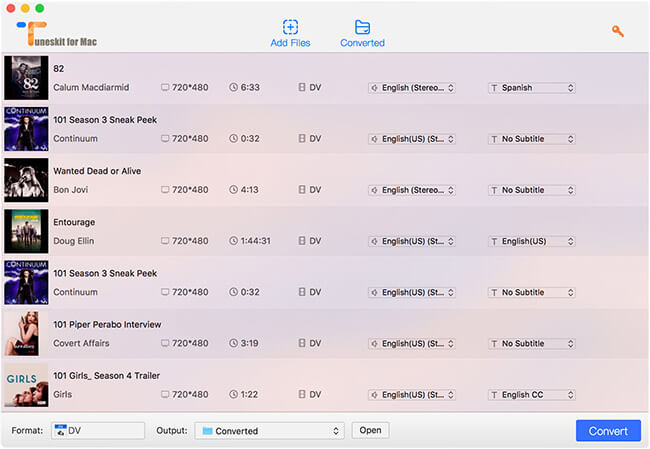 By pressing 'Convert', TunesKit DRM M4V to DV Converter can start quickly, you can see the converting progress bar beside the video and you can wait a moment for it to complete automatically.