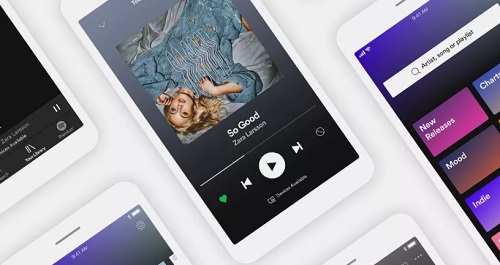 Spotify, one of the largest streaming music services announced at an event in New York City on Tuesday that they just revamped its mobile app, giving their 90 million free users more access and abilities to play songs with personalized listening experience, which is previously available for premium subscribers only.
The move is regarded as an effort to attract more paying subscribers for Spotify as it's reported 60% of premium users began on the free service. In other words, if people get more stuff without paying, they are more likely to end up paying in the long run.
This idea was also clarified by Gustav Söderström, Spotify's chief research and development officer. "We're doing this because we know it will help us drive growth," he said at the event.
Now with the redesigned Spotify app, free users are able to get on-demand access to 15 "select" playlists, including Daily Mix and Discover Weekly. Thanks to those sets, the more songs you "heart" or "hide," the smarter its playlists will get and others will begin to populate as a result. Besides, free users can now play any song they want inside those playlists and are no longer stuck in a world of shuffled playback.
Also, the updated Spotify app comes with a "data saver" mode that's meant to make life easier for people on capped data usage plans.
According to Spotify, the new app will roll out globally to users in the next few weeks. If you're a paid user of Spotify, you likely won't notice much of a difference while using the app. But for those who enjoy the free service, the personalized and on-demand playlists would definitely going to make you quite happy.
More Useful Tips for Spotify Free Users: Download Songs & Playlists for Free
The new app is a great step forward for both Spotify and the free users, although there are still some limits such as the ads within the songs, the unavailable offline-mode for free accounts. If you are annoyed by those issue, you are highly recommended to try some 3rd-party Spotify music tool, such as ViWizard Spotify Music Converter which will help both free and premium users easily download any Spotify track, album and playlist as MP3 format so that you can enjoy the songs offline on multiple devices and player. For more details, visit this guide: How to Convert Spotify Music to MP3.

Rick Lee has written about business and consumer technology for nearly 25 years. He is the author of more than a dozen books.