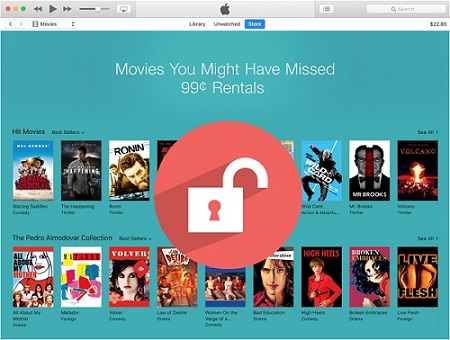 If you'd like to watch movies from iTunes, renting would also be a good option instead of purchasing, especially for someone who has low budget. The quality of iTunes movie rentals is as good as the purchased ones but the cost could be lower.
After renting the movie from iTunes store, you may find that there are many restrictions about rented movies. Besides the DRM protection for both rentals and purchases that prevents you from playing them on non-Apple device, you can only keep iTunes rentals in iTunes library for 30 days. And once you begin watching the film, you need to finish them within 48 hours; otherwise, it will be removed from your library automatically.
So have you ever considered keeping iTunes rental movies forever? To realize this purpose, you need to remove DRM from iTunes rentals and then convert rented movies to other common formats. ViWizard M4V Converter is the right iTunes DRM removal tool that you're looking for. It's capable of stripping the DRM restrictions from iTunes rental movies permanently, so you can then freely save them on Mac or PC computer, iPhone or iPad, Samsung Galaxy, Surface Pro, Xbox One, and may other devices forever. Besides, ViWizard will preserve 100% original quality including Dolby 5.1 AC3 audio tracks, CC subtitles, etc. while converting iTunes rentals at 30X fast speed.

What can ViWizard M4V Converter do for you?
Legally remove DRM from iTunes rented movies before expiry date
Quickly convert iTunes M4V videos to MP4, MOV, AVI, etc.
Keep iTunes rentals forever and enjoy them without any limit
Strip iTunes rental movies at up to 30X speed losslessly
How to Keep iTunes Rental Movies Forever
Now let's move to the detailed instruction on how to remove DRM from iTunes rented movies and keep iTunes rentals forever by using ViWizard M4V Converter. Before getting started, please download and install the program on your PC or Mac computer.
Step 1. Open ViWizard and import the rented movies from iTunes library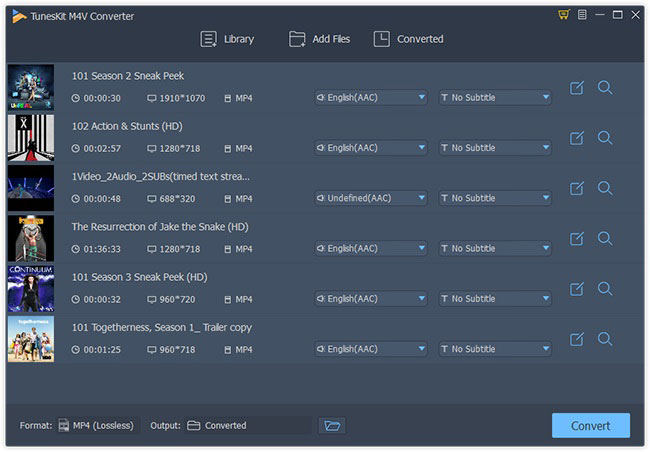 Launch ViWizard M4V Converter application on the desktop and then press the "Library" button on the top menu bar to add the iTunes rental movies you want to keep forever to the program. You can also import your target iTunes video files by drag-and-drop.
Step 2. Set output format, audio tracks and subtitles
When all iTunes movie rentals are loaded, you can select the audio tracks and subtitles for each film. Then click the "Format" button and a new window will pop up. Here you can choose an output format according to your needs. If you don't want any quality loss, MP4 (Lossless) under the HD Video is highly recommended.
Step 3. Start to remove DRM and convert iTunes rentals to MP4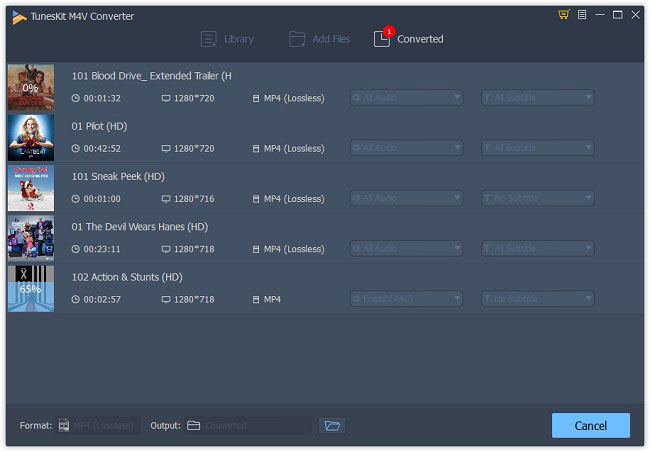 Once all the settings are done, you can then click the "Convert" button to let ViWizard start the conversion. Wait for a while and all the iTunes movie rentals will have no DRM restriction at all and be converted to MP4 format. You can then locate them on the "Converted" folder and save iTunes rental movies forever on computer or any other device you like.
FAQ: More Questions about iTunes Movie Rentals You May Want to Know
The following is some frequently asked questions we collected from the Internet and here we'd like to give specific answer to them after done some research.
Q1. How long can I keep iTunes movie rentals?
A: As we said above, you can keep iTunes rented movies on your device for 30 days as long as you've not played them. But, you're only given 48 hours in the US or elsewhere to finish watching a movie once you start it.
Q2. What happens if iTunes rental expire while watching?
A: According to iTunes rental policy, the iTunes movies you rented will stay for 30 days and you have 48 hours to watch. When the date expires, you'll need to re-rent it. If you want to exit the film while watching, it will pop up a message that says the movie will be deleted if you don't finish watching it.
Q3. Can you only watch a rented movie on iTunes once?
A: No, you can watch the rented movie as many times as you like within in 48 hours once you begin to watch a film.
Q4. Where is my iTunes movie rental?
A: When you rent a movie from iTunes on PC, you can find your rental movie by following the steps below:
1) Open iTunes app on your computer and select the Movies option at the top left corner;
2) Click on the Rented tab at the top menu bar. If you don't see the Rented, you may not rent any movies with this Apple ID.
Wanna find your iTunes rentals on Mac, iPhone/iPad, Apple TV, smart TV or other streaming device, read this guide from Apple Support.
Q5. Why won't my rented iTunes movies download?
A: This is a common issue for most iTunes users. If you don't see any Downloads icon, you can try to sign out and in your iTunes account by going to the Account > Sign out. Wait for at least 10 seconds and then Sign in. If you rent the movie on your iPhone, you can go to the Settings > iTunes Store & App Store> your Apple ID > Sign Out and tap Sign in after a few seconds.
See also: iTunes Movie Won't Download? Get It Fixed Now!
Q6. Can I buy a movie I rented on iTunes?
A: Yes, you can. If you want to convert iTunes rentals to purchases, you need to buy it within the 48 hours rental period. And you are required to pay the difference between the purchase price and rental prices, in order to 'own' it.
Q7. Can I rent a movie from iTunes and watch it offline?
A: Yes, you can rent an iTunes movie and watch it without Internet connection once you have downloaded it successfully. One point you need be aware is that when you start playing the film, you may need an Internet connection to authorize playback or activate the movie rentals' time limit.
Q8. Can you extend iTunes movie rental?
A: No, there is no such feature at present. If you don't start viewing a film within 30 days, or you don't finish watching a movie within 48 hours, it will disappear and you'll need to rent it again. Or, you can use the ViWizard M4V Converter introduced in this article to keep iTunes rental movies forever.
Q9. How much are iTunes movie rentals?
A: iTunes movies are available for users to rent or buy, while TV shows can only be bought. Most iTunes rentals cost about $2.99 to $6.99 and generally the high-definition version costs more than the standard definition one.
See more iTunes movie tips

Nick Orin is a review writer, software geek and Mac OS enthusiast. He spends all his free time in searching useful software and gadgets to share with others.