When it comes to smart home speaker, most of you might think of Sonos, or Bose or something like that. But if you are looking for a similar way with a more affordable price, Google's Chromecast Audio, a $35 tiny streamer would definitely be the best alternative which will also let you control the music around your home in multiple rooms simultaneously from multiple devices at the tap of a button only. If you happen to get a new Chromecast Audio but not sure about the setup process or some hidden features, you can simply follow the guide here where we'll discuss everything about Chromecast Audio, including its compatibilities to other devices, how to set it up, how to cast audio to speakers, and many more.
Introducing Chromecast Audio
What's Chromecast Audio
Chromecast Audio is a small dongle developed by Google for use with audio streaming apps. It can plug into your home speaker to cast your favorite music from your phone, tablet or computer through WiFi connection. With Chromecast Audio, you can not only stream the local tunes, but also access to streaming music services like Google Play Music, Spotify, iHearRadio, etc. It's supposed to work with multiple devices including Android mobile devices, iPhones, iPads, Windows, Mac laptops, and Chromebook.
What's in Box
For new Chromecast Audio, you'll find five things packaged in box, including, the Chromecast Audio dongle, a speaker cable with a 3.5-millimeter headphone jack on each end, a USB cable with a micro-USB connection and a standard USB connection, a USB wall socket to add power to your device and associated device literature.
Part 1. Connecting Chromecast Audio to Speakers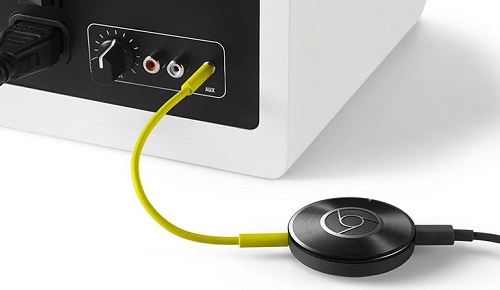 It's easy to connect Chromecast Audio to your Hi-Fi system. The following steps will show you how.
Step 1. Connect one end of the USB power cable into the Chromecast device, then plug the other end into the provided power supply.
Step 2. Plug one end of the headphone cable into the port on the Chromecast device, and connect the other end into a vacant headphone jack on your speakers.
Step 3. Plug the provided power supply into an open outlet.
Once your Chromecast Audio is plugged in, turn on your speaker and choose the input source that your Chromecast Audio is connected to.
Part 2. Setting Up Chromecast Audio
To set up Chromecast Audio, you'll need a computer, Android or iOS device. We're going to explain the setup process on those platforms one by one in details as below.
1. Set up Chromecast Audio on computer via Chrome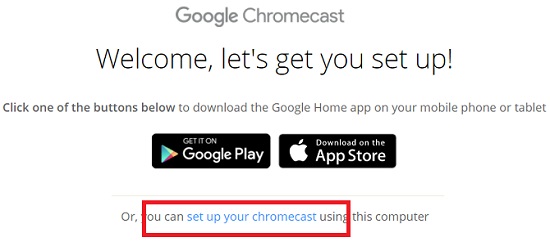 You can use a Windows, Mac or Linux computer to set up Chromecast Audio on browser by following these steps:
Step 1. Firstly, make sure you've already downloaded and installed the latest version of Google Chrome on your PC.
Step 2. Navigate to chromecast.com/setup from the Chrome browser. On the setup page, click the link to "Set up your Chromecast using this computer".
Step 3. Chrome will automatically scan for any Chromecast device that need to be set up. It will be something called ChromecastAudioXXXX. Click Set Me Up. Then setup will try to connect the Chromecast dongle to your Wi-Fi network automatically.
Step 4. Turn on your speaker and adjust the volume at an audible level, and then click on the Play Sound link. If you hear the sound, click Yes. If not, click on No and the site will guide you through some troubleshooting.
Step 5. You'll be required to change the name of your Chromecast Audio or you can leave it as the default name. Then click Looks Good to complete the setup process.
2. Set up Chromecast Audio on iOS devices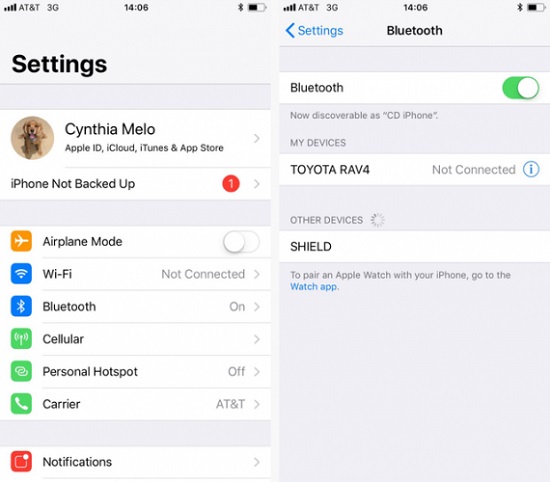 Before getting started, you will be required to install Google Home app on your iPhone or iPad from App Store. You should also make sure your iDevices have been connected to the same Wi-Fi network that you intend to use to set up your Chromecast Audio device.
Step 1. Open Google Home app, tap on Get Started, and confirm your Google Account details.
Step 2. Turn on Bluetooth connection on your iPhone/iPad. To do so, go to Settings and tap on Bluetooth, and slide the toggle into the On position.
Step 3. Google Home app now starts to scan for nearby Chromecast Audio device that's plugged in and ready to set up. Tap Next when the device is found. Then the app will connect your devices to your new Chromecast Audio automatically. It will play a sound to test the connectivity, and ask you give the Chromecast Audio a name.
3. Set up Chromecast Audio on Android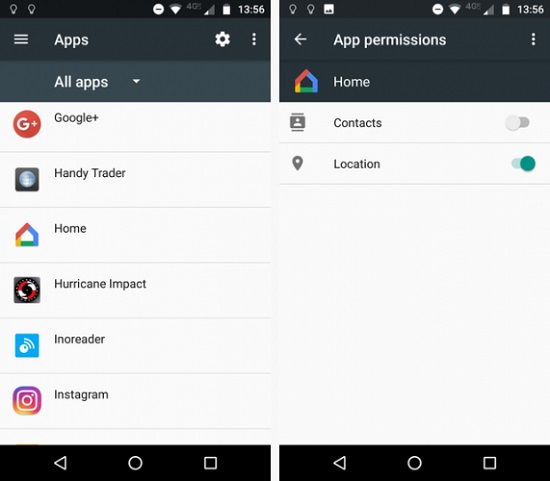 To set up Chromecast Audio on Android devices, make sure you have already installed the Google Home app from Google Play and connected your device to the same Wi-Fi network.
Step 1. Open the Google Home app on your Android device, tap Get Started. The app will ask you to confirm your Google Account details. Choose which Google Account you want to link to Chromecast Audio and tap on OK.
Step 2. Permit location access and press OK.
Step 3. The Google Home app will begin to scan for nearby devices that are plugged in and ready to set up. If one device is found, tap Next. Then it will start to connect your Android to Chromecast Audio automatically. After that, you'll be required to play a sound on the device to make sure you're setting up the right device.
Step 4. Finally, give your Chromecast Audio a name to finish setting up.
Part 3. Casting Audio to Speakers via Chromecast Audio
Once it's successfully set up, you can begin to cast your favorite music to home speakers via Chromecast Audio on either mobile devices or computers with ease. Here we go.
1. Cast Audio on mobile devices
To cast music to home speaker on Android or iOS devices, simply tap the cast icon on the screen when you are playing the audio. It looks like a television with a Wi-Fi signal icon in the corner. Then the speaker will begin playback the music as expected.
If you are Spotify subscriber, you should expand the currently-playing song in full-screen mode. Then tap on Devices Available to select your Chromecast Audio speaker. Tap on the speaker's name to begin playback.
Note: If you are using Apple Music, please kindly note that Chromecast Audio doesn't support casting Apple Music songs to any speaker for playback by default. But if you anyhow need to stream Apple Music with Chromecast Audio, you can try ViWizard Apple Music Converter that will help you convert Apple Music tracks to MP3 for streaming even if you cancel the Apple Music subscription. For complete how-to, here's the link: How to Cast Apple Music to Chromecast Audio to Play on Speakers.
2. Cast Audio on computer
To cast audio from computer, open Chrome and click on the More icon in the upper right corner and select Cast. In the popup window, you will see the Cast to menu. Then choose your Chromecast Audio device to begin casting.
More Tips You May Also Like

Nick Orin is a review writer, software geek and Mac OS enthusiast. He spends all his free time in searching useful software and gadgets to share with others.