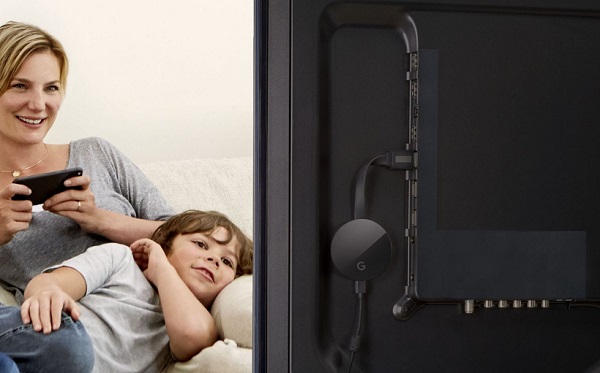 Google Chromecast is going 4K with the newly unveiled Chromecast Ultra. As a well-known media streamer, Chromecast will easily stream any media content from your mobile phones or computers to TV for watching. Besides, you can freely choose from 4K-enabled apps like Netflix and YouTube, Google Play to browse over 200,000 TV shows & movies. Whether your TV is 4K or HD, the new Chromecast Ultra will automatically optimize your content for the best picture quality possible. Sounds good? Not exactly. For example, just like the older Chromecast, the Ultra version still doesn't support iTunes app so that you can't watch your iTunes media content via Chromecast Ultra. Is it possible to make it happen? Here in the following article, we'll show you the effective way to play iTunes movies on Chromecast Ultra.
Meet the new Chromecast Ultra: 4K video, HDR, Dolby Vision...
What is Chromecast Ultra?
The Chromecast Ultra is a new media streaming device from Google that was announced on Oct. 4th. It is the next generation of the Chromecast line. This new Chromecast Ultra offers a step up from the regular version of Chromecast. When provided with a suitable broadband connection, it can stream 4K Ultra HD streams and HDR content. The hardware inside the Chromecast Ultra is fast and powerful enough to do things on the fly without a lot of buffering or skipping. It's more expensive at $69 but can stream the highest quality content with ease.
The exact release date of Chromecast Ultra is yet to known, but it should come soon in November 2016. Customers can sign up to a waiting list on Google's Store to be notified when it's available to buy.
Steps to Stream DRM iTunes M4V Movies to TV via Chromecast Ultra
Before we get started to cast the iTunes movies or TV episodes to Chromecast Ultra, you should understand that it's no easy job to get it done since iTunes videos are protected by Apple's FairPlay DRM, because of which Chromecast Ultra doesn't work with the iTunes files properly. Generally speaking, we can't stream the iTunes video files to Chromecast Ultra as directly as we do with other common videos. So in order to make Chromecast Ultra recognize the DRM-protected iTunes movies, we'll have to firstly crack the DRM lock from iTunes M4V movies and TV series before streaming the videos to Google Chromecast Ultra.
Part 1. Decrypt DRM from iTunes M4V Movies/TV Shows
To remove FairPlay DRM from iTunes movies and TV shows, TunesKit DRM M4V Converter (TunesKit DRM M4V Converter for Mac) could be the best option that you should rely on. It's an exclusive iTunes DRM removal tool specially designed to bypass DRM encryption from iTunes M4V with a few clicks only. The best thing of this smart iTunes DRM remover is that it's able to strip off DRM from rented and purchased iTunes movies, TV shows, as well as music videos with lossless quality preserved, including the Dolby Digital 5.1 sound, Dolby Digital Plus 7.1 audio, AD, CC, and other metadata information. It currently supports multiple output formats, such as lossless MP4, lossless M4V, MOV, MP4, AVI, FLV, MKV, MP3, AAC, etc. and numerous preset devices, like iPhone 7/7Plus, Apple TV, Samsung Galaxy, HTC, and much more. To make the DRM-free iTunes movies compatible with Google Chromecast Ultra, you are suggested to convert the DRM-ed iTunes M4V files to lossless MP4 format with TunesKit iTunes M4V Converter.
Now you can download the free version of this powerful iTunes DRM M4V Converter according to your computer system as below and follow this guide to see how to easily and completely convert the iTunes DRM-ed M4V to lossless MP4 format: Complete Guide to Convert iTunes DRM M4V to MP4>>
Part 2. Cast Converted iTunes Movies to Chromecast Ultra
Step 1. Plug Chromecast Ultra into your TV set via HDMI port
After plugin correctly, you have to power it by a USB cable.
Step 2. Keep Chromecast Ultra and your computer in the same WIFI
Connect both Chromecast Ultra and the computer in the same WIFI and find the Chromecast Ultra on your computer.
Step 3. Stream the converted DRM-free iTunes movies to Chromecast Ultra
Now your computer should work like a remote controler. You can find the converted iTunes movies and play the files via the Chromecast Ultra on TV as freely as you like.
More Tips: Chromecast Ultra vs. Chromecast: What's the Difference
Chromecast Ultra 4K
Chromecast 2
Up to 4K Ultra HD & HDR
Up to 1080p HD
Ultra fast load times
Fast load times
WiFi & Ethernet
WiFi only
Surround sound support
Screen mirroring from Android & laptops
Android devices, iPhone®, iPad®, Mac®, Windows® & Chromebook
In conclusion, if you have a TV that has a 4K display or can playback HDR content and want to stream media at UHD, the Chromecast Ultra is better for you. But if what you're streaming isn't in 4K or you just don't have the network speed to stream at that quality, the "regular" Chromecast will be OK. Anyway, no matter which Chromecast you choose you'll enjoy great movies and shows from hundreds of apps, and you won't have to figure out any cryptic software or network settings to get started.