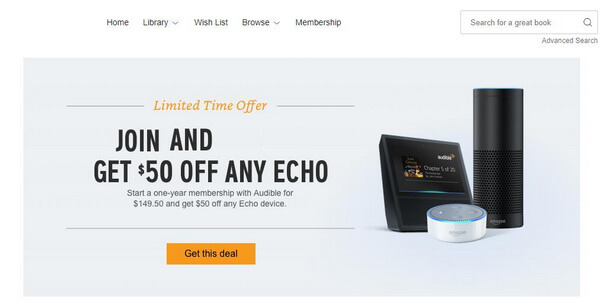 Audible is the largest and most popular audio book producer and seller. It's contents include 150,000 books of all genres, radio shows, speeches and interviews. It has become the first choice for most audiobook lovers. It offers a 30 days free trial for new users and it charges $14.95 after a month. Subscriber can get 1 credit to buy a book every month and enjoy 30% for extra books. This is not cheap compared to ebooks or audiobooks elsewhere. Also, Audible audiobooks are DRM protected with the the proprietary formats AA or AAX, which are only playable on the Audible Manager or authorized devices and players. This makes it not so convenient to play on some devices. If you are tried of the DRM protection from Audible and want to look for other audiobooks at a lower price or even free items, you can just go through this article. We will get you covered with the top 5 best alternative tools to Audible.
Top 1. Nook Audiobooks - Best Alternative to Audible
Barnes & Noble is the largest US retailer of books, music and movies.It offers the Nook Audiobooks Android app which has more than 50,000 titles across multiple different genres. Instead of using a subscription model like Audible or other audiobook providers, Nook sells books to users directly and let users to download and listen to them via the Nook Audiobooks Android app. It is one of the fantastic alternatives to Audible especially for the users who has the Nook eReader.
Pros:
1. You can enjoy up to 40% off to buy the audiobook bestsellers.
2. Buy the books any time without subscription needed.

Cons:
1. The audiobook titles are kind of limited.
2. Books are DRM protected.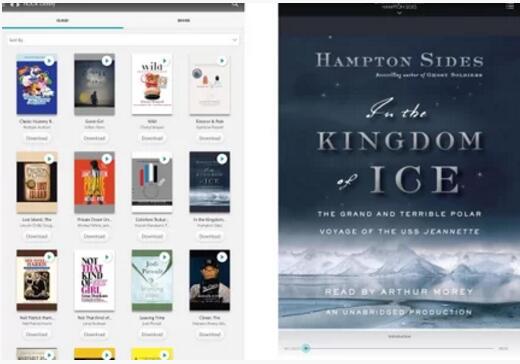 Top 2. Audiobooks Now - Low Price Audiobooks Alternative
Audiobooks Now app supports both Android and IOS devices, it is similar to Audible. It integrates the feature to sell and play audiobooks with more than 80,000 classics and bestsellers. Users can directly buy audiobooks within the app as well as get the option to subscribe the membership at only $5/month to get steep discounts up to 50% off on every audiobook purchase. After purchasing, users can stream audiobooks for on-demand listening or download them for offline listening at any place. What's more, the app supports bookmarking and playback controls such as multi-device syncing, auto-pause and resume.
Pros:
1. Low subscription price $5/month.
2. Big discount up to 50% off for almost all the audiobooks.

Cons:
1. Some audiobooks are DRM protected and they are not downloadable.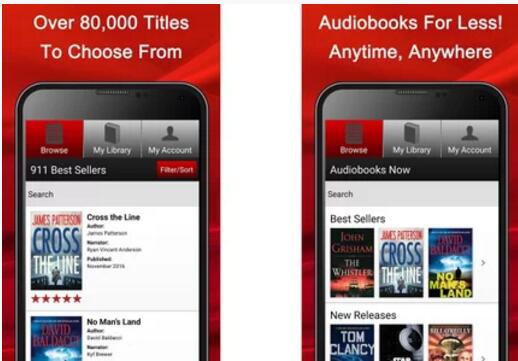 Top 3. Downpour - Enjoy Audiobooks without DRM
Unlike Audible or Audiobooks Now, of which the audiobooks are all DRM protected, Downpour is another stand-alone audiobook app which offers a gorgeous library of DRM free audiobooks for sale. In addition, it also has some selected-audiobooks you can rent for 30 or 60 days. The Downpour is also a remarkable player. Users can access the library and download their audiobooks on Wi-Fi or cellular networks for offline playback. The player supports chapter, bookmarking, a sleep timer, background downloading and so on.
Pros:
1. Books are DRM free without limitations.
2. The player is smart with helpful features.
Cons:
1. It charges the membership fee for $13 per month similar to Audible's $14.95.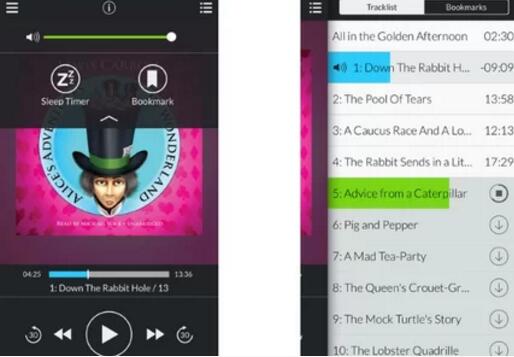 Top 4. OverDrive - Rent Audiobooks for Free
OverDrive offers another way for users to rent and enjoy audiobooks for free from the local library which has a digital media lending system. Through the OverDrive (Android or IOS), users can borrow titles from the library's collection any time. It is a totally free alternative to Audible. All you need is a student card or library card. Besides that, users can also create a wishlist etc. and return the audiobooks in an easy way. Finally it supports cross-device syncing, allowing you to listen to audiobooks flexibly on multiple devices.
Pros:
1. All the audiobooks can be rented for free.
2. The player is very flexible to use.
Cons:
1. Some books you want maybe not available on the local library.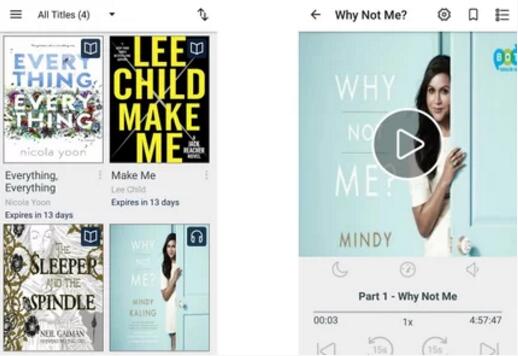 Top 5. LibriVox - Completely Free Audiobooks
If you don't want any annoyance of borrowing audiobooks, LibriVox can help you get access to more than 15, 000 free audiobooks of public domain works. You can search and get free audiobooks from a wide category such as classic bestsellers, out-of-print titles by genre, title or author. Users can save and listen to any number of books they want for free. But please note that all the audiobooks are created by volunteers all over the the world, so the quality may vary. You can become a contributor to LibriVox too if you want.
Pros:
1. Books are all free, no worry to break the bank.
2. Easy to access more than 15,000 books.
Cons:
1. Lack the latest audiobooks.
2. Some audiobooks may not have good quality.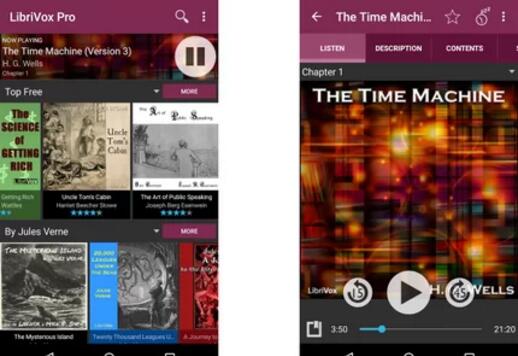 Conclusion & Suggestion
The listed 5 Apps above are the top Audible Alternative we pick up after comparing multiple audiobook software, they are better than Audible in some areas such as free or low price books, no DRM limitations etc. You can choose the right one for your daily audiobook enjoyment. Anyway, as the most popular audiobook service, Audible is still the best audiobook software no matter for the quantity or the quality of audiobooks etc. though the audiobooks are sold at a higher price yet with DRM. If you still just want to continue with the Audible after checking all the alternatives, there is also a smart tool ViWizard Audible AA/AAX Converter for Windows/Mac to help you improve the user experience of your Audible audiobooks, which can help you bulk remove DRM from all your Audible books. For more tutorial, you can visit: How to Remove DRM from Audible Audiobooks.

Nick Orin is a review writer, software geek and Mac OS enthusiast. He spends all his free time in searching useful software and gadgets to share with others.