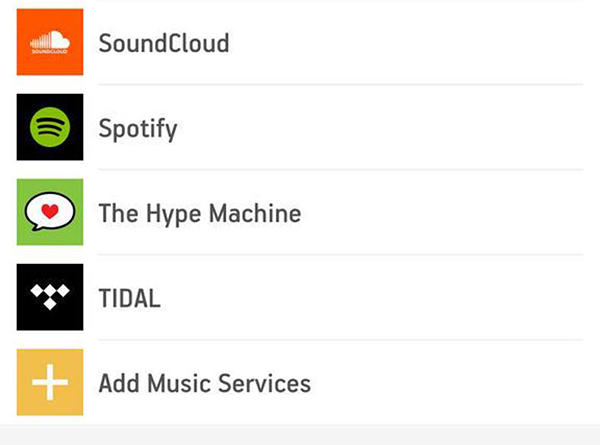 Tidal has always been a requested music service for Sonos speakers, now it's there, and its good. With Tidal on your Sonos speaker, you can access your music collection with your curated playlists and more from Tidal's vast music library and edit them anytime you want. What you need is your Tidal subscription account for HiFi or HiFi Plus, then you can add Tidal to Sonos easily.
Here we're going to show how Tidal users can add Tidal to Sonos on a computer or smartphone, alongside with an alternative way for non-members to upload Tidal to Sonos.
Part 1.

How to Add Tidal to Sonos

Before getting started, ensure that both the supported device such as your smartphone or computer and your Sonos speaker is well prepared for a set up. For starters, plug in your Sonos speaker into a power source and turned on. Then, connect your supported device is connected to the same Wi-Fi network as Sonos. After that, download and install the Sonos app to the supported device. Once you're set up, follow these steps on your smartphone or computer to add Tidal to your Sonos speaker for streaming.
For smartphone:
Go to App Store (iOS) or Google Play (Android) to download and install the Sonos app, and launch it on your device.
From the Settings tab, tap Services & Video.
Under Music & Content, tap Add a Service. From there you will access a list of available music services.
Tap Tidal.
Tap Add to Sonos.
Follow any steps on the screen to log in to your Tidal account to link it to your Sonos speaker.
For computer:
Go to Sonos' official website to download the latest version of the Sonos app, and launch it on your device.
Under the Select a Music Source section, click on Add Music Services. You should see Tidal alongside with other available music services, such as Spotify, Apple Music, and more.
Click on Tidal.
To continue to add Tidal to Sonos, follow the on-screen instructions.
Part 2.

How to Play Tidal on Sonos with Subscriptions

Once you added Tidal to Sonos, you will be redirected to the Sonos app. From there you are able to browse through your music collection in the Sonos app to access and stream new and old favorites with news, recommendations, curated playlists, moods, and genres. Meanwhile, you can create and edit your own playlists, and put a star on all your favorite Tidal contents, including artists, albums, tracks, or playlists.

Q1.What is the streaming quality that Sonos plays?

A1.Sonos plays Tidal contents all with High Fidelity (HiFi).
Go back to Sonos app's main screen.
At the bottom of the screen, tap on the Browse tab.
Under the Music & Content section, select Tidal.
You can access your music collection there on Sonos. You can play playlists and others to your speaker, or search for what you want to listen to from your Sonos Controller.
Note
When you searching Tidal content, partial search is ineffective at this time, meaning you have to type the entire word or artist name, or results may not appear.
Please noted that you can only stream to one Sonos household at a time, but to as many players or grouped players as you wish. This means you can connect Tidal to multiple Sonos speakers to enjoy your music.
Part 3.

How to Play Tidal on Sonos without Subscriptions

If you are on the free tier of Tidal and don't plan to subscribe to Tidal HiFi or HiFi Plus to enjoy music streaming on Sonos, you can choose to upload your favorite Tidal contents to Sonos as playable music files. Sonos allows you to stream your music library with your music from any computer. By downloading your Tidal music collection to your computer, you can play your favorite contents on Sonos unlimitedly, and the audio quality is also good.

From there you'll want to use our ViWizard Tidal Music Converter to do this trick. ViWizard Tidal Music Converter is a professional downloader and extractor, which helps both Tidal members and non-members to download any Tidal contents to playable music files, including MP3, M4A, M4B, WAV, AAC, and FLAC. When downloading music, lossless audio quality and metadata will be embedded to your downloads. After that, you can take your entire music collection with you everywhere with My Music on Sonos! Most importantly, you don't need an eligible subscription!

You can try either Windows or Mac version of ViWizard Tidal Music Converter. Follow these steps to download Tidal music into MP3s, then you can upload them to the Sonos app for playing.

Key Features of ViWizard Tidal Music Converter
Free Trial
Free Trial
* Security verified. 5, 481,347 people have downloaded it.
Download any Tidal content, including songs, albums, playlists, and artists
Support exporting Tidal music to MP3, AAC, FLAC, WAV, M4A, and M4B
Preserve a whole set of ID3 tag information in the downloaded Tidal songs
Handle the conversion of Tidal music up to 5× faster speed and in batch
Step 1

Select Tidal contents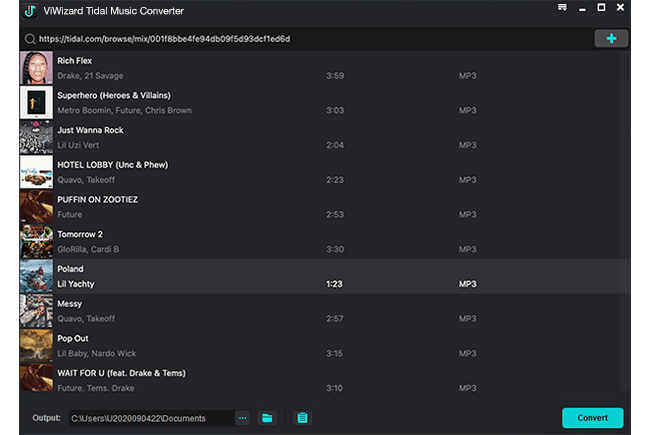 Install and launch the ViWizard Tidal Music Converter on the computer, and grant to open the Tidal desktop app. Head over to your music collection, and drag any tracks to ViWizard's main interface. ViWizard will display a list of added music tracks.
Step 2

Adjust output format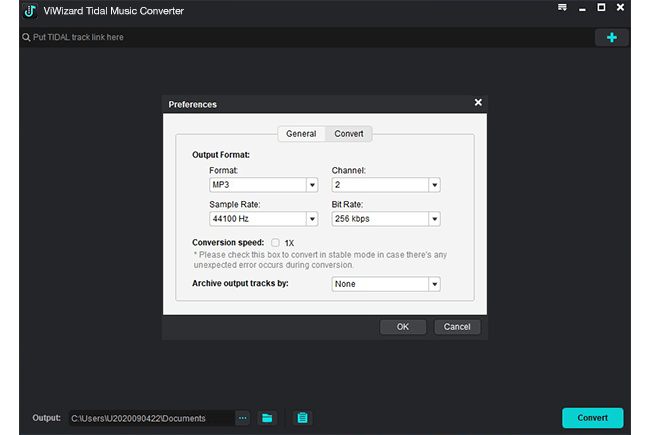 After that, open the preferences settings to adjust some related output settings, such as output format. Click on the menu icon in the upper right corner, and select Preferences. Go to the Convert tab, and click on the chevron down icon next to the current format, and select MP3 from the context menu. After that, click OK to save.
Step 3

Download Tidal contents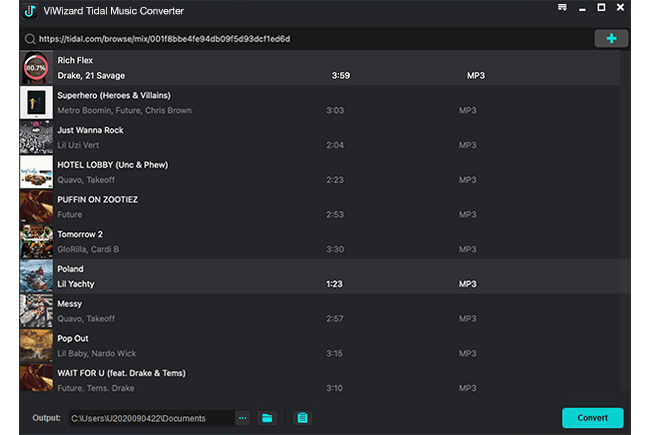 Once done, back to the main interface and click on the Convert button. This will start the conversion immediately, and it will complete at a super faster speed. After that, you can click on the file icon at the bottom left to open the music folder, which contains all the downloaded music files.
Step 4

Upload Tidal contents to Sonos
Open the Sonos app on your computer.
From the Manage menu, select Music Library Settings.
Click + (Mac) or Add (Windows).
Select My music folder or the appropriate option, and follow the on-screen instructions to import the music files.
Conclusion
In this post, you'll find two ways for adding Tidal to Sonos. You can choose to link your Tidal subscription account to your Sonos speaker to stream music from My Music. Alternatively, you can take advantage of ViWizard Tidal Music Converter to download and upload your entire music collection to the Sonos app for playing.