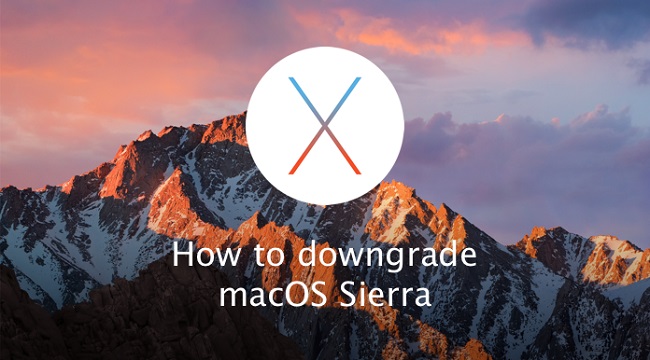 The reason why you need to downgrade macOS Sierra just varies. You may want to give up testing the latest system because of the problematic experience with the new OS release. Or you'll have to downgrade back to OS X EI Captian since you found the macOS 10.12 is incompatible with other important software on your Mac. No matter what reason it is, downgrading from macOS Sierra back to Mac OS X El Capitan is quite simple with just a few steps only. Now you can follow the steps here to get back from macOS 10.12 to your old setup in no time.
Before you start, pay attention to those IMPORTANT notes:
* You can't boot your Mac into Recovery mode and revert to El Capitan because this method can only be used for reinstalling the system that's currently on the Mac, which in this case is Mac OS Sierra.
* You can't run the El Capitan installer within macOS Sierra, because the Mac always wants to have the latest version of macOS.
* To begin with, make sure you have a Time Machine backup for all your files so that you can restore all your data by the end of the reinstallation process from Settings -> Time Machine.
Step 1. Create a bootable drive of OS X El Capitan

Before you erase macOS Sierra from your computer, you need to download OS X El Capitan from the Mac App Store. For this purpose you'll need a bootable flash drive (USB) with El Capitan on it. The following steps will show you how to create such a bootable EI Capitan installer drive.
1. Find an external drive (a thumb drive will do) with at least 8GB of storage space.
2. Download El Capitan installer file from the Mac App Store and put it into the Applications folder.
3. Open Terminal and paste this into Terminal window: sudo /Applications/Install\ OS\ X\ El Capitan.app/Contents/Resources/createinstallmedia --volume /Volumes/Untitled --applicationpath /Applications/Install\ OS\ X\ El Capitan.app --nointeraction.
4. Enter admin password if it asks.
It will take you approximately half an hour before it's completed. In the end, you will see: Copy Complete.
Step 2. Erase macOS Sierra
Now the following guide shows you the easiest way to completely remove macOS Sierra from your Mac.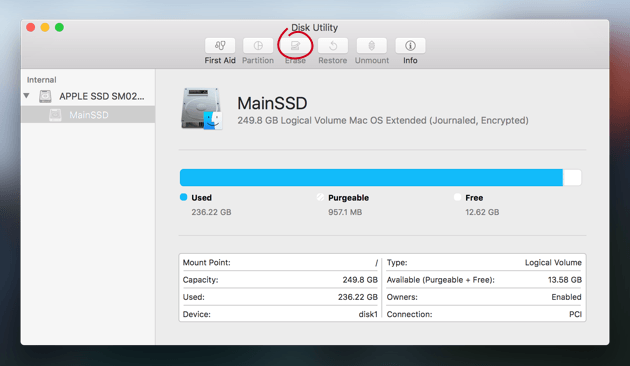 1. Connect your Mac to the Internet via Wi-Fi or Ethernet.
2. Restart your Mac.
3. Hold down Command+R when you hear the startup chime and keep holding the keys until your computer reboots.
4. Click on Disk Utility in the OS X Utilities selector.
5. Click Continue.
6. Select your Startup Disk. Click on the Erase tab at the top of the window.
7. Choose Mac OS Extended (Journaled) from the list. And hit Erase.
When the process completes, quit Disk Utility from the dropdown menu in the upper left corner of the screen to go back to the OS X Utilities selector.
Step 3. Reinstall OS X El Capitan 10.11 back on your Mac
Now it's time to install the earlier OS X 10.11 back to your Mac.

1. Click on Reinstall OS X in the OS X Utilities selector.
2. When you see El Capitan installation, just click Continue and then click through the license agreement.
3. Follow the usual installation flow. Let it finish and reboot.
Note: Depending on how old your Mac is, you may download an older version of OS X, possibly the one that originally shipped with your computer. If that happens, finish the installation and then go to the Mac App Store to upgrade to El Capitan.
Step 4. Retrieve your data from El Capitan Time machine backup

1. Restart your Mac. Press and keep Command+R through the whole reboot.
2. Select Restore from Time Machine Backup in the OS X Utilities selector.
3. Click Continue (twice).
4. Select the Backup source for where your Time Machine backup is stored and click Continue.
5. Select OS X El Capitan backup on the drive (the most recent one). Click Continue.
Your Mac will begin restoring from the Time Machine backup and then reboot. It will take a while. The average restoring time mainly depends on the size of your backup.
More Mac Tips You May Like

Dan Miners is the PR manager of TunesKit since 2012. He is in charge of all public relations, advertising, affiliate, etc for TunesKit.