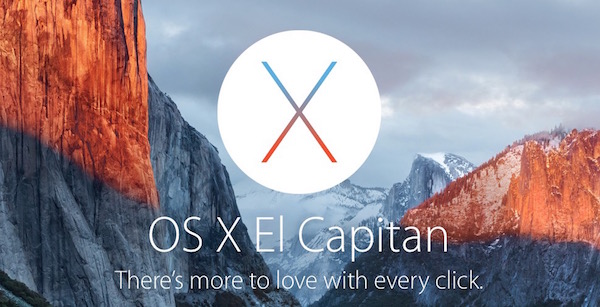 It has been a while since Apple released the official version of OS X 10.11 EI Capitan to Mac users for free upgrading on September 30. No matter you have installed the latest OS X 10.11 update or not, there are some awesome new features introduced in EI Capitan you must know in order to get the most out of it while using. In this article, we cover the top 5 best new features that have arrived with Mac OS X in El Capitan so that you know what to expect.
Best New Features of OS X 10.11 EI Capitan
Fullscreen split view
Windows-style app snapping arrives on Mac with El Capitan, so you can dock open windows to either side of the screen. Now in fullscreen mode, you can have two apps displayed side-by-side. To do this you can either click and hold on the green maximize window button then drag to the left or right, or go into Mission Control (F3) and drag the apps you want to dock into one of the desktop thumbnails up at the top.
Third-party add-ons for the Photos app
OS X 10.11 EI Capitan gives your photos a more personal touch with third-party editing tools. And with enhanced organization capabilities, support for the new Live Photos format, and faster performance, the Photos app gets even better on Mac.
Improved Safari
In El Capitan, Safari is also getting a lot of love with faster speed and more compelling features. In this new version of Safari, not only can users see which tabs are making noise, but they can now mute all tabs from the address bar. Besides, AirPlay streaming is now baked right into Safari to let you watch your favorite web videos on your Apple TV. Moreover, as a nice little bonus, frequently-used tabs can now be pinned to the tab bar in Safari on EI Capitan 10.11.
More versatile Spotlight
Spotlight gets even smarter in El Capitan, delivering results for weather, sports, stocks, web video, and transit information. And now you can ask Spotlight to find a file using natural language that you'd use with Siri. It also gets more flexible to allow you resize its window to see more results and move it anywhere on your desktop.
Security improvements
Another great feature we can see in EI Capitan is that Apple is taking security seriously in the new OS. By default, OS X El Capitan 10.11 ships with something called "System Integrity Protection" turned on. This security measure prevents even the administrator from tampering with directories and processes deemed to be a security risk.
Remove DRM from iTunes Movies on OS X 10.11 EI Capitan with ViWizard
If you've already installed EI Capitan, you may wonder whether ViWizard DRM M4V Converter for Mac works well on the most up-to-date OS X 10.11 EI Capitan to remove DRM lock from iTunes movies like before. We are glad to announce that ViWizard iTunes M4V Converter is fully compatible with EI Capitan for removing DRM from iTunes movies and TV shows, including both rentals and purchases. Besides, what's worth mentioning is that ViWizard is the first one to launch update of iTunes DRM M4V Converter in the market to perfectly support the latest iTunes 12.3 on OS X EI Capitan 10.11 (and even 10.11.1 build) over other competitors.
ViWizard DRM M4V Converter for Mac is the leader of iTunes DRM media converter software in the world dedicated to removing DRM protection from rented and purchased iTunes movies by converting the protected MPEG-4, (known as M4V) to unprotected MP4 losslessly. It works at 20x faster speed while preserving the original AC3 5.1 audio track, subtitles, CC, etc. You can download the free trial version of this smart iTunes DRM remover to have a test by yourself.
More Tips to EI Capitan 10.11: What Is It & How to Upgrade
OS X 10.11 El Capitan, firstly introduced at Apple's WWDC 2015 on June 8, is the successor to Mac OS X10.10 Yosemite with many new features. It was provided to developers in June and to public beta testers on July 9. The final official release of OS X 10.11 El Capitan was available to the public on Wednesday, September 30. In real life, El Capitan is one of the most popular rock formations and landmarks located within Yosemite National Park.
When you decide to install El Capitan, you will be able to access it via a few different locations on your Mac. You could click on the Apple icon at the top left of the screen and choose App Store, which will then open the Mac App Store, or you can click on the Mac App Store icon in your Dock. However, before you download El Capitan, we suggest you confirm your system is ready for the update with at least 8GB of space to be available for the installation while your Mac is one of the following makes: iMac (Mid-2007 or later), MacBook (13-inch Aluminum, Late 2008), (13-inch, Early 2009 or later), MacBook Pro (13-inch, Mid-2009 or later), (15-inch, Mid/Late 2007 or later), (17-inch, Late 2007 or later), MacBook Air (Late 2008 or later), Mac Mini (Early 2009 or later), Mac Pro (Early 2008 or later), or Xserve (Early 2009).

Rick Lee has written about business and consumer technology for nearly 25 years. He is the author of more than a dozen books.