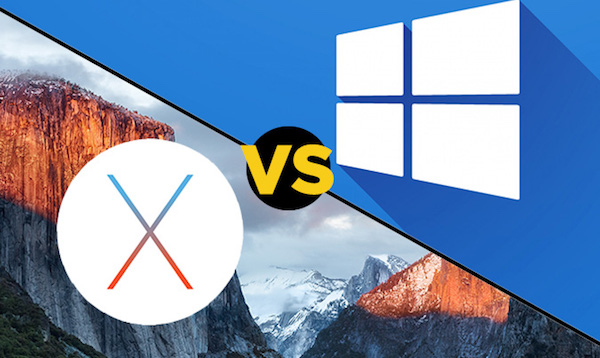 Till September 30 when the Mac OS X 10.11 EI Capitan was officially released, two giants of the operating systems for computers, including Windows 10 which launched on July 29 and the new OS X EI Capitan are available for free upgrading to those who have already got OS X 10.10 or Windows 8. Many of you may have both Windows and Mac-based computers in hand. Have you installed the new operating systems yet? Are you wondering which OS is better in using? Don't worry. In this article, we'll put Windows 10 and OS X 10.11 side by side in order to see which one is more attractive by looking at their features, security, performance, usability and more.
Browsers: Safari vs Edge
With EI Capitan 10.11, Apple introduced the ability to "pin" tabs for Safari, making access more quickly and easily. However, more work should be done to improve the bookmark system of Safari since it's a little lackluster. The good news is that Apple is thinking this through and we've heard a new browser with new features will be launched, so it won't be accused of borrowing features from Microsoft.
As for Windows 10, it replaced the Internet Explorer with the new Microsoft Edge by offering more fast and responsive browsing experience. But when compared with Safari on EI Capitan, this new browser doesn't have the option to pin tabs.
Split screen desktop
As we know, Microsoft has traditionally been strong in windows management. In Windows 10, it allows users to snap windows to the four corners of the desktop and run two windows in split-screen.
While seemly inspired from Microsoft's "snap" window mode, Apple's new Split View feature in OS X 10.11 EI Capitan enables users drag a window to one side of the screen and split it so there can run two applications side by side at the same time. Besides, Apple also unveiled a cleaner Mission Control which makes it easier to manage windows and apps, especially with multiple applications open at once.
Notes vs EverNote vs OneNote
In Windows 10, OneNote has taken a far bigger role in the makeup of the OS, becoming almost a "mini Word" in terms of its abilities. Meanwhile, Evernote is another successful app which is used by millions of people who installed it in order to benefit from its free service and well-designed features.
On Apple's side, it's now offering a revamp of Notes in El Capitan contains images, videos, links, checklists and so on that can be synced across all Apple devices.
Searching capabilities: Spotlight vs Cortana
In order to help users find the files more quickly, Apple improved the Spotlight by adding a more "natural" element to searches with natural language that you'd use with Siri. The new Spotlight also supports searches for stocks, sports scores and the weather, etc.
Windows 10 integrated Cortana, borrowed from the Windows Phone as a virtual assistant by combining Siri and Google Now. It boasts to take voice commands and does its best to provide the best results for users.
Performance
Benchmarks have shown that Windows 10 hums along about the same speed as the previous Windows 8, promises a doubling of game frame rates. In EI Capitan, the apps are supposed to load up to 1.4x more quickly, while switching between apps is likely up to 2x faster, and certain everyday apps like Mail and Preview are also boosted.
Security
Both OS X El Capitan and Windows 10 offer full disk encryption. OS X 10.11 El Capitan features FileVault, while Windows 10 features BitLocker in both Home and Pro releases. When it comes to built-in malware protection, Microsoft still offers its Defender malware scanner while Apple uses a behind-the-scenes component called Xprotect to automatically block certain apps or plugins or remove malware should any arise.
Read more: Remove DRM from iTunes movies on OS X 10.11 & Windows 10
ViWizard DRM M4V Converter fully supports Mac 10.11 EI Capitan & Windows 10
Many of you may have the need to convert iTunes movies in some cases. Since the iTunes movies and TV shows are protected by DRM, you should kill the DRM lock from the videos if you want to watch them on non-Apple devices. Fortunately, ViWizard iTunes DRM M4V Converter for Mac/Windows, one of the best iTunes DRM removal software, is capable of removing DRM protection from both rented and purchased iTunes videos on the latest Mac OS X 10.11 EI Capitan as well as Windows 10 with iTunes 12.3. It's able to convert the protected M4V iTunes videos to DRM-free MP4 with lossless quality at 20x faster speed. You can download the trial version of ViWizard DRM M4V Converter as below to test it by yourself. This tutorial will guide you how to get it done on EI Capitan: How to Remove DRM from iTunes Movies on OS X 10.11 EI Capitan >>

Nick Orin is a review writer, software geek and Mac OS enthusiast. He spends all his free time in searching useful software and gadgets to share with others.