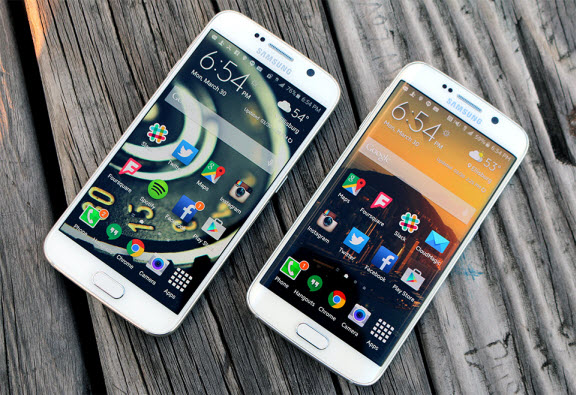 Two Flagship Phones for Samsung in 2015
Last year, Samsung released its flagship phone Galaxy S5, which is hoped to be a big bang in the mobile market. However, it was fast defeated by the iPhone 6 and 6 Plus. It wasn't the blockbuster the company hoped it would be. In 2015, Samsung was going to focus on a smaller number of devices. And it has two flagships to offer in this year - Samsung Galaxy S6 and S6 edge. Can they store Samsung to its former glory?
Simple Reviews of Samsung Galaxy S6 And S6 Edge
Pros of Galaxy S6:
Sturdy, stylish design
Impeccable camera experience
Great day-to-day performance
TouchWiz is finally worth using
However, this new phone is not waterproof yet neither. And the battery is not removable now.
Pros of Galaxy S6 Edge:
Stunning design
The curved screen is gorgeous
Impeccable camera experience
Great day-to-day performance
The Galaxy S6 edge is more expensive.  It performs just as well as its cousin in every task we threw at it, but the few software gimmicks that make use of the Edge's beautiful curved display just don't do much to justify the extra cost. Buy it for its looks, not because it's any more functional.
Display and Sound of Samsung Galaxy S6 and S6 Edge
Something make the consumers exciting is that both Samsung galaxy s6 and s6 edge have absolutely gorgeous screens. They're both Quad HD panels (2,560 x 1,440, if you haven't memorized it yet) akin to the one you'll find in the Note 4, but they only measure at 5.1 inches diagonally. They are the most pixel-dense screens on the market today. Except the big and pixel-dense screen, the color for the two mobile phones is also vivid.
For movie or music lovers, you should ask that how do they sound? If you have experienced these two wonderful mobile phone, you would find that they are dramatically louder than the clunker we got in Galaxy S5. It would be great if you take Samsung Galaxy S6 or S6 edge to enjoy movies/music.
Watch iTunes DRM Movies on Galaxy S6/S6 Edge
If you are also a movie addict and like to purchase or rent movies/TV show episodes from iTunes store, you will know that the iTunes videos are DRM protected and can't be played on any Non-Apple devices. Of course Samsung Galaxy s6 and S6 edge is no expectation. But please don't be depressed! With a 3rd party iTunes DRM removal application, we can simply remove the iTunes DRM protection from any iTunes videos and convert to common formats to fit Galaxy S6 or S6 Edge.
ViWizard DRM Media Converter is the best and fastest iTunes DRM removal tool currently on the market. It works well with both iTunes purchased and rental movies. By adopting the high DRM stripping technology, ViWizard DRM Media Converter can strip Fairplay DRM directly and convert iTunes M4V to unprotected MP4 format losslessly.
Step 1

Download and install ViWizard app.

Download the ViWizard DRM removal app from official URL. And install it on your computer. Please note that the Mac version only works with Mac OS X 10.8 or above. Both ViWizard DRM Media Converter Windows and Mac version need to work together with iTunes.
Step 2

Import iTunes videos to ViWizard app.

Click "Add Files" button to add iTunes videos to ViWizard DRM Media Converter from iTunes library. All kind of movies, TV show episodes, music videos are supported to add.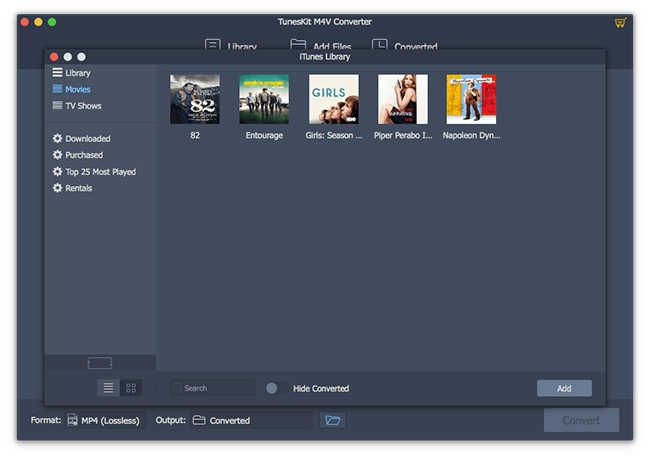 Step 3

Start iTunes M4V to Samsung Galaxy S6/S6 Edge Conversion.

Click "Convert" button to start converting iTunes M4V to unprotected MP4 format. The MP4 format is also the best supported format for Samsung Galaxy S6/S6 Edge. After conversion, you will be free to put the converted iTunes movies on the new Android phone.

Nick Orin is a review writer, software geek and Mac OS enthusiast. He spends all his free time in searching useful software and gadgets to share with others.