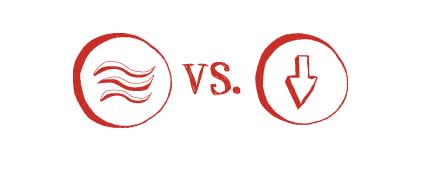 In this technology addicted world, everything is there in our phones, laptops, and computer systems, right? Even if someone wants to hear smooth or pop music, he/she makes it their priority to download the music on their devices and play their favorites anytime rather than streaming on radios, which has signal issues in some areas like outer of the city.
This only means that if you own a phone and have internet access then you can watch or listen to every content. The only cost you bear is your internet cost which is a necessity of today's generation. But everyone wants to use their internet pack less, isn't it? The best you can do is to avoid streaming your audios and music, instead, download it to enjoy for more time with less data pack usage.
Both streaming and downloading have their advantages and drawbacks which vary from situations to situations. But are you thinking what is the difference between streaming and downloading? Let's discuss it!
What are Streaming and Downloading?
Before jumping to the streaming vs downloading music, do you know the meaning of streaming and downloading?
Streaming - Streaming means, consuming, watching, or listening to online music and videos without waiting for downloading the content. Listening to online music while browsing your social media handles, is streaming. With the rising music and video platforms like Spotify, Apple Music, Pandora, gaana.com, Netflix, Amazon Prime, YouTube, streaming has become very popular and has made our lives easier.
After learning about what streaming means let's learn about what downloading means.
Downloading - Downloading music from Amazon or Google play music means that the file has been saved to your device storage until you permit it to be deleted. Once downloaded the file, you don't need internet access to pay for your favorites. You can listen to your downloaded music even in the areas which do not have internet access. So, it can be the best option you can choose for any place and time. Just for example, if a person is traveling via train or airplane and wants to hear soothing and calm music, but doesn't have the proper signal to stream, then downloading will be a safer option even for emergencies.
What's the Difference Between Streaming and Downloading?
Now let's move on to see what is the difference between streaming and downloading.
From the view of the amount of data
Some files are regardless of whether you use it or download it, until and unless it offers the same level of quality for both streaming and downloading. For eg If MP3 of audio is 3.5Mb, you can choose anything whether download or stream, both will use the same amount of data pack. However some cases are different like if you have to download a video of 720p your data amount used will increase and if you stream it under 480p, you will consume less internet pack.
From the view of using the file
Using the file is also a big factor that may consume fewer packs. Suppose, if there are some love songs which you like the most and you hear it every time from your phone, then the wise and suitable option to choose is downloading from an audio downloader and store it to your device permanently. On the other hand, if you hear some song once in a day or two, then downloading it will waste your storage and internet pack, you can choose to stream and listen to it.
From the view of stopping and starting it again
Sometimes you want to hear good music and have started but left it due to some emergency work and want to start again but some devices don't support playback system, then what will you choose, streaming or downloading? There is a huge difference between streaming and downloading working. Streaming on some devices doesn't allow you to playback and start again but by downloading the file, you can playback any time.
From the view of listening to your data
Sometimes you have a limited data pack to use and do all work, this is the crucial factor for choosing the appropriate tool, reviewing your content and seeing how much data pack it will use to stream, and if using much data then downloading choose to download and save it to your device until you wish for.
Conclusion & Extra Tips
We have already discussed streaming vs downloading from various aspects. Downloading and streaming are somehow equal in every aspect but just vary from sitations to situations. In some situations, streaming can be better to choose and in some downloading can be better, it will depend totally upon your usage of the internet pack and your content you choose to play.
For featuring best streaming music, Spotify is definitely one of them. If you want to download Spotify music for offline without premium, you should try the ViWizard Spotify Music Converter, a dedicated tool to download any songs, playlists, albums, podcasts for playback offline. Meanwhile, ViWizard can help you convert Spotify songs to MP3, WAV, or other common audio formats in high quality, so you can enjoy them on any device you want.

ViWizard Spotify Music Converter Key Features
Download Spotify to MP3, AAC, FLAC, WAV, M4A, M4B
Convert Spotify songs at 5X faster speed
Play Spotify songs offline with no Premium
Save tracks with original audio quality and ID3 tags
More Spotify Tips & Tricks

Nick Orin is a review writer, software geek and Mac OS enthusiast. He spends all his free time in searching useful software and gadgets to share with others.