If you are running a Mac machine and someday would like to create a video clip by yourself, you may possibly fall into a difficult situation with no idea of which video editing software to choose, especially when it comes to iMoive and Final Cut Pro, as both video editors are produced by Apple for use on Mac OS X. To figure it out, you should firstly get a clear understand of the fact that iMoive and Final Cut Pro are both unique in design and developed for different user bases. Generally speaking, iMovie is for the typical home user, while Final Cut Pro is for more skillful users. In order to help you choose the better tool to suit your video editing requirements, we are listing the major differences between iMovie and Final Cut Pro in the following review by providing the key features, as well as advantages of each program over the other for your reference.
Introduction to Apple iMovie and Final Cut Pro
What is iMovie
As part of Apple's iLife suite of multimedia projects, iMovie is a basic video editing solution known by most Mac and iOS users. With a user-friendly interface, iMovie will allow users to create their own home movies or video clips easily from a number of different sources including digital video cameras, DV-encoded files, and images while adding multiple themes and transition effects.
What is Final Cut Pro
Final Cut Pro on the other hand, mainly focuses on more technical features with which users can produce more professional videos and movies. The most recent version is Final Cut Pro X 10.2 powered by OS X version 10.9 Mavericks or later. Final Cut Pro X provides a wider range of video effects, themes, titles, animations, and others than iMovie with a superior quality.
Overview of Major Differences between iMovie and Final Cut Pro
Before we get stared on discussing the major differences between iMovie and Final Cut Pro X, you can take a glance at the following overview of the face-to-face comparison to get a quick understand of their different features to see which video editor is better for you.
| | | |
| --- | --- | --- |
| | iMovie | Final Cut Pro X |
| Price | $14.99 | $299.99 |
| Mobile app | Yes | No |
| HD video supported | 1080p | UHD 4K |
| Multicamera scene sync | No | Yes |
| Work with team | No | Yes |
| iCloud sync | Yes | No |
| Background processing | No | Yes |
| Supported input formats | MPEG-4, QuickTime Movie, MPEG-2, AVCHD, DV & HDV | AVC, DV, HDV, DVCPRO HD, QuickTime formats, AAC, AIFF |
| Supported output formats | QuickTime formats, DV & AIC, AAC, JPEG | DV, DVCPRO HD, MPEG IMX, HDV, H.264 |
| Supported OS | Mac OS X 10.10.2 or later | Mac OS X 10.10.2 or later, 64-bit processor |
| Usability | Easy | Difficult |
| Skill level | Consumer, Prosumer | Professional, High-end Movie Production |
iMovie vs Final Cut Pro: Head-to-head Comparison
We will continue to discuss the major differences between iMovie and Final Cut Pro X from different parts in details, including the usability, video editing features, video sharing, etc.
Ease of Use
iMovie is without doubt more easy to use because of a novice interface and organized function layout. Even if you are a newbie, iMovie will enable you edit the videos by adding a lot of effects, themes and background music with great convenience. In fact, iMovie can provide every basic feature one need to edit videos in the way of simplification. Final Cut Pro X, on the other hand, due to the more powerful functions and professional editing options, it would inevitably make users take a lot of time to understand the operation as it's more complicated.
Video Editing
As we mentioned previously, iMovie is made to be handled easily by everyone. So the video editing options of iMovie are set to be the basic ones. In result, it's only supposed to create simple videos instead of complex ones. On the contrary, Final Cut Pro is capable of dealing with both simple and complex videos with powerful video editing tools such as the magnetic timeline, background processing, good organization tools—ratings, tagging, auto analysis for faces, scenes, and stabilization, etc. In a word, Final Cut Pro comes with more formats, more audio and video layers, more dizzying video and audio effects, more in-depth video and audio processing tools, more complicated audio and video transitions, etc than iMovie. Besides, unlike iMovie, Final Cut Pro is able to integrate with Apple's other multimedia editing software included in Final Cut Studio.
Video Sharing
Once the videos are completed, you are allowed to share and publish the edited video clips onto videos sites like YouTube, Facebook, Vimeo and others directly with iMovie. What's more, unlike Final Cut Pro which is not supported by mobile platform, iMovie is also available in iOS version so that iOS users could install it on their iPhone or iPad.
Conclusion: Which Video Editor is Better
To sum up, you can see that iMovie is a basic yet cheaper video editor that will create simple videos in a few minutes and steps. In the meantime, Final Cut Pro X is overall a faster, more comprehensive and professional video editing solution to edit high-end videos that always require high performances. So if you are new to video editors and only want to edit a simple video clip for your own use, you are suggested to choose iMovie. Otherwise Final Cut Pro could be the best choice to present stronger abilities for video editing.
Tips for iTunes Users: How to Edit iTunes Movies with iMovie/FCP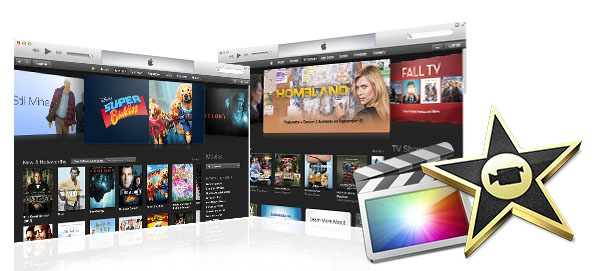 In most cases, Mac users also like to use Apple's other services, such as iTunes. If you ever purchased movies from iTunes store and tried to import the iTunes movie files to iMovie or Final Cut Pro X for editing, you might probably met the problem that it won't let you edit the iTunes movies with iMovie or FCP at all. In this case, you need to know that it's because iTunes movies are protected by Apple with its FairPlay DRM copy protection. Only iPhone, iPad, iTunes and QuickTime are approved to play iTunes movies directly. It's impossible to edit iTunes DRM'd movies with iMovie and Final Cut Pro unless the DRM protection is removed from the protected movies. Now if this is your case and you need to import iTunes movies to iMovie or FCP to edit, you are recommended to try ViWizard DRM M4V Converter for Mac, one of the best iTunes DRM removal tools in the world developed to remove DRM from iTunes rented and purchased movies while converting the protected .M4V format to common MP4 supported by iMovie and Final Cut Pro. It's also able to preserve the original 100% lossless quality of the iTunes movies, including AC3 5.1 surround sound, closed caption, subtitles, etc. You can follow these tutorials "How to Import iTunes M4V Movies to iMovie for Editing", "How to Edit iTunes DRM Movies with Final Cut Pro X" to learn how to edit iTunes DRM M4V movies with iMovie or FCP with ease.
More Reviews You May Like

Nick Orin is a review writer, software geek and Mac OS enthusiast. He spends all his free time in searching useful software and gadgets to share with others.