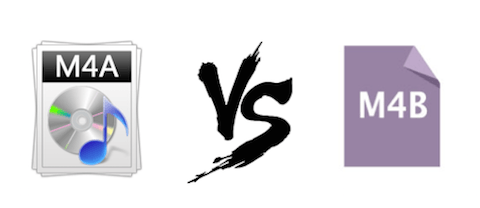 When you buy audio files from iTunes store, you will find that some audios are saved in .m4a format while the others are in .m4b. So you may wonder what's the specific difference between these two file types, right? Now in this review, we will compare M4A and M4B audio formats from various aspects, such as encoding method, usage, compatibility, copy protection, etc. to help you get a more clear understanding of the differences between .m4a and .m4b.
Encoding Method
Firstly let's look into the different encoding methods of M4A and M4B files. Audio file with .m4a extension is encoded with Advanced Audio Coding or AAC, or Apple Lossless Audio Codec, while the one with .m4b format is only encoded with AAC encoding. Therefore, there's slight difference between M4A and M4B regarding audio quality.
Usage
You should know that both M4A and M4B formats were introduced by Apple and are used mostly for distributing audio files in the iTunes store. The M4A file type is usually used for distributing music through the iTunes store. And the M4B format is mainly used for audiobooks sold in iTunes. The audiobook files in M4B format also allow users to bookmark the position in each file, making it useful for audiobook listeners.
Copy Protection
Like the DRM-protected movies and TV shows sold from iTunes, the M4B and M4A audio files are also protected by Apple's copy-protection with different types of encryption technologies. Copy-protected M4A files in iTunes have a .M4P extension and can only be played with iTunes and QuickTime player. The DRM-protected M4B audiobooks from the iTunes store use the same Apple's FairPlay DRM as iTunes movies, due to which the M4B audiobooks are allowed to playback on selected devices only.
Useful Tips: In case you'll need to play copy-protected iTunes M4A or M4B audio files on multiple non-Apple applications or devices, here we recommend ViWizard DRM Audiobook Converter for Mac (Windows) for you with which you can easily get rid of the DRM protection from M4A and M4B audios while converting these file types to commonly used MP3, AAC, WAV, FLAC formats at 30x faster speed.
For the complete guide, you can visit: How to Put DRM Audiobooks to Android Devices >>
Compatible Devices
Because of the DRM protection, both M4A and M4B audio files are only compatible with a narrow range of media programs and devices such as Winamp, Windows Media Player, VLC player, Apple's iPhone, iPad, and iPod.
Conclusion
As we can see, although M4A and M4B files seem to be similar in some parts, they still have slight differences in many aspects. Both formats are developed by Apple and contain a part of the MPEG-4 format. But they are used for storing different types of audios in iTunes store, one for music and the other for audiobooks. Another drawback of both formats is they are only supported by a small amount of devices for playback.

Dave Henry is a long-time ViWizarder who loves all technological things. In his free time, he likes reading about science and technology, writing for his blog, watching sci-fi films, and meditating.