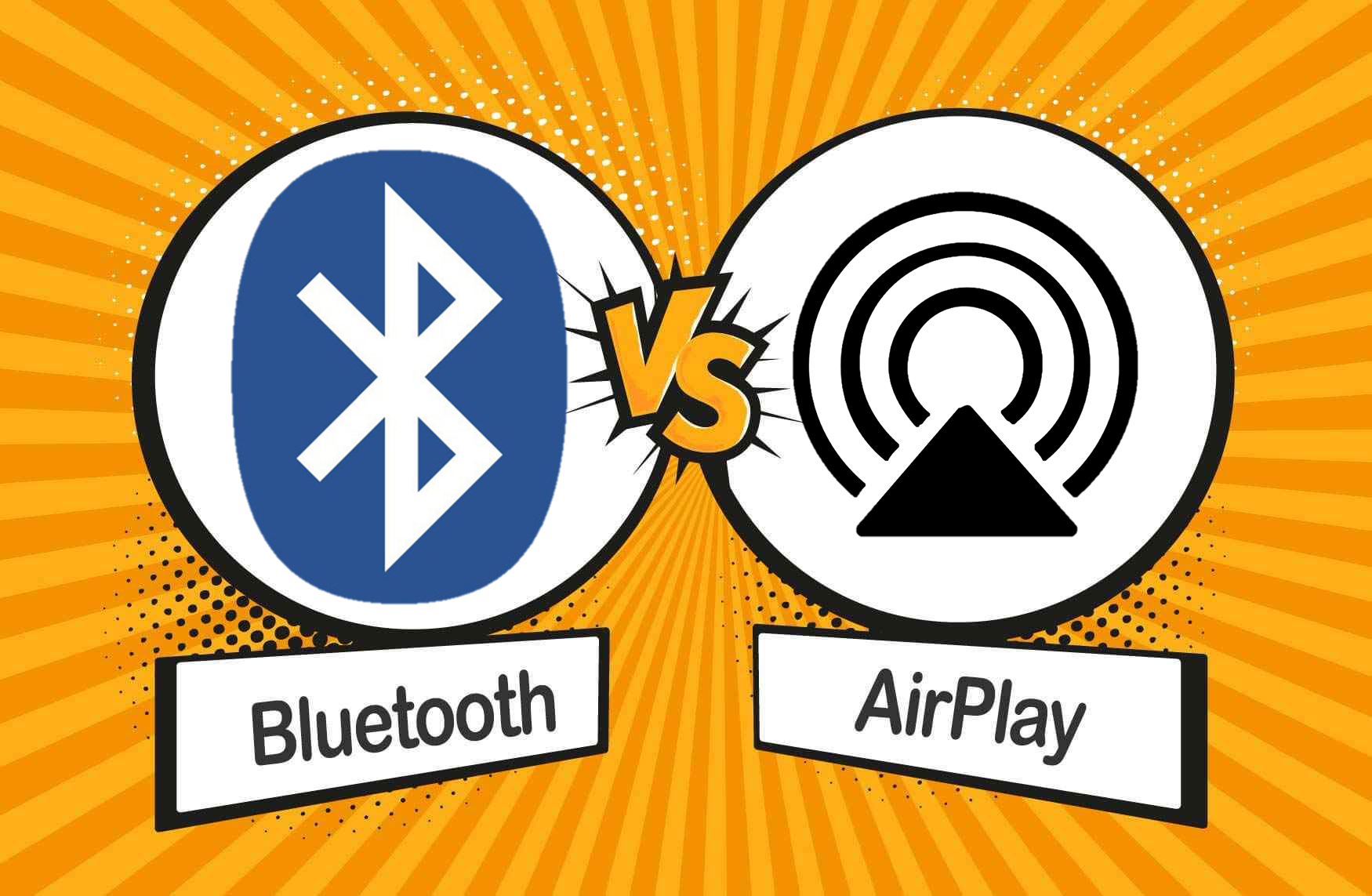 The evolution of technology deeply changes the way we listen to music and the changes are still going on. From Walkman to iPod and MP3 player, from headphones to earphones and earbuds, from CD to portable speaker. Do you remember how we play music before Bluetooth technology is commonly used? We managed that by using USB or SIM card. Now, instead of "playing" music, we "stream" music. Not only streaming music on your phone or computer, but also to the amplifier and truly wireless earbuds. Thanks to the development of Bluetooth and AirPlay technologies, wireless streaming music thrives and grows.
So, what is Bluetooth and AirPlay technologies and how they are different from each other? Is there one outdoes another? Answers to these questions are important especially to those who sway between Bluetooth speaker and AirPlay speaker.
What are Bluetooth and AirPlay?
Bluetooth is evergreen since it was first invented in 1989 at Ericsson Mobile for the purpose of developing wireless headset. As a wireless technology standard used for exchanging data between fixed and mobile devices, Bluetooth was initially named "short-link" radio technology. Bluetooth is most commonly used to transfer files between devices or gain control from a device over another.
AirPlay is the new blood compared to Bluetooth. Launched by Apple Inc., in 2010, AirPlay is designed to help to mirror or stream media content on iOS and Mac devices to other AirPlay supported devices. Bluetooth and AirPlay both can stream audios from phone, tablet, or laptop to speaker, smartwatch, TV and other devices. Their usages have a lot in common yet they adopted totally different technologies.
What's the Difference Between AirPlay and Bluetooth
Technologies
Bluetooth uses "point-to-point" data transfer technology so it realizes direct connections between devices. The connected devices need to be close, which limits the Bluetooth connection to a short distance like 10 to 20 meters.
AirPlay is a "peer-to-peer" technology as it based on Wi-Fi connection. This technology allows you to connect devices via the same Wi-Fi network. If you put all the devices under a shared Wi-Fi, they will be connected without you doing extra work to pair them. This also gives the devices a larger playing distance and gives your music more ability. You can work around the house with your phone and the music will keep playing as long as the Wi-Fi is connected.
Sound Qualities
Bluetooth adopts lossy compression technology but it is able to sound very good if the device also supports AAC and aptX, which has better sound quality than SBC (Standard Bluetooth Codec). Unlike Bluetooth, AirPlay is blessed with lossless compression technology. So generally speaking, AirPlay delivers better sound quality than Bluetooth.
Usages
The difference in the aspect of usage is that Bluetooth only supports audio streaming but AirPlay can do both audio and videos. As for the file transfer function, Bluetooth can help you transfer different types of files, such as photos and documents. Although AirPlay can help mirror photo displayed on your device, AirDrop is the one does the job to transfer files.
Range of Application
Over more than 30 year's development, Bluetooth is almost everywhere. It is compatible with all kinds of operating systems and devices, ranging from mobile devices such as phone, tablet, laptop, smartwatch, and fitness tracker, to TV, camera, printer, and even cars.
However, as an Apple patented technology, the accessibility and availability of AirPlay are very limited. The basic requirement is having an iOS device or a macOS computer. And then, to stream via AirPlay you also need at least one more AirPlay-friendly device. The good news is, AirPlay 2 is now available on more devices than just Apple HomePod and Apple TV.
Which is Better: AirPlay VS Bluetooth Speakers?
To sum up, Bluetooth has better compatibility and a much wider range of applications over AirPlay, so you will have a lot more choices when you are buying speakers. But AirPlay has better sound quality and the multi-room playing feature of AirPlay 2 can levels up your music streaming experience. In the meantime, AirPlay 2 also gives you volume control over both devices while Bluetooth can only manage the volume of your phone.
Though AirPlay can stretch longer distances than Bluetooth, it is only under the condition of a Wi-Fi network. Let's say if you want to go camping or hit on a road trip with AirPlay portable speaker, using Bluetooth is more sensible. And the most important is, if you are not an iOS or macOS user, AirPlay obviously is not a strong enough reason to lock yourself into Apple's ecosystem.
Extra Tips
Usually, speakers with AirPlay feature also supports Bluetooth but Bluetooth speaker not necessarily has AirPlay support. Even if you didn't buy an AirPlay speaker, there is one thing called "AirPlay receiver" or "AirPlay adapter" that can help you use AirPlay on your speaker.
If you are going to take part in any outdoor activities, another tip for you is to download the Apple Music songs offline and convert them to a playable format. We all know that streaming Apple Music is data-consuming and battery-consuming. ViWizard Audio Converter can help you truly save Apple Music songs offline and convert them to MP3 with 100% quality preserved. In this way, you can either stream them to your portable speaker via Bluetooth or play them on your car via USB. No Wi-Fi or data usage needed and you can enjoy the same high-quality music.

ViWizard DRM Audio Converter Key Features
Losslessly remove DRM from Apple Music & iTunes songs
Convert DRM M4P to MP3, AAC, WAV, FLAC, M4A, M4B
Retain 100% original quality and ID3 tags
Convert Audible and iTunes audiobooks to MP3, M4B, AAC
Convert between DRM-free audio file formats

Nick Orin is a review writer, software geek and Mac OS enthusiast. He spends all his free time in searching useful software and gadgets to share with others.