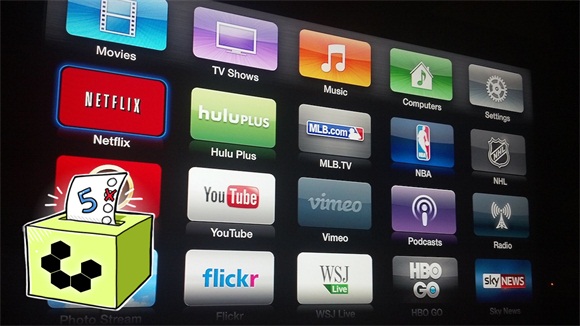 What is A Streaming Box?
A streaming box, also known as a media streamer or streaming media player, is a device developed to stream movies, TV shows and a lot of different content from online streaming-media services, like Netflix, Amazon Instant, Hulu Plus, Vudu, Pandora and more as well as from local network to our HDTV for watching.
Due to its broad features, large selection of channels, and easy-to-use interface yet inexpensive price that is around $100, the streaming box has already become the most popular option for people who loves to watch media content over the internet on home TV. Since there are so many great media streamers out there which might make you tangled for the decision, we've picked up five highest-rated streaming boxes in the market to help you find the best one for streaming TV episodes, movies, music, etc to your HDTV.
Best Media Streamers: Roku, Chromecast, Apple TV, Amazon Fire TV ...
Roku ($49-$99)
The Roku Streaming Player, originally designed to deliver only Netflix to HDTV, is now made available for easily streaming the hottest movies, TV shows, music and much more from hundreds of user-addable channels, including both free and paid ones, such as PBS, YouTube, Hulu Plus, Amazon Instant Video, Crunchyroll, WWE Network, HBO Go, Redbox and others to play on home television. Currently, it is provided with different models, including Roku 1, Roku 2, Roku Streaming Stick and Roku 3, among which the high-end Roku 3 is the best one so far with over 1500 channels, lightning-fast performance, a comprehensive search feature and an innovative remote with built-in headphone jack.
Despite of all the excellent features, the Roku isn't without drawbacks. The biggest one is the lacking in file-format support. That's to say, if you're mostly looking to stream your personal digital media collection from a hard drive, Roku might not be the best choice..
Google Chromecast ($35)
Ever since its first release on July 24, 2013, Chromecast has been a hot-selling streamer due to its lowest price of $35 only. And because of which, Chromecast is also one of the simplest streaming devices on the market, mostly related to its foolproof setup and the fact that users control the Chromecast from existing apps on their mobile devices or computers. Besides, the 2.83-inch tiny size also makes the Google Chromecast a great travel companion.
However, Chromecast still lags far behind of other streaming boxes with fewer services supported, like Netflix, Hulu Plus, HBO Go, YouTube, Pandora, MLB.TV Premium, WatchESPN, etc. What's worse, it doesn't work independently but with smartphone or tablet instead. So if you want a streaming device you can sit down with and turn on to stream on its own, Chromecast is apparently not the right one to look for.
Apple TV ($99)
As another excellent streaming box in the world, Apple TV is the best option for people who mostly invested in Apple ecosystem to stream all the media content, like movies, music, TV shows in the iTunes Store as well as on Apple's iOS devices to HDTV with AirPlay funciton. Moreover, the Apple TV's user interface is one of the best than any other streaming boxes there.
But for most people, the Apple TV isn't considered the premier living room box for it lacks of cross-platform search and the support to Amazon Instant Video, Pandora or other oline media services like Roku does.
Amazon Fire TV ($99)
Amazon's Fire TV is also a richly featured streaming box that includes all the channels and services you would expect from Amazon, including Amazon VOD, Netflix, Hulu, Crackle, Pandora, ESPN, etc, and even built-in support for Plex. Unfortunately, it lacks HBO Go and Vudu. Amazon tries to put emphasis on the easy-to-use aspect of its Fire TV by introducing an intuitive interface and voice searching feature.
Like most other media streamers, the Amazon Fire TV is not perfect yet and still has a plenty of room to grow. For example, the user interface strongly favors Amazon Instant content over other services. The voice search only works with Amazon's own catalog. And it lacks of mobile app support for non Amazon devices.
PlayStation 4/Xbox One ($399)
Technically speaking, these two devices are video game consoles intead of streaming-media boxes. However, besides the video game functionality, they can also be used as media streamer to stream videos from the internet like like Netflix or Hulu to home HDTV for playback. Plus, for console gamers, it saves the money on an additional streaming set-top box and just use the console they would use anyway.
Conclusion & Suggestion
Above all, the Roku 3 is the best and most advanced streaming media box with the best combination of interface, app support and price. But if you get online media files mostly from iTunes or use Apple products a lot, then you should buy Apple TV for which offers full access to iTunes media library along with AirPlay support for streaming from your iPhone, iPad, or Mac. For people who addict to Google Play or Amazon media library the most, Chromecast and the Fire TV will be the best streamer to meet your needs. Finally, the game consoles like PS4 or Xbox One is more ideal for game lovers who like to watch an online movie on HDTV during the break of a game.
More Reviews You May Like

Nick Orin is a review writer, software geek and Mac OS enthusiast. He spends all his free time in searching useful software and gadgets to share with others.