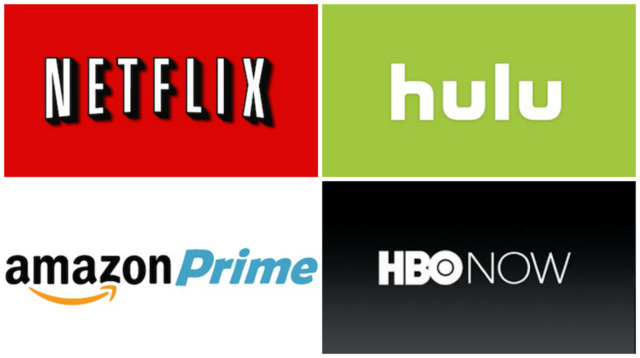 There are more and more people choose to be a cord cutter, who no longer pay for cable service. While at the same time, streaming Services witness a great grown since the year of 2012 when Netflix entered the content production industry and after that, many others followed the success. There are different types of streaming services in the market: some offering live TV channels to replace cable TV, some produce original programming to attract audiences, and some have them both.
If you still can't do without cable TV, you should go for services such as Sling Media, DirecTV, fuboTV, or PlayStation Vue. Instead, if you find the TV programming on cable TV are boring and dull, you should try the streaming services with original content. Here's a breakdown of and comparison between the mainstream streaming services for you to look up and see which is exactly the one you are looking for.
Netflix
Netflix is the pioneer of streaming services. There's no denying that it is the first and the best so far. Started the business by selling DVD and rental by mail, Netflix was early founded 21 years ago. The company sets foot in producing and distributing for both film and TV series in 2012. As of April 2019, Netflix had over 148 million paid subscription all over the world, including 60 in the United States, and over 154 million subscriptions total including free trials. Netflix's price plan is quite simple. $8.99 monthly subscription for one stream at one time on one device, and only in standard definition resolution. You can access everything in the Netflix repository, where You could lose years of your life just browsing through the things.
Netflix released an estimated 126 original series and films in 2016, more than any other network or cable channel. Netflix best original programming including Stranger Things, The Crown, Black Mirror, and BoJack Horseman. The company has also revived several TV series that were binge favorites of users, including Arrested Development, Full House, and Queer Eye.
Hulu
Hulu joined the battle in 2017, playing a role of the most comprehensive streaming service with both live TV and original programming. Hulu is literally a paradise for TV series binge watchers because it houses current TV shows from ABC, Fox, NBC and older ones from CBS. Hulu is also acclaimed by its original content programming such as "The Path" and "The Handmaid's Tale". Besides that, more than 60 live TV is available for Live TV plans.
Hulu offers one of the cheapest starting prices if you are OK with the ads. A package deal of Hulu and Spotify is launched for only $5/month to college students. It's like getting Hulu free since Spotify Premium for students usually costs $5/month.
Amazon Prime Video
Amazon Prime Video always come the third after Netflix and Hulu, but it is still one of the best video streaming services. Prime Video is one of the features included in an AmazonPrime membership, so it is really convenient for those who already do most of their shipping online.
Amazon put in a lot in its own shows and it won an Emmy award for the Marvelous Mrs. Maisel. And other shows, including The Man in the High Castle, Tom Clancy's Jack Ryan, and Transparent, have received tremendous critical praise. Don't forget the most anticipated one, the upcoming Lord of the Rings series.
HBO Now
Another cable and satellite television network HBO unveiled its streaming services HBO Now in 2015, Unlike HBO Go, HBO's online video on demand service for existing subscribers of the linear television channel, HBO Now is available as a standalone service and does not require a television subscription to use, targeting cord cutters who use competing services such as Netflix and Hulu. As of February 2018, HBO Now has 5 million subscribers.
HBO Now allows subscribers on-demand access to HBO's library of original programs, movies and other content on personal computers, smartphones, tablet devices, and digital media players. You won't miss the HBO shows like Game of Throne, West World, and Chernobyl even if you are not an HBO fan.
CBS All Access
The biggest difference between the above mention three streaming services is that CBS is original a cable TV. The CBS All Access is CBS's streaming platform built around the live programming streams of local CBS affiliates in 124 markets and the full-length episodes of CBS exclusive original shows, such as Star Trek Discovery, the Christine Baranski-led The Good Fight and Jordan Peele's remake of The Twilight Zone. It is best for Cord cutters looking for a major-network fare without using an antenna.
Comparison
| | | | | | |
| --- | --- | --- | --- | --- | --- |
| Streaming Services | Netflix | Hulu | Amazon Prime Video | HBO Now | CBS All Access |
| Starting Price | $8.99/month | $5.99/month | $8.99/month | $14.99/month | $5.99/month |
| Free Trial Period | 30 days | 30 days | 30 days | 7 days | 7 days |
| Simultaneous Streams | 1-4 | 2 | 2 | Unlimited | 2 |
| Live TV | No | Yes | No | No | Yes |
| Ads | No | Yes | No | No | Yes |
| Pros | high-quality and high-budget original films and services | favourable price and options for both live tv and original content | included with other Prime benefits | award-winning original programming and top-tier movies | NFL broadcasts available |
| Cons | titles come and go frequently | inconsistent selections from older TV seasons | rarely gets brand-new videos | pricey | rarely find more than 30 films on the platform at any time |
Wrap Up
To sum up, Netflix is the best overall, Hulu is for TV fans, Amazon Prime Video is best for Amazon Prime member and families. And of course, CBS All Access and HBO Now is for CBS and HBO faithful. Though streaming service is popular and well-received, there are always some people who are not fond of watching TV or movies but they still have the interest and love for particular shows or movies. For this group, purchase or rental TV series and movies on iTunes is a more customizable plan. Here you can also use ViWizard DRM M4V Converter to keep your collection permanently.
Main Features of ViWizard M4V Converter
An all-in-one solution to losslessly rip off DRM from iTunes movies, TV shows, and videos
Convert Both DRM-ed and DRM-free format to over 20 popular formats, such as MP4, M4V, MKV, WMV, MPEG1, MPEG2, AVI, ASF, 3GP, and FLV
Has a built-in video editor with which you can trim, cut the videos to small clips, or add watermarks and subtitles
Keep AC3 5.1 Dolby surround sound, AAC stereo tracks, AD, CC, subtitles, and chapters

Nick Orin is a review writer, software geek and Mac OS enthusiast. He spends all his free time in searching useful software and gadgets to share with others.