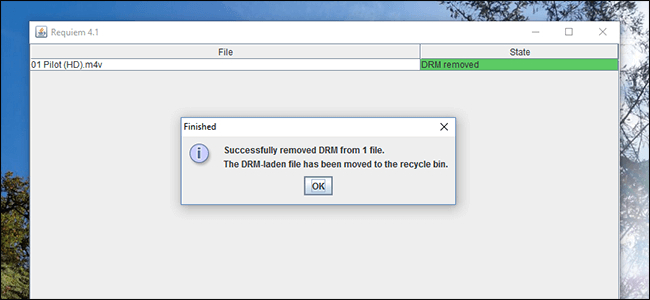 You must heard of Requiem if you've been trapped by Apple's FairPlay DRM for a long time and finally decided to fight against the unfair situation by seeking an ultimate solution to free all your iTunes media content from DRM restriction. Requiem is such a smart tool specially designed for this specific purpose. It allows everyone to circumvent Fairplay DRM completely for free. No matter you are familiar with it or not, this article will make you understand it better.
Here we'll discuss everything about Requiem, including what it is, how to download and install Requiem DRM removal app, and show you the complete guide of using Requiem 4.1 to remove FairPlay DRM from iTunes M4V movies and TV episodes on old iTunes, as well as introduce you the best Requiem replacement in removing iTunes DRM on most recent computer systems and iTunes.
What is Requiem - The Best Free DRM Removal Solution
Requiem is an iTunes DRM removal freeware used to remove Apple FairPlay DRM from videos, music, eBooks purchased from iTunes store on both Mac and Windows platforms. This allows content purchased on iTunes to be played on non-Apple-approved devices. And unlike some fake DRM removal utilities that simply perform a screen capture of iTunes videos and re-encode the captured output into DRM-free files, Requiem is promised to remove iTunes DRM losslessly, that is, without any quality loss from the original iTunes movies when the DRM is removed. It is merely decrypting the file, not decoding and re-encoding it. This makes Requiem unique and standout from a large number of similar DRM removal software. And the key point is, Requiem is totally free.
How It Works - What's Requiem DRM Removal Method
Requiem decrypts the audio and video data in your file exactly like iTunes does. Specifically speaking, to remove DRM from the original iTunes movies, Requiem authenticates with the DRM library using the secret credentials used by iTunes. It uses the decrypt routines in the DRM library to decrypt all of the audio and video data. The result would be a DRM-free file that's identical in quality to the original, and the whole process takes only a few minutes to perform.
How to Use Requiem - Remove DRM from iTunes M4V with Requiem 4.1
Requirements of Using Requiem
Requiem was stopped upgrading with the release of iTunes 11, when Requiem permanently lost the war with Apple. The Requiem developer Brahms later confirmed that Requiem 4.1 is the last official release and no updates anymore. That's to say, if you want to use Requiem to strip DRM from your iTunes movies successfully, the first thing you have to do is downgrade iTunes to version 10.7 or lower. You can easily get the older versions of iTunes from some download sites, such as filehippo, filehorse, etc. Besides, Requiem must be run on a computer that are currently authorized to play the DRM'd music or video. And if you are Windows users, you will need to install Java to make Requiem work properly on Windows OS.
Note: To decrypt DRM from iTunes music and movies, Requiem 4.1 is the required version. For decrypting iBooks, the best combo would be Requiem 3.3.6 and iTunes 10.5.3.
How to Use Requiem 4.1
1. Download latest Requiem 4.1: Requiem 4.1 for Windows | Requiem 4.1 for Mac
2. Run Requiem: Double-click on the Requiem application to launch it on your computer. It will automatically find DRMed files in your iTunes library. You can also drag & drop files or directories (which will be searched recursively) onto the Requiem application or the Requiem window. Starting Requiem with the shift key down will disable scanning of the iTunes library.
3. Remove DRM: Then Requiem will remove the DRM of iTunes content automatically. The original DRMed files will be moved to the trash. Make sure you verify that the songs and videos still work before emptying the trash.
Requiem 4.1 Replacement - Best Alternative to Requiem DRM Removal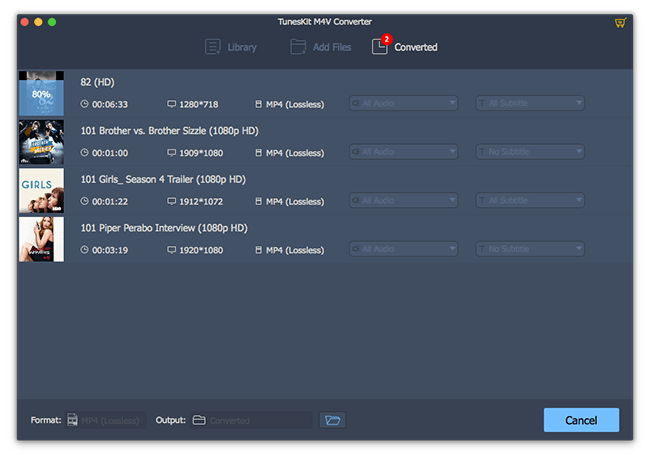 Although Requiem 4.1 can still be used to remove DRM from iTunes movies on iTunes 10.7, it's however not ideal as iTunes has been upgraded to version 12 now. It means you will lose many new features of iTunes if you decided to maintain an old version of it. The good news is that now this dilemma will be eliminated by an alternative to Requiem 4.1, that is, ViWizard DRM M4V Converter. This iTunes DRM removal solution is specially developed in the similar way as Requiem. It will also losslessly bypass DRM encryption from any purchased or rented iTunes movie, TV episode as well as music video. What's more, it also supports converting the DRM-ed iTunes M4V videos to common formats, such as MP4, MOV, AVI, FLV, WMV, etc. that are compatible with most popular media players and devices. It's available for both Mac and Windows. You can read the following review to learn more about this smart iTunes DRM removal tool. Or you can directly download the free trial versions of the software to test it out immediately.
More Tips You May Also Like

Nick Orin is a review writer, software geek and Mac OS enthusiast. He spends all his free time in searching useful software and gadgets to share with others.