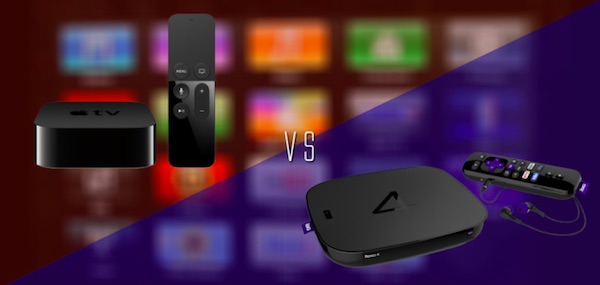 If you are just beginning to look for a media streaming box recently, you'll then meet a tough decision whether to choose the newly released Apple TV or Roku 4, while both are world-leading set-top boxes with their own great features that the other one may not have yet. If this is your case, don't worry. We'll try to make it more easily for you to make the decision by providing a comparison between the new Apple TV and Roku 4 based on a specs rundown, mainly including design, resolution, voice search, gaming, remote, price, etc. so that you know where the key differences lie and which media streamer is better for you.
Design/Size
If space is a concern in your entertainment center, then the size of the fourth-generation models of Apple TV and Roku could be important to decide which device is better for you. As we can see, in terms of size, the Roku 4 measures 6.5 x 6.5 x 0.8 inches while the Apple TV is 3.9 x 3.9 x 1.4 inches. That's to say, the Roku 4 is going to take up about three times as much shelf space as the Apple TV does. In this part, the new Apple TV seems to take the upper hand.
Resolution
However, situation may change a little bit when it comes to the resolution supported by those two devices. In this area, the Roku 4 has an advantage over Apple TV since it's able to stream 4K content at a resolution of 3840 × 2160, and it will upscale standard HD to 4K. So considering that the Apple TV's max is 1080p, the Roku 4 wins out at this point.
Access to Media Resources
Another important factor when picking up a streamer is the access to media content. Generally speaking, the Roku 4 has access to more than 2,500 channels (some paid ones) and 300,000 movies and episodes of TV shows. At the same time, Apple TV has access to all iTunes Movies and TV shows. For this part of comparison, it's a draw for the two devices.
One thing to be noted, if you need to anyhow stream iTunes movies and TV shows to TV via Roku 4 instead of Apple TV, then you can use ViWizard DRM M4V Converter for Windows/Mac to help you remove the DRM protection from iTunes movies and TV shows before streaming. For more details, you are recommended to follow this complete tutorial: How to Stream iTunes DRM Movies to Roku >>
If you are new to Apple TV and not sure how to stream iTunes to Apple TV for watching, this tutorial will be useful to you: How to Purchase and Watch iTunes Movies on Apple TV >>
Remote
Now let's forward the comparison to the significant differences lie on two control devices of Apple TV and Roku 4. As for batteries, Roku 4's remote runs on two AA batteries, while Apple TV's sports a rechargeable pack that can go on for months on a single charge. Though both remotes support voice commands, the Apple TV has the advantage since its controller comes with Siri that will let you make incredibly specific requests, such as turning captions on or off, rewinding shows, etc.
Gaming
Gaming on a set-top box is nothing new. Roku has already had gaming support in its 3rd-generation, though the gaming capabilities of the Roku 4 look to not be quite as intricate as the new Apple TV. During last month's keynote, Apple showed off a couple of games for the new Apple TV, such as Crossy Road, Guitar Hero Live, and Disney Infinity and so forth. Now all those games are able to be played on the Apple TV to your television. But it's still too early to say which set-top box can truly perform with gaming. Let's just wait and see.
Price
Price can always be a crucial factor for a lot of people for a purchase. In this case, it's another way that Roku 4 is definitely ahead over Apple TV, for the Roku 4 will cost $129.99 with 256MB of built-in storage and a microSD slot to expand the storage way past 64GB. Meanwhile, the new 32GB Apple TV will cost $149 and the other 64GB edition is $199.

Nick Orin is a review writer, software geek and Mac OS enthusiast. He spends all his free time in searching useful software and gadgets to share with others.