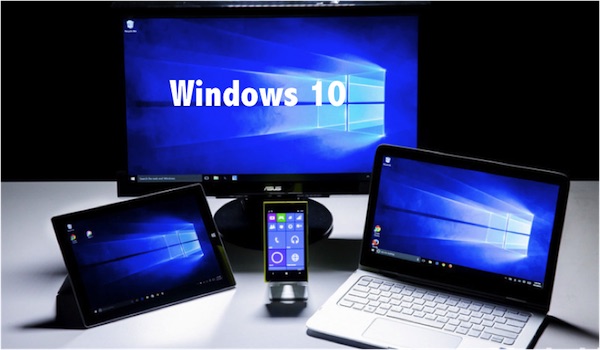 After months of updates, the official consumer-ready version of Windows 10 is finally here for free upgrading for existing Windows 7, Windows 8.1, and Windows Phone 8.1 noncorporate users. This new Windows marks the turnaround of Microsoft by bringing the return of longstanding features and introducing some new enhancements as well. If you are still unsure about upgrading to Windows 10 now, you can look forward to some best new features in the following article to decide whether to upgrade or not.
What's New in Windows 10
Refreshed New Start Menu
The Start menu, which was eliminated from Windows 8, is back on Windows 10. The refreshed Start menu has all the same features you came to expect from versions of Windows past, along with a much more manageable approach to the live tiles of Windows 8.
Cortana
Next to the improved Start menu on the task bar signals, Microsoft has built its personal voice assistant Cortana for Windows 10. Part Siri, part Google Now, Cortana provides contextual reminders based on your interests, search the web and local files on your PC, and surface news, events and other information relevant to you. Cortana makes the Start menu even smarter.
Microsoft Edge
Now with Windows 10, Microsoft also replaces its old browser Internet Explorer with the new Microsoft Edge. It offers the fast and responsive experience that's been missing from Internet Explorer for so long while adding a few new tricks of its own. Besides, you can now make browsing even more personal with the ability to highlight or annotate text on web pages with Cortana.
Multiple Task View
Windows 10 also allows you to create and manage multiple desktops. You can easily add new desktops, quickly view and navigate between all your open apps and virtual desktops by pressing Win-Tab. Although it has draw a lot of comparisons to Apple's Mission Control feature in OS X, that's definitely a good thing for the users.
Central Notification Center
Microsoft finally adds the notification area for Windows 10. The central notification center, or action center, offers an overview of recent alerts and notifications while providing quick access to settings like Wi-Fi, bluetooth, airplane mode and other controls.
Universal Apps for PCs
Microsoft also introduces universal apps to Windows 10, which will have a similar design across devices and will work across PCs, laptop, smartphones and tablets.
Generally speaking, Windows 10 delivers a refined, vastly improved vision for the future of computing with an operating system that's equally at home on tablets and traditional PCs.
Remove DRM from iTunes Movies on Windows 10 with ViWizard
Many Windows users like to purchase movies or TV episodes from iTunes store. But you may meet some problems when you are trying to play those iTunes movies on mobile devices, such as Windows phones, tablets, Android devices, etc. It won't let you copy any iTunes movie content to non-Apple devices or platforms because of the DRM protection on those movie files. Apple has encoded its iTunes movies and TV shows with DRM technology so that all iTunes movies are in M4V format that can only be recognised by Apple's devices. If you want to watch the protected iTunes M4V videos on any media device, you'll need to remove the DRM restriction from iTunes M4V movies on Windows. Here you are recommended to try ViWizard iTunes DRM M4V Converter for Windows which fully supports the latest Windows 10 as well as Windows 8, Win 7, Windows Vista and Windows XP. With this smart iTunes DRM remover, you are able to get rid of the DRM from iTunes movies once and for all on Windows OS with the latest iTunes 12.3 or lower versions. You can download the free trial version of this powerful iTunes M4V Converter as below to test it by yourself.
More Tips: How to Upgrade Windows 7/8 to Windows 10
If you've made up your mind to upgrade to Windows 10 now, you can follow the simple steps below to get it ready.
Step 1

Check computer compatibility with Windows 10

Firstly, you need to make sure your computer supports the free update for Windows 10. It's supposed to be available for Windows 7, Windows 8 and Windows 8.1 laptop, desktop or tablet computer.
Step 2

Make backup of your computer

You should back up the files on your computer before upgrading to Windows 10 in order to prevent the loss of the data on yoru computer if something goes wrong during the upgrade process.
Step 3

Upgrade to Windows 10

Now check updates of your computer for Windows 10 with the built-in update. Once your computer has the latest updates, you'll need to wait for a Windows icon to pop up in the taskbar, letting you know you can reserve Windows 10. When you're finished with the reservation process, all you can do is sit back and wait for Microsoft to automatically send Windows 10 to your computer.

Rick Lee has written about business and consumer technology for nearly 25 years. He is the author of more than a dozen books.