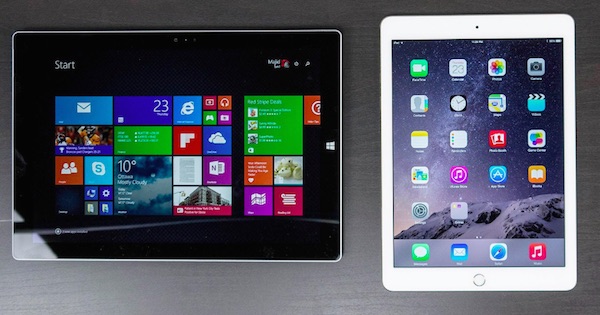 In early April, Microsoft surprised the world with its Surface 3 tablet (or laplet), the brand new generation of the surface family with a low price at just $499, much lower than its predecessor Surface Pro 3 which is sold from $799. It seems that the low price has already started a successful hit to the tablet market for Microsoft for which will at least make the new Surface a tempting option for anyone pondering a tablet purchase. Besides, Surface 3 is currently the lightest Surface yet and will ship with real, full-on Windows 8.1 with an upgrade to Windows 10 when it comes out later this year. This trend prompts a question of how Surface 3 compares to iPad Air 2, the most up-to-date tablet from Apple who has long dominated the tablet sector since the very beginning. In the following review, we will compare those two tablets side by side from price, design, performance, etc to help you make a better decision if you are not sure which one is better to buy.
Price
The Surface 3 will ship in two configurations. One will run for $499, containing 64GB of internal storage and 2GB of RAM. A slightly more expensive version will cost $599 for 128GB storage and 4GB RAM. The iPad Air 2 comes in 16GB, 64GB, or 128GB storage options that will cost $499, $599, and $699, respectively. So at this point, let's just call it a tie.
Design & Build
As a thin and light Surface, the Surface 3 measures 10.8 inches with 0.34-inch depth featuring 1920x1280 resolution. In comparison, Apple's iPad Air 2 has a 9.7-inch screen with a thinner 0.24-inch depth featuring 2048x1536. Although Surface 3 is the lightest Microsoft tablet ever, it's still 0.41 pounds heavier than iPad Air 2 which only weighs at 0.96 pounds. As we know, Surface was initially targeted to be a laptop replacement that can also function as a tablet. So like its predecessors, Surface 3 also comes with removable keyboards available in a range of bright colors which makes the silver-colored tablet more colorful while iPad Air 2 is only available in three colors of gold, silver and space gray.
Performance
As for the processing, Surface 3 is powered by the Intel Atom x7 processor, which boasts a base frequency of 1.6 GHz and maximum of 2.4 GHz while the iPad Air 2 runs on an Apple-designed A8X chip, which has a base frequency of 1.5 GHz. Based on the real tests, the Surface 3 did provide us positive impressions in its performance including video watching, web browsing, word processing, etc. And regards the battery life, the Surface 3 boasts a 10-hour battery life with video playback. Similarly, Apple's battery will also last up to 10 hours.
Conclusion: Which to Buy
Although the Surface 3 is yet to be released, its specs and performance have already shown a big threat to iPad Air 2. Generally speaking, if you're on a budget and looking for a laptop replacement that can also function as a tablet, the Surface 3 is obviously a powerful device that would suit your needs well. But if you prefer a more stable and highly valued tablet for web surfing and video playback, iPad Air 2 will always be the best option.
More Words to Surface Users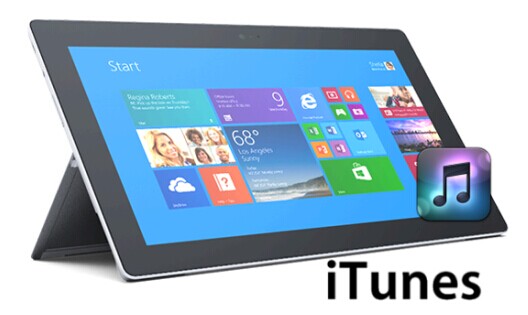 Play iTunes Videos on Surface Tablets
If you finally decided to buy a Surface 3 over iPad Air 2, you may have the need to watch videos on the Surface 3. If you happen to have a lot of movies and TV episodes downloaded from iTunes store, you may want to play those iTunes videos on your Surface 3 tablet. However, due to Apple's FairPlay DRM, it's no easy job to watch any iTunes movie on Surface 3 or other Surface tablets. You will not be allowed to copy your iTunes movies and TV shows to Surface for playback. So in this case, you have to use some third-party DRM removal tool, such as ViWizard DRM Video Converter for Mac (Windows) to bypass DRM protection from locked iTunes videos at first. To convert DRM-locked iTunes videos to Surface 3 and other Surface tablets, you can simply follow this complete tutorial: How to Transfer iTunes Movies/TV Shows to Surface Tablets >>

Nick Orin is a review writer, software geek and Mac OS enthusiast. He spends all his free time in searching useful software and gadgets to share with others.