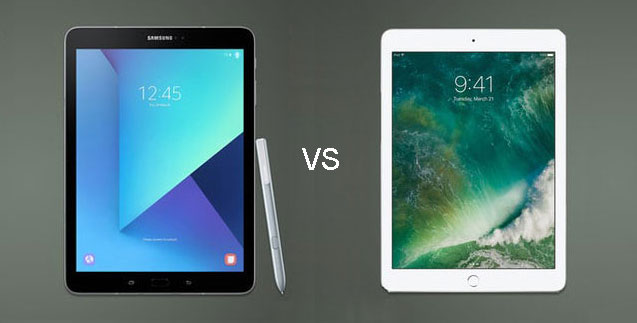 The high end HDR-ready Android tablet Samsung Galaxy Tab S3 and the latest Apple tablet iPad Pro 9.7" have been announced at Barcelona WMC 2017. As a spectacular Android tablet with an insanely vivid screen, Galaxy Tab S3 is developed to compete with the dominant Apple tablet iPad Pro 2017. Both seem pretty perfect for entertainment, you may wonder which one is better and how to choose a proper tablet for watching videos. In this article, I will review the two tablets, you can find out the difference between them and select the right one accordingly.
Samsung Galaxy Tab S3 vs Apple iPad Pro 2017: Tech Specs
Galaxy Tab S3 and iPad Pro 2017 have many common parameters such as curved edges and rounded corners design, 9.7 inch size, 2048*1036px screen resolution, 264ppi pixel density, 5MP front camera, 4.20 Bluetooth, solid stylus & keyboards etc. And there are some tech specs difference between the two devices as follows:
| | | |
| --- | --- | --- |
| | Galaxy Tab S3 | iPad Pro 2017 |
| System | Android 7.0 Nougat | iOS 10 |
| Ram | 4GB | 2GB |
| CPU | Qualcomm Snapdragon 820 processor | A9X third-generation chip with 64-bit desktop class architecture |
| Internal memory storage | 32GB | 32GB/128GB/256GB |
| Screen | Super AMOLED with vivid HDR ready video display | Retina display with anti-reflective coating  |
| Back camera | 13mp | 12mp |
| Speaker | Stereo 4 speakers featuring AKG by Harman Kardon's expert tuning | Standard stereo 4 speakers supports to play on vertical or landscape mode |
| Video recording | 1440*30fps | 2160*30fps |
| Ports | USB-C | lighting |
| Has an internal memory slot | yes, up to 256GB | no |
| Offline voice recognition | yes | no |
| Battery power | 6000mAh | 7306mAh |
| Weight | 429g | 437g |
| Dimension | 237.30*169*6mm | 240*169.50*6.10mm |
Samsung Galaxy Tab S3 vs Apple iPad Pro 2017: Playing Videos
From the comparison list above, we found that there some differences between Galaxy Tab S3 and iPad Pro 2017 like design, features, performance, battery life and camera, however, both are very brilliant tablets and they can handle most tasks like photographing, playing games, watching movies perfectly, it is really hard to tell which one is better as each one has its own strong points. What is more, both are at the same official price $599 which makes it harder to decide. Since tablets are mainly used for entertainment such as watching videos, we will take a deeper look into the difference regarding to playing movies.
Video formats: iPad Pro supports H.264, M4V, MP4, MOV, MPEG-4 etc. and Galaxy Tab S3 supports WMV9, WMV7, WMV8, H.264, MPEG4, DivX, H.263, VP8 and so on. You can transfer local videos to from your computers to the two tablets to enjoy.
Screen display: Galaxy Tab S3 comes with the super AMOLED display with vibrant and colorful display while Apple iPad have Retina screen which offer natural and real display with true tone feature to adjust the display according to different environment, but retina uses the old LED display technology, so it doesn't produce colors as vibrant as the Tab S3's.
Audio effect: Both come with stereo 4 speakers, no matter how you hold the tablets in any orientation, the sound will still be clear and resonant. But Galaxy Tab S3's four stereo speakers is expected to played a bit better as they are optimized by AKG's skilled sound engineers.
Media sources: iPad Pro user can enjoy videos from iTunes and other apps which are available in the APP store such as amazon video, YouTube, Netflix, Vimeo etc. Galaxy Tab S3 is the first tablet which support to play HDR videos but currently there is no native HDR video resource or easily accessible HDR videos online. HDR means High Dynamic Range, is one of the newest  feature bullet points. Also, Galaxy devices users can't play iTunes movies now as iTunes videos are DRM FairPlay protected, as a result they can only enjoy videos from android Apps like Amazon, YouTube, Netflix, Hulu.
In Conclusion: Which One is Better for Playing Videos
Galaxy Tab S3 and iPad Pro 2017 are the latest tablets which have super high performance, both are known as great mobile theaters by far. If you are an iTunes movie lover and you do not want to switch to new devices, you should definitely get the iPad Pro 2017. Else if you are more interested in the android ecosystem and want to enjoy HDR videos in the near future, it is highly recommend to get the Galaxy Tab S3.
Additionally, if you want to take advantages of the Galaxy Tab S3's HDR ready feature but also keep the privilege to enjoy iTunes videos, you can get Galaxy Tab S3 and a DRM removal software ViWizard M4V to Galaxy Tab S3 Converter for Windows/Mac. This software can help you remove DRM as well as converting iTunes videos to a Galaxy Tab S3 compatible format of video. What's more, it supports batch version which can help you convert couples of videos quickly within a few clicks. Wanna have a try? You can simply download it from the link below. For more detailed tutorial, you can visit: How to Remove DRM from iTunes Movies.
Read More Smartphone Reviews...

Nick Orin is a review writer, software geek and Mac OS enthusiast. He spends all his free time in searching useful software and gadgets to share with others.