Recently, many users have reported that they cannot use TunesKit M4V Converter for Windows on their iTunes after updating it to the latest version such as iTunes 12.10.6. Our R&D team have tested it and found that this is really a problem. The thing is that Apple has upgraded its encryption technology on the new iTunes from 12.10.2 to the newest one. But don't panic. Our developers are working hard on this technical issue and will get it solved in the near future.
Now we have got a feasible solution to fix this issue efficiently, that is, to downgrade iTunes version to iTunes 12.9.0 or former. If you're also facing such a problem, you can then read this guide carefully to solve it by yourself immediately.
Note: The new version of TunesKit M4V Converter for Windows will not be released until we fix this issue completely. Before that, please follow the steps here to make TunesKit program work perfectly like before.
Step 1. De-authorize Computer on Current iTunes
Before you uninstall the current iTunes app on your computer, you have to deauthorize your computer on iTunes by going to the "Account" > "Deauthorize This Computer". If you have signed in iTunes, you can navigate to the "Account" > "Sign Out" to sign out of it. If you've not signed in, just skip this one.

For some users, you may need to delete the iTunes movies from library that you'd like to convert. Just choose the "Movies" option at the top left corner, then click the "Library" and select "Movies" tab on the left sidebar. Then choose the target movie and right click on it. Click the "Delete from Library" option from menu.
Note: To delete iTunes movies in advance is optional after testing by our engineers. You can omit this step and try again. If it finally failed, just delete the movies and re-download them again after installing the old iTunes.
Step 2. Uninstall iTunes 12.10 and Related Components
In this step, you have to uninstall the iTunes 12.10 that is running on your Windows 7, 8 or 10, as well as removing its relates software components in the following order:
1) iTunes
2) Apple Software Update
3) Apple Mobile Device Support
4) Bonjour
5) Apple Application Support 32-bit
6) Apple Application Support 64-bit
To do this, simply go to the "Settings" on your computer, and then choose the "Apps" option. Enter the keyword "Apple" on the search box, and iTunes and other 5 related apps will come out. Click on the iTunes option and hit the "Uninstall" option. Wait for the process to end. Then do the same to remove other five applications in order.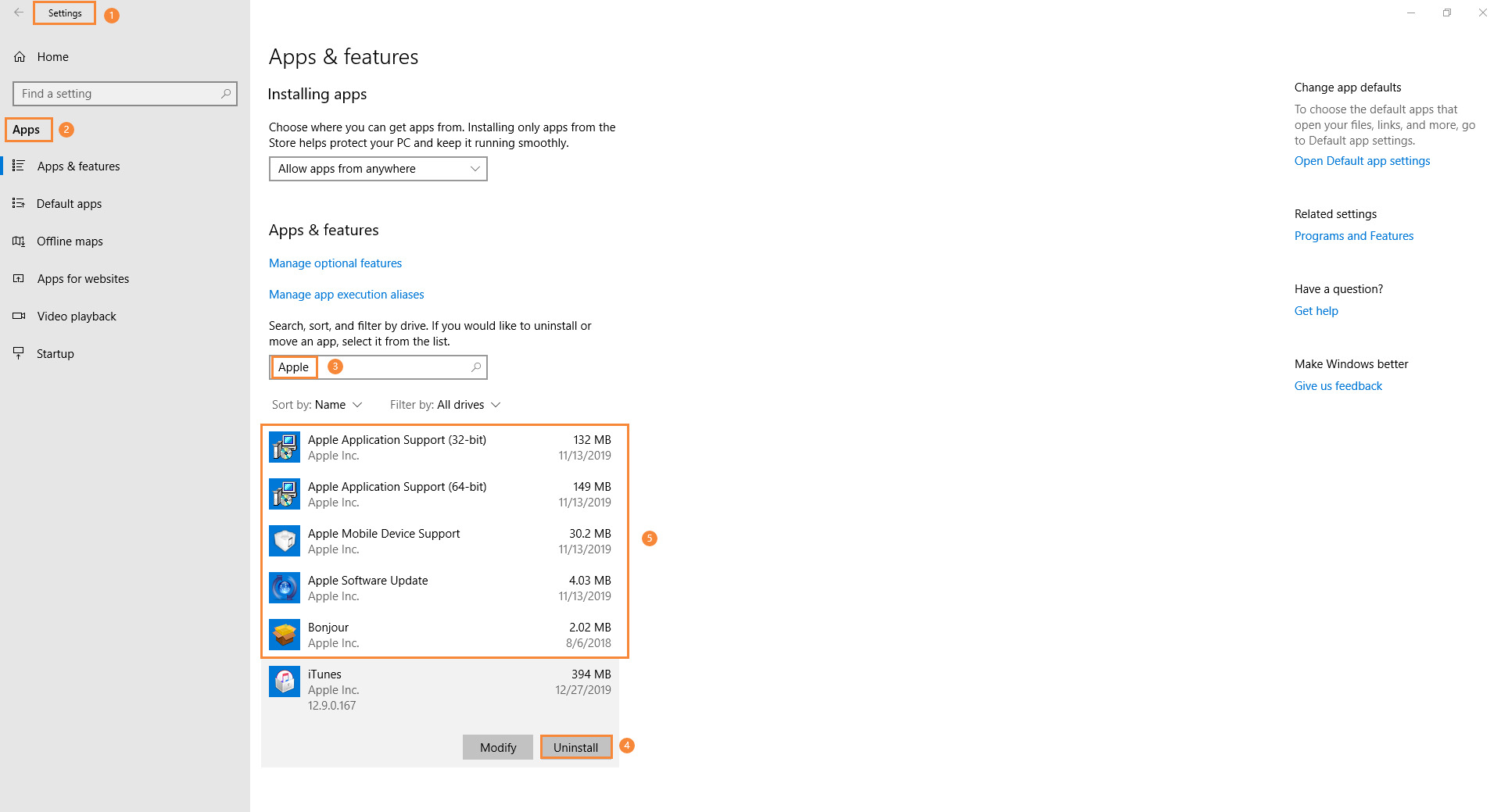 Note: Please make sure that iTunes app and its related software components are uninstalled completely. Then you can move forward to the next step.
Step 3. Install iTunes 12.9.0 on Your Windows Computer
Now the new iTunes has been completely removed from your computer and you can install the old iTunes application such as iTunes 12.9.0.167 on your PC. Just download the link below for the lower iTunes:
Note: While installing iTunes 12.9.0, don't forget to uncheck the auto update of iTunes application as it shows in the following screen: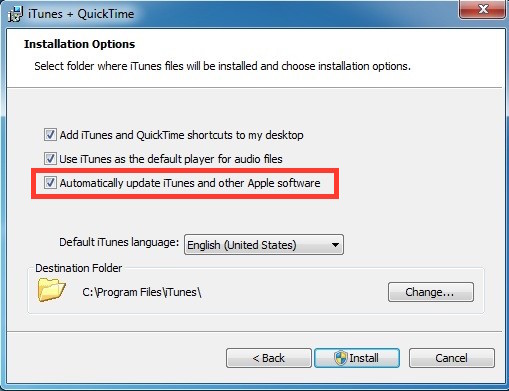 Step 4. Re-authorize Computer on iTunes 12.9.0
Now you can open the old iTunes app on your computer after completed the installation. Go to the "Account" > "Authorize This Computer" to reauthorize your computer on the iTunes 12.9.0. You can also go to the "Account" > "Sign in" and enter your Apple ID and passcode to sign in your account.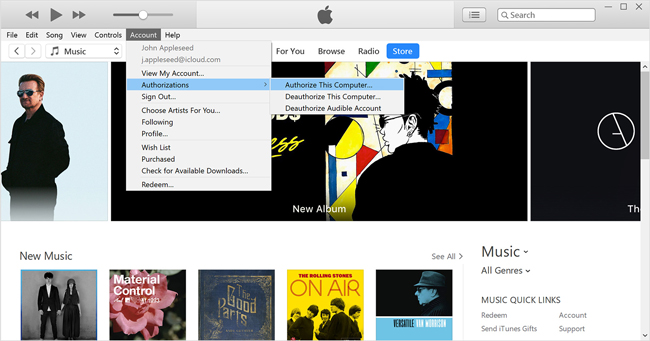 If you have removed all the movies from iTunes library in step 1, you can now go to the iTunes Store and find the iTunes movies that you want to convert. Click the Download icon beside it to download them to your library. You can then open TunesKit M4V Converter and start to convert these downloaded iTunes movies and videos to MP4 or other common formats for playback on any device you like.
The Bottom Line
All these steps may help you solve the TunesKit no image issue with the latest iTunes 12.10 now. If you still fail to convert iTunes movies with TunesKit after tried them, please feel free to get in touch with our technical support team via [email protected] and we will submit it to our R&D team for deep analysis.

Dan Miners is the PR manager of TunesKit since 2012. He is in charge of all public relations, advertising, affiliate, etc for TunesKit.