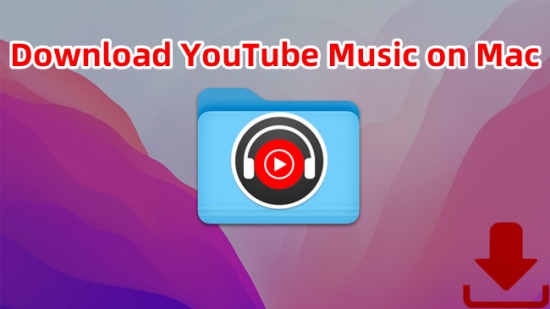 Music holds a special place in our lives, and YouTube has become a go-to platform for discovering and enjoying a wide array of songs. However, the need to download music from YouTube to your Mac arises for several compelling reasons. Imagine having your favorite songs at your fingertips, even when there's no internet connection available. This convenience of offline access opens up a world of possibilities for Mac users.
In this guide, we'll explore the process of downloading music from YouTube to your Mac and unveil the many benefits of curating your personal music library. With your favorite tracks available offline, you can enjoy uninterrupted musical experiences while also safeguarding your cherished songs for the long run. So, let's dive into the world of downloading music from YouTube and discover the advantages it brings to your Mac.
Part 1.

Can I Download Music from YouTube to Mac?

One of the primary motivations for downloading YouTube music to your Mac is the ability to enjoy your favorite songs without needing an internet connection. Additionally, YouTube often hosts unofficial or rare tracks that may not be available on mainstream music platforms, even YouTube's own music service.

When you want to enjoy your YouTube videos and offline, you have the option to download them for offline access. However, a common frustration lies in the unavailability of an option to save only the audio. This feature is particularly valuable when you solely want to listen to your favorite songs without the accompanying video. Moreover, this process serves as a backup for your treasured music. YouTube videos can be removed or become inaccessible for various reasons. By having a local copy, you safeguard your cherished tracks.
Can I Download Music from YouTube?
This leads us to a common question: "Can I download music from YouTube to Mac?" Unfortunately, while YouTube offers an extensive collection of music and video content, it has limitations that can prove frustrating for computer users. One significant limitation is the absence of a dedicated desktop application for downloading music or videos - YouTube's primary focus is on online streaming. Consequently, you are unable to save only the audio on your Mac, which helps eliminate the need for video playback when you simply want to listen to your favorite songs.
When it comes to music downloading, YouTube's official mobile app does offer a download feature for music, but this functionality is typically confined to the mobile application, and the downloaded content is often encrypted and locked within the app. This situation presents a challenge for Mac users seeking to download music from YouTube without a straightforward solution.
The Solution: ViWizard YouTube Music Converter.
To address these limitations and facilitate the downloading of music from YouTube on your Mac, we recommend the ViWizard YouTube Music Converter. This tool enables you to effortlessly extract audio from any YouTube videos or music tracks and convert it into a universally compatible format. The ViWizard YouTube Music Converter serves as a powerful and versatile solution for Mac users who wish to create an offline music library from their favorite YouTube content.
Part 2.

How to Download YouTube Music to Mac without Premium

While downloading music from YouTube is a common desire, not everyone has a YouTube Music Premium subscription. However, there's a powerful solution that doesn't require Premium access: ViWizard YouTube Music Converter. This versatile tool grants YouTube Music listeners the ability to transform their entire video or music library to various audio formats to their PC or Mac computers, including MP3, M4A, M4B, WAV, AAC, or FLAC.

ViWizard YouTube Music Converter features an automatic track detection and ID3 tags editing system, ensuring that your downloaded music is neatly organized on your Mac. This means you can easily sort and categorize your music, making it readily accessible whenever you want to listen.

It's more than just a YouTube Music downloader. ViWizard's powerful recording system can work with most music streaming services, including YouTube Music, Spotify, Tidal, Bandcamp, and more. This means you can build a personal offline collection of music from multiple sources, even without a YouTube Music Premium membership.

Note: ViWizard-captured audio is for personal use only. Please remember not to share or use it for commercial purposes. Respect copyrights and enjoy your music responsibly.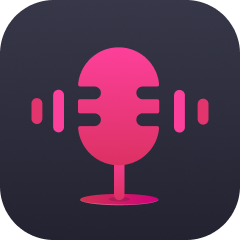 Key Features of ViWizard YouTube Music Converter
Free Trial
Free Trial
* Security verified. 5, 481,347 people have downloaded it.
Convert YouTube Music to MP3, WAV, FLAC, AAC, and more
Record songs, albums, playlists, podcasts from YouTube Music
Support splitting, merging, cutting, and editing YouTube Music
Detect ID3 tags automatically and allow manual editing of ID3 tags
Step 1

Download and Install ViWizard Audio Capture

Begin by downloading ViWizard Audio Capture from the provided links and proceed to install it on your Mac. Once the installation is complete, launch the software. In the ViWizard Audio Capture main interface, you'll find an array of software icons. Click on the browser icon to open the built-in web browser, which uses either Chrome or Safari. Use the browser to navigate to the YouTube Music website.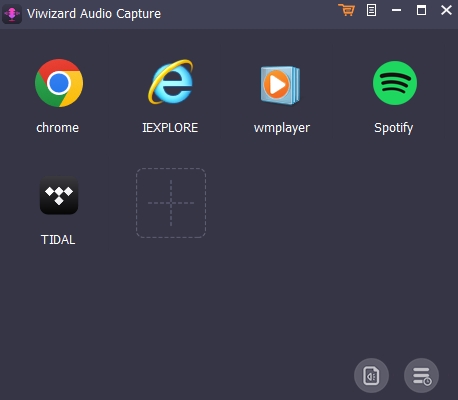 Step 2

Configure Output Format

If you wish to customize the format of your downloaded YouTube Music, locate and click on the "Format" button. Here, you can adjust the format and codec settings within the preset window. After making your selections, click "OK" to confirm your changes.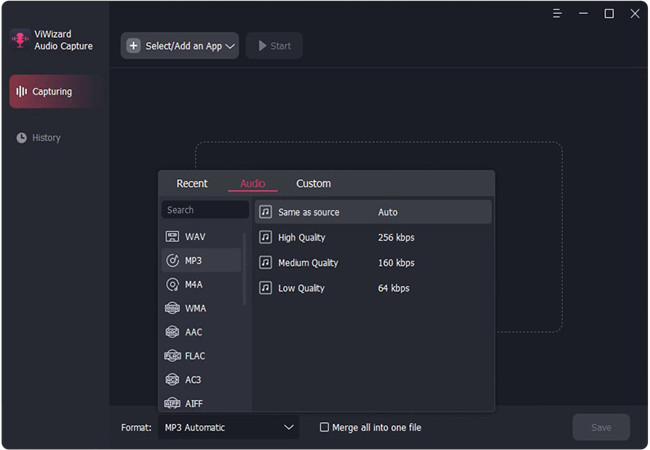 Step 3

Capture YouTube Music

While on the YouTube Music website, search for the song you'd like to download. Begin playing the music, and as it plays, ViWizard Audio Capture will automatically initiate the audio capture process. When the song concludes, click the "Stop" button to halt the capture. The captured track will appear in the Capture list.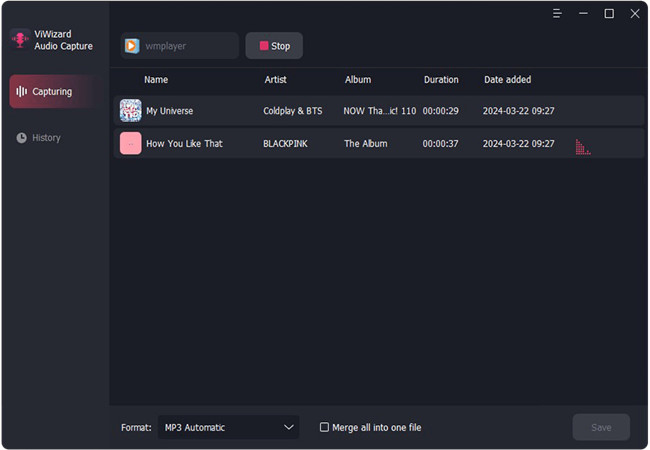 Step 4

Preview and Edit the Captured YouTube Music

In the Capture list, double-click on the captured YouTube Music track to preview it. Within the preview window, you can trim the track to your desired length or modify the ID3 tags to include metadata. After completing the editing, click "OK."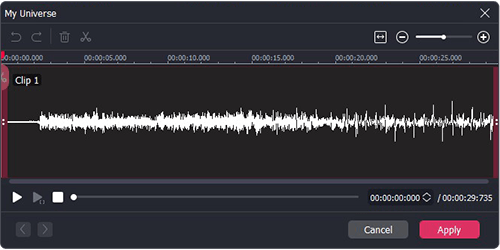 Step 5

Save the Downloaded YouTube Music

Return to the Capture list, where you will find the edited track. Click the "Save" button to store the downloaded YouTube Music on your Mac. The track will be saved both in the History window and the destination folder you have specified. This ensures that you have easy access to your downloaded music whenever you desire.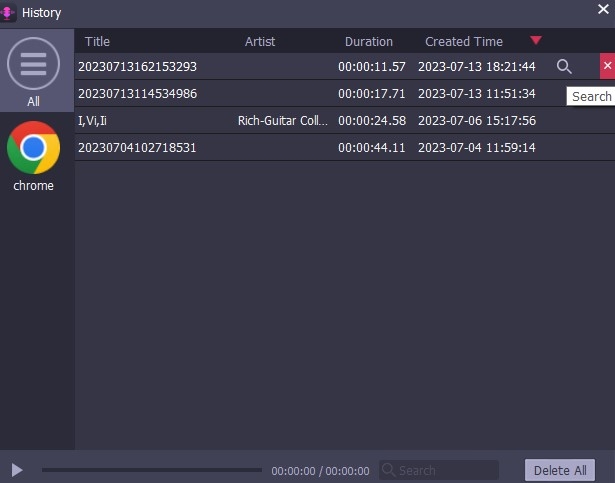 Conclusion
As we wrap up, remember to respect copyright and licensing agreements when downloading music. Always do so responsibly and in compliance with legal regulations. With your newfound knowledge, you can build a personal music library that's just a click away, ensuring that your favorite tunes are never out of reach.
Ready to get started? Download the ViWizard YouTube Music Converter now and unlock the full potential of your music library. Enjoy your favorite songs offline on your Mac like never before. Let the music play on your terms, anytime, anywhere.