According to some existing Amazon Music subscribers, the listening experience with Amazon Music's platforms is not as expected and even can be frustrating with errors. With the activated Amazon Music subscription in $9.9/month, it's up to Amazon Music subscribers to cancel it and it's free.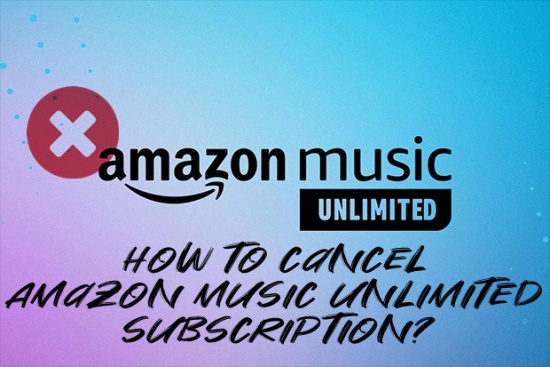 Here we won't discuss the reasons but dive into how to cancel Amazon Music on multiple devices or platforms with ease. However, we'd like to start with what active Amazon Music subscribers must do before Amazon Music cancellation.
Part 1. What You Must Do Before Amazon Music Cancellation
Reading on for how to cancel Amazon Music Unlimited subscription can be exciting, but there's one more precaution.
Most Amazon Music Unlimited Subscribers would consider to access their favorite music from the service until the end date because until then the Unlimited titles are inaccessible as well as the playback options.
Considering U.S. Amazon Music users would be expose to the ads again after Amazon Music cancellation, we recommend to set a reminder cancel the subscription and save all the available songs from the service as local files to listen offline or transfer them to other music streaming services like Spotify.
Just as important, ViWizard Amazon Music Converter is a powerful tool complete this difficult task to download and convert all the music from Amazon for keeping after Amazon Music cancellation, even forever.
Part 2. How to Cancel Amazon Music Subscription
When it comes to cancel Amazon Music Unlimited Subscription, it's not that hard on the platforms where the service has been activated. Since there're no commitments, now please choose the platform to perform a complete Amazon Music cancellation.
1. Cancel Amazon Music on Your Amazon Music Settings
If the Amazon Music is subscription was subscribed from Amazon Music in its app, its cancellation is just as simple as its subscription.
1. Use a browser to go to Your Amazon Music Settings.
Or on desktop app:
1. Click on the profile icon to Setting, then Manage Music Subscription under ACCOUNT.
Tips: This will redirect to the similar view to manager your Amazon Music Subscription.
If it asks, enter the Email or mobile phone number with the password to Sign in.
2. In Your Amazon Music Unlimited Subscription, see the AMAZON MUSIC UNLIMITED tab, there should be a Cancel subscription button if the service is still available.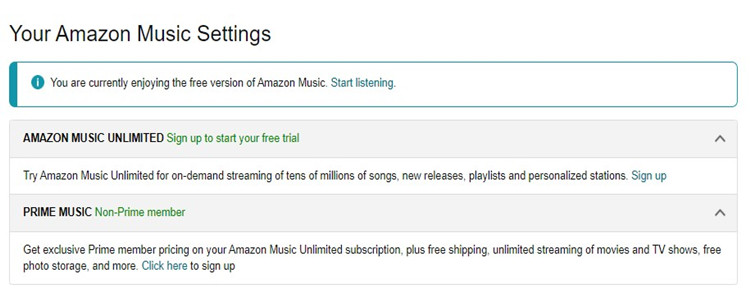 3. Click on Cancel subscription, then Continue to cancel.
Tips: The same time there should be a Send me a reminder. To manage the accessible music from Amazon, click it to set a reminder of Amazon Music cancellation later.
4. After that the new view will show the Subscription Renewal details, click Continue to cancel.
5. In the new view to switch to other plan, click Continue to cancel to confirm.
6. In Confirm subscription cancellation, click Confirm cancellation.
Done! Now the AMU subscription has been cancelled.
2. Cancel Amazon Music from Apple
If the Amazon Music subscription was activated on the iOS devices, the process to cancel it is similar to cancel other existing subscriptions from Apple.
For iPhones, iPad or iPod touch:
1. On iOS devices, open the Settings app.
2. Tap Your Name, then Subscriptions.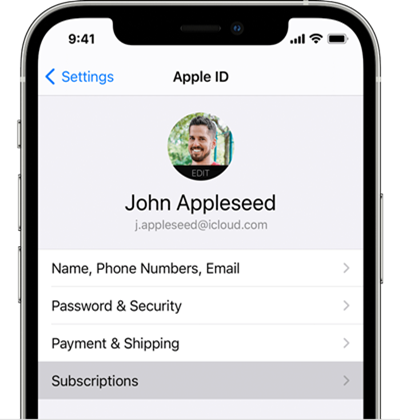 3. Find the Amazon Music subscription, then tap it.
4. Scroll down to Cancel Subscriptions button to confirm Amazon Music subscription cancellation.
Note: If there's not a Cancel Subscriptions button, chances are that the Amazon Music has been subscription has been canceled. If this is not the case, feel free to contact Apple to cancel or receive a refund under its policies.
3. Cancel Amazon Music from iTunes
If there's an iTunes app on desktop, it's also available to cancel Amazon Music from it.
For Windows or Mac:
Uninstall the Amazon Music App from Android
1. On desktop, open iTunes app.
2. At the top menu, click on Account then View My Account.
3. In the new page, scroll down to the bottom.
4. See Settings section, check the Subscriptions tab with activate subscriptions "1 (all time)".
5. Next to the Subscription tab, click on Manage next to it.
6. Click Edit, then Cancel Subscription.
7. From here if there's no Cancel or Cancel Subscription button with Amazon Music cancellation, check the methods above to make it work.
We're confident that at least one method above can cancel Amazon Music. In addition to the instructions here for how to cancel Amazon music subscription, subscribers that hasn't determine to cancel it can benefit from the exclusives here - keep music songs from Amazon forever!
Part 3. How to Keep Music Songs Before Amazon Music Cancellation
When it comes to Amazon Music cancellation, what matters most is the accessible songs with the active subscription. Ture, some Amazon Music subscribers should have use the download service to have all the music songs on devices, but the DRM should be noticed.
Yes. Amazon Music also protect its music with DRM to keep users with its platforms and - once the subscription has been canceled, the downloaded music songs are no longer accessible and become grey out.
To keep these music songs forever, most Amazon Music subscribers will choose a powerful music converter like ViWizard Amazon Music Converter to download and convert the DRM-encoded music to most-supported formats, including MP3, M4A, M4B, WAV, AAC and FLAC. What's more, the listening experience is the same with what Amazon Music service provides with the same 320Kbps.

Key Features of ViWizard Amazon Music Converter
Download songs from Amazon Music Prime, Unlimited, and HD Music
Convert Amazon Music songs to MP3, AAC, M4A, M4B, FLAC, and WAV
Retain the original ID3 tags and lossless audio quality of Amazon Music
Support customizing the output audio parameters for Amazon Music
Step 1

Add Amazon Music to ViWizard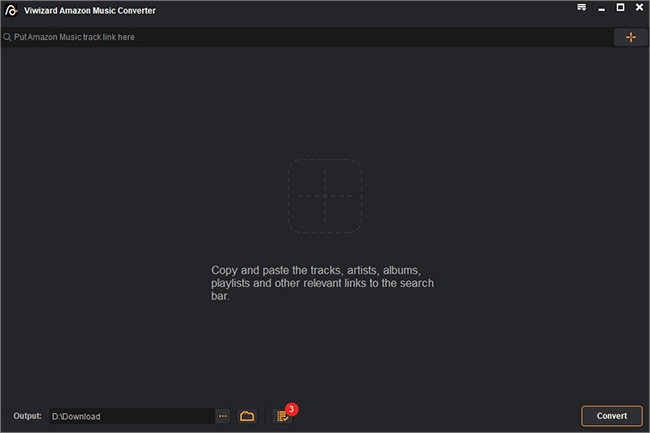 On either Windows or Mac, launch ViWizard Amazon Music Converter. Wait until it launches Amazon Music desktop app to access all the available music tracks. From Amazon Music to ViWizard, add the exclusives via drag-and-drop.
Step 2

Customize Output Formats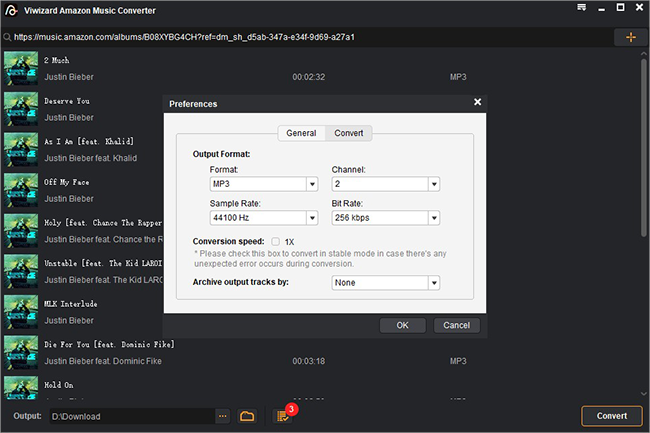 Once the music tracks are added, click on the menu icon from the top of ViWizard, then Preferences. In the pop-up, customize the output format as MP3 or FLAC. For bit rate, ser either the standard 256Kbps or the HD Music's 320Kbps then OK to save these changes.
Step 3

Convert Amazon Music in ViWizard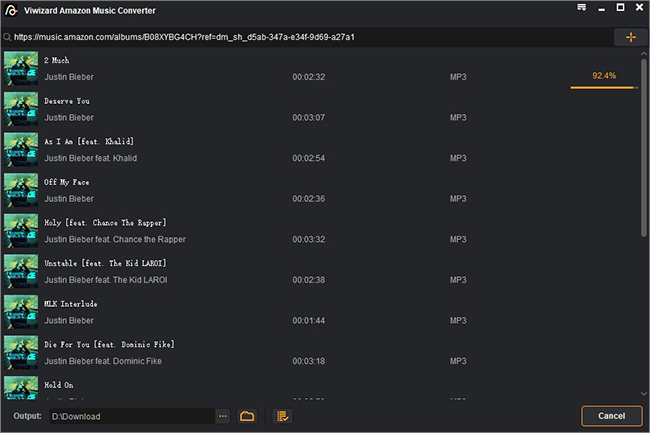 Back to ViWizard, click the Convert button at the bottom to start the conversion. Once the conversion completes, the output folder will pop up to browse all the converted Amazon Music files stored under.
Step 4

Transfer Amazon Music to Mobile Device

Now connect the phone to the computer via a USB stick and move all the downloaded music files to the "Music" folder. On the mobile device, now there shouldn't be a problem of Amazon Music not shuffling.
Conclusion
Now it's clear for how to cancel Amazon Music subscription on the platforms mentioned above. Feel free to download ViWizard Amazon Music Converter to have the Amazon Music as personal music collections on devices.
More Amazon Music Tips & Tricks