Why does Amazon Music use up data when I've downloaded the songs? Like what's the point of even downloading anything and taking up space on my phone if it's gonna drain my data anyway? I listen during my commute.
-- From Reddit
Nowadays, more and more people turn to streaming services to dive into their favorite tunes. Streaming offers great flexibility to access music even without downloading songs. As a giant music platform with 82.2 million users, Amazon Music is a terrific place for streaming songs whether online or offline. When listening to Amazon Music without a WiFi connection on the commute, you might think does Amazon Music use data? Absolutely yes. So do you know how much data does Amazon Music use? In this post, you will find the answer that you might want to know. Scroll down!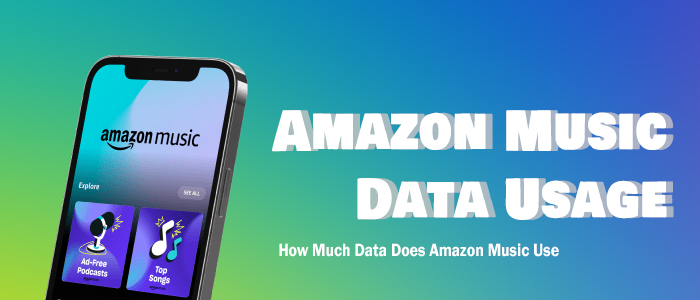 Part 1.

How Much Data Does Amazon Music Use Per Hour

On search engines or some forums, some users complained that Amazon Music uses a lot of data. So have you had a clear knowledge of Amazon Music data usage? Indeed, what you need to know is that data usage is depending on the audio quality and the duration you're streaming. There is no doubt that high audio quality often costs more data and takes up more space. Amazon Music boasts a wide range of audio quality from Data Saver, and Standard, to HD/Ultra HD.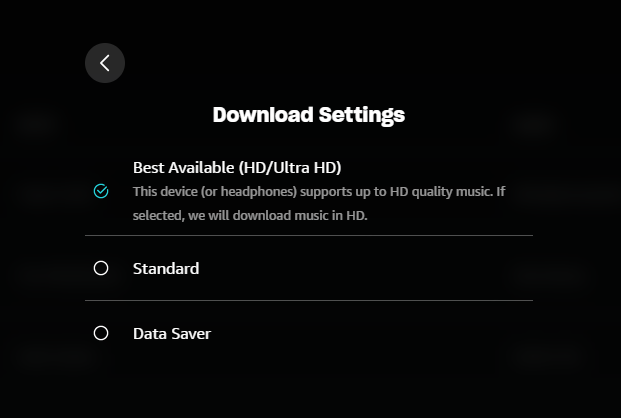 There is no official figure to show Amazon Music' specific bit rate of data saver audio quality. So the following table of data usage Amazon Music used under the Space Saver quality is estimated. Now let's see how much data does Amazon Music streaming use per hour.
| | | | | |
| --- | --- | --- | --- | --- |
| | Space Saver | Standard | HD | Ultra HD |
| Bit Rate | 48kbps | 256 kbps | 850 kbps | 3730 kbps |
| Data Usage Per Hour | 20MB | 108MB | 359MB | 1.57GB |
Note
Streaming and downloading from Amazon Music consume the same amount of data.
Part 2.

How to Reduce Amazon Music App Data Usage

Now, the question "Does Amazon Music use data" and "How much data does Amazon Music use" has been resolved. Next is to manage Amazon Music use data if necessary. If Amazon Music has run out of your mobile data, then try the following method to save Amazon Music app data usage.
1. Adjust Amazon Music Audio Quality
Thankfully, Amazon Music enables you to change streaming and downloading audio quality to manage how Amazon Music use data. You can freely control how much data does Amazon Music streaming use. Here's how to change Amazon Music audio quality on the mobile app.
Step 1. On Amazon Music, tap the cog icon in the upper right corner.
Step 2. Select Settings and scroll down to see Streaming Audio Quality and Download Audio Quality under the PLAYBACK section.
Step 3. There are Space Saver, Standard, HD, and Best Available for Download Audio Quality and Standard, Best Available, and HD/Ultra HD for Streaming Audio Quality. Just select the audio quality you want.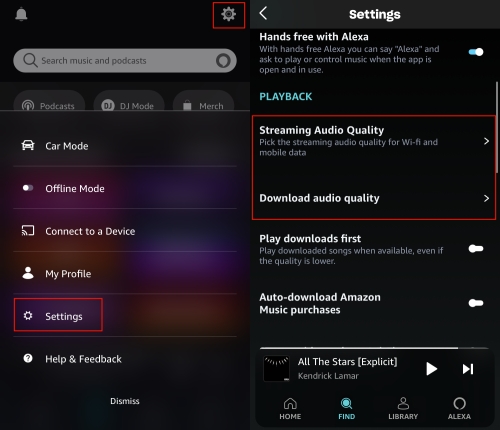 2. Play Amazon Music Downloads First
Amazon Music allows users to play downloaded songs first when available. Enabling this feature, Amazon Music will automatically show you downloaded songs that have been stored on your device before. And in this way, Amazon Music data usage would not continue to cost too much until your downloaded songs are over.
Step 1. Navigate to Amazon Music Settings by tapping the gear icon.
Step 2. Under the PLAYBACK section, toggle Play downloads first.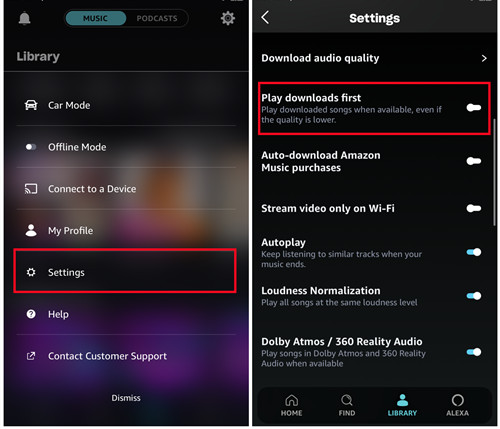 3. Switch to Offline Mode
If you don't want to continue to use cellular data when listening to Amazon Music, then turning on offline mode is a perfect option. While on Android devices, the offline mode option on Amazon Music has been disabled since 2022. So Android users need to get offline playback by accessing your downloads.
On iOS devices, tap the gear icon in the top-right corner of Amazon Music. Toggle Offline Mode from the pop-up menu.
On Android devices, launch Amazon Music and head to Library. Use the Downloaded button to see all your downloaded songs and start from here to go into offline playback.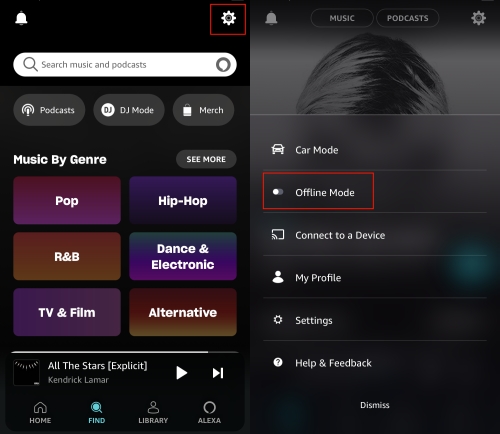 4. Restrict Amazon Music to Stream WiFi only
The best way to control your mobile data use is to allow a certain app to work under the WiFi connection only. To stream Amazon Music only on WiFi, just go to Amazon Music Settings and select Streaming Audio Quality. From this menu, you will see the Stream only on WiFi option and enable it. Additionally, you can back to Downloading Audio Quality to restrict Amazon Music Download only on WiFi.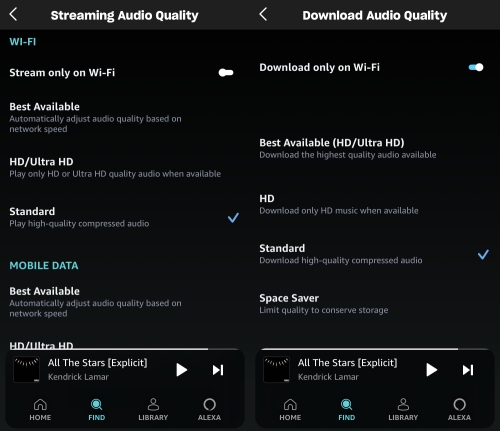 Part 3.

How to Listen to Amazon Music without Using Data

Now you can practice the above methods to manage how much data does Amazon Music use. If you want to save Amazon Music data usage as well as keep the highest audio quality when listening to Amazon Music offline, here we offer a foolproof workaround. That is to download your Amazon Music songs as local files for playing. Sometimes, even though you choose to play Amazon Music downloads first, Amazon Music use data more or less in the background. So your best bet is to save Amazon Music to your devices and listen to local songs.

However, all downloads from Amazon Music are cache files and encoded with DRM so that you can only play them within the Amazon Music app. Luckily, a smart tool like ViWizard Amazon Music Downloader can help you download Amazon Music songs locally. ViWizard Amazon Music Converter is specialized in downloading and converting songs, playlists, albums, and other content from Amazon Music to MP3, AAC, WAV, FLAC, M4A, and M4B. It won't lose any audio quality and ID3 tags. After conversion, you can listen to Amazon Music without using data, and "Can you listen to Amazon Music without using data" is not a question anymore.

Key Features of ViWizard Amazon Music Converter
Free Trial
Free Trial
* Security verified. 5, 481,347 people have downloaded it.
Download songs from Amazon Music Prime, Unlimited, and HD Music
Convert Amazon Music songs to MP3, AAC, M4A, M4B, FLAC, and WAV
Retain the original ID3 tags and lossless audio quality of Amazon Music
Support customizing the output audio parameters for Amazon Music
Step 1

Select and add Amazon Music songs to ViWizard

Open the ViWizard program and it will launch or relaunch Amazon Music. After that, select the share option to copy the link of a track, playlist, album, or artist from Amazon Music to ViWizard's search bar. Then click the + icon to upload your Amazon Music songs. Alternatively, a drag-and-drop can upload your favorite Amazon songs to ViWizard.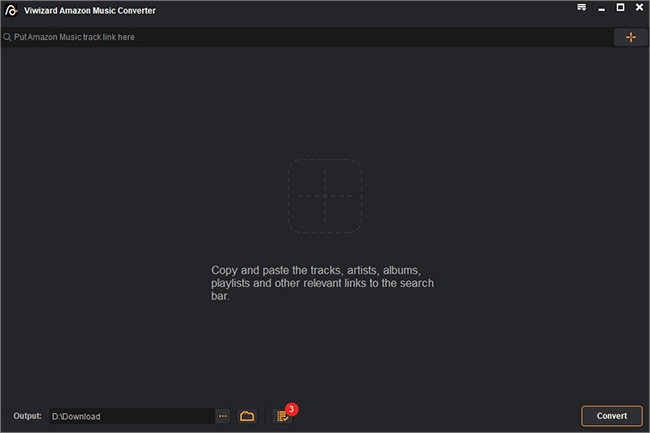 Step 2

Customize parameters for Amazon Music songs

ViWizard boasts customizable features so that you can change the output format and some parameters as you like. Hit on the Menu icon at the upper right corner and select Preference. A new window will pop up, and switch to the Convert section where you can adjust the output format, channel, bit rate, and sample rate. Lastly, click OK to save your settings. To play Amazon Music without using data or without the internet, just leave the MP3 format by default.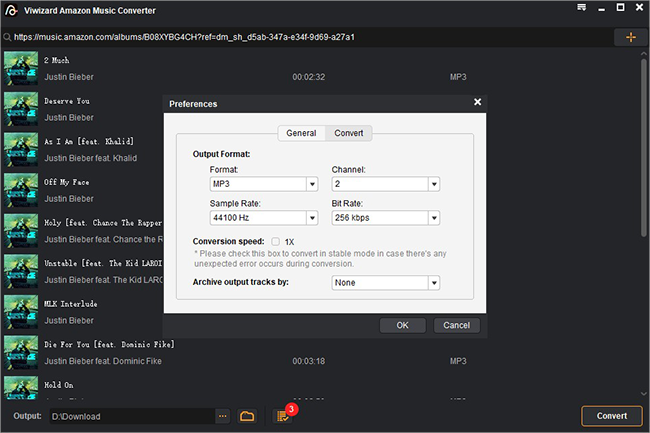 Step 3

Download Amazon Music songs as MP3s

Before converting, you can change the output location by clicking the three dots next to the Output panel at the bottom. Now, click Convert at the bottom right corner to download and save Amazon Music songs to your computer. After conversion, it is easy to view all your converted songs on the Converted interface and locate them in your local folder. Now, transfer them to your mobile phone or other devices via a USB cable and listen to Amazon Music without using data.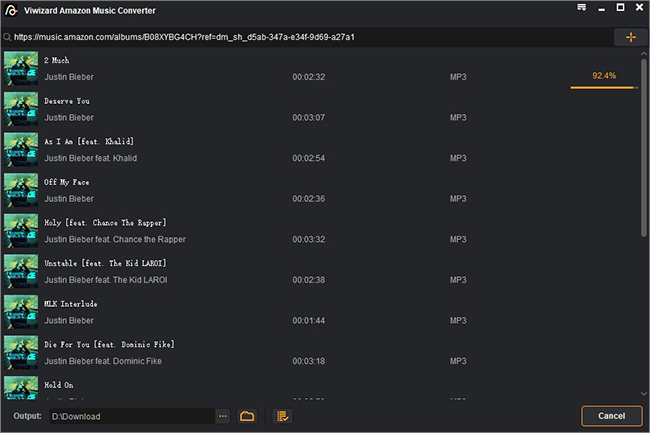 Part 4.

Frequently Asked Questions about Amazon Music Use Data

Here we collect some questions about Amazon Music data usage. Hope they help!

Q1.Does Amazon Music car mode use data?

A1.Yes. Amazon Music uses data each time you browse and play content.

Q2.Does Amazon Music use data in offline mode?

A2.Yes. Offline mode can limit the use of data since playing music you've already downloaded uses less data than streaming it each time. If you want to restrict Amazon Music use data in offline mode, please cut off your mobile data from your mobile phone.

Q3.Can you listen to Amazon Music without using data?

A3.Of course. When disabling your cellular data on your mobile device and then turning on offline mode on Amazon Music, you can listen to your downloaded Amazon Music without using data. Alternatively, previously downloading Amazon Music songs locally by using ViWizard Amaozn Music Converter and listening to them in MP3 format will not cost any data and lose any audio quality.