"Today I drove about 30 minutes to work and 45 minutes back and listened to Spotify on max. quality. My Spotify data usage? 790MB! How is this possible for only 75 minutes of streaming?" - David from the Spotify Community
"What I want to know is, how do they compare when it comes to data usage? How does Spotify compare to YouTube Music, Pandora, Apple Music, or other streaming music services? Funky playlists and mood music is all well and good, but how much of my 4g/month are they going to eat?" - Christ from reddit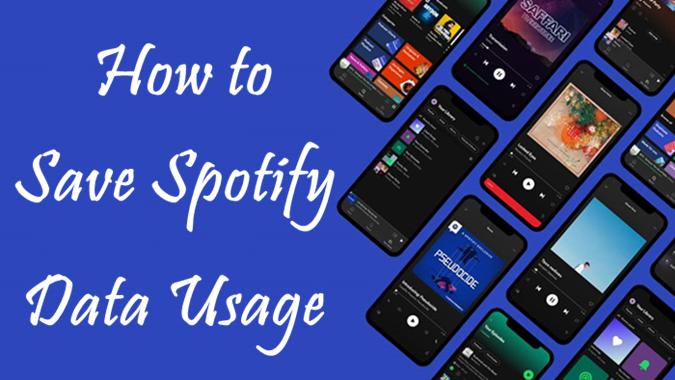 Does Spotify use data? Of course! The more important problem is how much data usage does Spotify eat up? Here we've collected some posts from the Internet for you can see that Spotify is likely to blame for burning through the monthly data cap on your mobile device. So, how much data usage does Spotify use if you stream your liked songs at random? And is it a bigger number compared to other music apps? In this post, you can find answers to all these questions. And we'll offer some solutions to help you save Spotify data usage.
Part 1. How Much Data Usage Does Spotify Eat up?
In fact, the amount of data that Spotify uses depends on the setting of audio quality, which is related to the bit rate. Obviously, higher quality music cost more data and lower uses way less. Spotify has a range of audio quality options to suit your device, plan, and preferences. And turning music quality down can save data of your device. From the following table, you can figure out how much data usage does Spotify use.
| | | | |
| --- | --- | --- | --- |
| | Per minute | Per hour | How long until you reach 1GB |
| Normal (96kbps) | 0.72MB | 43.2MB | 23.1 hours |
| High (160kbps) | 1.2MB | 72MB | 13.8 hours |
| Very high (320kbps) | 2.4MB | 144MB | 6.9 hours |
In terms of your data plan, 320kbps rate translates to 2.4MB per minute of audio or 115.2 MB per hour. Spotify data usage per hour can reach 115.2MB under extreme quality setting and typically use 40MB under the high-quality setting. In another word, if you were to stream songs for an entire 8-hour work day, you'd burn through nearly 1 GB. This lavish data usage for Spotify music streaming probably shock you and surely you don't want to waste too much data on streaming Spotify music when away from Wi-Fi connection.
Part 2. Data Usage: Spotify vs Pandora vs YouTube Music
Except for Spotify, those platforms such as Pandora, YouTube Music, and more offers a great music streaming service. Compare to those mainstream music services, the audio quality of Spotify is relatively higher. Here's a breakdown of the data usage of different music streaming services.
| | | | |
| --- | --- | --- | --- |
| Music Streaming Services | Spotify | Pandora | YouTube Music |
| Low | 24 kbps | 48 kbps | 32 kbps |
| Normal | 96 kbps | 128 kbps | 64 kbps |
| High | 160 kbps | 256 kbps | 192 kbps |
| Very High | 320 kbps | / | / |
Part 3. How to Save Spotify Data Usage on iPhone & Android
To reduce data usage of Spotify, you can try to downgrade the streaming audio quality while listening to songs from Spotify. Or you can adjust the Spotify background data usage or control Spotify cellular data usage. Follow up will be some tips for you to consume less data usage when streaming Spotify music.
Solution 1. Lower down Default Music Quality Setting
In order to save your data usage, you should lower down your music quality to Normal or Automatic, which will help you save more data usage when listening to Spotify songs online. Now go check your default music quality setting and reset it.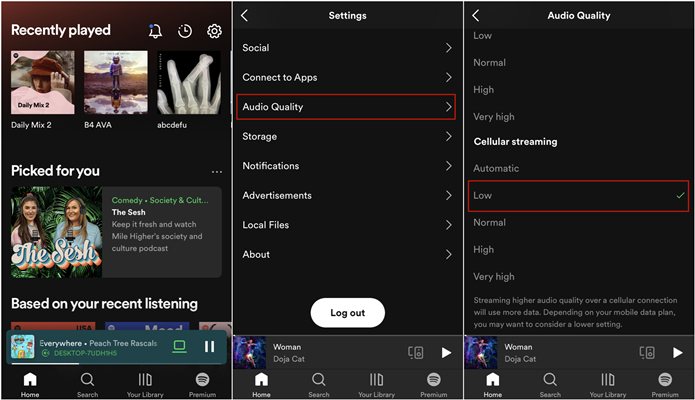 Step 1. Launch Spotify on your device and then go to Home.
Step 2. Tap the cog icon in the right top and scroll down to Audio Quality.
Step 3. In Cellular streaming, select Automatic or Low and then switch Auto adjust quality on.
Solution 2. Turn on Data Saver Mode on Spotify
When you don't have a Wi-Fi connection, Spotify will use your mobile data to play music. Then you can try to use Spotify in the Data Saver mode, which only uses 24kbps when streaming and works out to be 11MB per hour. Now try to turn on Data Saver for playing.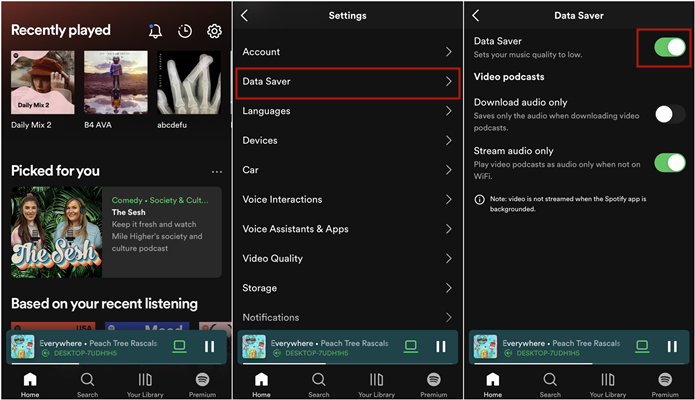 Step 1. Start by opening Spotify then tap Home.
Step 2. Press the cog icon in the top right corner.
Step 3. Under Settings, tap Data Saver and switch it on.
Solution 3. Turn off Download Using Cellular
If you are a user of premium plan, you can download Spotify music for later listening as long as you have spare storage. To ensure Spotify downloads songs when connected to Wi-Fi and switch Download Using Cellular off. Here's how to.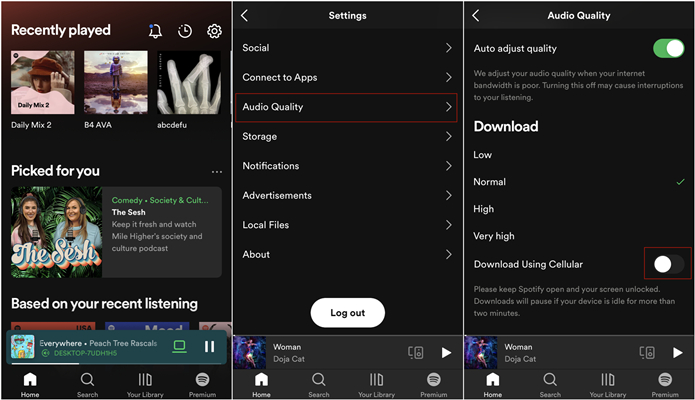 Step 1. Run Spotify on your device and then tap Home.
Step 2. Open Settings by tapping the cog icon in the top right corner.
Step 3. Scroll down to Audio Quality and then switch Download Using Cellular off.
Solution 4. Adjust Phone Setting Prevent Wasting Data
For those of you with Android phones, you can set a data threshold warning and disable background app refresh to prevent wasting Spotify background data usage. On an iPhone, go to General in Settings, hit Background App Refresh, and turn Spotify off. This will prevent it from using data in the background.
Part 4. How to Listen to Spotify without Data Usage
Unluckily, as with the aforementioned tips, saving data pretty much means lowering the audio quality for streaming content. If you want to listen to Spotify songs with high quality, you can try downloading your liked songs and then play the downloads in offline mode. There are two methods for you to download music to listen offline.
For Premium Users
With a premium account, you are able to easily download albums and playlists on Spotify for offline listening. To download Spotify music on your Android device or iPhone, then you can follow the below steps. Before downloading, make sure the app only downloads when connected to Wi-Fi, switch Download using cellular off in the app's settings.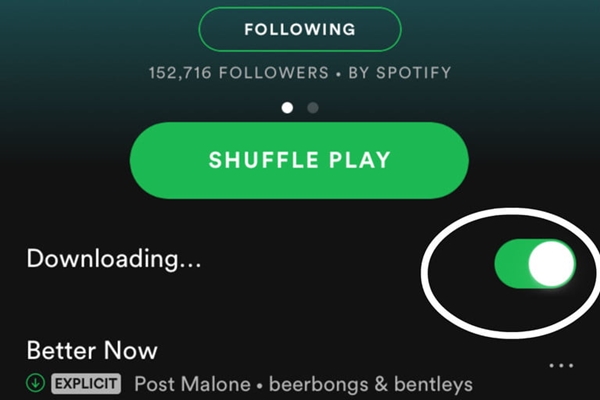 Step 1. Launch Spotify and tap Your Library to select albums or playlists you want to download.
Step 2. Open any album or playlist and then tap the arrow icon to start downloading music.
For Free Subscribers
If you are not a subscriber of premium plan, there's no way for you to download music in Spotify. To solve this, here we recommend a powerful and easy-to-use tool for you – ViWizard Spotify Music Converter. This toll can help you save the data usage for Spotify without sacrificing high quality of the tracks and no premium plan needed.
ViWizard Spotify Music Converter is competent to download and convert Spotify music to MP3, AAC, WAV, FLAC, M4A, and M4B format as your demand. With it, you can effortlessly download your favorite songs, albums, as well as playlist and store them on your device for offline playback. There is no doubt that ViWizard software could save you a lot data usage of Spotify to a great extent.

Main Features of ViWizard Spotify Music Converter
Download Spotify playlists, songs, albums with free account easily
Convert Spotify music to MP3, WAV, FLAC and other audio formats
Keep Spotify music tracks with the lossless audio quality and ID3 tags
Tackle the downloading and conversion of Spotify at 5× faster speed
Step 1

Select Spotify songs to download

Download and launch ViWizard Spotify Music Converter then it will automatically load the Spotify app. Go to drag the songs you want to download from Spotify to the ViWizard interface. Or you can simply copy and paste the links of the music into the search box.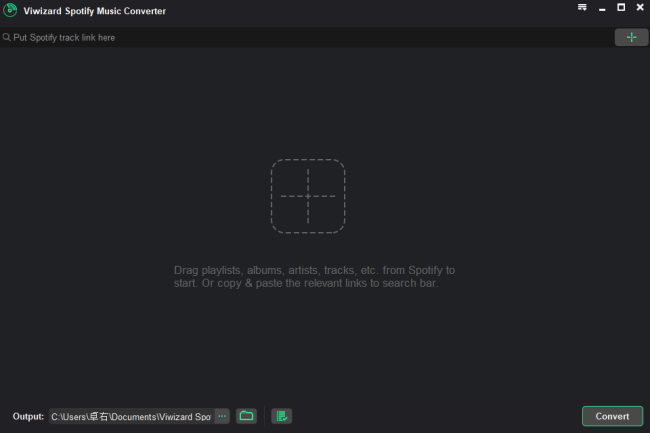 Step 2

Set the output format of Spotify

When Spotify songs are loaded successfully into ViWizard, go to set the output format and music preferences by clicking the menu > Preferences. In the pop-up window, you can set the output format, bit rate, sample rate, and channel.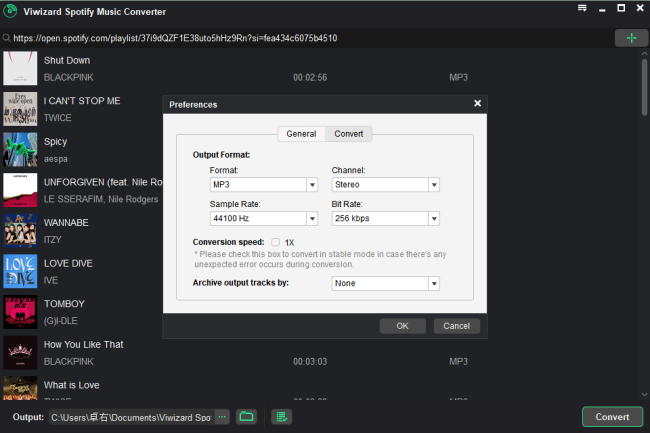 Step 3

Start to download Spotify songs

Once the selections of output are all set, you can begin the conversion of Spotify by clicking the Convert button on the converter. After that, you can browse the converted Spotify songs and put the music on your phone for playback.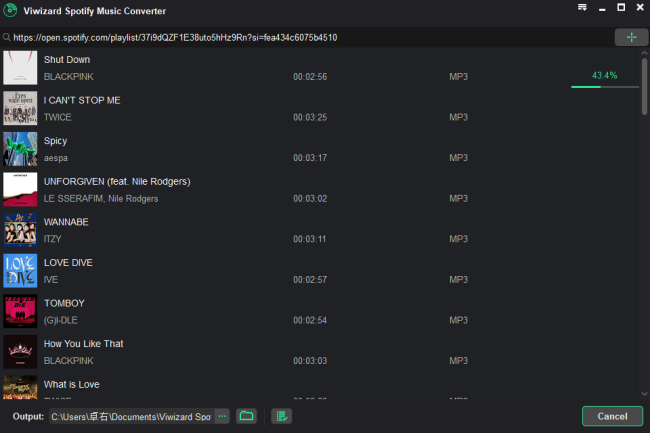 Final Thoughts
As a music fan, Spotify is something you live your everyday life on. Nonetheless, it's also necessary to take your monthly data cap into consideration and make a prudent choice. In this case, why not try out ViWizard Spotify Music Converter to save Spotify data usage? Then you will love it.

Matt Smith is an amateur writer engaged in ViWizard in 2013. He is a movie lover who write a lot of movie reviews for many websites and blogs.