Fitbit Versa is a popular smartwatch option and it ranks second to Apple Watch in the list of Best Smartwatches, however, with half of the price. For those aren't wrapped up in the Apple world, Fitbit Versa is a flexible option to have the benefits of its performance with a favorable cost.
When it comes to music services on Fitbit Versa, both Deezer and Pandora are in the Fitbit compatibilities. For those who want other music services - such as Amazon Music, we'd like to introduce 2 methods to listen to Amazon Music on Fitbit Watch.
Part 1. How to Listen to Amazon Music on Fitbit Watch
1.1 Fitbit Versa: Compatible Music Services
Music Services on Fitbit: Deezer, Pandora
How Do I Listen to Amazon Music on Fitbit Watch?
Even Amazon Music is not included in the Fitbit compatibilities, users can have the benefits to transfer their Amazon Music purchases to the watch through the computer. If there're are supported files like MP3s from Amazon Music Digital, it's simple to transfer them to Fitbit Versa and the transferred music worked fine on the watch.
1.2 Amazon Music to Fitbit: What You'll Need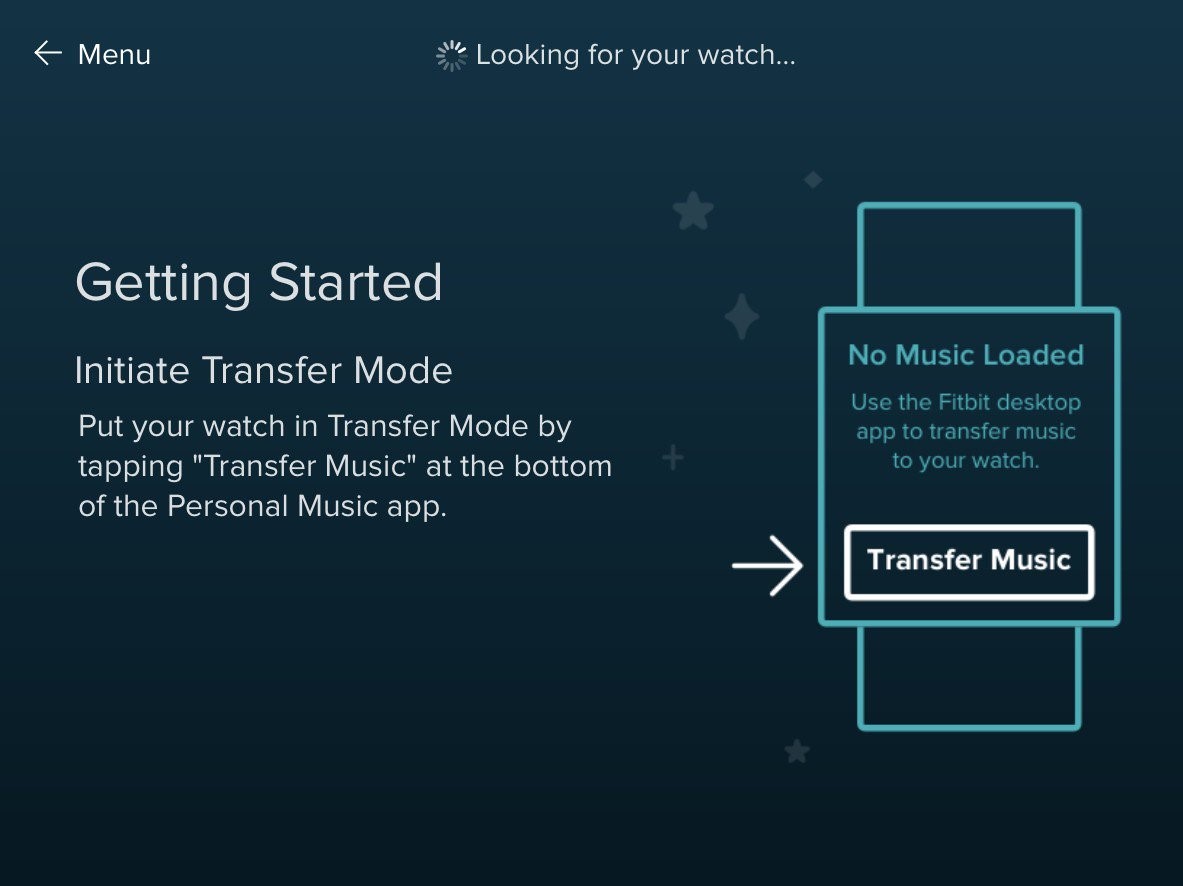 Purchased from Amazon Digital: MP3
Audio about Amazon Music: DRM-encoded
To access Amazon Music Purchases:
In the Amazon Music desktop app, use the menu bar > LIBRARY > MUSIC > SONGS > Purchased filter to access to all the Amazon Music purchases. However, we don't recommend more purchases on items in Amazon Music because there's a method to save more costs.
To access DRM-encoded Amazon Music:
How about other Amazon Music contents in the LIBRARY? Expect for the purchased, the audio about Amazon Music is DRM-encoded, which prevent users' personal uses - such as to transfer DRM-encoded to another platform like Fitbit Versa.
Part 2. How to Convert Amazon Music for Fitbit Watch with ViWizard
We'd like to introduce a method to save more costs on Amazon Music purchases. With one Amazon Music Converter, it's convenient to remove the DRM and convert all Amazon Music contents in MP3 format.
To access DRM-free Amazon Music:
ViWizard Amazon Music Converter features a DRM-removal tool that can download and convert the DRM-encoded Amazon Music into 6 formats: MP3, AAC, WAV, M4A, M4B, FLAC. To listen to Amazon Music on Fitbit Versa, users can set the output format as MP3 for the selected contents. After that, it's simple to transfer them to Fitbit watch or upload to Deezer, which is supported on Fitbit watch.

Key Features of ViWizard Amazon Music Converter
Download songs from Amazon Music Prime, Unlimited, and HD Music
Convert Amazon Music songs to MP3, AAC, M4A, M4B, FLAC, and WAV
Retain the original ID3 tags and lossless audio quality of Amazon Music
Support customizing the output audio parameters for Amazon Music
Setp 1. Select Contents from Amazon Music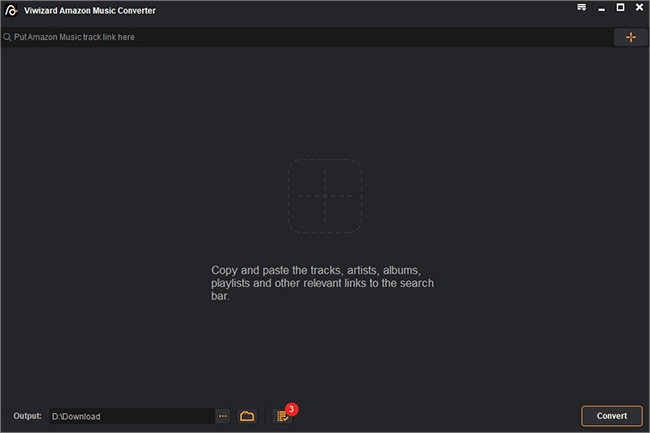 On desktop, launch ViWizard Amazon Music Converter. It will launch and relaunch the Amazon Music app with the connected account. From Amazon Music to ViWizard, select whatever contents for Apple Music.
Step 2. Convert Amazon Music to MP3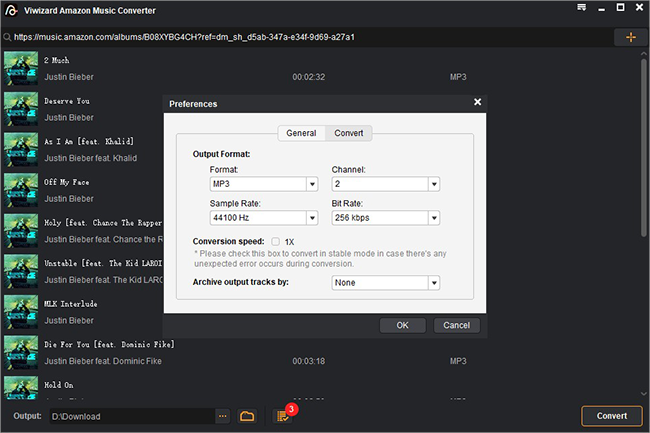 To convert Amazon Music to MP3 or AAC, the format settings need to be customized in the software. From the menu bar, open the app menu > Preferences > Convert, then set MP3 or AAC as the output format. Here we'd like to recommend MP3. You can also make the bit rate the same with Amazon Music standard 25Kbps or HD Music's 356Kpbs.
Step 3. Download Amazon Music MP3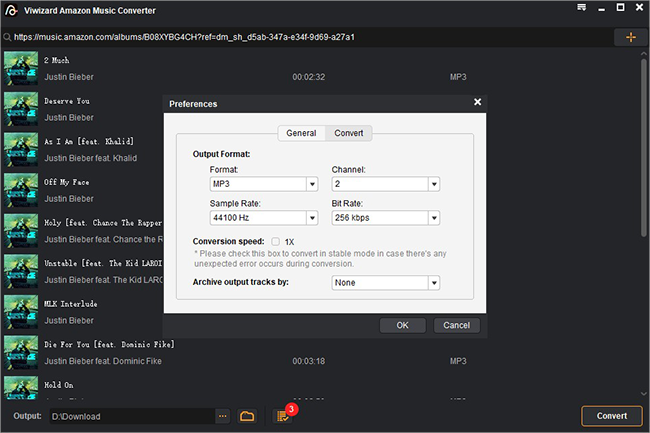 Return to ViWizard, click the Convert button to start the conversion at 5x speed. After the conversion completes, a pop-up will allow to browse to all the converted Amazon Music in MP3s. You can transfer them to iTunes now.
Part 3. How to Put Amazon Music on Fitbit Watch
From here choose to transfer the files via iTunes or the app. If iTunes is preferred to create a list based on the converted Amazon Music files, please also read the Part 3 of this post:
Amazon Music to Fitbit: Transfer Amazon Music to Fitbit Versa
To Put Amazon Music on Fitbit Versa:
You can start to put Amazon Music files on Fitbit Versa. Please pick up both the devices to follow these steps:
1. Go to fitbit.com/global/us/setup, then scroll down to choose Download for Windows or Download for Mac.
2. Make sure both the computer and Fitbit Versa are in the same Wi-Fi connection.
Note: For best results, please make sure your Fitbit watch is nearby to sync the data when the Fitbit app is open, then disable Bluetooth on both the phone and computer devices.
3. On Windows or Mac, open Fitbit Connect > Manage My Music > Personal Music.
4. On Fitbit Versa, open the Music app > Transfer Music. Scroll to the "Transfer Music" button.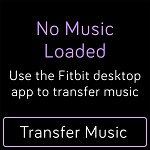 5. Wait a minute or two until your watch is connected to the computer.
6. On Windows or Mac, follow the on-screen instruction to transfer the created playlists to Fitbit Versa.
3.2 Amazon Music to Deezer: Transfer Amazon Music to Deezer
You can also choose to transfer and enable Amazon Music files on Fitbit watch via the music services compatibilities, aka the supported music apps for Fitbit Versa. Pandora doesn't feature importing purchased music or music from other services or platforms - like Amazon Music. However, Deezer supported this uploading features on its web version. For those prefer a Deezer app on the Fitbit watch, we suggest upload the Amazon MP3 Music to Deezer on Deezer's web.
Local Files Formats Supported on Deezer: MP3
Make sure the MP3s are under 200MB in size;
A limit of 2,000 MP3 track that can be uploaded to a Deezer account.
To Upload MP3 to Deezer:
1. On the web version of Deezer, go to Favorites > My MP3s.
2. Select SELECT MP3s TO UPLOAD.
3. Select the MP3 files from the computer.
To Access Deezer on Fitbit:
1. On Fitbit Versa, check the Fitbit App Gallery to make sure Deezer is downloaded.
1. On Fitbit Versa, tap the Deezer icon and sync Deezer music with the watch.
More Amazon Music Tips & Tricks