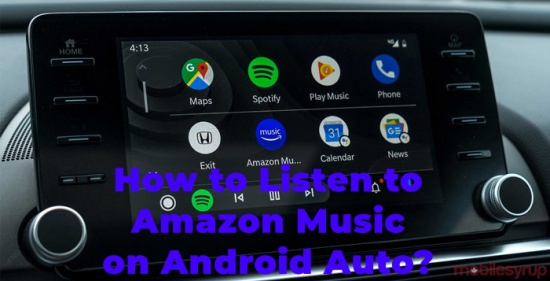 Get ready to supercharge your car audio experience with Amazon Music on Android Auto. As Android Auto expands its reach to more cars, it's now embracing popular streaming services like Amazon Music. With access to your favorite tracks and even "Prime" titles included in your Prime membership, having Amazon Music on Android Auto is a game-changer.
In the upcoming sections, we'll dive into two methods to seamlessly add Amazon Music to your Android Auto setup. Whether you're commuting to work or embarking on a road trip, this guide will show you how to bring the magic of Amazon Music to your car's dashboard. Let's dive in and enhance your car audio, making every drive a musical adventure.
Part 1.

How to Add Amazon Music to Android Auto using App

To enjoy Amazon Music on Android Auto, make sure you have the following:
Prerequisites:
Verify that your car's infotainment system supports Android Auto.
You'll need an Android smartphone running Android 6.0 or higher.
Ensure your Android smartphone phone is connected to your mobile data network.
If you don't have an Amazon Music account already, sign up for an Amazon Music account. You can choose between the Amazon Music Prime or Amazon Music Unlimited for a broader selection of songs.
Step 1

Setting Up Android Auto

If you haven't set up Android Auto yet or you're new to it, you may want to consider downloading Android Auto to your Android smartphone from the Google Play Store.
Launch the Google Play Store on your Android smartphone.
In the Play Store's search bar, type "Amazon Music."
Find the "Amazon Music" app in the search results. If you haven't installed it yet, tap "Download" to download and install Amazon Music. If it's already installed, check for updates by looking for the "Update" button.
Open the Amazon Music app on your Android smartphone and make sure you're signed in to your Amazon Music account.
Step 2

Connecting Android Phone to Android Auto

If you haven't connected your Android smartphone to your car's infotainment system, follow the on-screen instructions to start the connection using a USB cable or wirelessly, depending on your car mode.
1. Via USB Cable:
Before starting, ensure your car is safely parked (in Park or P mode) with the infotainment system turned on. Allow a few moments for Android Auto to initiate before you begin driving.
Plug one end of a USB cable into your vehicle's dedicated USB port (usually found in the car's console) and connect the other end into your smartphone.
Look at your car's infotainment screen and follow the on-screen instructions to set up Android Auto. If prompted, update the Android Auto app on your smartphone before proceeding.
2. Wirelessly via Bluetooth (First-time connection):
Ensure your car is safely parked (in Park or P mode) with the infotainment system on. Also, make sure your smartphone's Bluetooth, Wi-Fi, and Location Services are enabled for a smooth setup.
On your smartphone, navigate to the Bluetooth settings. You can usually find this in your phone's Settings menu.
While in the car, press and hold the voice command button on your car's steering wheel to start pairing a new device. If the pairing menu doesn't appear, consult your car manufacturer's instructions for guidance.
On both your smartphone and car's infotainment screen, follow the on-screen instructions to pair your phone with your car via Bluetooth. If prompted, update the Android Auto app on your smartphone before proceeding.
Step 3

Adjusting Android Auto Settings

After installing or updating Amazon Music, you'll need to configure your Android Auto settings to include it in your car's infotainment system. If you don't have the Android Auto app already, you'll need to go to the Google Play Store and download and install it on your device.
Open the Android Auto app.
In the Android Auto app, access "General settings."
Look for an option similar to "Customize launcher" that allows you to select which apps appear on the car's screen launcher.
Scroll through the list of compatible apps and find "Amazon Music."
Select "Amazon Music" to add it to the Android Auto launcher.
With these settings in place, you'll have easy access to the Amazon Music app on your car's screen via Android Auto, allowing you to enjoy your favorite music while on the road. The app's functionality will be similar to the mobile version, ensuring a seamless listening experience.
Step 4

Navigating Amazon Music on Android Auto

Navigating Amazon Music on Android Auto is straightforward, simply open Android Auto from your car's display panel and choose one of the followings:
Browse Music: Use the touchscreen or voice commands to search for songs, albums, artists, or playlists.
Play Music: Tap on a song or playlist to start playback. You can also use voice commands like "Hey Google, play [song/artist/album] on Amazon Prime/Unlimited."
Explore Playlists: Discover curated playlists and genres for a personalized listening experience.
Adjust Settings: Customize your audio preferences, such as equalizer settings and playback quality.
Part 2.

How to Fix Amazon Music Not Working on Android Auto

While using Amazon Music with Android Auto, you may encounter some common issues. Below are solutions to help you address and resolve these problems:
To stream music without issues, you need a strong Internet connection. Confirm that your device is connected to Wi-Fi or a mobile network.
Is using a mobile network, confirm that the Amazon Music app settings allow for cellular data usage.
For stop the Amazon Music app and reopen it.
Updating to the latest version of the app and clearing the app cache can help resolve playback issues.
Confirm that your device supports processing a bite depth of 16-bit and a sample rate of at least 44.1 kHz, if your device is not capable of HD and Ultra HD playback.
Open the Amazon Music app to check the audio quality of the song you are playing. HD or Ultra HD badging displays on the Now Playing page to indicate high-quality audio.
If the issue still persists, check another post: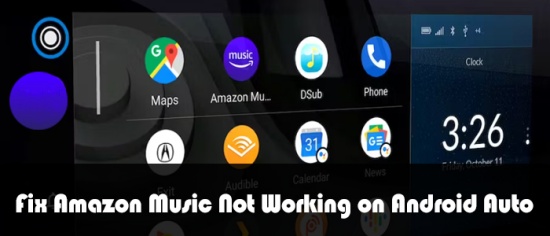 Part 3.

Best Method to Listen to Amazon Music on Android Auto

Tired of the limitations that can come with streaming music in your car via services like Amazon Music on Android Auto? Want the flexibility to listen to your favorite Amazon Music tracks on your terms, even without an internet connection? Here's the best solution!

For Amazon Music Prime and Unlimited users who wish to enjoy on-demand music in their car without the potential limitations of Android Auto, you can achieve this by downloading songs from Amazon Music and converting them to MP3 format using VIWizard Amazon Music Converter.
Thing You'll Need: ViWizard Amazon Music Converter
With ViWizard Amazon Music Converter, you gain the power to download all your favorite tunes from Amazon Music as local files. What sets VIWizard apart is its ability to convert Amazon Music tracks into various formats, including MP3, AAC, FLAC, WAV, M4A, and M4B. This means you can have your music in the format that suits your needs, making it compatible with a wide range of devices, including your car's audio system.

Key Features of ViWizard Amazon Music Converter
Free Trial
Free Trial
* Security verified. 5, 481,347 people have downloaded it.
Download songs from Amazon Music Prime, Unlimited, and HD Music
Convert Amazon Music songs to MP3, AAC, M4A, M4B, FLAC, and WAV
Retain the original ID3 tags and lossless audio quality of Amazon Music
Support customizing the output audio parameters for Amazon Music
Step 1

Add Amazon Titles to ViWizard

Launch the ViWizard software to open the Amazon Music desktop to add music tracks from it. Select "Prime" or "Unlimited" titles to drag and drop them to ViWizard's screen.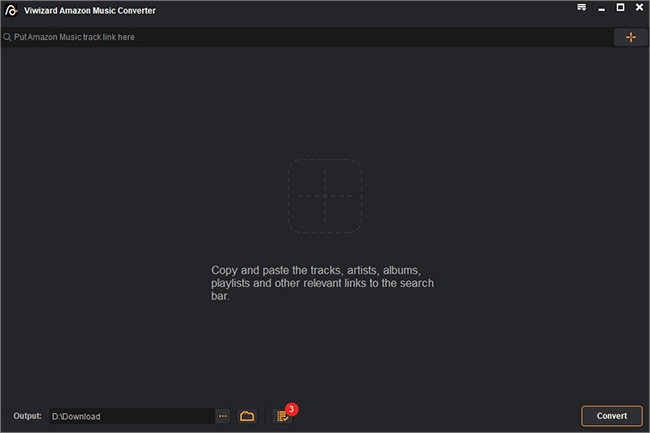 Step 2

Set Output Format

To set output format, open ViWizard's app menu at the top to select Preferences. In the pop-up window, click Converted. For output format, set the it as MP3, then OK to save this change.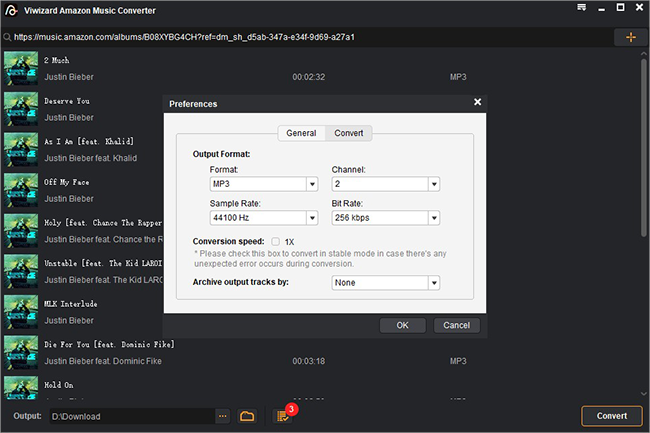 Step 3

Download Amazon Titles for Android Auto

Click the Convert at the bottom to start the conversion at a 5x speed. Once the conversion is finished, Amazon Music downloads is complete with success!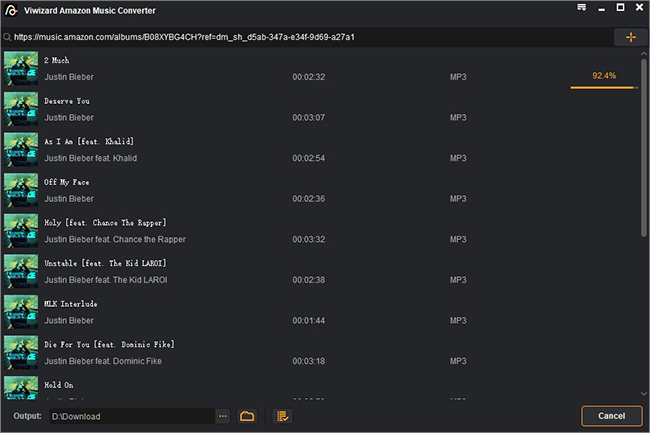 Step 4

Transfer Converted Amazon Titles to USB

With a USB drive, it's a short process to move all the converted Amazon Music files to it. Once the transfer process completes, disconnect the USB drive and plug it in the car - like on Tesla and more. You can find the Amazon Music files to stream it offline during driving!
Conclusion
Don't let the constraints of streaming music limit your enjoyment. Experience the freedom and flexibility of VIWizard Amazon Music Converter today and take your Amazon Music collection to new heights, including a more enhanced and unrestricted Amazon Music Android Auto experience. Download now to start your music liberation journey.