"Amazon Music app not working on Android Auto--Anyone else? I thought my car's infotainment system was bugged. Then maybe my phone was glitching. Nope--the Amazon Music app just refuses to work on Android Auto in my car. I will load the main screen, but when I click on any playlist, it never loads a song. 10 minutes of waiting and it does nothing. Anyone else having this issue?" -- From Reddit.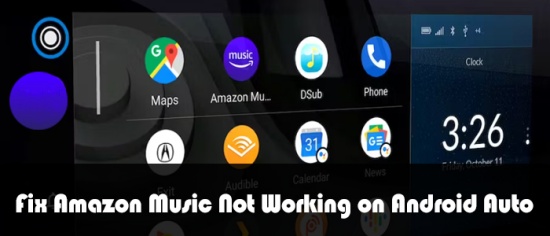 Nowadays, playing music in the car is a good way to kill time on a boring commute. Amazon Music boasts a library of over 100 million songs giving you a lot of choices. In order to play Amazon Music in your car, a thirtd-party tool like Android Auto you'll need. Android Auto brings apps to your car display so you can focus while you drive. You can control and mirror features like navigation, maps, calls, text messages, and music. It opens a whole new world for driving. Nevertheless, when streaming Amazon Music via Android Auto, some users might have encountered the above problem. This time, therefore, we come to solve Amazon Music not working on Android Auto.
Part 1. Reasons for Amazon Music Not Working on Android Auto
Before solving this issue, ascertaining reasons is the key. Here list some possible reasons:
1. Wrong Connection
To get Android Auto started, connect your phone to your car with a USB cable to see Android Auto on your car display. Using a wired USB port will not result in a wrong connection. However, on rare occasions, you try the wireless connection and then connect your Android Auto to another vehicle. Furthermore, if you have blocked or refused your car in Android Auto accidentally, you can't connect it unless you remove it from the rejected cars list.
2. Poor Network
In addition to a wired connection, some phones with an active data plan and WiFi support can connect cars wirelessly. If you prefer to connect your car with an internet connection, enable a stable and solid network to access online content and features like music. Please enable Bluetooth at the same time to connect your phone to your car.
3. Corrupted or Outdated App
If Amazon Music not working on Android Auto, presumably there has been something wrong with the app, either corrupted or outdated. In the same vein, software bugs and increasing caches may prevent the app from working smoothly.
4. Bugged Infotainment System
The word infotainment is an integration of information and entertainment. An infotainment system typically takes the form of a touchscreen where you can control a host of features. Sometimes, the dead battery or malfunctioning power source may cause the infotainment system to freeze. Probably, the issue might with the infotainment system itself.
5. Expired Amazon Music Subscription
If you have canceled or didn't renew your Amazon Music subscription, you can't acquire Amazon Music content and its library of 100 million songs. If you are not willing to shell out a fortune for the complicated premium plan, you can try ViWizard Amazon Music Converter when your account is active and then get unlimited songs from Amazon Music.
Part 2. Solutions to Amazon Music Not Working on Android Auto
After knowing why, the next step is to fix it. Try the following solutions and hope they are useful.
1. Make Sure a Stable Connection
First, check whether your phone supports a wireless connection or not. If yes, then it's more convenient and flexible than the wired USB cable. To connect your phone to the car, just enable your WiFi and Bluetooth on your phone. And tap the gray Android Auto icon on the infotainment screen. Pair your phone to the infotainment system using Bluetooth.
If your device doesn't support a wireless connection, then use a wired Android Auto instead of wireless. Please provide a good quality USB cable in case of poor contact.
2. Set Amazon Music as Default Music Streaming Service
Pay attention that Android Auto will auto-play the default music streaming service. In case you've set other streaming services as a default or you've not familiar with how to adjust this feature, here we give you tutorials.
Step 1. Head to Settings and select Connected devices.
Step 2. Choose Connection Preference > Android Auto > Customize launcher.
Step 3. Ensure only select the Amazon Music services and uncheck other music players.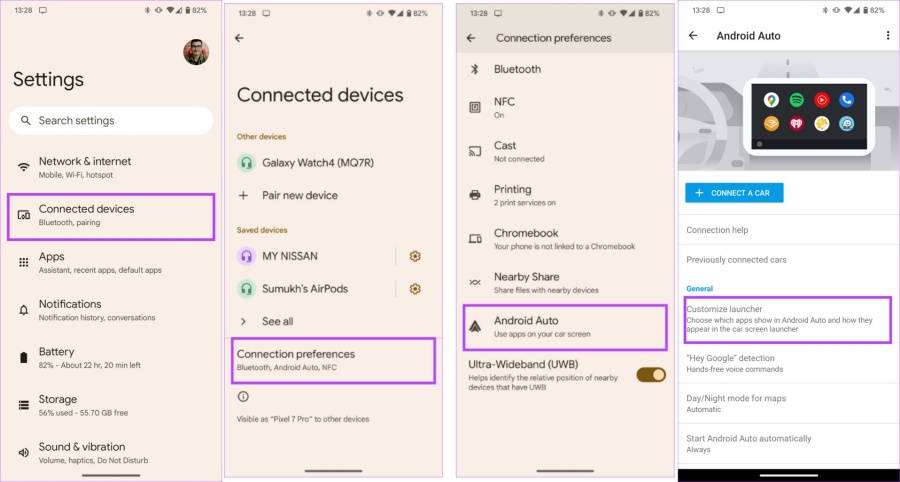 3. Clear the Cache and Storage of the Android Auto APP
The glitches collected and increased as time goes on. When the caches accumulate to a certain extent, the app or even the phone would be prevented from using. It is time to clear them to run the Android Auto app successfully.
Step 1. Open Settings. Then tap on Apps > See all apps to locate Android Auto.
Step 2. Hit on the com.google.android.projection.gearhead option which represents Android Auto.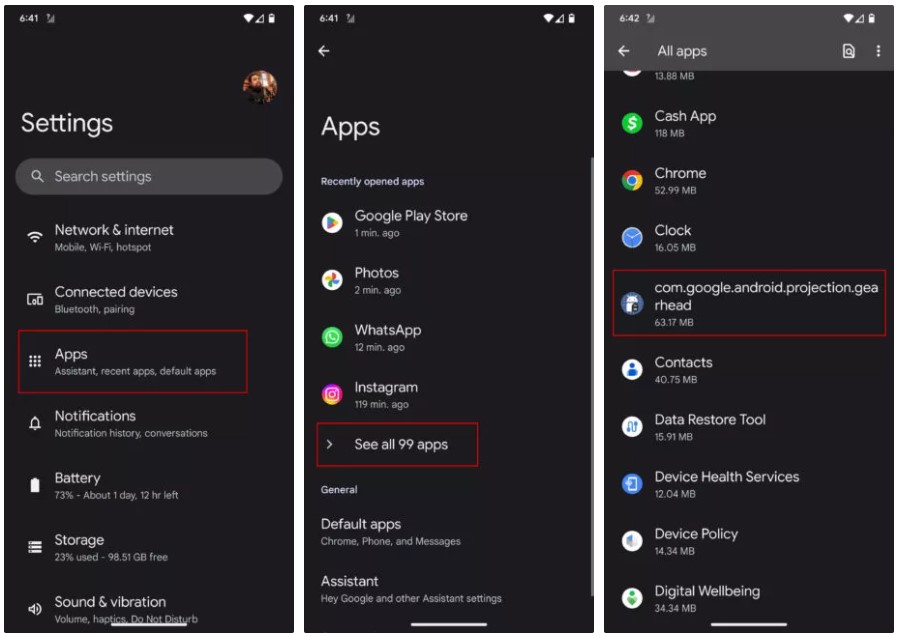 Step 3. Tap Storage & cache to Clear storage and Clear cache.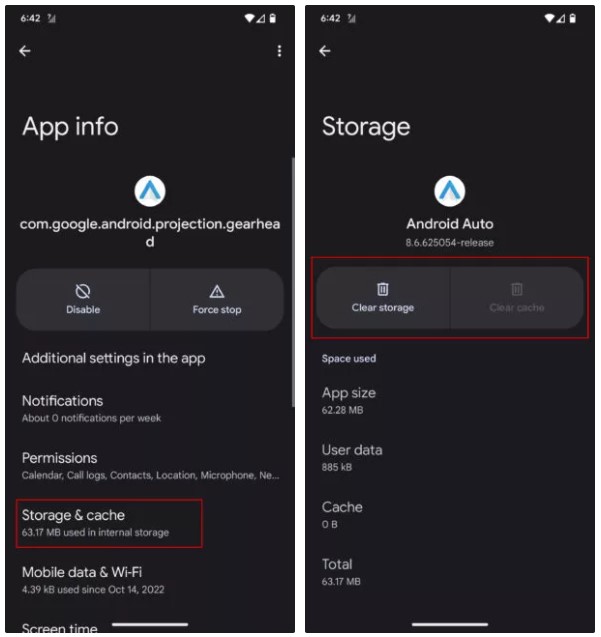 4. Update Amazon Music and Android Auto
The latest version often fixes some previous bugs and lets customers expose to the best experience. So updating Amazon Music and Android Auto is necessary. To get the updated version, just follow the steps below:
Step 1. Go to Google Play Store on your phone.
Step 2. Enter Amazon Music and Android Auto in the search bar.
Step 3. Tap Update if the update available.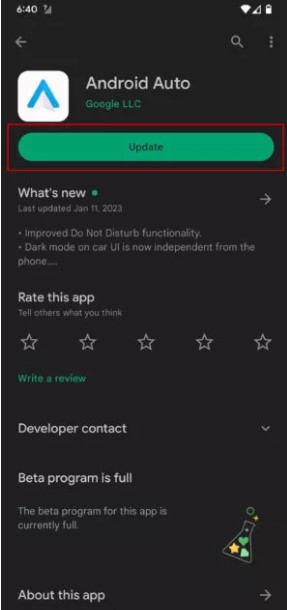 Step 4. Try Amazon Music and Android Auto again.
5. Re-pair Your Phone with Your Car
The Android Auto app on your smartphone allows you to disconnect your previously connected cars. This essentially unpairs your smartphone from your car's head unit. You can do this and pair the phone again with your car's infotainment system to establish a connection, which can reassure you when your infotainment system is not responding.
Step 1. From the home page, navigate to Settings.
Step 2. Go to Connected devices > Connection preference > Android Auto.
Step 3. On the Previously connected cars' interface, tap the three dots icon to forget all cars.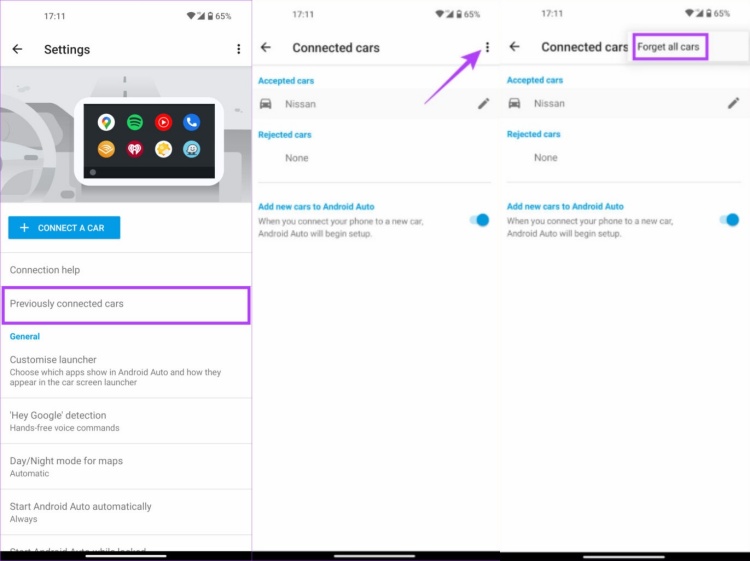 Step 4. To connect your car again, just hit on the blue button that says CONNECT A CAR to connect your phone to your car's head unit.
6. Reboot Your Phone
It is the classic and straightforward solution. Indeed, it works when your phone is bugged and unresponsive. To restart your Android device, just press and hold the Power button for a few seconds, and tap Restart.
Part 3. Best Way to Play Amazon Music without Android Auto
ASometimes the above solutions don't work in time, here we offer a perfect way to play Amazon Music in the car even without Android Auto. That is to use ViWizard Amazon Music Converter to download your preferred Amazon Music songs as MP3 files and then transfer them to your car. This is an offline and foolproof way without any issues.
Don't fret. ViWizard Amazon Music Converter is a preeminent Amazon Music downloader also aiming to convert protected Amazon Music files to MP3, AAC, WAV, FLAC, M4A, and M4B. It is capable of working automatically at 5x speed and simultaneously retaining the original sound quality. After conversion, you can freely get your favorite tracks anytime and on different occasions.

Key Features of ViWizard Amazon Music Converter
Download songs from Amazon Music Prime, Unlimited, and HD Music
Convert Amazon Music songs to MP3, AAC, M4A, M4B, FLAC, and WAV
Retain the original ID3 tags and lossless audio quality of Amazon Music
Support customizing the output audio parameters for Amazon Music
Step 1

Upload Amazon Music Songs to ViWizard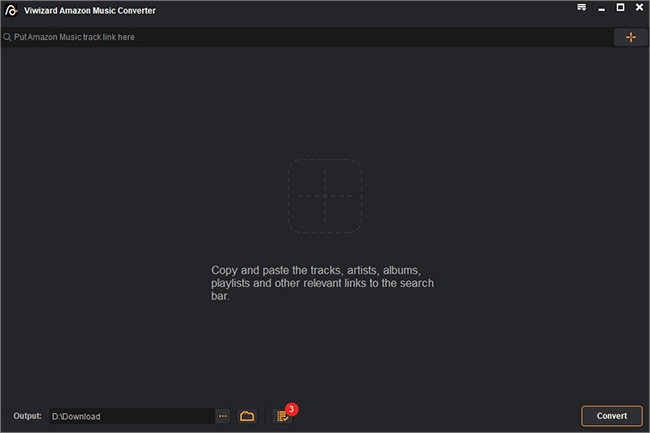 Install ViWizard Amazon Music Converter and launch it, then your Amazon Music app will be opened immediately. Next, copy the link of a track from Amazon Music and paste it into ViWizard's search bar. Click the + button to load the Amazon Music tracks. Another easier way, drag and drop a song, a playlist, or an album to ViWizard.
Step 2

Change the Output Settings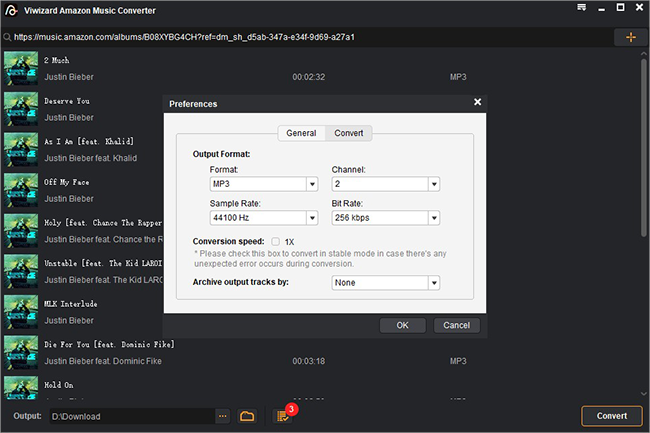 After uploading all your desired songs, you can view and select them. Then click the top three lines icon, select the first option Preferences, and then turn to the Convert window. Here, the MP3 format is the default, don't change. You are allowed to adjust the channel, sample rate, and bit rate. After customizing, click the OK button to remember your changes. If you are not satisfied with the defaulted location, change the output path at the bottom left corner before conversion.
Step 3

Download Amazon Music in MP3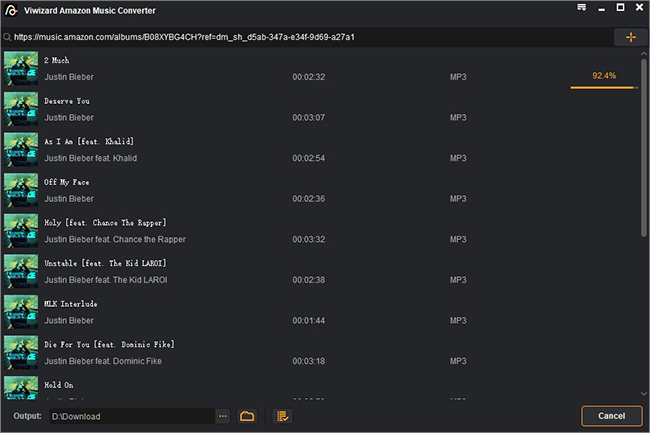 Now, to initiate the conversion, just one-click the Convert button at the bottom right corner. It will download and convert automatically. After conversion, you're able to browse your converted history on the Converted window. And you can use the search icon beside the converted song to locate it in your local folder.
Step 4

Transfer Downloaded Amazon Music to Your Car

It is time to move your local Amazon Music files to your car via a USB drive. Connect a USB drive to your computer. Then locate the folder of your computer where you store the downloaded Amazon Music files. Now, just directly copy and paste those music files into the USB stick folder. Once you plug the USB into your car, you can freely stream Amazon Music even without Android Auto.
Summary
From the above content, you've understood the reasons why Amazon Music not working on Android Auto and ways to fix the issue. If you want to stream Amazon Music with Android Auto without premium or listen to Amazon Music in a car without Android Auto, here we do strongly recommend you ViWizard Amazon Music Converter. Give it a try so that you can enjoy the ride!
More Amazon Music Tips & Tricks