For years, Tesla has been integrating different music streaming service with apps built in its touch screen, including YouTube, Spotify, Netflix and others. If you own a Tesla and happen to subscribe Amazon Music Unlimited, you check the touchscreen on your Tesla but disappointed. Although Tesla has been planning to integrate Amazon Music app in it since 2020, Amazon hasn't supported Tesla until now.
Start a new journey in 2022. It's time to put this suffer to an end. With no carplay and no Amazon music option, you may be wondering about what you are going to do and how to play your favorite music on Tesla without Amazon Music's support. No worries, this article will tell you 2 different ways to play Amazon Music app on Telsa in a few easy steps.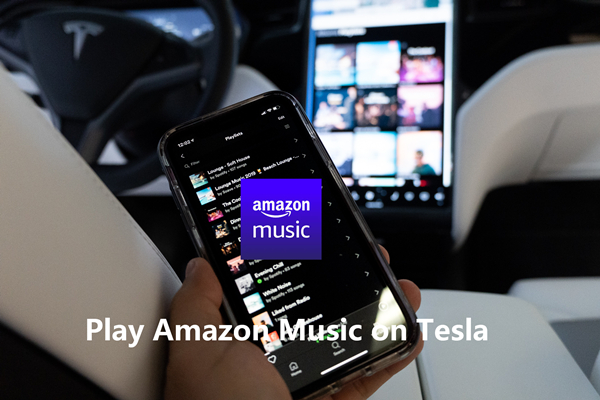 Part 1. Can I Play Amazon Music in My Tesla Model 3?
Tesla provide two connectivity packages to support music streaming: Standard Connectivity and Premium Connectivity. To further enhance the driving experience, Tesla provides access to more features in Premium Connectivity Package, however, still require data usage. Free Premium Connectivity trial is accessible for owners of Model S, Model X, Model Y and Model 3. You can review your vehicle firmware release to confirm feature availability in your Tesla. Or you can subscribe to Premium Connectivity from your vehicle touchscreen or Tesla your app.
However, sadly, Tesla Model 3 has not yet built a partnership with Amazon Music so it won't be found on Tesla. Don't hurry to switch to other streaming music service, this article will tell you 2 alternative ways to play Amazon Music on Tesla by yourself.
Part 2. How to Enjoy Amazon Music in Tesla via USB Drive
Many people use Amazon Music to enjoy music during driving. As a matter of fact, subscription of Amazon Music is not meant to download the songs and play them as you wish. Amazon Music is a streaming service and the downloaded files are protected well in an encrypted format. For that very reason, if you want to be able overcome the streaming process, you have to use a powerful Amazon music converter to decode and save Amazon Music for Tesla use.
Tesla Amazon Music Converter: What You'll Need
Fortunately, here's where ViWizard Amazon Music Converter works the best. It is a powerful music converter for Amazon Music, which can be used to convert Amazon albums, music tracks, artists, playlists and more. It also helps even you are not a premium user of Amazon Music. To play Amazon Music on Tesla touchscreen, we recommend you to use ViWizard Amazon Music Converter to download and convert your favorite music to open format, such as MP3, AAC, FLAC, and others. What' s more, it can save 100% original audio quality and preserve the metadata of the songs. Therefore, you don't have to worry about the difference. This converter is powerful enough to meet all your needs.

Key Features of ViWizard Amazon Music Converter
Download songs from Amazon Music Prime, Unlimited, and HD Music
Convert Amazon Music songs to MP3, AAC, M4A, M4B, FLAC, and WAV
Retain the original ID3 tags and lossless audio quality of Amazon Music
Support customizing the output audio parameters for Amazon Music
Now you know why we recommend ViWizard Amazon Music Converter to you. Let's see how this can be done in 3 simple steps.
Step 1

Upload Amazon Music You Like to ViWizard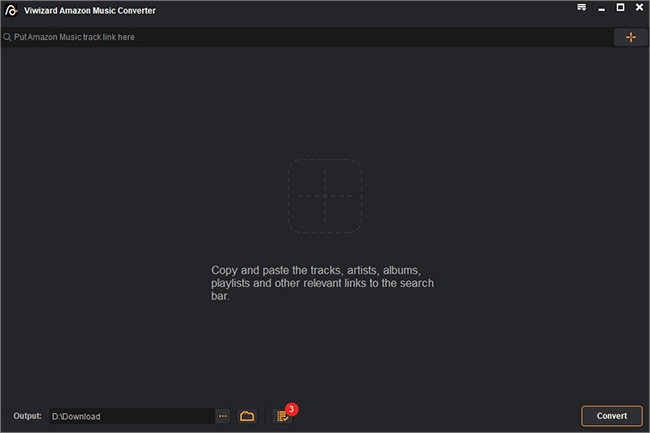 Launch ViWizard Amazon Music Converter on your computer. Next the Amazon Music app will pop up in a few seconds. You can copy and paste the tracks, artists, albums, playlists and other relevant links as you want.
Step 2

Tune the Parameters and Format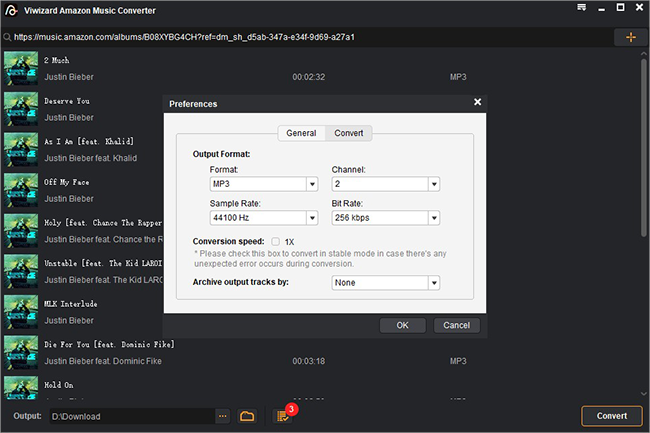 Now examine the conversion list once again, you can click the mean bar and pick preferences to change the parameters which includes channel, sample rate, bit rate and conversion speed. For Format panel, here we suggest select MP3 for Tesla. Remember to click OK to save all the settings.
Step 3

Download and Convert Amazon Music to MP3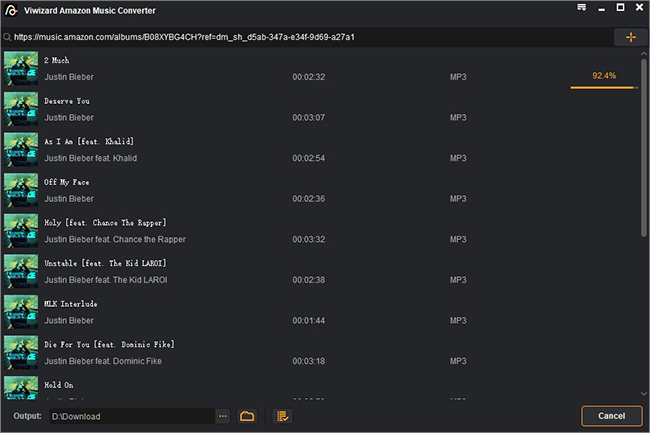 Then you can click the Convert button and start to download songs in the list. At a speed of 30 times, it only costs you a few moments to go to the converted list and use the search button to view the converted music.
Step 4

Transfer the Amazon Music Files to Tesla

Now you will find all the converted files are safe on your computer. With a USB drive, you can copy and paste them to a folder under it. Once the transfer process is finished, disconnect the USB drive and plug it in the USB to the Tesla touchscreen. Then you can find the Amazon Music files in Tesla Media player and enjoy playing them offline during driving.

Although Tesla support other streaming music service such as Spotify, you will still have a lot of connectivity issues where it would take multiple minutes for the app to start playing. With the help of ViWizard, you don't have to switch to other streaming music app and have Amazon Music on the side. You also don't have to worry about this kind of connectivity issues online as using ViWizard Amazon Music Converter is just to solve the problems once and for all.
Part 3. How to Play Amazon Music on Tesla via Bluetoooth
Here is another way to help you play Amazon Music on Tesla. All Tesla cars come with free Standard Connectivity which provide access to music streaming over Bluetooth. Connecting your phones to Bluetooth is already an option to play Amazon Music. However, without the help of ViWizard Amazon Music Converter, the method introduced below will cost your phone data and Amazon Music subscription is required.
1. First you need to find and tap the Bluetooth icon in the status bar of the Tesla touchscreen.
2. Next open your Bluetooth and Press the Start Search button on Tesla touchscreen to check whether your Bluetooth is in the display list.
3. Then you need to access your Bluetooth to the touchscreen. After your Bluetooth is linked with Tesla, check whether the random number shown is the same on your phone and the touchscreen. If the random numbers are the same, then you can confirm the paring.
4. After the successful pair, you can open the Amazon Music app and stream your playlists to play songs.
Next time your Bluetooth will automatically connect your phone when it is open so you don't have to start the connection over again. You will also find that your Tesla that connect through Bluetooth syn the volume thankfully, but more options such as audio format, channel, sample rate and bit rate that ViWizard Amazon Music Converter support are limited. The truth is as long as controlling music works fine with Siri, it's OK to use Amazon Music in Tesla and stream your desired music via Bluetooth.
Conclusion
In this article, we have introduced 2 ways to stream Amazon Music on Tesla. Now with the help of ViWizard Amazon Music Converter, you don't have to wait for Amazon Music's support but nail it. We highly recommend you to use the ViWizard Amazon Music Converter to enjoy Amazon Music in Tesla offline to save for your phone data at the same time. Give it a try! Click the download button below to start a new journey with Amazon Music on your Tesla now.
More Amazon Music Tips & Tricks