Tesla in 2019 introduced its new 10.0 version for its in-car software, which lets you play Spotify on Tesla. Good news for every Tesla owner. Since Spotify is a leading music streaming platform with a galore of music tracks, integrating Spotify directly on the Tesla car makes it easier for the driver to listen to their favorite songs whenever they want to.
However, you can play Spotify on Tesla only if you have the 10.0 version for the in-car software, which means all the older models won't be able to link Spotify to their cars if you have an older version, no need to worry because we have the perfect solution for you. Whether you want to listen to Spotify songs directly on the Tesla or have an older version and want to know how you can do it, keep reading because we will share both solutions.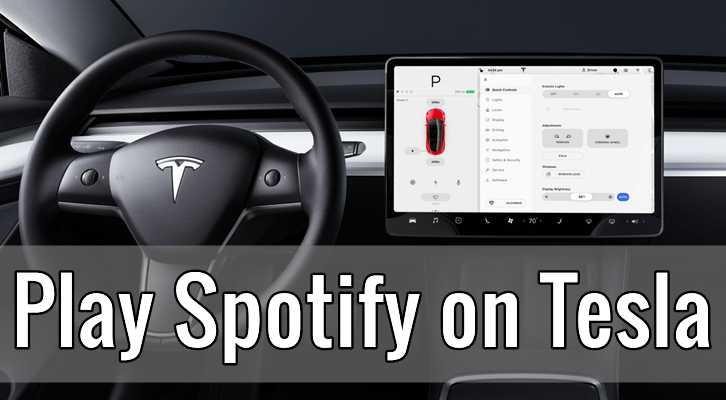 Part 1. Spotify on Tesla - What You Need to Know
Spotify is compatible with Tesla cars. Most Tesla vehicles come with a built-in Spotify app that allows you to access and stream music directly from your Spotify account with Premium. You can log into your Premium account through the Tesla infotainment system and listen to your favorite playlists, albums, podcasts and more while driving. The Spotify integration provides a seamless music streaming experience for Tesla owners.
Spotify is supported on Model 3, Model S, and Model X and this integration is currently only available in the USA, Canada, Mexico, Europe, Turkey, Australia, New Zealand, Taiwan, Hong Kong, United Arab Emirates and Jordan.
You can turn on your Tesla and go to the Media Player in the cards area or the touchscreen and look for the Spotify app. If you cannot access the Spotify app, please ensure that your Tesla's software is up to date or currently your Tesla model is not supported with this integration. You'll need to try an alternative way in Part 4 to bring your favorite Spotify contents to a Bluetooth-connected device or USB-connected flash drive and play Spotify from the Media Player.
Do I need Tesla Premium Connectivity for Spotify?
Please note that although some streaming music services are available with the Premium Connectivity, Spotify is not included. You have to sign up for Spotify's subscription plan at $9.99/month. If you're new to Spotify, don't hesitate to sign up for Spotify's free trial for 1-3 month(s). Or if you don't plan to subscribe to Premium, you should try an alternative way to play Spotify on your Tesla offline even without Premium.
Part 2. How to Play Spotify on Tesla Online with Premium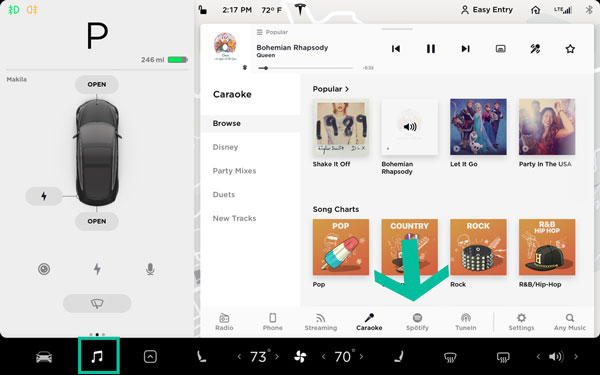 To play Spotify on your Tesla with the built-in integration, follow this guide:
Step 1. Ensure your Tesla vehicle is connected to the internet. You can connect your Tesla to Wi-Fi or use a cellular data connection (hotspot). To connect to a Wi-Fi network, touch Controls > the Wi-Fi icon, and select the Wi-Fi network to use and enter the password, then touch Confirm.
Step 2. Tap on the car icon at the bottom of the touchscreen display in the infotainment system in your Tesla.
Step 3. Select the "Media" option. In the Media menu, you'll see a list of available music services, then select the Spotify icon.
Step 4. Now use your Spotify credentials to log in to your Spotify Premium account.
Step 5. Once you're logged in, you can browse and search for music within the Spotify interface. Select any songs, playlists, albums, or podcasts you want to play on your Tesla.
Step 6. The audio will play through your Tesla's sound system, and you can use the touchscreen to control the playback and adjust the volume. You can also use the voice commands to control Spotify. To activate voice commands, press the voice control button and say "Play [song/playlist/artist] on Spotify".
Part 3. How to Play Spotify on Tesla Offline with Premium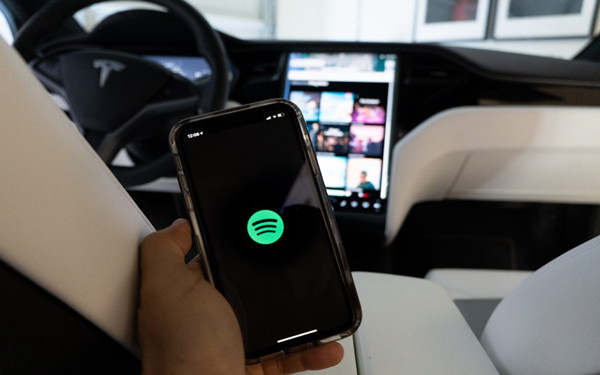 If you have a Tesla with the Premium Connectivity, you can use Spotify without an internet connection. Just make sure you download a selection of playlists, albums, podcasts and ensure the Offline Mode. After that, you can play your favorite Spotify contents on your Tesla offline.
Step 1. On your mobile phone, open the Spotify app.
Step 2. Head to what you want to download and download them when connected to a network.
Step 3. Once downloaded, back to the home page of the Spotify app and go to Settings > Playback > Offline Mode, then toggle the Offline Mode to enable this feature.
Step 4. When you're offline, only your downloads are available on Spotify. Go to library and select the downloaded playlists, albums or podcasts you want to play offline.
Step 5. Connect your phone to your Tesla via Bluetooth.
Step 6. Open the Spotify on your Tesla's touchscreen and log in.
Step 7. Play the playlist you want to listen on your Tesla offline.
Part 4. How to Play Spotify on Tesla without Premium
We have shared the ways to play Spotify on Tesla directly. However, if your car doesn't support the Spotify app or you don't want to pay for the Spotify Premium account, there's another way to go about it. And that way is to use ViWizard Spotify Music Converter. ViWizard software will let you listen to Spotify on Tesla without having a premium subscription. Not just this, even if your car doesn't have the 10.0 version, by using ViWizard Spotify Music Converter, you will still be able to listen to the songs effortlessly.
ViWizard Spotify Music Converter lets you download and convert Spotify songs seamlessly. You can do the process at high speed, and there won't be any quality loss. Not just this, this software can detect ID3 tags information as well, such as genre, artist, title, and more, and retain them. The software is available for both Windows and Mac users.

Main Feauters of ViWizard Spotify Music Converter
Losslessly remove DRM from Spotify music with ID3 tags kept
Remove advertisements from Spotify music for free users
Convert Spotify music or playlist in batch up to 5× faster speed
Easily organize all music downloaded from Spotify by artists and albums
Step 1

Add Spotify music to the converter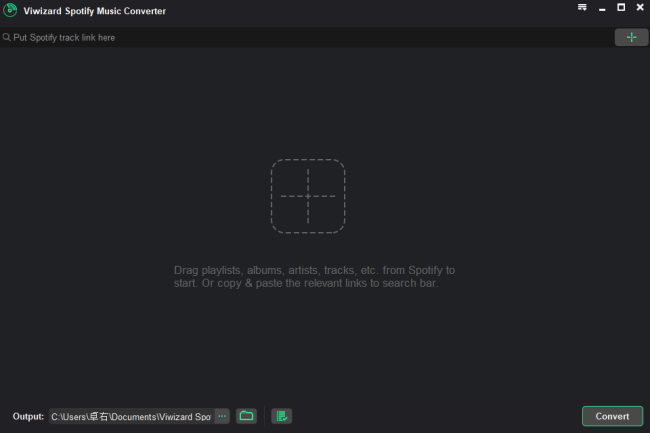 Download and install ViWizard Spotify Music Converter on your computer and then launch it. And Spotify will be launched on its own. After that, go to Spotify, copy the song's link and paste it into the search box on the software. Additionally, you may drag and drop Spotify tracks to the interface directly.
Step 2

Adjust the parameters for Spotify music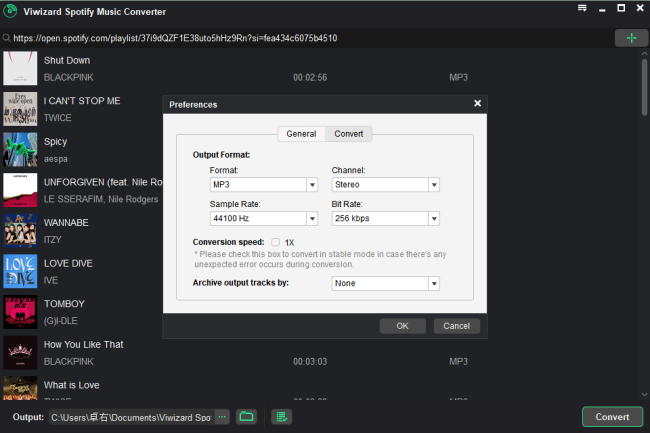 Click on the menu bar and select the Preferences option. A window will pop up where you can select the audio format you want the song to convert into. The formats that ViWizard currently supports are MP3, AAC, M4B, FLAC, WAV, and M4A. Additionally, if you want, you can set the sample rate, bit rate, and audio channel.
Step 3

Download Spotify music to MP3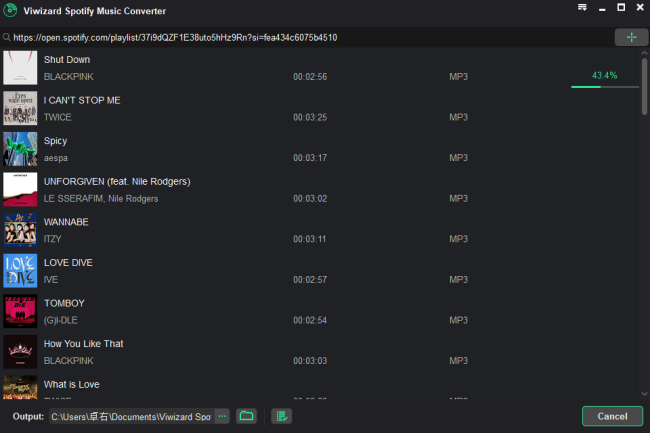 Once everything is done, go on and click on the Convert button to download Spotify songs and save them locally on the computer. The saved files will be there in the specified folder. You can browse through all the downloaded Spotify songs by clicking the Converted icon.
Part 5. How to Play Spotify from a Device Offline on Tesla
As stated, you can play audio files on your Tesla from a Bluetooth-connected device, such as your phone, or a USB-connected flash drive. If you choose to transfer the downloaded Spotify files to your phone, you can then play them from your phone when connected with Bluetooth. Or if you choose to transfer the files to a USB device such as your USB flash drive, you can play them on your Tesla when connected to USB. Just connect your device to the computer, and copy the selections to the desired position on your device.
Play Spotify from a USB-connected flash drive:
Step 1. Insert the flash drive that stores audio files into a front USB port.
Step 2. Touch Media Player > USB on the touchscreen in your Tesla, and then touch the name of the folder that contains the audio files.
Step 3. The touchscreen will display the contents of a folder on the flash drive, you can touch any file to play it.
Step 4. You can use the left scroll button to scroll to next/previous songs. Or you can use the previous and next arrows in Media Player to scroll through your songs.
Play Spotify from a Bluetooth-connect device:
Step 1. Connect your Bluetooth-capable device, such as a phone that's paired and connected to your Tesla car.
Step 2. Touch Media Player's Phone source, and touch the name of your Bluetooth-connected device.
Step 3. Touch Connect.
Step 4. Now the audio file contained on your Bluetooth-connected device will be played. Or you can choose the audio file you want to play, and use the previous and next arrows in Media Player to play other tracks.
Conclusion
Now you know how to play Spotify on Tesla with or without a Premium account. First, try the direct way if your Tesla supports Spotify Premium. If it doesn't, then you could try ViWizard Spotify Music Converter. It will let you download Spotify songs and listen to them on the car's in-built media player for free and whenever you want to.