Listening to music while driving or navigating maybe an interesting thing which can flesh your mind and enhance your attention. Switching between songs and albums can be a chore while you are in the car and following Google Maps' instructions on where to take a turn. Not only that — fiddling between the navigation app and the music app while driving can be very dangerous, which should not be advocated thinking of our safety in the process.
However, a new update to Google Maps fixes this issue by letting you control Spotify, Apple Music, and other music streaming services within Google Maps while in navigation mode. Although the feature is minor, we can get more convenience from the change which makes our life simpler and better.
As the world's leading music streaming platform, Spotify has begun rolling out the integration with Google Maps to users. Spotify users could enjoy the feature on Google Maps. Here is how to setup Spotify integrated music controls, which lets you manage your music during navigation right from the main screen of Google Maps.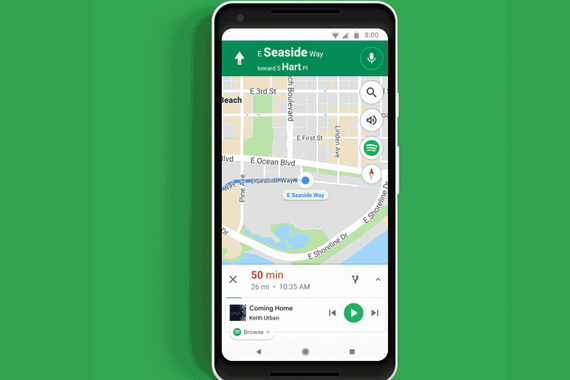 Google Maps Lets You Control Spotify Music While Navigating
Since Spotify has introduced an integration with Google Maps, all users can control music from Spotify between Google Maps and Spotify on both iOS and Android. Playback controls like pause, play, or skip are enabled within the Google Maps navigation settings to enjoy music and podcasts from Spotify during active navigation. Through a simple entry-point from the Google Maps app into Spotify, users can browse songs, albums, and playlists.
Here are the ultimate methods for Android and iOS users to control Spotify music within Google Maps. Before building the music player into Google Maps, make sure that you have installed the latest version of Google Maps. At the same time, you should build your playlist that you want to listen to while driving on Spotify.
Add Spotify Music to Google Maps on Android Phones:
Step 1. Launch Google Maps on your Android phone.
Step 2. Swipe in the menu from the left side of the main screen until scrolling down the "Settings" button on the bottom of the main screen and tap it to go to the setting menu.
Step 3. Tap "Navigation Setting" option which locates on the bottom of the screen.
Step 4. Toggle on the "Show Media Playback Controls" option and select Spotify Music from the list of available music streaming services.
Step 5. Accept the terms to connect Spotify music to Google Maps and Spotify will be available while in an active navigation session.
Import Spotify Music to Google Maps on iOS Phones:
Step 1. Open Google Maps on your iOS phone.
Step 2. Go to the Google Maps Settings by swiping in the menu and tapping the gear icon on the top of the menu.
Step 3. Choose the "Navigation" option on the settings screen which locates at the top of the list.
Step 4. Toggle on the media playback controls and select Spotify music by tapping the "Music Playback Controls" option on the "Sound & Voice" section.
Step 5. Accept the terms to connect Google Maps to Spotify Music and Spotify will be available while in an active navigation session.
See Also: How to Connect Apple Music to Google Maps
Freely Play Spotify Music with ViWizard Spotify Music Converter
Downloading songs from Spotify for offline use is only possible if you have a Spotify Premium subscription. At the same time, all music download from Spotify are encrypted in the format of OGG Vorbis which not only cannot be played out of Spotify but also cannot be kept forever. However, ViWizard Spotify Music Converter is a mighty and smart Spotify music converting to download songs, playlists, albums, artists as well as convert any track from Spotify to plain formats like MP3 for any music player and device.
Best Spotify Download Converter You'll Need
Skip as many music as you want
Remove all DRM protection from Spotify music
Here is the detailed guidance on how to download music from Spotify for free.
Step 1

Import Spotify music to ViWizard Spotify Music Converter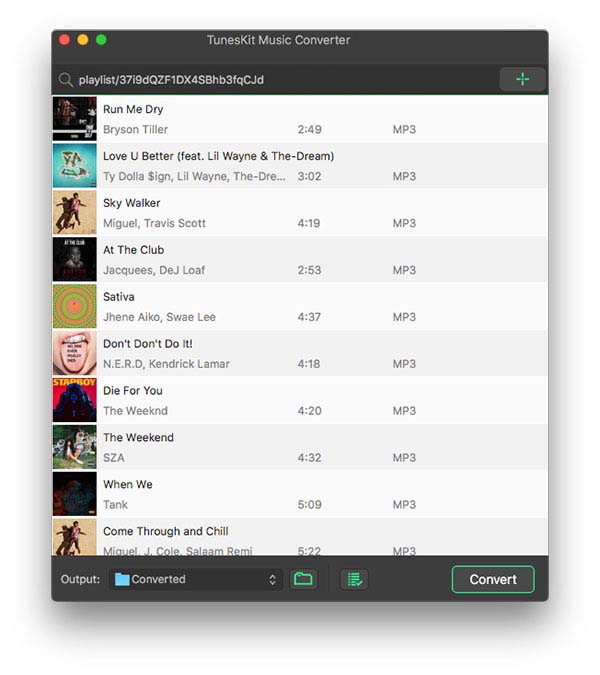 Open ViWizard Spotify Music Converter and then Spotify will be automatically launched. Click the name of the playlist or albums even songs you want to download. Then drag all playlists, albums or songs you have selected to the screen of ViWizard Spotify Music Converter. Or you also can copy the embedded link and then paste it to the search box at the top of the screen.
Step 2

Set the audio format and music preference as you like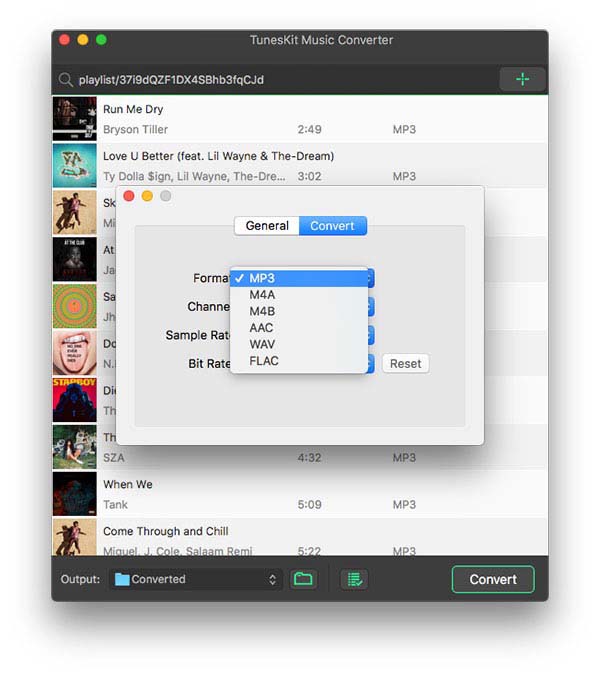 After importing Spotify music to ViWizard Spotify Music Converter, you can click on the button "Preference" to set the output parameters including output format, channel, sample rate, and bit rate. All output tracks can be archived by artists or album when downloading.
Step 3

Begin to download Spotify music to the local folder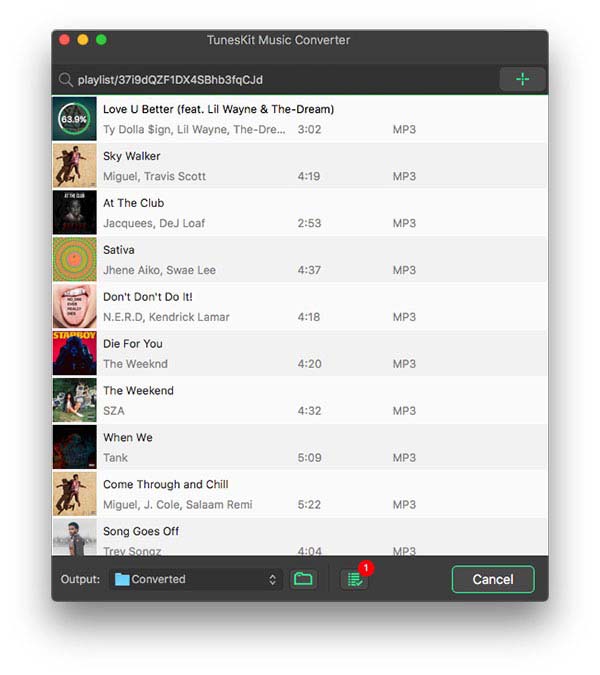 After all is set well, click on the button "Convert" in the bottom-right corner of the screen and then download Spotify music to MP3 in batch at a time. Click the button "Converted" to check all downloaded music and then click on the icon "Folder" to locate the local folder.
After the downloading and conversion of Spotify music, you are allowed to keep that converted Spotify music forever and to freely take control of them. Without the distraction of ads and the limitation of DRM protection, the playing experience will be better.
More Spotify Tips & Tricks